For Outcome Health, the path from scrappy startup to a multi-billion-dollar company involved a lot of hard-earned deals. Its early sales team grew the business by contacting one doctor's office at a time, eventually getting its technology into 20 percent of the country's physician practices.
After closing its $500 million Series A earlier this year, Outcome Health aims to expand that number to 70 percent over the next three years. To help reach that goal, the company is building a new sales team that will focus exclusively on courting major healthcare systems that own and operate hospitals, clinics and practices around the country.
Acting as a startup within Outcome Health, the enterprise health solutions team is developing its own internal strategies and processes. We spoke with four members of the EHS team to learn more about the challenges ahead, and how the team is taking them on.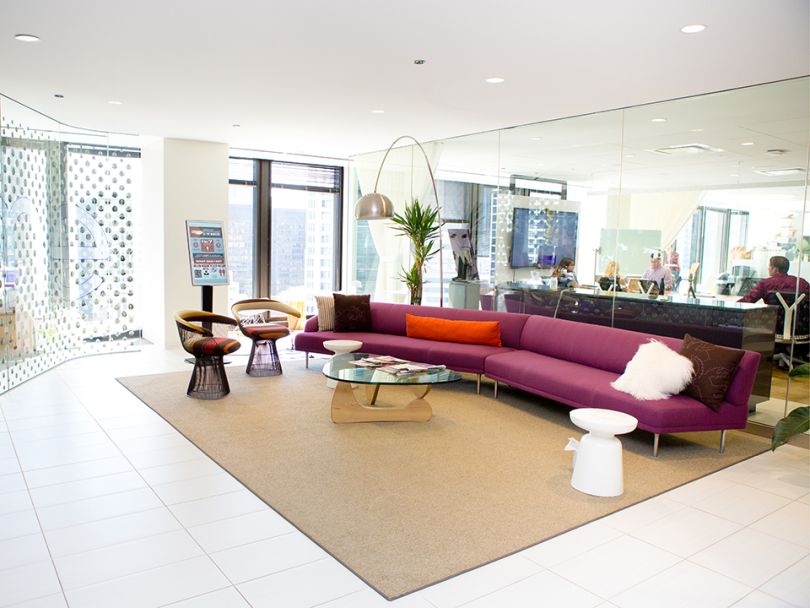 OUTCOME HEALTH AT A GLANCE
FOUNDED: 2006.
WHAT THEY DO: Provide patients with contextualized, actionable health information at the point of care to help them improve their own health outcomes.
WHERE THEY DO IT: River North.
FORMERLY KNOWN AS: ContextMedia.
PATIENTS SERVED ANNUALLY: 94 million.
THE EHS TEAM: 23 members, soon to be doubled.
IDEAL CANDIDATES: People who are humble, hungry and thrive in ambiguity.
MAKE IT A DOUBLE: Outcome has an in-house barista.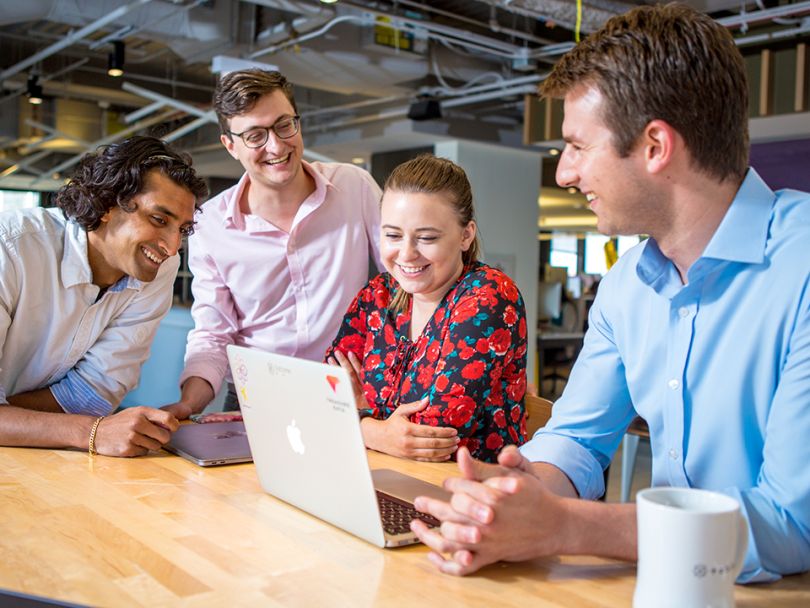 Your company aims to help patients improve their health outcomes. How do you do that?
Jeremy Hogg, regional VP of strategic enterprises: Our goal is to put better information in front of patients at the doctor's office, when they're learning about their conditions. That empowers them to take better care of themselves once they leave. There's a lot that they'll have to remember, but we've found that by presenting information visually — with slides or videos — it becomes easier to understand and remember.
Bridget Brosnan, client success specialist: Our products also help patients become more active participants while they're at the doctor's office, helping them ask the right questions.
Your team is brand new within the Outcome Health sales organization. How did the team come to be, and why did you decide to build something new from scratch?
Hogg: A lot of our early growth came from winning new business, practice by practice. We got really good at that, but there's also a huge untapped market of big health systems out there. These systems are employing existing providers and building out new practices and clinics. So our idea was to create a team that focuses on building long-term partnerships with large enterprise clients.
So the idea is to empower one team to build an entirely new process from scratch?
Roxy Cordt, client success executive: Yes. That's also why EHS is structured differently from the other sales teams, with client success people like Bridget and myself. Our role is to ensure that our clients use our services to their fullest potential.
Hogg: Working that closely with big clients will also provide guidance for where we take our products and strategies in the future.
Rodney Brown, regional VP of strategic enterprises: Once we start to scale our business across their membership, we can start to customize products around their business objectives and needs. We can also optimize our products over time.
Outcome Health just raised half a billion dollars. What's it been like to join the company in the middle of it all?
Brosnan: I joined about four months ago, and I knew Outcome Health was growing fast — but it's still growing way faster than I anticipated. I've been able to jump on to a lot of different opportunities and take leadership with new initiatives. I've seen so much change in the past four months, and I can't even imagine what's going to happen a year from now.
What kinds of leadership opportunities were you able to take on?
Brosnan: I have a background in quantitative and qualitative research, so I've taken the lead on a survey project to help some of our clients.
Cordt: In my third week here, I learned that all the client executives on our team were working on a playbook for client success. I came from a pretty well-established customer success organization at LinkedIn, so I was amazed that I was able to get involved in a project like that right away.
More broadly, what does career growth look like at Outcome Health?
Brosnan: Our organization doesn't follow a traditional ladder structure where you move up one step at the time. Based on your skills and your work with other departments, you can really shape your own career and find the best fit for you. The environment really encourages that.
Let's talk about the healthcare industry. Obviously, it's undergoing a lot of change. What are the most interesting trends right now?
Brown: There are probably three really big trends that I'm seeing within the larger health systems. One is consolidation: health systems are growing larger so that they can provide a broader range of services to each patient. Second, systems are trying to reduce costs and secure better contracts with health insurance plans. Finally, systems are increasingly striving for patient loyalty. To do that, they need patients to see value every time they come back.
So patients are increasingly thinking of themselves as consumers of a service. What does that mean for Outcome Health?
Hogg: Every patient has a smartphone now, which they can use to research their options, and health systems are starting to recognize that trend. That's definitely helping drive the need for our technology.
Do most of the people who join your team have a healthcare background?
Hogg: We're not all that focused on going after people who have experience in healthcare. One of the biggest things for us is to go find great talent, no matter what sector they're in — particularly people who've been at high-growth technology companies, and who have input on how we're building a playbook here.
Cordt: One of the things that I was most pleasantly surprised by when I joined the team was how diverse the EHS team is. People coming from outside of healthcare tend to think about things through a different lens, which is refreshing and helps us solve our challenges in more creative ways. I've never been on a team with so many people from different industries and with different perspectives. That also goes for personality types, demographics and backgrounds.
So what do you look for in candidates?
Brown: We look for people who are humble, hungry and who can live with ambiguity. It's important to be able to work alongside other people to get things done, even if you don't have the authority to tell them what to do. Finally, we want people who are really good at solving problems, figuring out the best path and executing.
Brosnan: If you have a question or an idea, you can talk it out with anybody on any level, and the answer seems to always be: "Yeah, go for it!"
Brown: We want you to speak up if you see something that needs to be done. We've created an open culture that rewards people for speaking up with their ideas, and that helps us implement those as quickly as we can.
What is the best part of working for Outcome Health?
Brown: This company is 11 years old, but it has that same feeling of excitement and newness that I felt at the startups I worked for. It's still growing very quickly and still looking for better ways to do things. We're very agile and we can make quick decisions, which we can put into practice right away. To me, that's really exciting.
Cordt: I've never worked in an organization where so many people connect to the mission at their core. I genuinely believe that we're helping people get healthier and make better decisions about their health. People are excited to come in and work toward that mission. It's something you feel from the second you enter the building.
Interview has been edited for clarity and length.