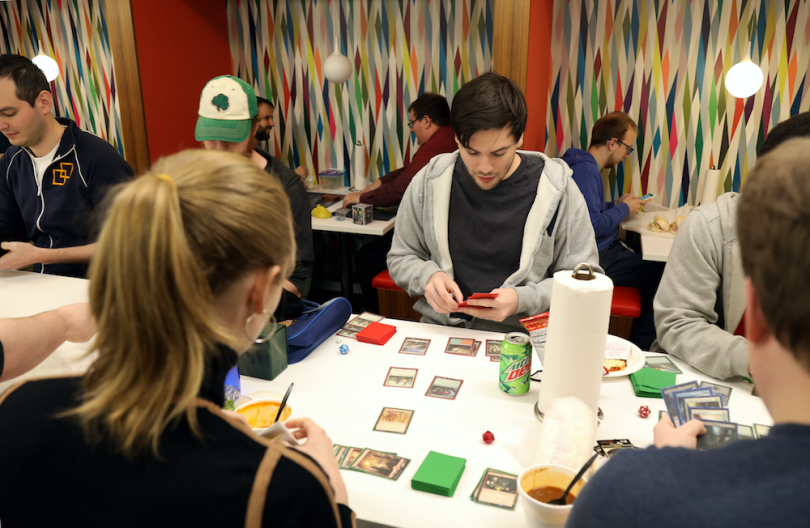 The cruel reality of being a Magic: The Gathering devotee is that life can be roughly divided into two phases: the one where you have enough time to play, and the one where you have enough money to buy cards with.
At Relativity, a group of nearly 50 players has found a way to have it both ways. Every lunch break, people gather in the cafeteria to play in an ongoing company Magic league.
"It started about four years ago with someone who used to work here running draft tournaments after work from time to time," said Mark Hill, who currently organizes Relativity's Magic group. "But because some of our players were parents with children who couldn't stay late in the evenings, we wanted to make it something you could do over lunch."
One table in our cafeteria [is] always at least two-thirds Magic players."
For the uninitiated, Magic: The Gathering is a trading card game in which players build decks and compete against each other. Typical decks contain a combination of combatants, spells and resources, which players use to attack each other on alternating turns. The game was created nearly 25 years ago, and it is enjoyed by an estimated 20 million people.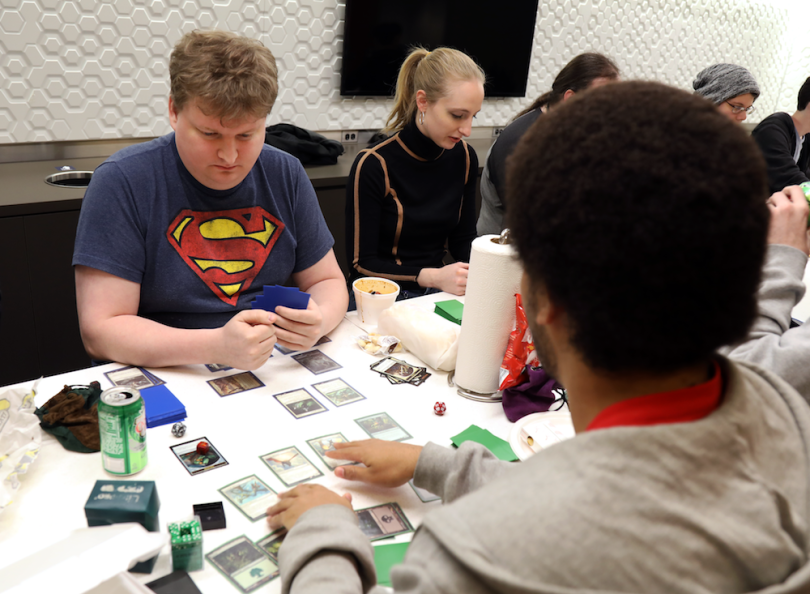 Hill said the league, dubbed kMagic after Relativity's old brand name, is made up of nearly 50 employees who participate on a regular basis.
"That's bigger than any group I've heard about at local game stores in the city," said Hill, who is also member of Relativity's engineering team.
Players range in experience level, from seasoned vets to rookies and those rediscovering a long-lost hobby.
For players competing at the game's highest levels, Magic can be an expensive hobby. Last year, Seattle Seahawks defensive end Cassius Marsh took to Twitter after someone broke into his car and stole his card collection, valued at a whopping $25,000.
I'm friends with a large number of people that I might not have interacted with otherwise."
To keep its own competition from being a pay-to-win affair, kMagic runs its competition in a "sealed league" format. At the beginning of each season, a player opens six sealed packs of cards, which they draw upon to build the best deck they can. The league takes place over three rounds, and players can supplement their decks with cards from two additional packs after each round. Each season ends with a single-elimination tournament featuring the top eight players.
And the group is steadily gaining traction
"There are people playing every lunch," said Hill. "There's one table in our cafeteria that's always at least two-thirds Magic players."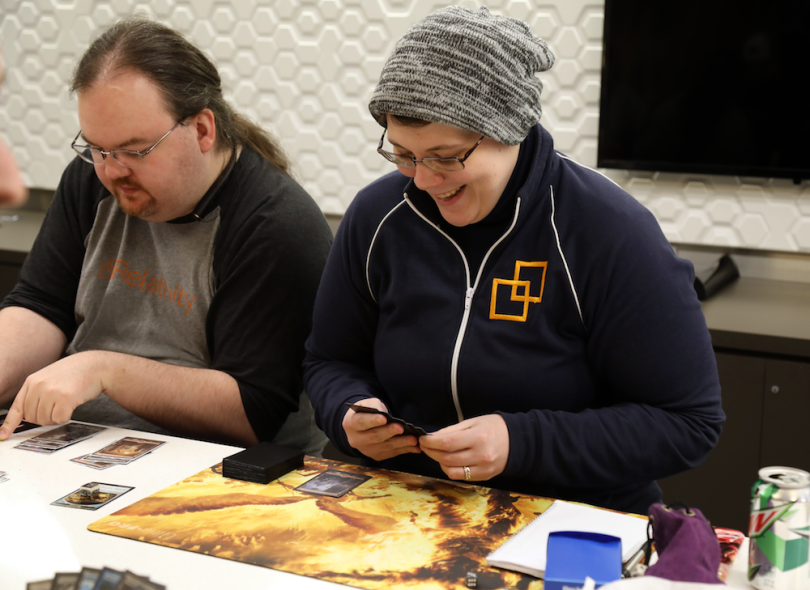 In addition to making lunchtime fly by, Hill said kMagic provides a great opportunity to bond with colleagues about something other than work. Members of the group regularly venture out together to other gaming events and conventions. Some of the more seasoned Planeswalkers even partake in external tournaments as team Relativity.
"I'm friends with a large number of people that I might not have interacted with otherwise, whether they're from other teams or from other departments entirely," said Hill. "I know I'm not the only person who's developed personal connections and something to interact with other people about that isn't just work."