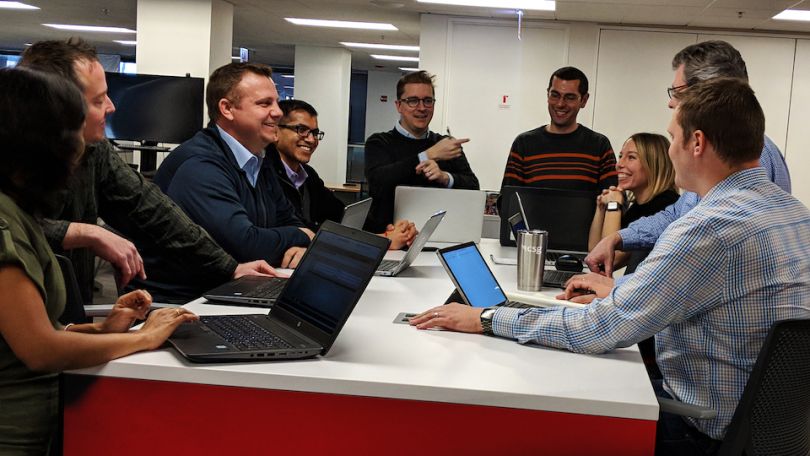 For every Facebook and Google, there are companies working outside the public eye, building software we interact with every day.
"We do complex software and we do it big," said CSG International director of software development Chris Janik. "It's not always the sexiest, but when you get into it, you begin to really understand the impact it has on everyday people."
CSGI develops software that helps media and entertainment companies around the world launch and monetize new digital services. The company offers a variety of solutions, but Janik's team works primarily on a cloud-based platform called Ascendon.
"We have an extremely long history with North American cable companies like Comcast, Dish and Charter," said Janik. "Ascendon makes it easier for companies like these to quickly get into a new space or capitalize on an emerging opportunity.
Janik said the starting point for Ascendon was the rise of multi-screen video content. The software has since evolved, and is used to create everything from bundled subscription services to billing platforms for IoT devices.
As cable and media companies race to launch these new services, the Ascendon team has gone on a hiring spree to keep pace. Janik said his team has over 200 engineers, 40 of whom were hired in the past year at the company's Denver and Chicago offices.
In expanding the team, Janik said his biggest goal is to promote a culture of ownership.
"What we strive to do with our engineering group is to put responsibility on our teams in a good way," he said.
That approach has helped the Ascendon team cut its deployment times. The team has gone from one or two deployments per year to its current rate of one per quarter, although Janik said his team does have the ability to deliver on demand if needed.
Janik said the Ascendon team will continue to grow. He expects to hire 50 engineers in Denver and Chicago over the next year. When hiring, Janik said he looks for engineers with enterprise software experience who have strong communication, collaboration and leadership skills.
"We have long tenure and low turnover," said Janik, who himself has spent 11 years with the company. "That's due in part to our competitive compensation and benefits."
Those benefits include wellness initiatives like sponsored athletic activities, support for continued education, volunteering opportunities, office ping pong tournaments, team happy hours and flexible vacations and working hours.
But Janik said the most exciting part of working at CSG International has nothing to do with perks.
"The work itself is challenging in a good way," Janik said. "You're solving large-scale and difficult business problems and working with talented and passionate engineers."