The holidays are a great time to focus on how we can support our community by giving back, but philanthropy works best as a year-round activity. To make sure that the impact of their efforts are maximized, many local tech companies make giving back part of their cultural DNA. We asked a few of them about the kinds of work they do and to tell us more about their favorite initiatives in 2017.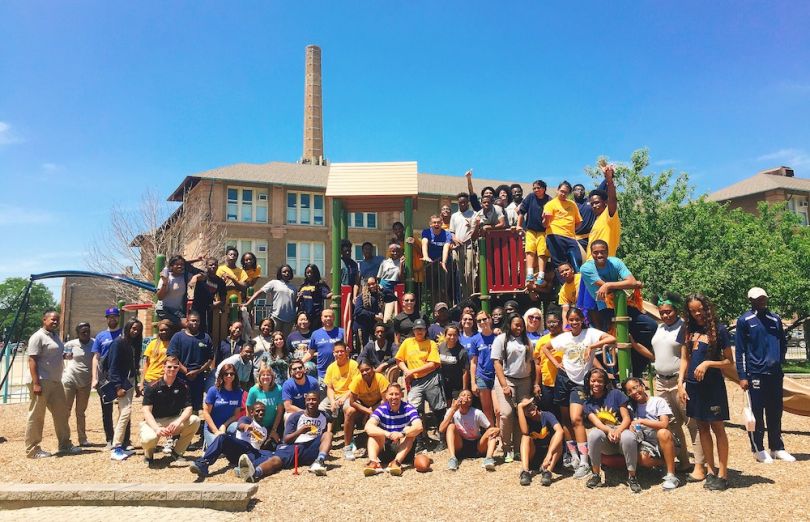 Based on a belief that education is an important step on the path toward self-reliance, DRW directs much of its social impact work toward learning. While the company supports a range of organizations that focus on housing and training opportunities, one of its primary initiatives is DRW College Prep. The high school, which is part of the Noble Network of Charter Schools, opened its doors with DRW Trading Group Foundation support in 2012.
Each December, DRW's offices around the world also compete against each other in a holiday giving challenge, which ranks offices by how much they donate to charity as well as how many of their employees participate.
"'Tis the season for giving, and I think our holiday giving challenge is the perfect expression of that spirit," said Jackie Easey, global community relations lead. "It gives us a chance to give back to worthy causes while working together in teams, each from a different DRW office. We put a lot of thought into selecting organizations that align well with our foundation's commitment to education and that we believe we can impact in a meaningful way. In the end, I think this program provides a great experience for our employees and, more importantly, allows us to help the communities where we live and work."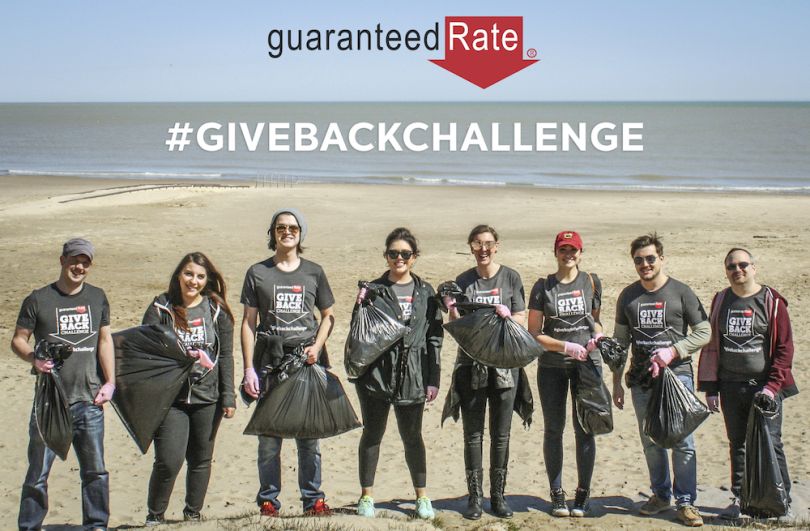 Aiming to make giving back an ingrained part of its culture, Guaranteed Rate hosts regular local beach clean ups, clothing donations and food drives. The online mortgage provider's most recent food drive brought in nearly 75,000 pounds of food and personal care items for people in need. In addition to making a contribution to the community, founder and CEO Victor Ciardelli said the initiatives give employees something meaningful to bond over.
The company also runs a 501(c)(3) foundation that helps employees and community members donate money to people facing hardships.
"Of all of our philanthropic initiatives, the Guaranteed Rate Foundation is closest to my heart because it touches the lives of so many people facing dire circumstances where we can make a huge impact in helping them recover and get back on their feet," said Ciardelli. "Every single penny donated to the foundation goes to assist someone in desperate need of help, and Guaranteed Rate covers 100 percent of all of the foundation's expenses. A mother with an ill child who needed financial assistance to stay in her home recently told us that the foundation provided light at the end of the tunnel and gave her family hope again. That really captured what the foundation is all about."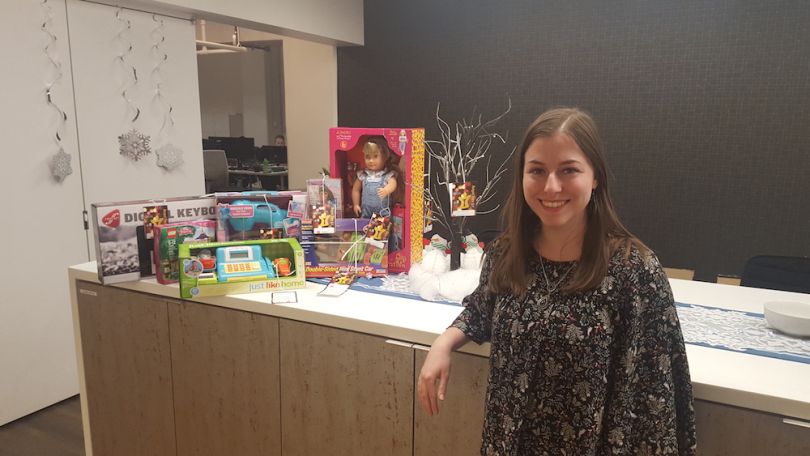 In addition to making charitable donations on behalf of competitors in the Chicago Triathlon and the JP Morgan Chase Corporate Challenge, Vail Systems makes a point of encouraging employees to volunteer. This year for the holidays, the company also participated in the Salvation Army Angel Tree program.
As a participant in the program, Vail set up a Christmas tree inside its office decorated with wish lists from children and youth in the community. Employees could then claim a wish list and buy presents for the child who wrote it. Product support specialist Ava Nozicka, who organized the effort, said 30 of her team members ended up participating.
"I was talking with a few of my colleagues about buying gifts for friends and family and thought how great it would be for Vail to give back to the community," said Nozicka. "There are so many children in Chicago whose holiday needs and wants go unmet, and the Angel Tree is the perfect opportunity to fulfill them."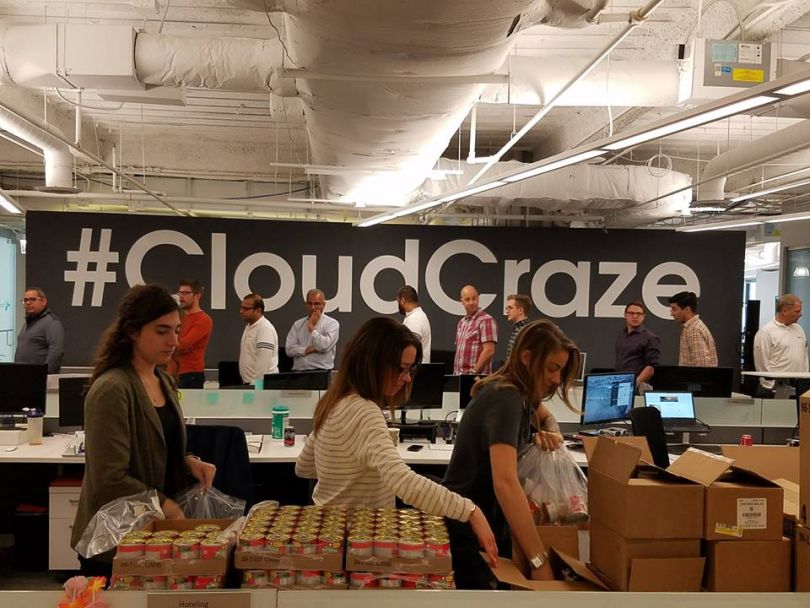 CloudCraze, which makes B2B commerce technology for the Salesforce platform, joined the Pledge 1% movement earlier this year. By joining the pledge, companies commit to dedicating 1 percent of their product, equity, profits or employee time to philanthropy.
In addition to monetary contributions, the company donated more than 200 volunteer hours to support various causes, including Ronald McDonald House Charities, Dress for Success, Sarah's Circle and the American Cancer Society.
"One of my personal favorite evenings of giving back was through our women's leadership group, ccElevate, when our team served a hot meal to the women residents of Sarah's Circle, a wonderful organization dedicated to serving homeless and at-risk women," said Emily Johnson, marketing manager. "We also got our entire headquarters involved in packing over 500 backpacks full of food for kids of low-income households through Blessings in a Backpack, so no children had to go without a meal during the weekend."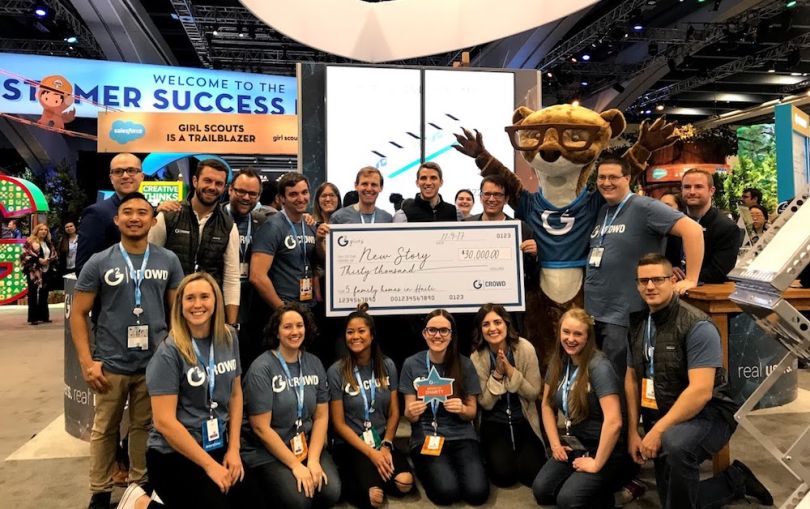 In 2017, G2 Crowd raised more than $40,000 through its philanthropic program, G2 Gives. That money helped support organizations such as Red Cross Hurricane Relief, Chicago Tech Academy and New Story Charity, which builds homes for families experiencing life-threatening homelessness.
G2 Crowd also has partnerships with a number of other local charities, including Habitat for Humanity, Chicago Food Depository and the T4 Youth Table Tennis Tournament.
"We are extremely proud of the fact that we have integrated philanthropy as part of our business model," said Marty Duffy, vice president of research. "Our team is honored and motivated by the fact that our day-to-day work helps so many people around the globe. Working with New Story Charity to build a community of 80 homes in Haiti for victims of the 2010 earthquake is a current initiative that our team has wholeheartedly embraced."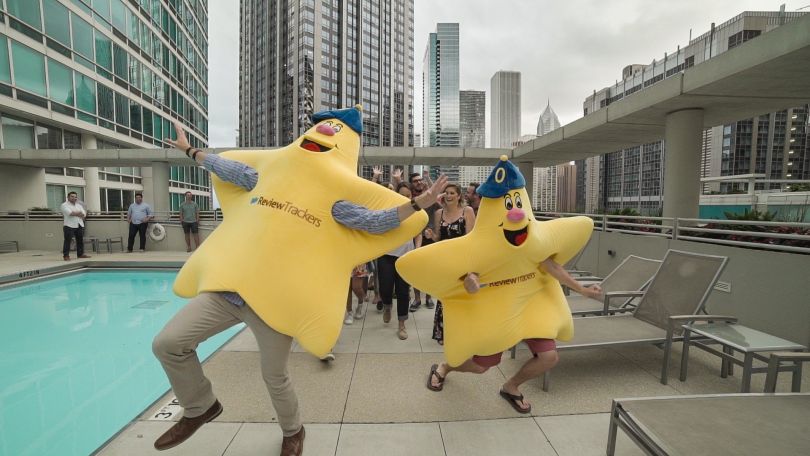 As participants in the #HashtagLunchbag program, members of the ReviewTrackers team get together to bag lunches to deliver to local community organizations. For the holidays, the team will be decorating those bags and adding personalized letters of inspiration. This December, ReviewTrackers is also delivering toys and supplies to the local Ronald McDonald House. 
"My favorite philanthropic initiative is #HashtagLunchbag," said Shaunagh Tomlin, VP of operations. "We're excited to be part of a movement to provide food for the hungry in our local community. Also, I think the handwritten letters of encouragement will touch so many people — both our team members who are writing the letters and those in need who receive them."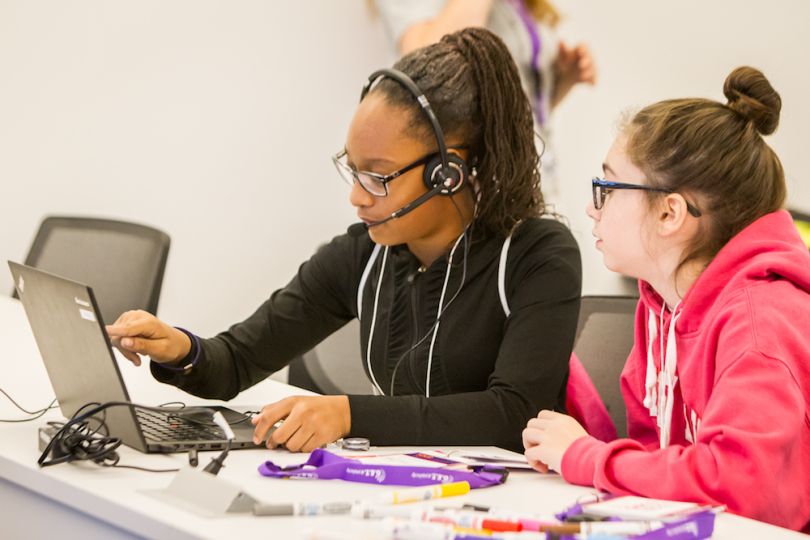 Each year, the Paylocity team participates in a number of company-sponsored community outreach events. In 2017, the HR software provider's programs included an Operation: Care Package event, in which team members packed boxes for troops overseas, and a Girls Embrace Technology event sponsored in partnership with Girls 4 Science. That event brought 80 girls interested in science into Paylocity's headquarters.
Paylocity also sponsored this year's Grace Hopper Celebration of Women In Technology.
"As a father of a teenage daughter, I was very proud and excited to sponsor Girls 4 Science," said Mike Ehlers, senior director of product and technology. "I've noticed that as my daughter has taken more advanced classes in math and science, the number of female youths in the courses has gone down. By supporting Girls 4 Science, I hope this trend reverses in high school, college and in technical roles at Paylocity and other high-tech companies."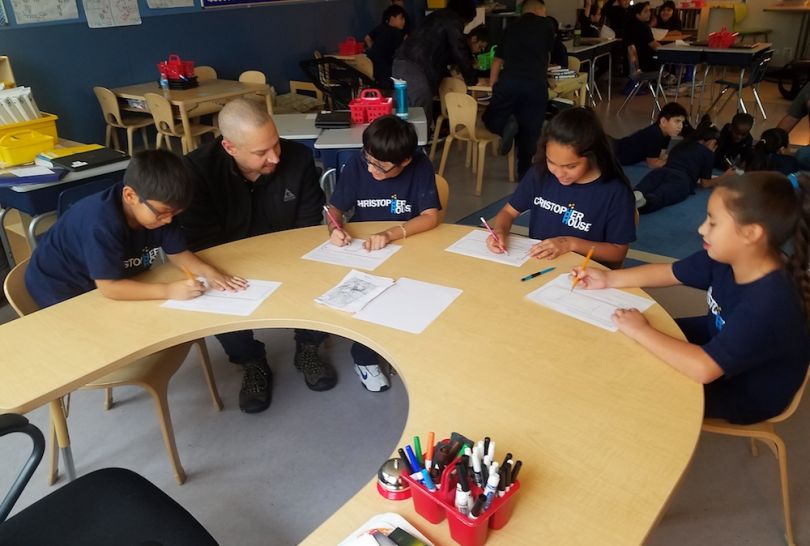 Chicago trading software provider Trading Technologies sponsors a number of philanthropic initiatives throughout the year, ranging from diaper drives to educational bootcamps and creative workshops in science, technology, engineering, arts and math.
This year, the company formed a partnership with Christopher House, whose schools aim to help low-income children and their families. Events on the books for next year include trips to the Museum of Science and Industry and tours of the Trading Technologies office.
"We enjoy partnering with Christopher House because we get to spend time with the students and see the impact we are making first hand," said Becca Garber, human resources. "Education is one of our core values at TT — for years, our TT CampusConnect program has provided real-world trading tools and experiences to university students around the country and the world. In working with Christopher House, it's been rewarding to help educate a different audience, interacting with younger students in our local Chicago community."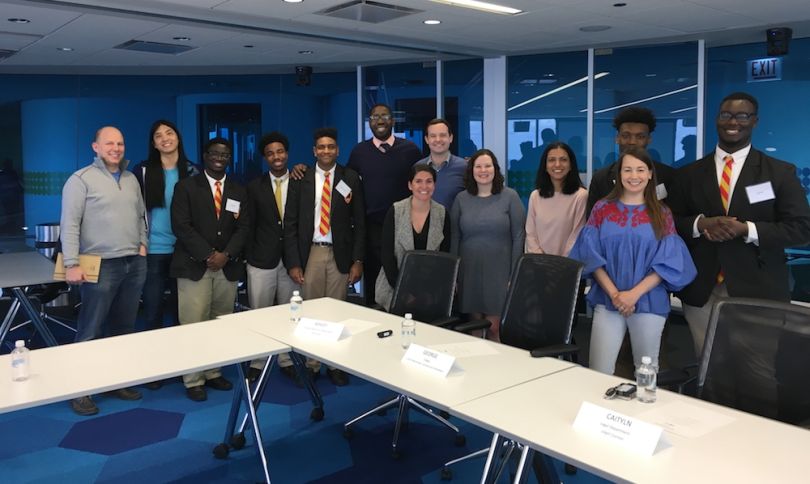 IMC's philanthropic efforts focus primarily on education. The trading firm partners with local schools and nonprofits to fund projects that help young people reach their potential. IMC's Chicago team also volunteers in local classrooms, soccer programs and community gardens, and the company hosts math tutoring sessions at its office in Willis tower.
"One part of our giving that I appreciate is our commitment to supporting individual public school principals in Chicago," said Adam Arents, program officer at the IMC Foundation. "Our first partnership was with Corkery Elementary in 2008, and we've been able to stay engaged with that community over the years to help them achieve their goals. It means a lot to develop those long-term relationships and be a part of positive work happening at the school."
Each year, IMC also makes a monetary donation to a global project of its employees' choosing. Since 2016, that support has gone to a literacy project in Tanzania organized by the nonprofit Room to Read, which publishes books, trains teachers and builds libraries.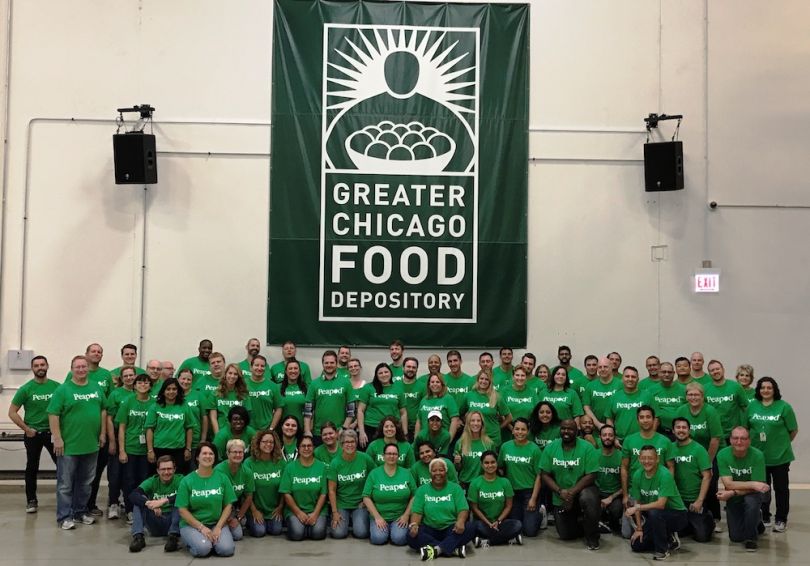 Considering its area of expertise, it probably shouldn't come as a surprise that Peapod centers its philanthropic efforts around food security. The e-commerce pioneer has developed a partnership with Feeding America to make weekly donations to food banks in its markets. The company also partners with these banks to organize "weeks of service" in which employees step in to volunteer their time.
Through its employee-directed initiatives, Peapod also partners with organizations such as Meals on Wheels, Stuff a Truck and the Ronald McDonald House Charities. Director of Customer Acquisition Andrea Chan-Diliberto said volunteering opportunities help employees see the impact of their giving.
"One of the most special programs I've experienced was volunteering with my team at the Ronald McDonald House," said Chan-Diliberto. "We delivered groceries, cooked meals and served dinner to the families staying there. Often when you donate food or money to an organization, you don't physically see who it benefits or the end result. With this program, we really saw the meals from start to finish and were able to interact with the families."
To ensure its quarterly giving back efforts feel meaningful to its team, Dose garners feedback from employees about which organizations and initiatives to partner with. Just in the past year, Dose Cares has worked with the Anti-Cruelty Society and several local shelters and contributed to a number of food and supply drives.
Most recently, team member Resita Cox led a glove drive for Chicago's homeless community in partnership with the organization Warm Hands, Warm Hearts.
"Dose immediately answered the call for help," said Cox. "Thanks to the partnership with Dose Cares, Warm Hands, Warm Hearts was able to distribute over 200 gloves to the homeless communities across Chicago."
Payline's emphasis on giving back to the community goes back all the way to its founding days. The Chicago payments startup partners with nonprofits taking on issues like homelessness, domestic abuse and the education gap to direct donations from vendors and other companies who support their work. But the company's giving back isn't limited to monetary donations.
"At Payline, we believe that creating a positive impact goes beyond donating money to a cause. Rather, our team rolls up their sleeves once a month to get involved with various charitable efforts that support organizations in our community and around the world," said senior VP of revenue Carlton van Putten. "In November, we were able to work with A Just Harvest in the Rogers Park community, serving the homeless and hungry in Chicago. It's so meaningful to be able to interact with the community, particularly when we can create a positive impact face-to-face with those who need it most."