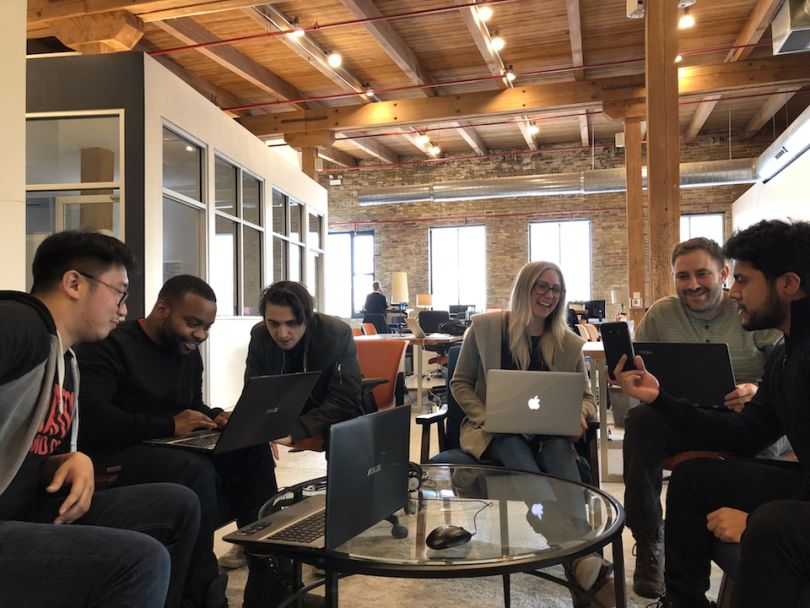 Making an appointment with a tattoo artist, barber or beautician is typically a low-tech affair. For consumers this process is a little time-consuming, but for folks working in these industries, scheduling appointments over the phone can be all-consuming.
"It's really hard to have a work-life balance when you're getting text messages and calls all day, at night and even while you're cutting hair," said Booksy United States country manager Bo Hurd. "We really believe in our merchants as artists and we want to free up their time so that they can do their art."
Booksy is a management platform for appointment-based businesses — and the team has just relocated its headquarters from Warsaw to Chicago in order to grow.
For consumers, the app works a lot like Yelp: Users search for local barbers, stylists, tattoo artists and the like — there's even a church on the platform — and book appointments straight from the app. Customers can rate businesses from one to five stars and leave reviews.
The talent that's available in the city was the most important thing to us."
For businesses, Booksy offers more than just an easier way to take appointments. The platform also features a built-in CRM system complete with marketing tools, a point of sale system, inventory management functions and business analytics.
"We want to take the hassle out of running a business," said co-founder Stefan Batory. "These people love what they do but most of them hate the admin part of the job. They just want to focus on what they do best."
Booksy is the second startup Batory has founded, having launched iTaxi, a Polish taxi-hailing app, in 2012. Batory also ran Sensi Soft, a firm that developed websites for classified advertising companies. Booksy was originally a white-label app developed by Sensi Soft, but the app pivoted after the company's clients showed a lack of interest. Booksy was launched in 2013 and has raised $7.2 million to date.
With the relocation of its headquarters, 2017 was a big year for the company. Co-founders Batory and Konrad Howard made the move, along with two additional members from the Warsaw team.
Batory said the decision to relocate the company's headquarters to Chicago was driven by a few factors, including Chicago's sizable Polish population and the relative ease of traveling back home. But what ultimately sealed the deal, he said, was the city's deep talent pool.
"There is a lot of sales and business talent in Chicago," said Batory. "The talent that's available in the city was the most important thing to us."
Booksy has 130 employees and offices in South Africa, Europe, the U.K. and Brazil. The company's U.S. headcount is 15 people, with 10 of those based in the company's Chicago office. Hurd said he expects that figure to double over the next six months as the company grows its sales, customer service and marketing teams.