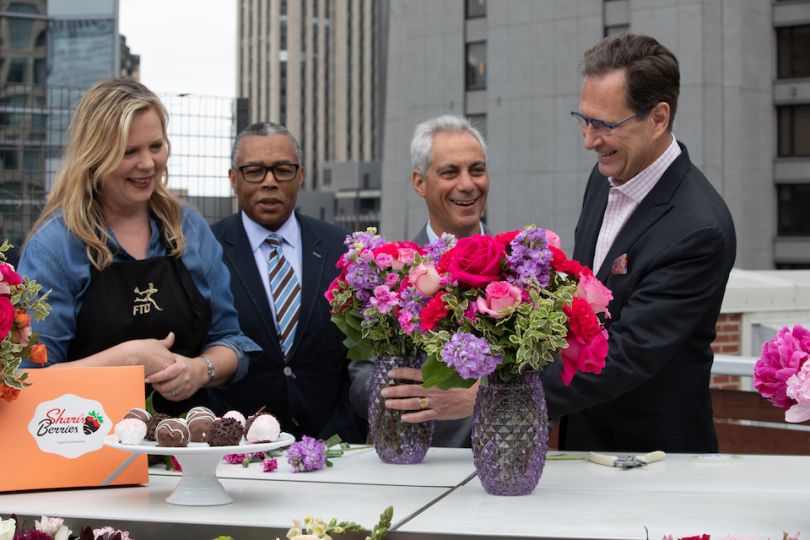 After 31 years in Downers Grove, FTD is packing its bags and heading for the city.
On Thursday, the global floral and gifting company cut the ribbon at its new headquarters in the Loop. Mayor Rahm Emanuel was on hand for the opening of the new 50,000-square-foot office, which is located at 1 North Dearborn.
"The move to Chicago was number one about recruiting, but it's also about culture," said CEO John Walden. "For us to achieve our plans and be technology-driven and accomplish all the things we want to accomplish, we have to act like a different company than we have for the past 31 years."
We have to act like a different company than we have for the past 31 years."
According to the CEO, FTD has struggled to keep pace with competitors in the internet age. The 108-year-old company was used to being "the only game in town," according to Walden, which left leadership unprepared to compete with tech-savvy newcomers. While FTD's reach and brands remained strong, he said, its technology fell behind.
The move to Chicago is the centerpiece of a new five-year plan designed to drive growth. The plan focuses on four aspects: improving customer relations, better supporting the company's floral partners, supply chain improvement and a renewed focus on gifting.
"For us to be different with consumers, to offer the services our florists need and for us to make sense out of our supply chain, those are all technology-driven activities," said Walden. "Technology is probably the key capability for us to be able to realize our plans, as is marketing."
FTD's new office can accommodate over 250 people, about 50 of which will be new hires brought on this year. The engineers that join the team will focus on re-creating the technology architecture, with the plan being to move toward a cloud-based microservices model.
"Because of the pace of our plan and because of the condition of our technology we can move quickly to the new architecture," Walden said. "That's proven really interesting to people who are considering working with us."
FTD's new space has been designed to attract tech and marketing talent. The office checks all the standard boxes with its open floor plan, ample sunlight, lack of corner offices and wealth of meeting spaces. But it's also meant to be a reflection of the company's heritage and status as a floral leader.
"Flowers, making them, designing them and understanding floral types and just building our expertise will be central to the new space," Walden said.
FTD's in-house design studio will sit in the center of its headquarters. In addition to functioning as a product lab, the space will also be a classroom, with employees, executives and florists invited to learn what goes into the creation of the company's floral arrangements and gifts.
FTD will also set up a retail space in its building's lobby, which will be used for testing and displaying new products.
"We have to be faster, more sophisticated with technology and more team-based," Walden said. "This move allows us to reset the environment we work in, and I think that will make a big difference as well."