When it comes to business development, the team at Bounteous has some very unique philosophies. To start, they focus less on "sales" and more on deeply understanding the businesses of prospective clients, as well as the difficulties they face.
Their goal? To create win-win scenarios by matching their in-house capabilities with the client's business challenges. We caught up with four members of the business development and client service team at Bounteous to learn more about what that looks like in practice.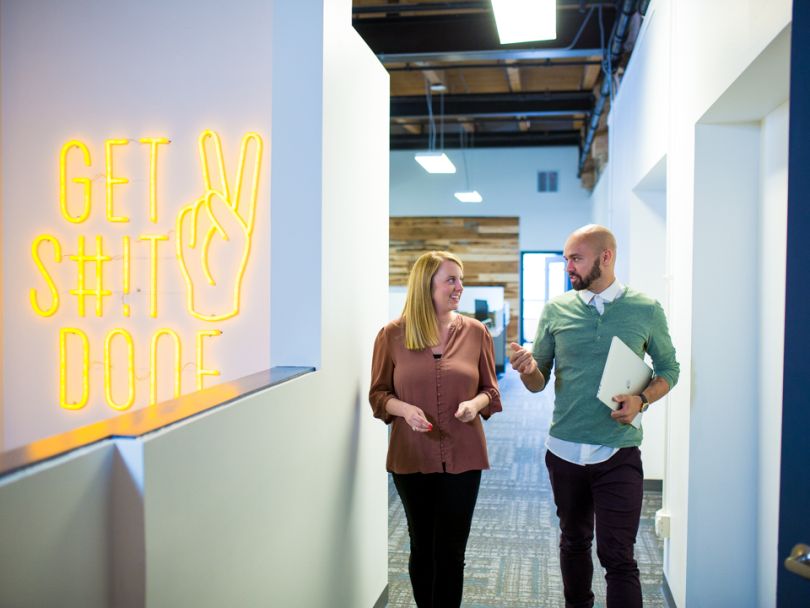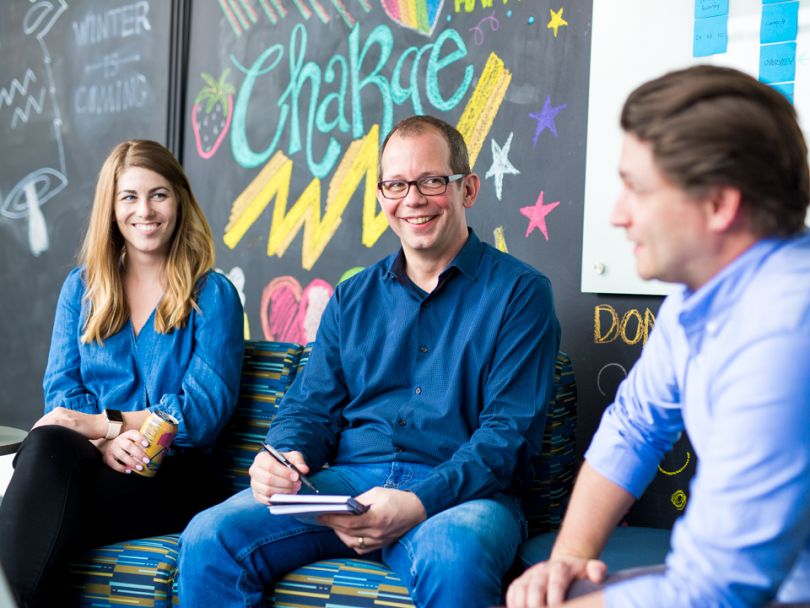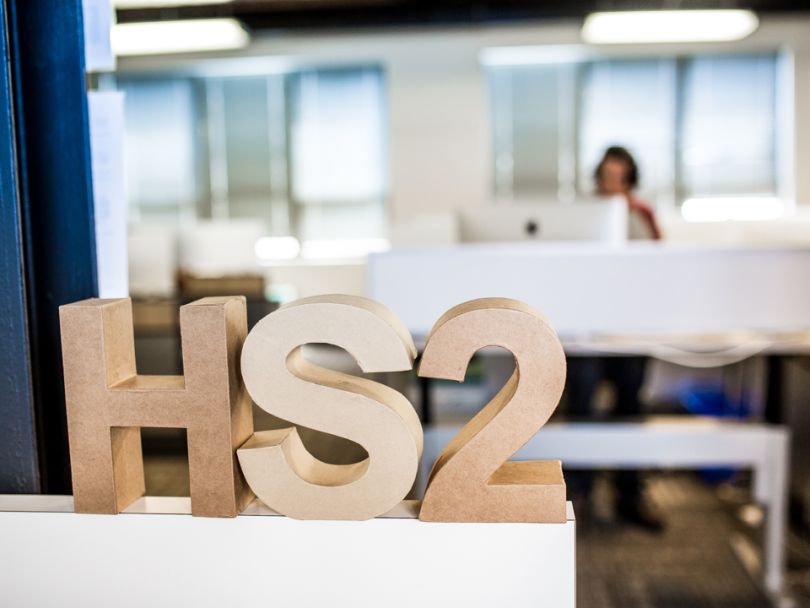 FOUNDED: 2003
EMPLOYEES: 264 total; 170 in Chicago
WHAT THEY DO: Bounteous is a full-service digital consulting firm. The company designs websites and apps, offering integrated strategy, experience design, engineering, audience management and analytics.
WHERE THEY DO IT: At the intersection of North Center and Lakeview, Chicago. 
PERKS: Bounteous offers 100 percent employee premium healthcare coverage and free lunch on Fridays.
PIZZA ON DEMAND: Who wants a pizza? The team at Bounteous built the Domino's pizza tracker app from scratch. Go ahead. Try it out. Send one our way while you're at it.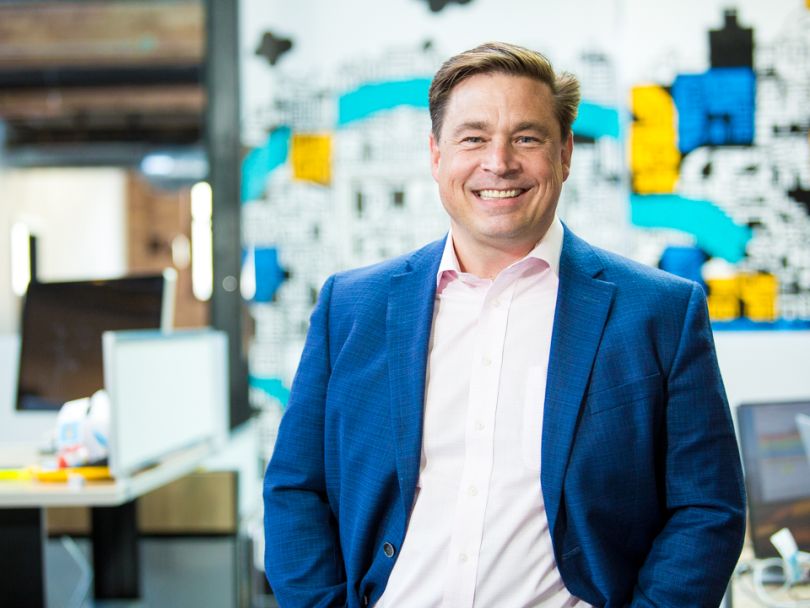 Dave Mankowski, Senior Vice President, Business Development
As the senior vice president of business development, Dave Mankowski has seen Bounteous evolve over the past 10 years. Known internally as the client-service bridge builder, Dave has built and supported the business development team to its current state.
BEYOND WORK: For 15 years, Dave's hobby was coaching his kids' football and softball teams. One of his favorite memories was when his sixth-grade football team learned a full set of audibles (the plays a quarterback calls out on the field). Learning the set helped them win a championship. Now that his kids are older, Dave is in search of a new hobby and considering taking up fishing in the Florida Keys.
 
You've been with Bounteous since the beginning. How has the company and team evolved over time?
When I joined Bounteous in 2006, we were a close-knit team of 14 punching above our weight. Within a couple of years, we were doing work for a few amazing companies. For example, we were helping Domino's bring about their digital transformation and creating the digital ecosystem for one of the largest health systems in the United States.
Today, we're still a close-knit team of more than 260 and we continue to do great work for our clients. So while our capabilities have grown exponentially, what it means to be part of Bounteous has remained the same, which is a really good thing.
How is business development at Bounteous unique? How do these unique qualities translate into client successes?
When we pursue an opportunity to work with a new client, they interact with the actual team they will be working with during the project. While we do have business development leads, their role is less about "selling" and more about developing a firm understanding of the client's business problem and engaging with our competency teams to figure out what digital experience will have the biggest impact on their business.
This approach builds trust and commitment during the process — something that our teams are really good at sustaining during delivery. That's why we tend to enjoy long-term relationships with our clients.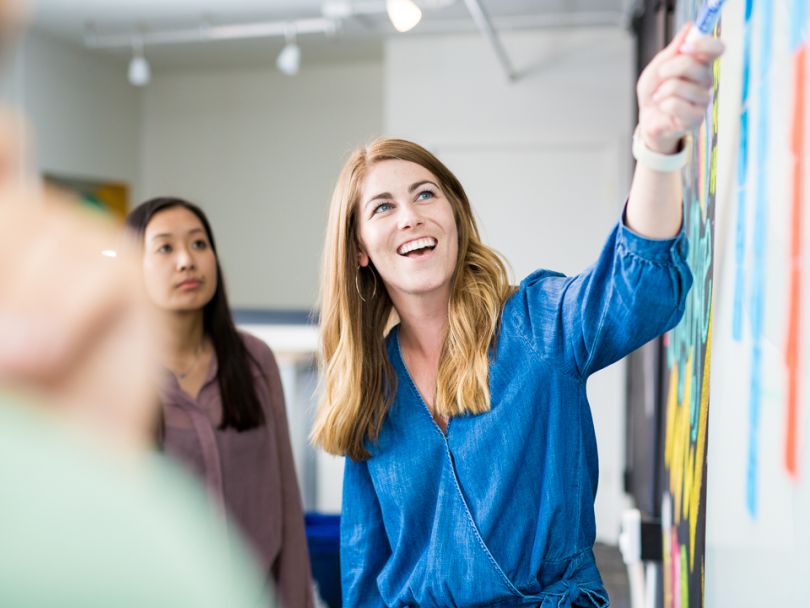 What KPIs have you set for your team? How do you measure success?
We certainly have the same KPIs that any successful company expects of their business development team: number of qualified leads, win ratio, actual revenue in current year and total contract value. But those KPIs are just table stakes.
We really measure success by how interesting the work is and whether it allows our multidisciplinary teams to prove what they can do. Getting a six-figure project that allows the team to create an experience-driven e-commerce solution and builds a long-term relationship with a new client is much more important to us than a larger seven-figure, one-and-done project. We measure success by selling solutions, not projects.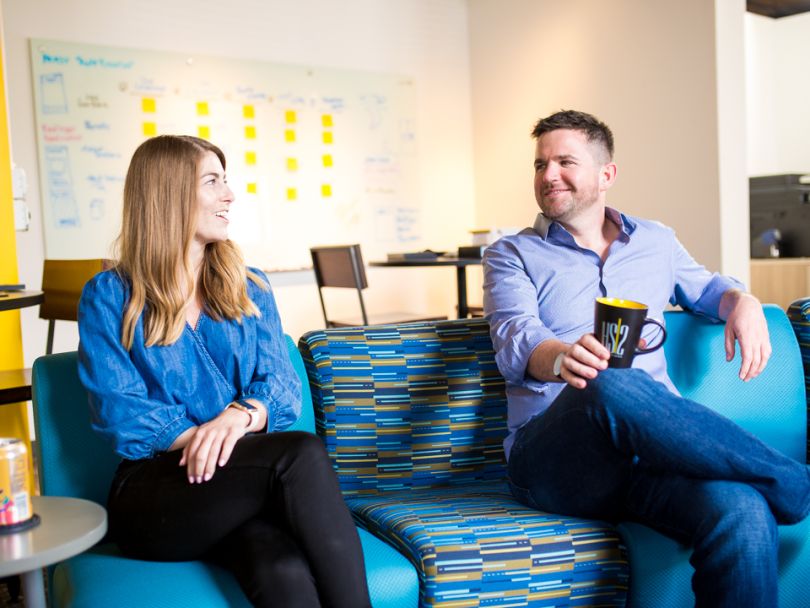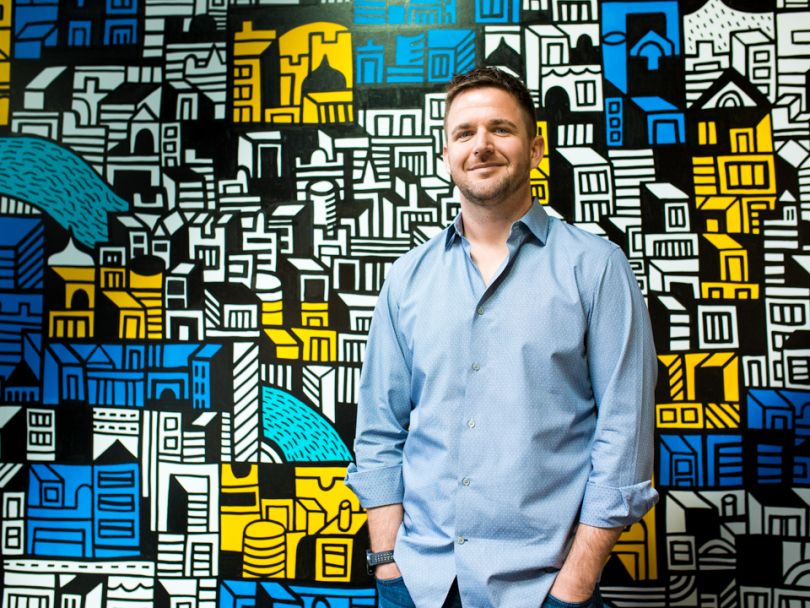 Greg Golec, Vice President, Client Service
Greg Golec is responsible for ensuring that client expectations are met and exceeded. To do so, he works to make sure that Bounteous' delivery teams understand their clients' businesses, so they can develop solutions that will truly drive performance.
BEYOND WORK: In his own words, Greg is a sports fanatic. He'll watch or play any sport, though he claims he's better at watching than playing these days. We think he's probably being too hard on himself.
You are fairly new to Bounteous. What attracted you to the company and the business development team?
I genuinely enjoyed my interactions with everyone that I met during the interview process. It was evident that the company was growing and doing so responsibly. There were common threads across all the discussions I had with people from different disciplines. There was a focus on true consulting and doing what's right for the clients, which may be different than what they ask us to do. There was also a focus on people and culture. That's window dressing at many companies, but it's a reality at Bounteous and that was apparent pretty early on. 
How do you support your team and help them translate challenges into opportunities?
I try to over-communicate with my teams. I am responsible for ensuring that they understand all aspects of our clients' businesses. That means sharing what I learn when I meet with clients, tying our projects to our clients' larger business goals and sharing nuances that may not be evident to team members who don't interface with our clients regularly. Our clients hire us because they need help. That often means we're hired into challenging situations, but if we act in their best interest, we will succeed far more often than not.
What advice would you give to someone looking to grow their career at Bounteous?
If you are looking for a company where you can chart your own course, this company is for you. You'll be surrounded by smart, engaged colleagues on a daily basis and be afforded the opportunity to work on the things you're interested in. We have titles and roles and responsibilities, but we also encourage exploration and growth — and that's very energizing.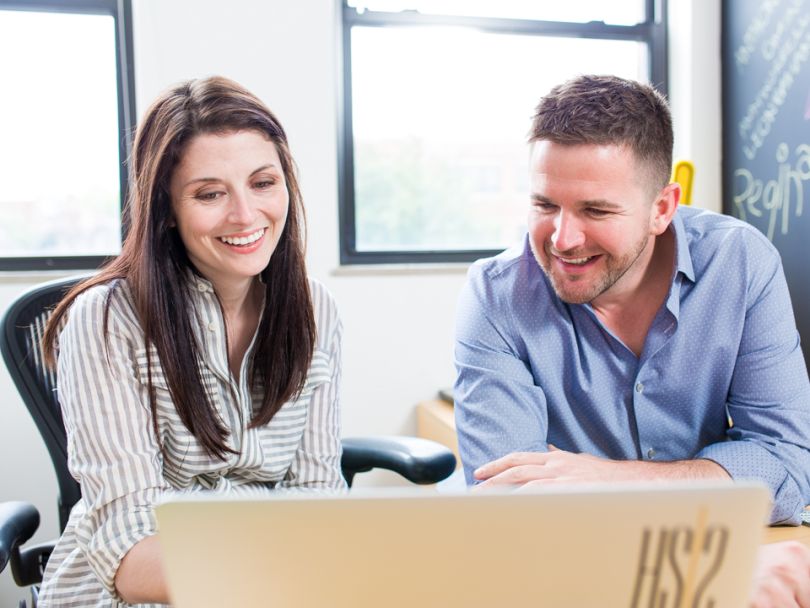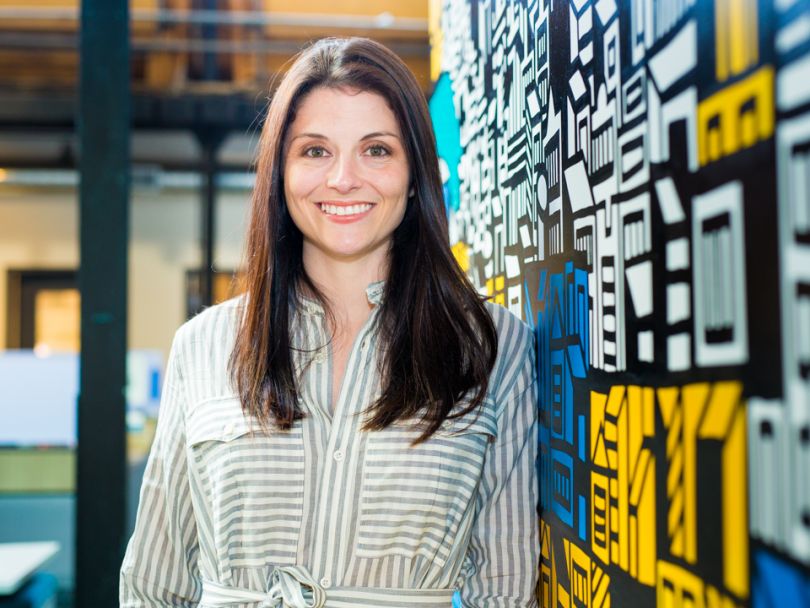 Megan Donahue, Senior Business Development Director
For Megan, success is not only achieved in finding new opportunities and relationships but sourcing opportunities that will excite, invigorate and push her team on projects for clients that can truly partner with her company. It's not about revenue for the sake of revenue for her, it's about finding client partnerships that will last. Megan understands that her team wants to be passionate about their work and that helps to fuel her drive.
BEYOND WORK: Megan has two hobbies outside of work — embracing being a first-time parent and trying to stay healthy while balancing motherhood and work. Just like work, Megan shared, managing parenthood and personal health takes dedication, flexibility and an understanding that it's okay if things aren't always perfect. She's learning to manage work and parenting with grace, dedication and flexibility. 
Describe your typical day-to-day at Bounteous.
Each day is like no other and I love it that way. The type-A person in me loves a good plan, but working in business development, things can change quickly and the adrenaline that comes along with it can be exciting. My days are made up of various responsibilities, including managing relationships and making connections, driving RFP responses and introducing our team to prospective clients. I look forward to spending time with my team members in order to really understand what they do and what they are passionate about. It helps inform the types of clients and work we want to win.
What is unique about business development and client service at Bounteous?
Business development and client service partner closely together on opportunities with both existing partnerships and with new prospects. Additionally, most of our business development team members have been client service executives in the past and therefore understand the importance of the partnership between the two in order to ensure the work being sold is achievable, and that the relationships being built with the clients are transitioned smoothly between teams.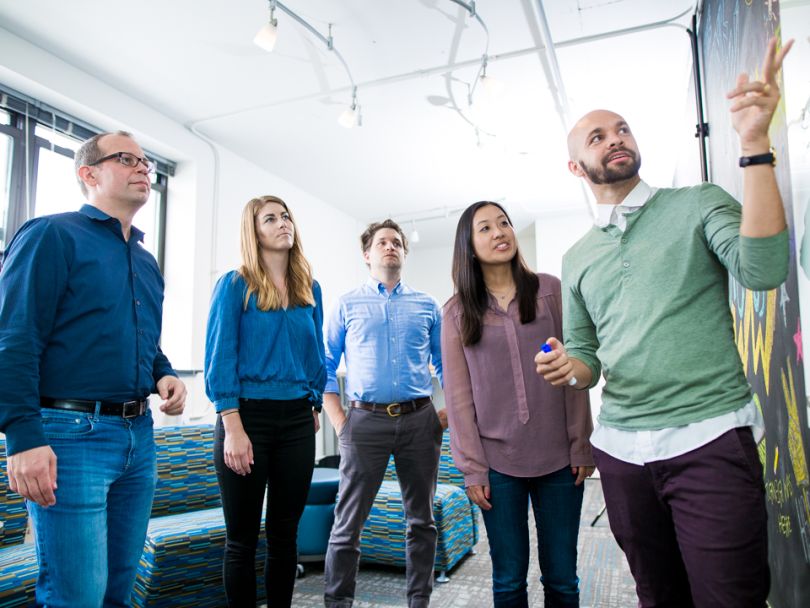 What kind of access do you have to leadership at Bounteous?
Access to leadership is easy — I sit outside of our president's office and his door is always open. In fact, he is a career coach for many of us, including myself, and always shows up. Other leaders throughout the company are the same way — always available, always willing to lend a hand and always asking how they can help.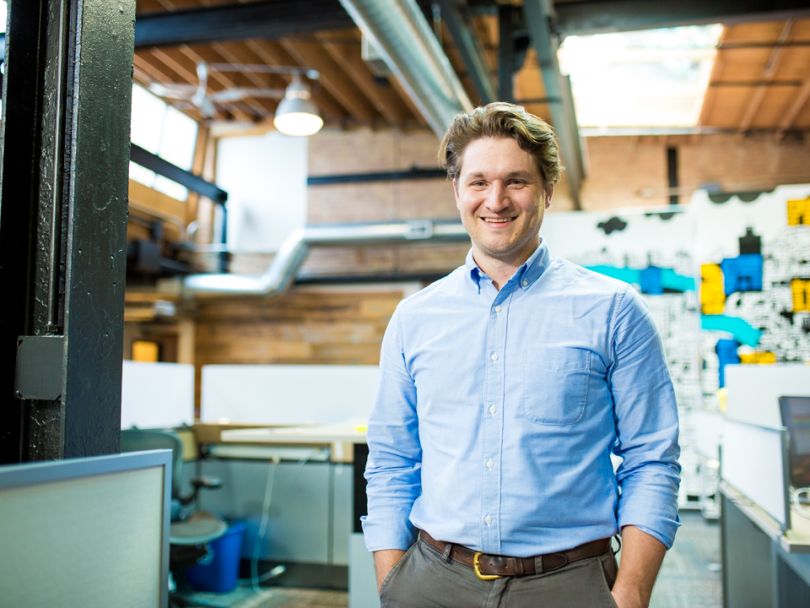 Nick Killion, Client Service Director
For Nick Killion, new employee training at Bounteous closely matched key elements of the company's culture. Across the business, team members reached out and offered to help Nick get up to speed, first as an account manager and now as a client service director. That approachability and openness helped him learn the business quickly so that he could focus more deeply on the needs of his clients.
BEYOND WORK: Nick tries to spend as much time as possible cooking. He sees the parallel between this hobby and team-based activities. For Nick, there's an alchemy to any sort of team-based engagement — personalities, skillsets, variables, etc. — that are analogous to taking raw ingredients and developing something great.
You're fairly new at Bounteous. How has your training and onboarding been different than prior experiences?
Most places might tout an "entrepreneurial spirit" but it's almost a prerequisite at Bounteous. We have support and expertise to guide people through the process and help them connect the dots, but I think there's an element of individual input that's directly reflected in the success and energy behind each of our pursuits.
Plus, I sit about 20 feet from our founder and president, Keith, whose door has literally been open since I started.
How often do you interface with clients? How does this shape your responsibilities?
I'm constantly interacting with clients throughout the day. Client focus and partnership isn't only the first of Bounteous' core values. Within the client services team, and for me personally, it's the lens through which even internal discussions need to be carried out. What is exciting is the way we are constantly investing and reinvesting in the technologies that matter most to our clients' businesses, as evidenced by our recent acknowledgment from the industry. This year, we won the Adobe Emerging Partner of the Year Award!
What advice would you give to someone looking to grow their career at Bounteous?
Our founders, Keith and Phil, maintain a few guiding principles, but the one that has resonated with me the most is to "assume positive intent." While it's as much of a challenge as it is a guide, it's been a simple reminder to refocus the lens through which I'm viewing my daily challenges.