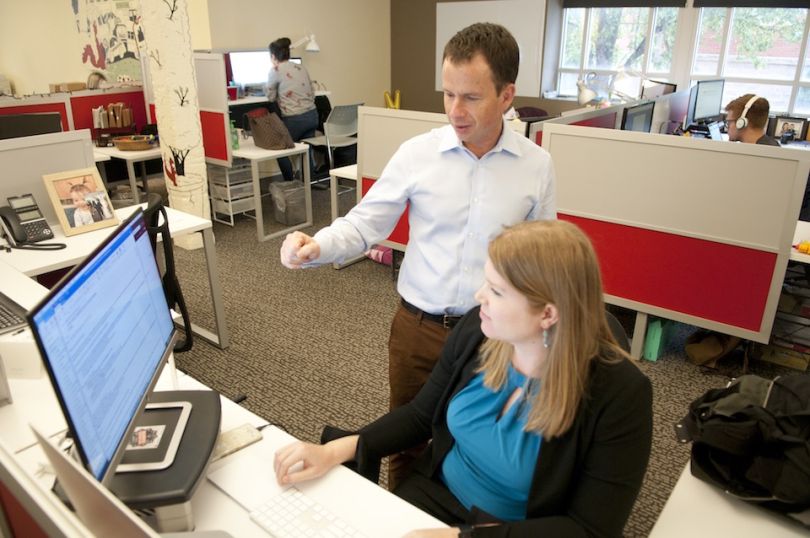 When HS2 Solutions launched in 2003, co-founders Keith Schwartz and Phil Hollyer had two goals in mind: delighting their customers and creating an environment where employees could learn and grow while working on impactful projects.
"We have been very focused on being an employer of choice for the best talent in the industry," said Schwartz, who is the company's president. "Having top talent leads to delighting clients, and having happy clients leads to growth, which creates opportunities for our team members. It has become a virtuous cycle."
This virtuous cycle has helped HS2 Solutions achieve an employee retention rate of 90 percent and driven growth in a big way. In the past year, the company's headcount has swelled to close to 400 people, in part thanks to the acquisitions of LunaMetrics, Infield Digital and Demac Media.
In an effort to tell one single story, the combined entity recently rebranded as Bounteous. We caught up with Schwartz to learn more about the rebrand and how employee retention has driven the company's success.
How did you settle on your new name, and what's the meaning behind it?
We were seeking a name that reflected both who we are and what we do. "Bounteous" is synonymous with being big-hearted, generous and giving, and also with being plentiful or abundant. The former speaks to who we are as a company, and the latter to what we do for our clients — we are often focused on growing leads, revenue or engagement.
Tech is a forward-looking industry. How do you think this rebrand will help drive Bounteous forward?
A unified brand reinforces our value proposition of integrated competencies, as we have deep expertise in strategy, design, technology, analytics and marketing. A single, unified brand will cause much less confusion. Rebranding also gives us a chance to retell our story, both to our existing clients and to the marketplace as a whole. It allows us to tell people how we are expanding our expertise.
We have a team full of talented people who are authentic, curious and generous with their time and knowledge."
Employee retention has clearly played a big part in your success and growth. How do you encourage people to stick around?
We have a team full of talented people who are authentic, curious and generous with their time and knowledge. When you couple that with stability, opportunities for growth and a low-drama, open, transparent and supportive culture, you can build trust and ultimately build retention. Retention lets us field teams who have worked together before, which results in highly satisfied clients. This further helps with retention, since we have financial stability and growth.
We also take listening seriously. We gather feedback in one-on-ones and perform multiple types of surveys, some as frequently as weekly. We also have Slack channels for improvement ideas. Ultimately, we try to understand the feedback and then act on it.
Part of your retention formula is giving team members impactful projects to work on. Which projects are you most proud of?
Our work with Domino's Pizza put us on the map. We helped launch and scale their online presence and worked on some of their trademark experiences, such as Pizza Tracker, Pizza Builder and their voice ordering assistant, Dom. Our partnership is in its thirteenth year and continues today with digital marketing and customer engagement.
Locally, we worked with Wilson Sporting Goods on an award-winning experiential commerce solution that goes way beyond traditional transaction e-commerce. It really lets Wilson tell their brand story in ways that make their products come to life and create an emotional connection with customers. Lately we've helped Wilson with some product personalization solutions geared to sports teams and leagues.
From a hiring standpoint, what about this rebrand has your team most excited?
We hope to widen the audience of people who are aware of our company and the culture we built. We usually do pretty well when we have an opportunity to introduce our company and the opportunities we provide to prospective team members. We expect more people will become aware of Bounteous and are excited about building relationships and a digital future for our clients together.