Yes, every tech company wants to finish the year strong, but that doesn't mean there isn't time to take a night and celebrate the year's successes over drinks, dinner and dancing. As you might have guessed, Chicago tech companies are particularly good at throwing parties. Continue below to see how some of the city's tech companies celebrated the year's end, and be sure to check out part one of this series.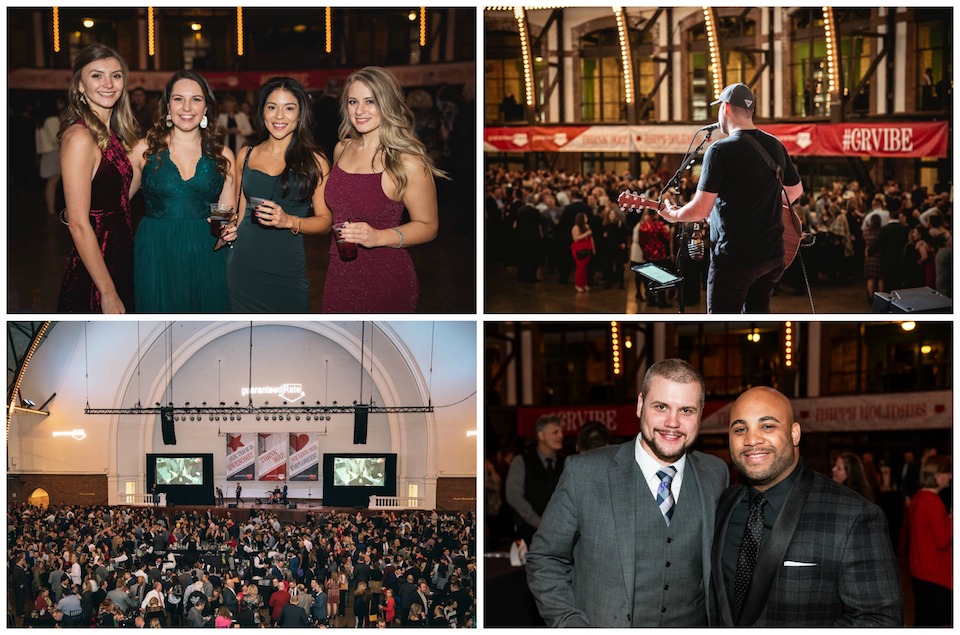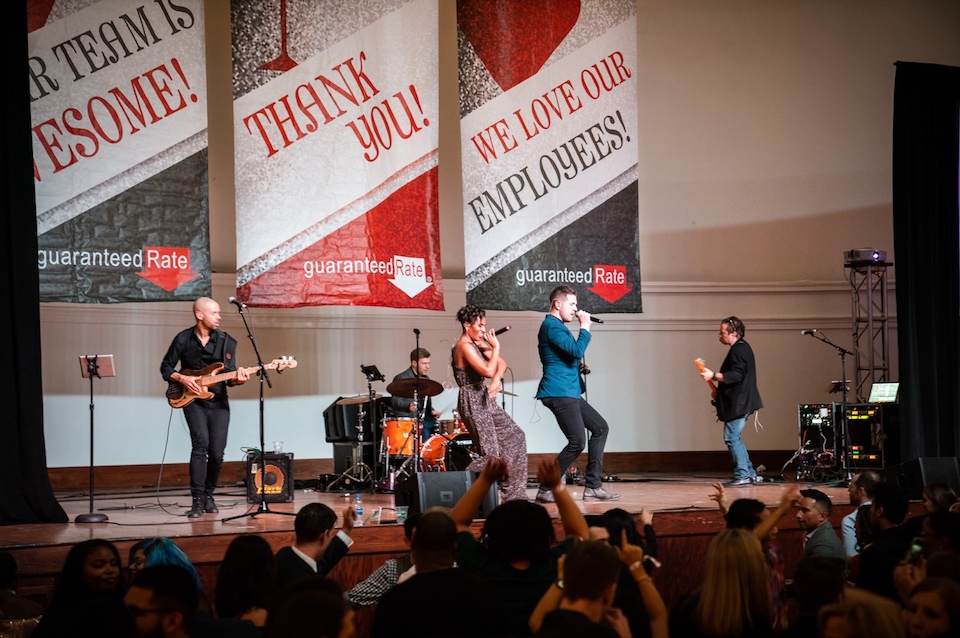 Guaranteed Rate's 2018 holiday party was all about celebrating the company's "rock star" employees. The team headed over to Navy Pier's Aon Grand Ballroom for a night filled with dancing, cocktails and delicious appetizers. In keeping with the rock star theme, the night's entertainment was provided by local Chicago bands South of 80 and Hey Jimmy.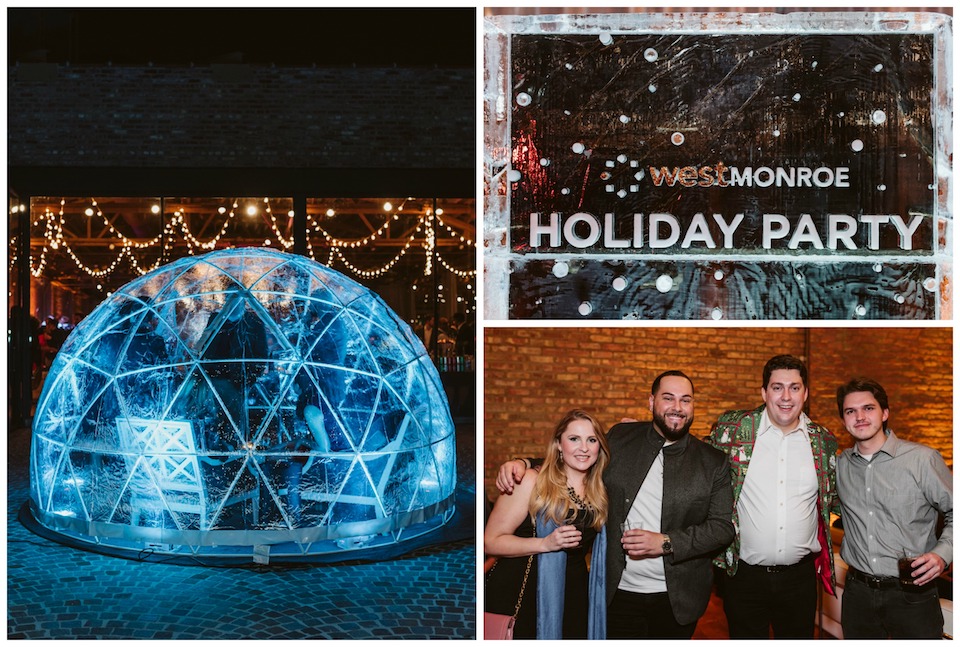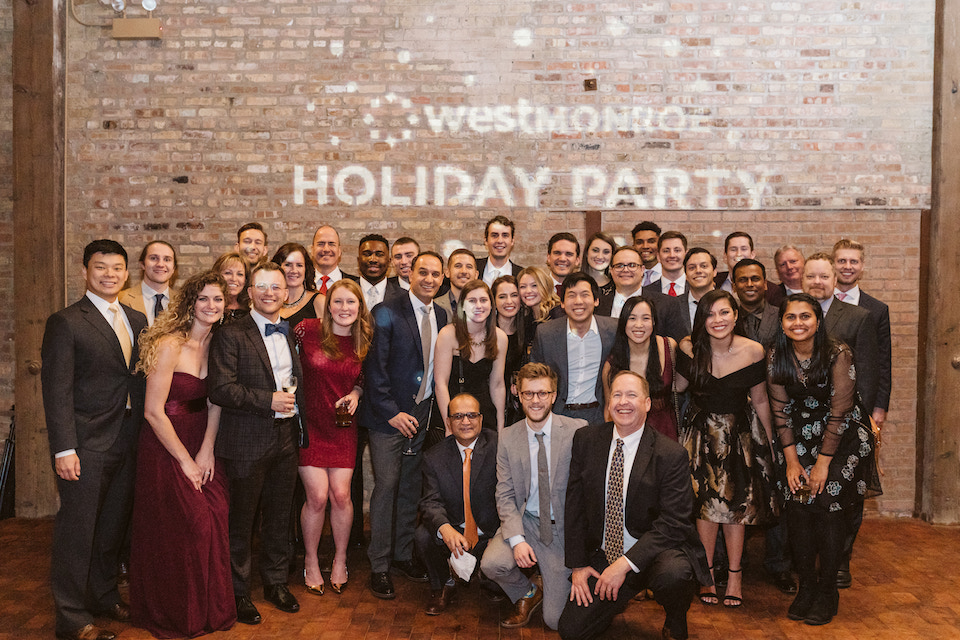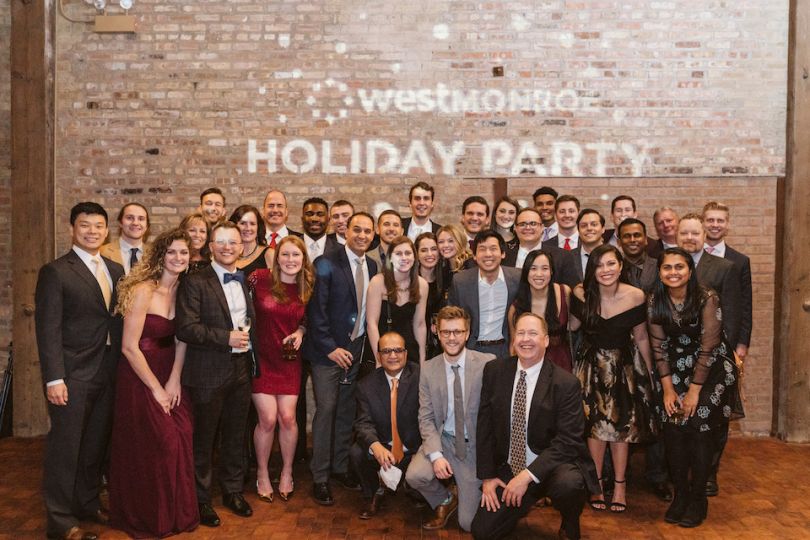 Business and technology consulting firm West Monroe Partners packed over 1,000 employees and their guests into events space Rockwell on the River to celebrate the holidays. The winter-themed bash featured plenty of food and drink, ice sculptures and igloos of the not-cold variety for guests to gather in. The team packed the dance floor as iconic Chicago cover band and West Monroe favorite Rodd Tuffcurls and The Bench Press performed.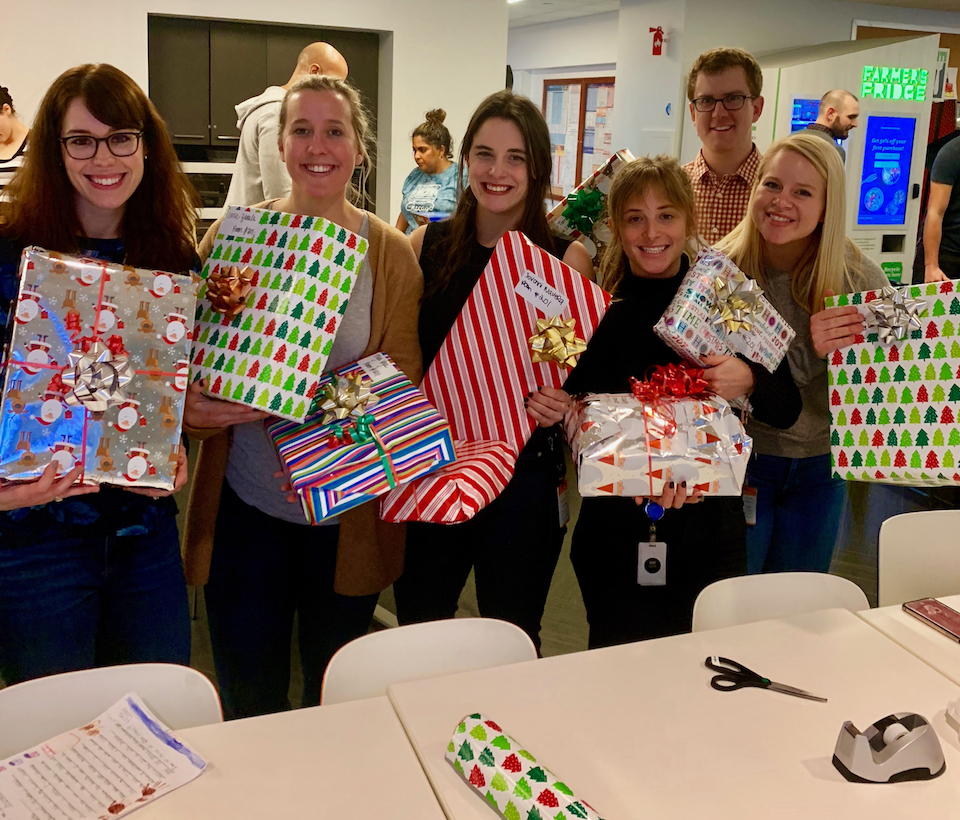 Relativity's 2018 holiday bash was held at the House of Blues and had a carnival theme. The e-discovery company enjoyed a night of performances, classic carnival games and a raffle featuring awesome prizes.
"Relativians around the globe celebrate the holidays through local festivities and the Relativity Gives traditions, from buying and wrapping gifts for students in elementary schools to contributing food and funds to local food banks," said Director of Talent Acquisition Matt Garvey. "One of the best ways we relax and recharge for another strong year is through our always-amazing annual holiday party and our week-long winter break that rewards our team members for their hard work."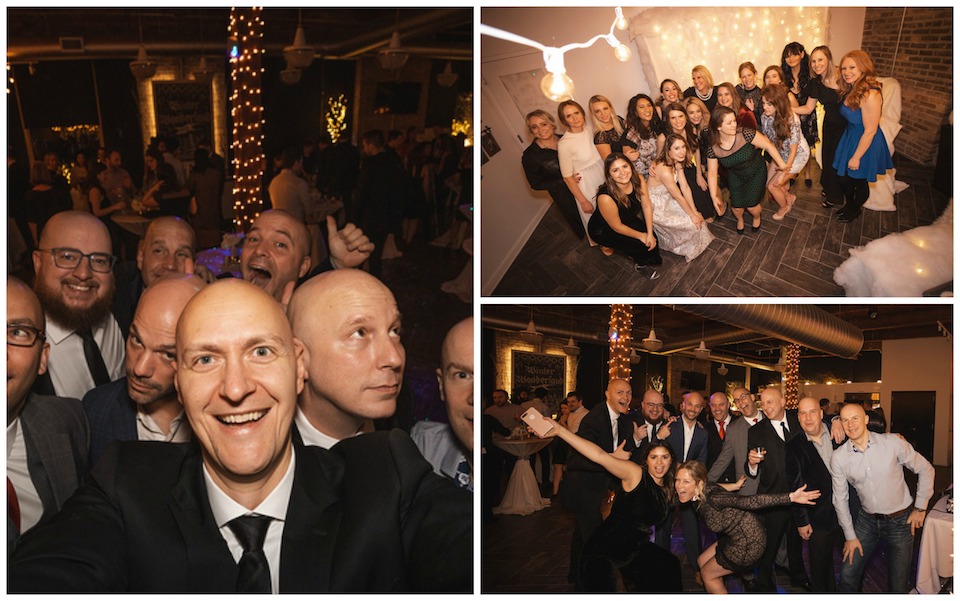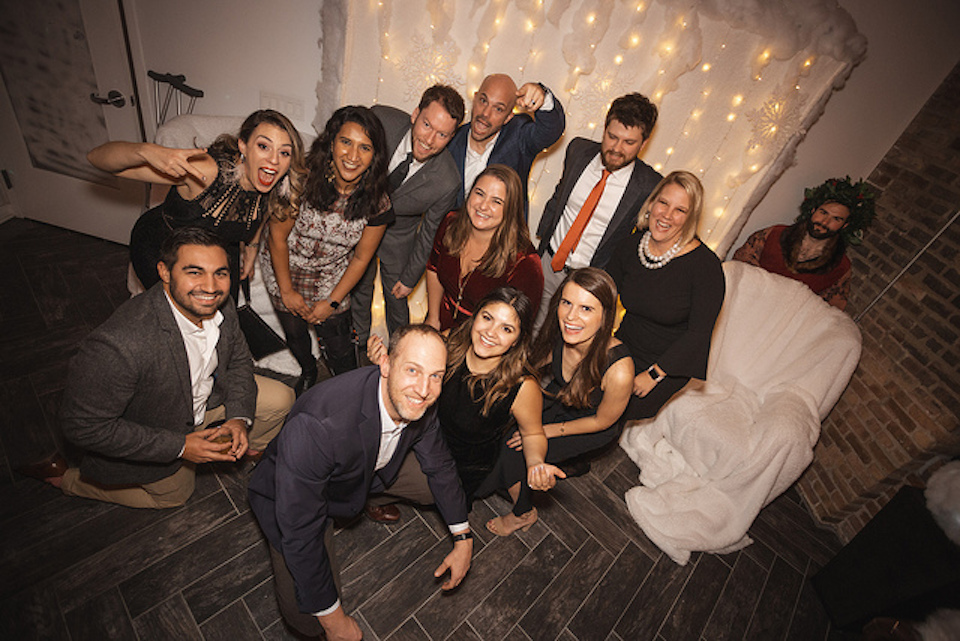 Devbridge Group's office underwent a transformation in celebration of the holidays. The theme for the software design and development company's party was "winter wonderland," and the office was decorated to resemble a magical winterscape. Team members and their plus ones gathered to celebrate the year's successes, snap selfies and ask each other, "How'd that happen?" as a magician performed.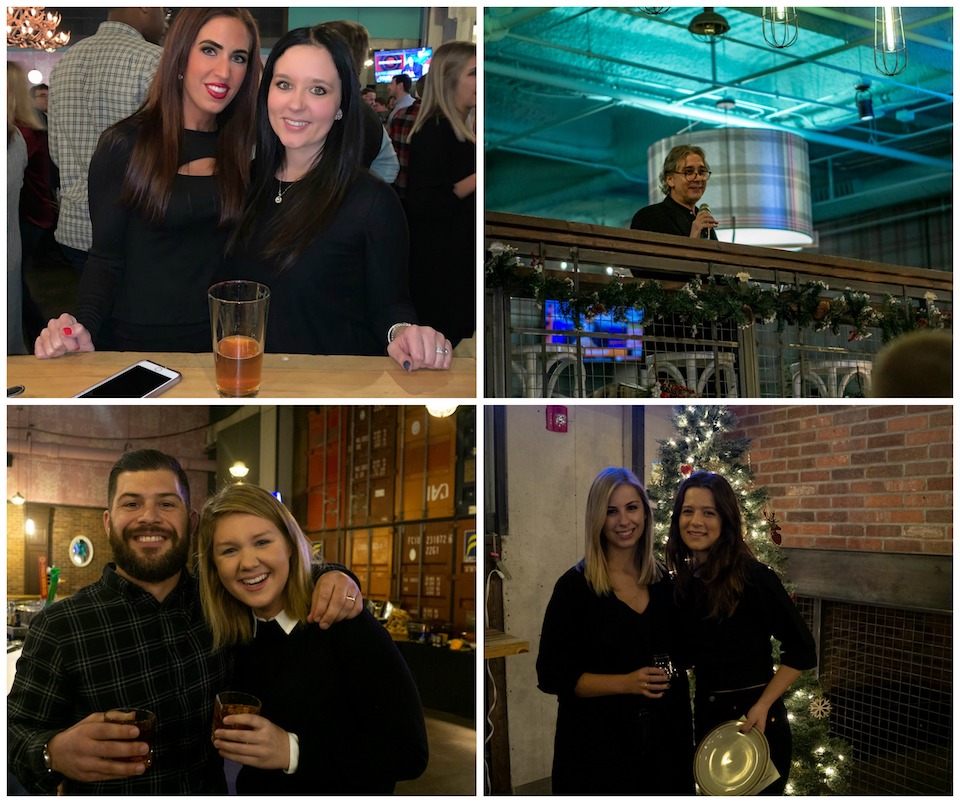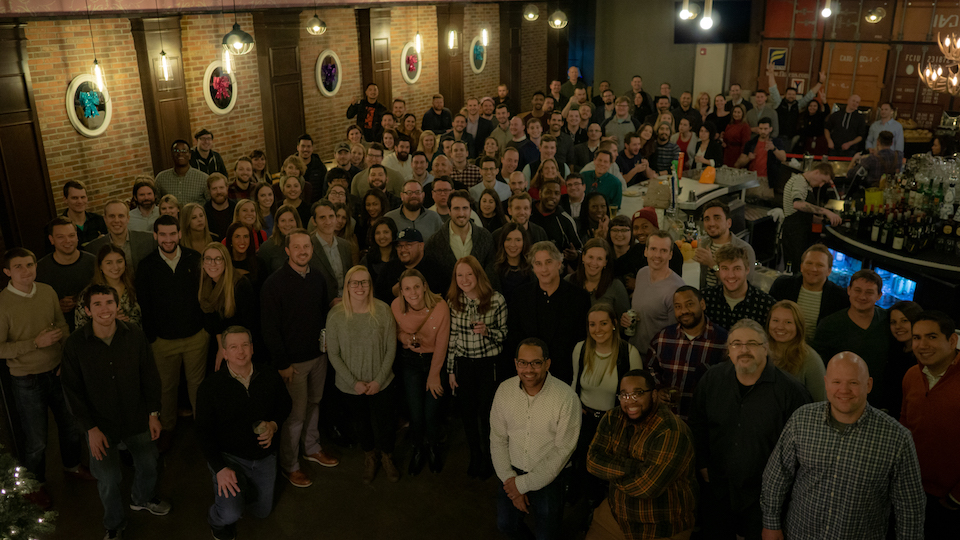 DialogTech celebrated the start of the holiday season and the end of a successful 2018 at Punchbowl Social. The team enjoyed an open bar, a bunch of delicious food and music. There were also a bunch of games for those feeling competitive, including giant Jenga and Connect Four, shuffleboard, bags and ping-pong.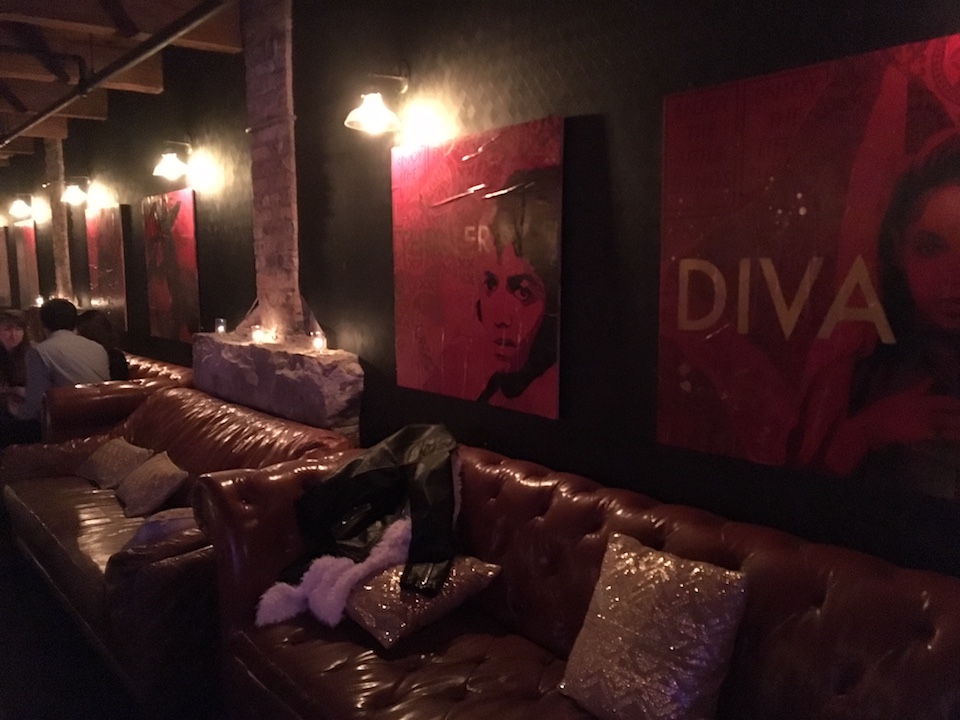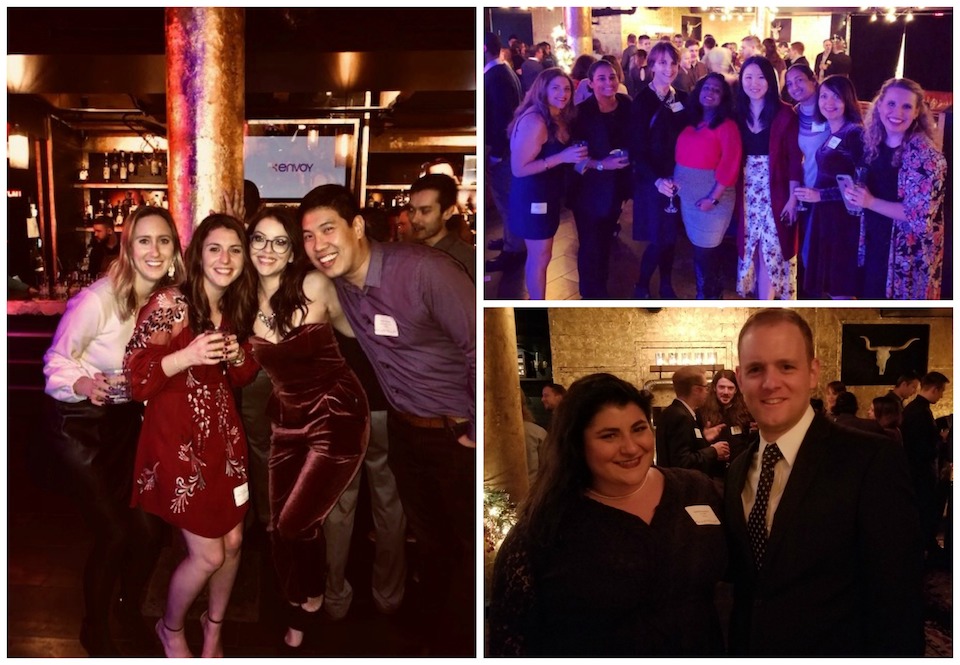 Envoy Global celebrated a big 2018 at River North speakeasy Bassment. HR Associate Taylor Moesle said the Envoy team was also joined by members of one of the company's key partners to celebrate the pair's growing relationship.
"Envoy Global held its 2018 holiday party at the Bassment," said Moesle. "The night was full of dancing, karaoke and the celebration of Envoy's many achievements throughout the year," said Moesle. "Envoy was also joined by its partner company, Global Immigration Associates, as all individual accomplishments wouldn't be possible without the growing relationship between our two companies."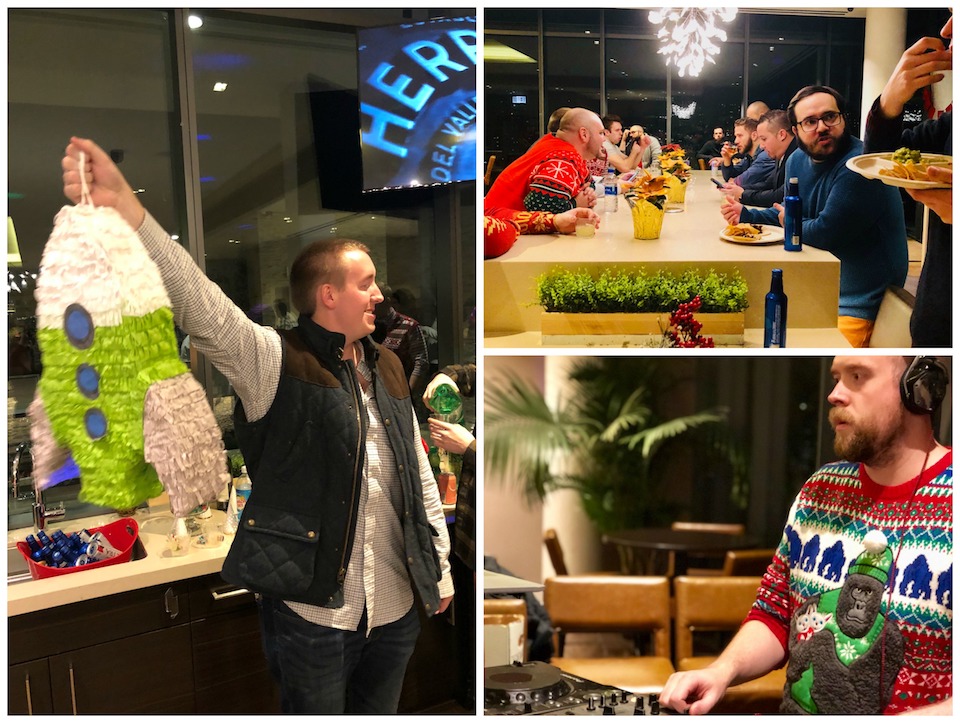 The Chowly team celebrated a successful year — the company raised a $5.8 million Series A and significantly grew its headcount — at an indoor River North rooftop events space. Team members were treated to tasty treats courtesy of Big Star and also enjoyed a DIY cocktail bar and a dessert and candy station. Employees exchanged gifts secret Santa-style, cracked open a "launch" piñata and enjoyed a guest DJ set from one of Chowly's co-founders.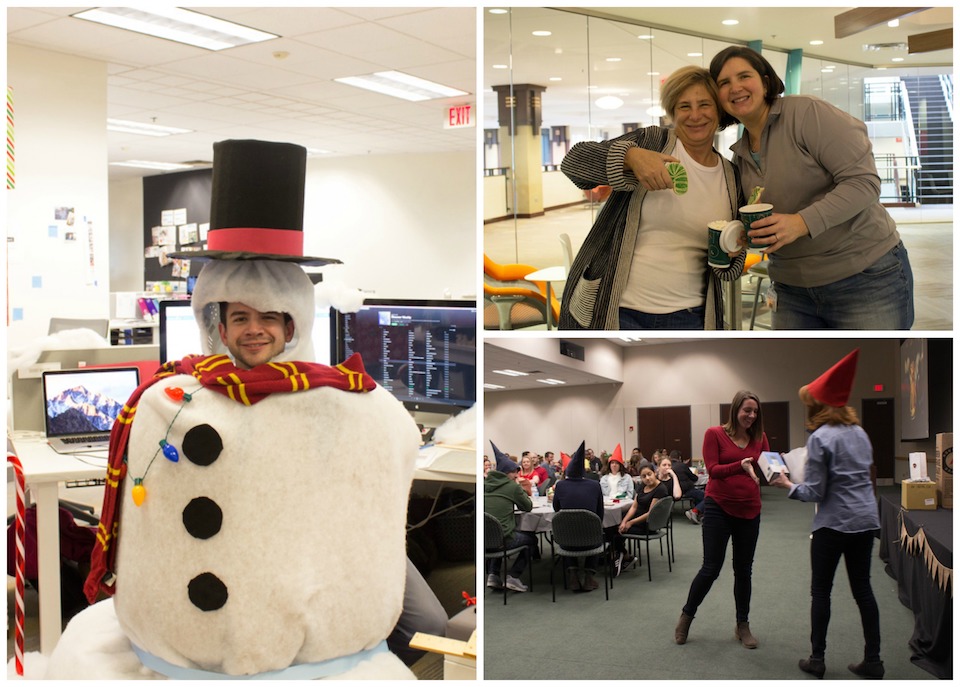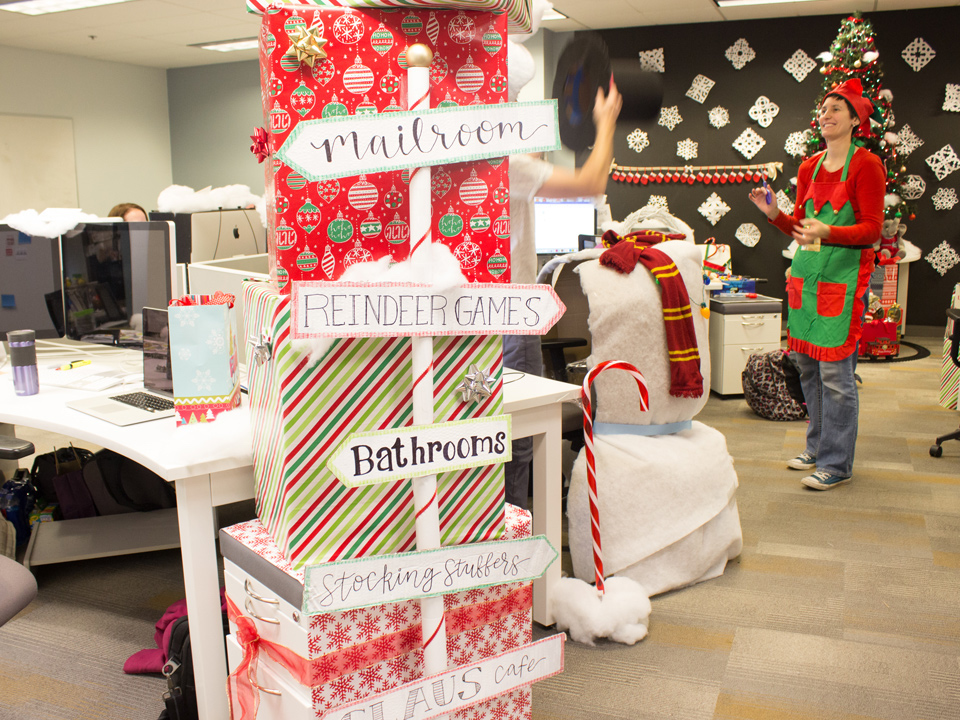 Pampered Chef doesn't take a one-size-fits-all approach when celebrating the holidays. According to Talent Partner Carolyn Grant, the e-commerce company holds a week of events to ensure that everyone can find something that's fun for them.
"We kicked things off with a build-your-own-hot-chocolate bar complete with whipped cream, chocolate syrup, caramel, plain and chocolate chip marshmallows, and more," said Grant. "Tuesday was an afternoon happy hour with trivia, and Wednesday we hosted a delicious holiday lunch complete with mini donuts for dessert and raffle prizes. We ended the week with ugly sweater and pod decorating contests."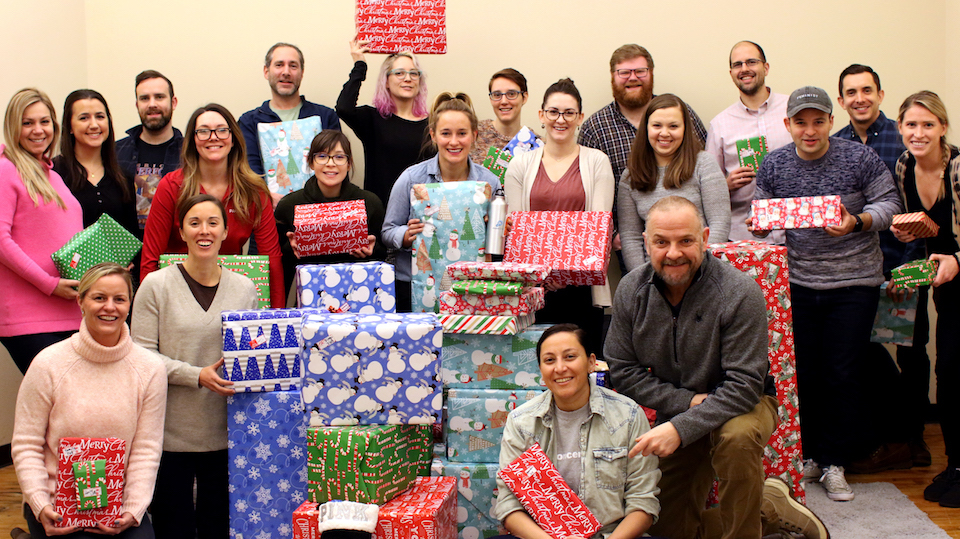 In addition to throwing a party — more on that soon — parking technology company ParkWhiz celebrated the holidays by giving back. The team organized a coat drive with Button & Zipper to donate winter wear to those in need and also acted as elves, working with Children's Home & Aid to donate presents to families in need. The ParkWhiz holiday party was held at the Berkshire Room in River North and was themed around family and teamwork, with team members and their partners celebrating a year's worth of successes, including $25 million in new funding.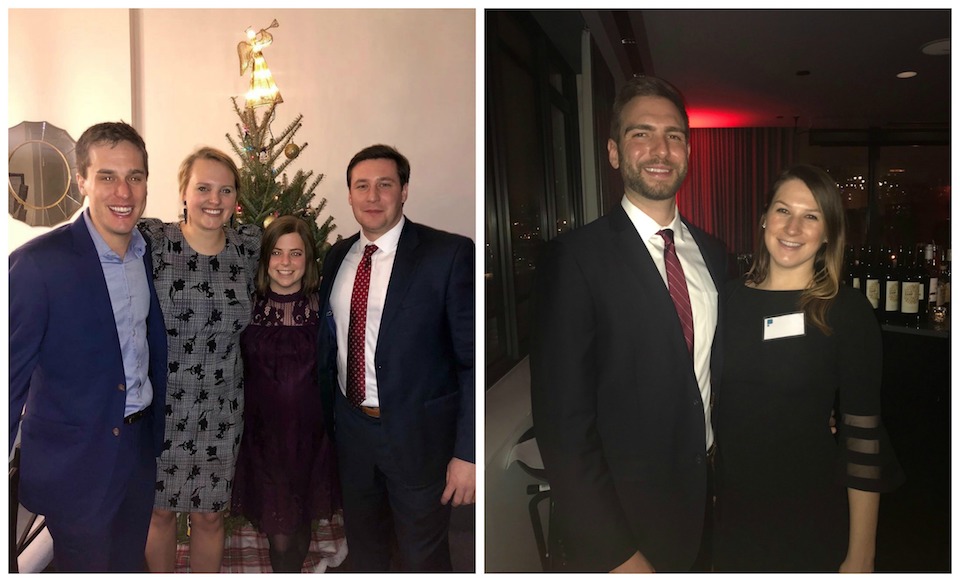 When it comes to the holidays, health technology and analytics company Pareto Intelligence likes to party with affiliate healthcare management consulting firm HealthScape Advisors. In addition to sharing an office, the two companies come together each holiday season for a cocktail party to celebrate the year's successes. Pareto's holiday party is an event employees look forward to all year and features plenty of drinks, food, music and dancing.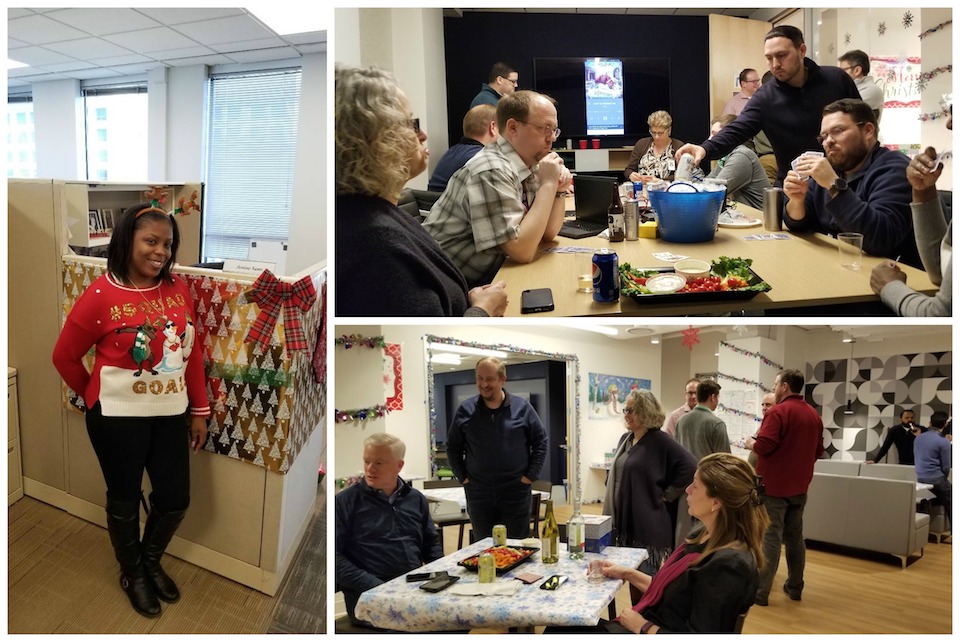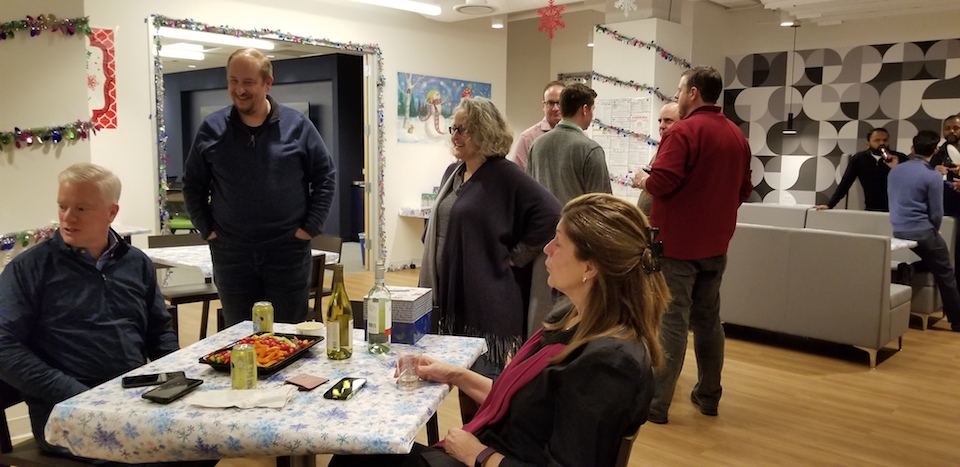 CCC held its annual family holiday party at the Windy City Fieldhouse, with employees and their family treated to a night of food, games and photos with Santa Claus. In addition to the official party, employees also organized their own happy hours complete with festive food, drinks and decorations. CCC's Austin and Sioux Falls offices also got in on the fun and celebrated with team meals and the always awesome ugly sweater contest.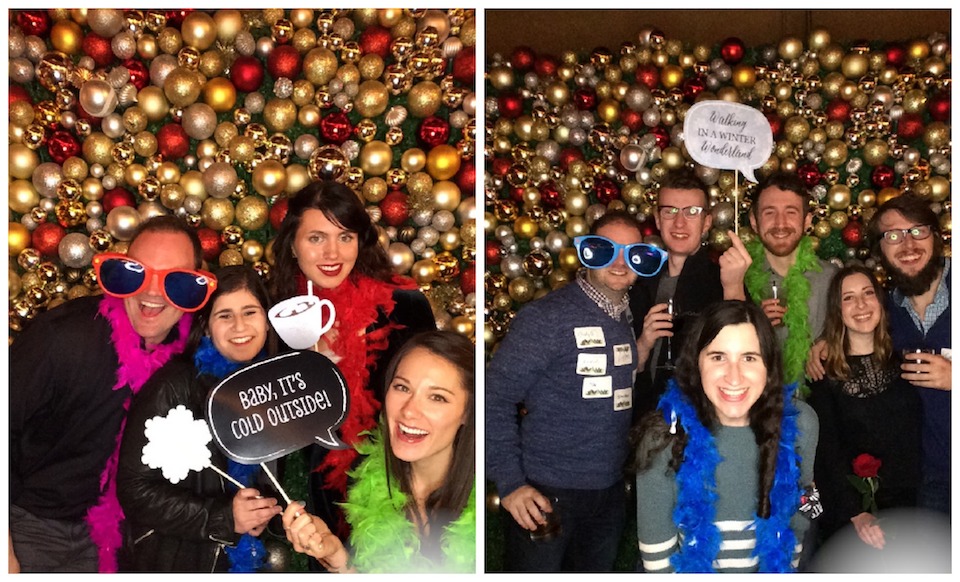 When your company operates a live events ticket marketplace, it's only natural that the theme of its holiday party would be "top 10 selling events." For its end-of-year celebration, Vivid Seats rented a space in the West Loop and filled it with food provided by a specialty catering company, fine spirits and a DJ. Employees captured memories of the night in a photo booth and enjoyed a performance by a breakdancing crew set to a mashup of songs from some of Vivid Seats' top-selling events — think Elton John, Beyonce and Drake.