Chicago tech companies really know how to deck out their offices. We highlighted a number of them this year and were blown away by some of the design elements and amenities they housed, ranging from staples like stocked kitchens to libraries and indoor batting cages. In no particular order, here are 10 of the best offices we saw this year.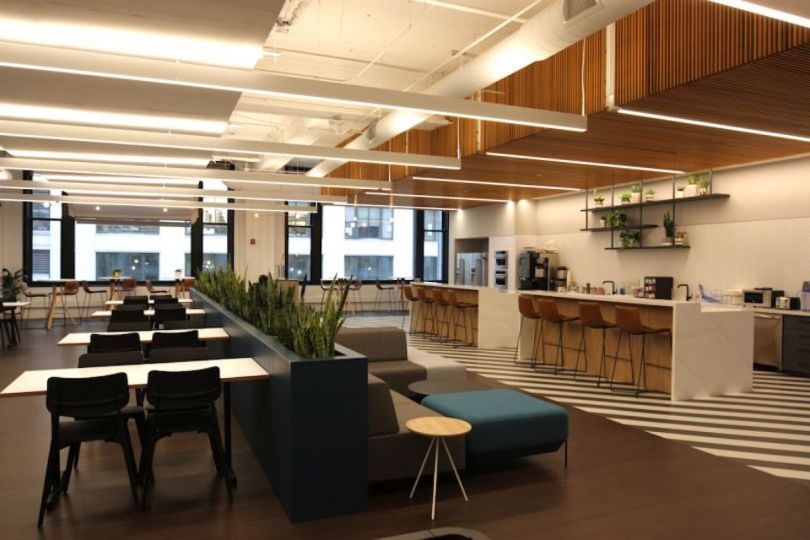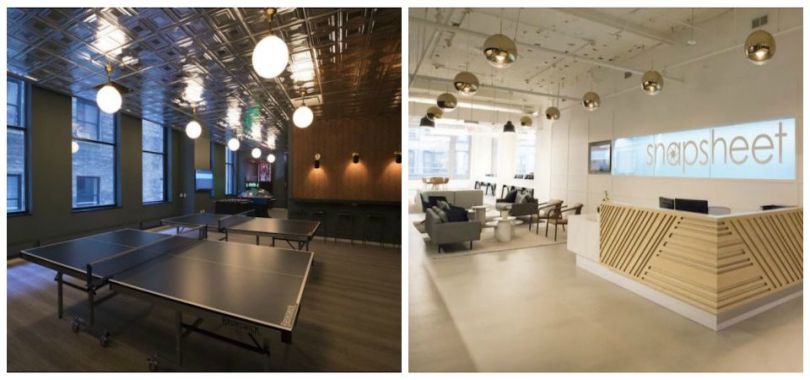 What they do: Snapsheet works with insurance companies to provide drivers with digital tools to file and settle claims quickly, all online. Companies can also process claims faster with Snapsheet's automation software.
Location: 1 N. Dearborn St. (The Loop)
Square footage: 50,000
Best features: "Our goal was to design a space that feels collaborative and functional," Chief People Officer Sarah Doll told Built In Chicago. "From open meeting spaces to huddle rooms and from the game room to the large family-style kitchen, I think we did just that."
Snapsheet's ambient and spacious office also features a game room, beer on tap, a gym offering kickboxing and yoga classes, and a fully stocked kitchen.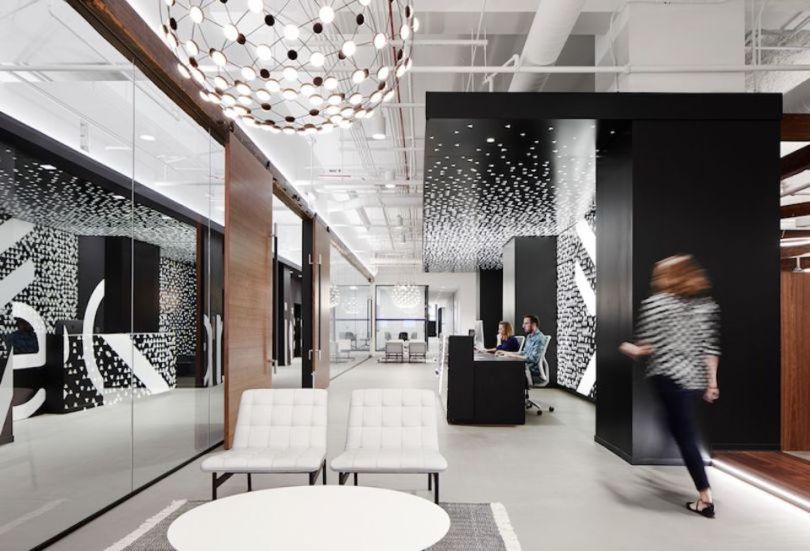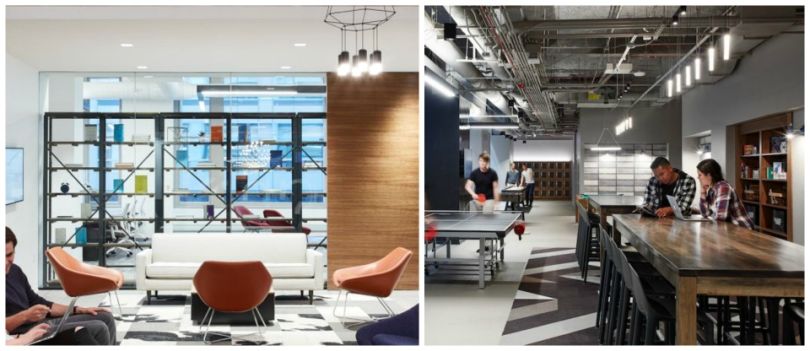 What they do: ActiveCampaign works to help small and medium-sized businesses run more effective marketing and sales campaigns through tools like automation and customer messaging solutions. 
Location: 1 N. Dearborn St. (The Loop)
Square footage: 52,000
Best features: "At the center of our space, Mos Eisley Cafe is a team favorite, where catered lunch is brought in for the team daily," said Denise Bindelglass, VP of people. "It serves as a hub for all things ActiveCampaign, whether that means a spot for stand-ups in the morning, all-hands meetings or hanging out for after-work drinks. Other favorites include the breakout rooms named after fictional places and the game room, complete with a hidden speakeasy."
Who doesn't love secret areas and conference rooms named after Game of Thrones locales?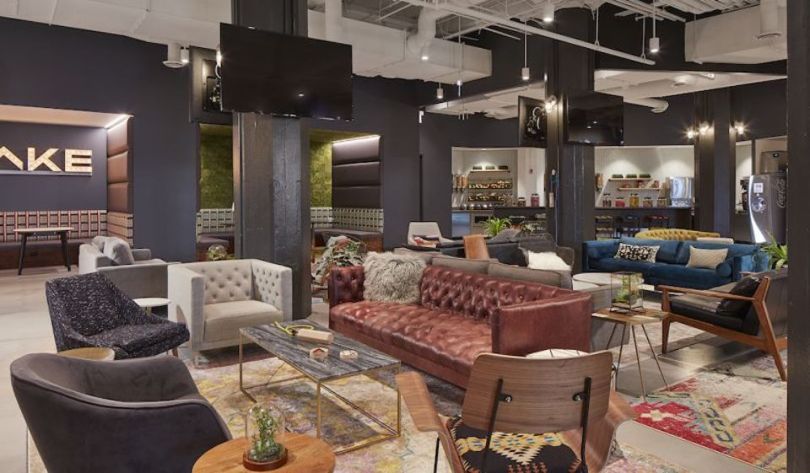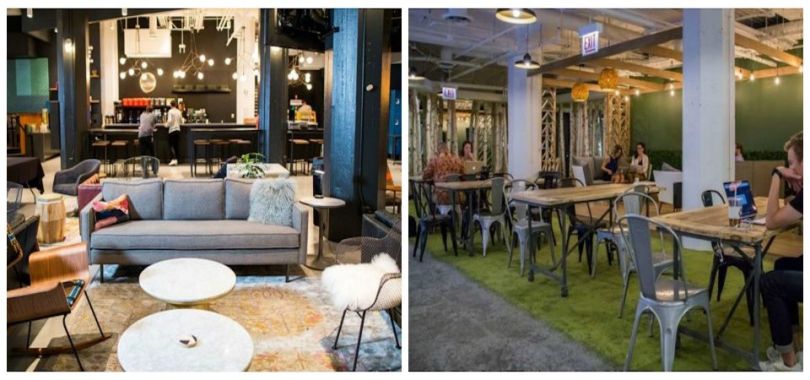 What they do: Uptake offers predictive AI and IoT software to companies in the oil and gas, manufacturing, transportation and energy sectors which can help them improve their efficiency, productivity and safety.
Location: 600 W. Chicago Ave. (River North)
Square footage: 135,000
Best features: "We've achieved an eclectic blend of modern and rustic design throughout the office, and we always try to keep the space from feeling too corporate or sterile," said Gillian Frackelton, senior special projects lead. "600 West Chicago Avenue is an expansive former warehouse building, and you still get that feeling from the original architecture."
The office is full of color and couches and even has an indoor patio space. It also features a piano and mediation room for staff to use when their brains need a break.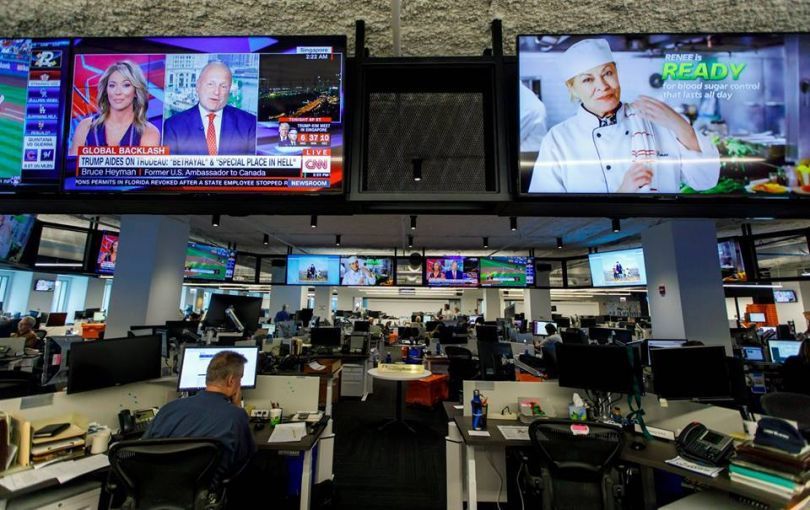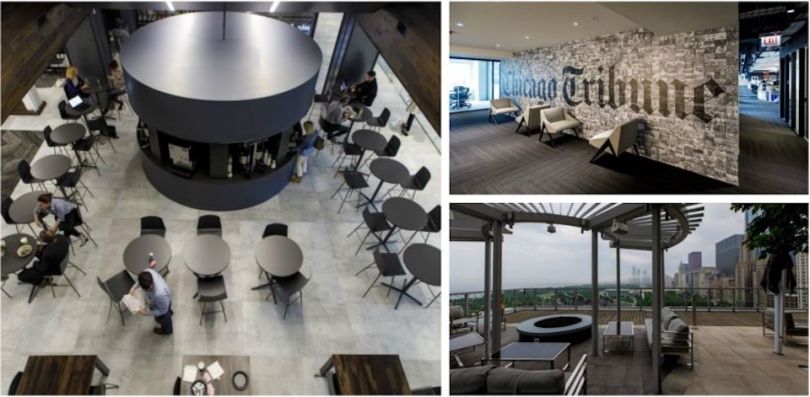 What they do: Tribune Publishing is media company that manages local media publications in eight markets that include Chicago Tribune, New York Daily News, The Baltimore Sun, Orlando Sentinel, The Virginian-Pilot and others. The company moved into its current space overlooking Millennium Park only recently — this year, it moved from Tribune Tower after being there for close to a century. 
Location: 160 N. Stetson Ave (The Loop)
Square footage: Over 115,000
Best features: "Our goal was to strike a balance and honor the legacy, tradition and rich history of the Chicago Tribune as well as the rapidly evolving digital era and our need to have a modern, sleek and technologically progressive work space," said Maya Bordeaux, chief human resources officer. "We're honoring our journalistic roots by including tables made from old press plates, framed editorial cartoons and conference rooms named after our Pulitzer Prize-winning journalists."
In addition to memorabilia from previous Tribune eras, the office also features an expansive rooftop terrace and a large, open-concept work area decked out with dozens of televisions for staff to stay up to date on breaking events.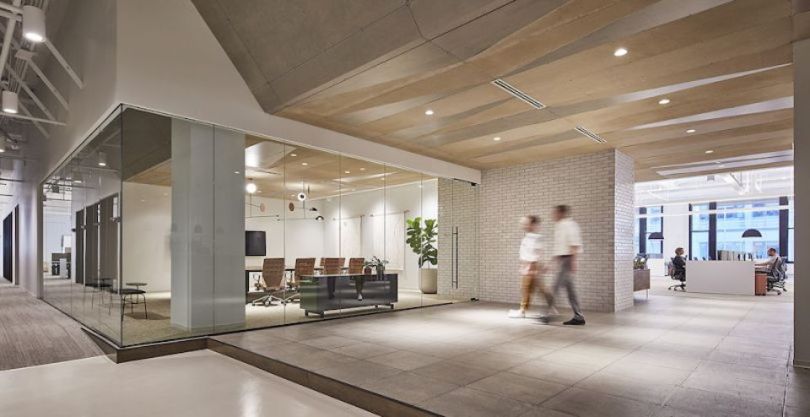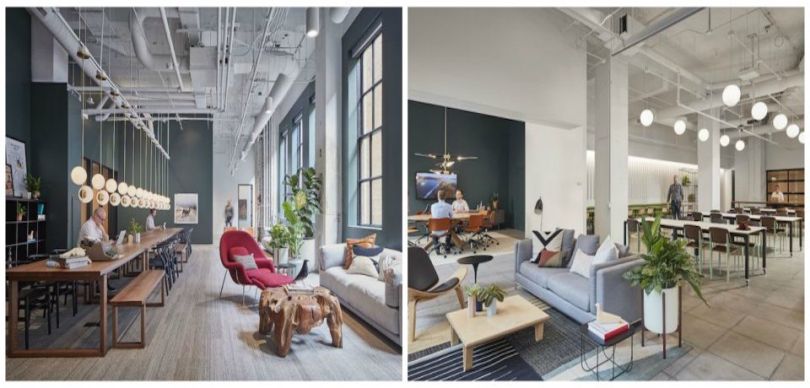 What they do: Narrative Science is a platform that translates enterprise data into actionable reports and stories written in plain English via its natural language generation engine.   
Location: 1 N. Dearborn (The Loop)
Square footage: 40,000
Best features: "Everyone has two seats: an assigned desk and another space that is not assigned," said Stuart Frankel, CEO. "I don't just mean conference rooms, either. There are a ton of informal areas where people can ideate, be creative or relax."
Outside of the unique desk arrangement, the space — which combines a very wide variety of styles that blend together — features a library, private phone booths and a rooftop area.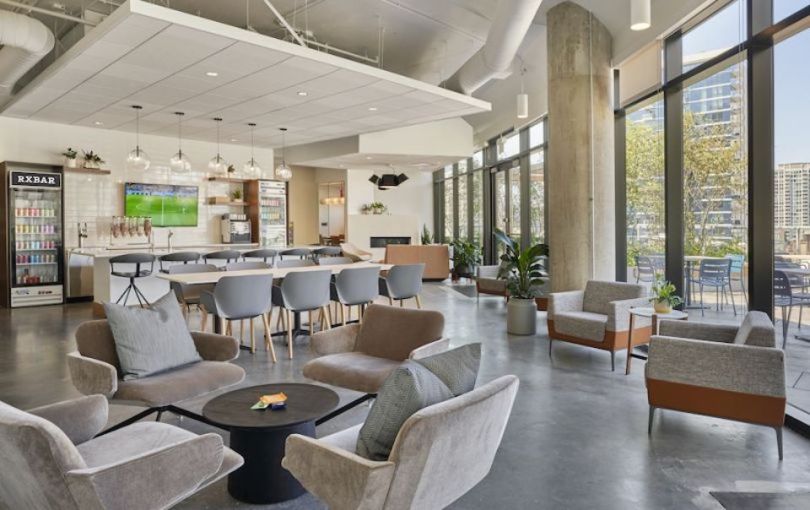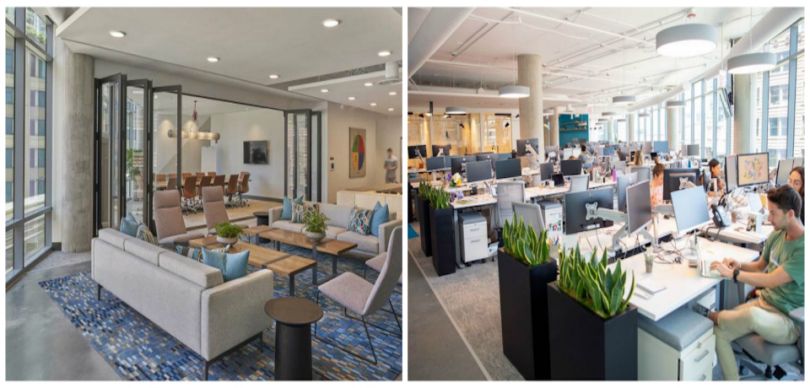 What they do: RXBAR is a nutrition brand that makes snacks like protein bars and nut butter created from natural ingredients like egg whites, dates and nuts. 
Location: 412 N. Wells (River North)
Square footage: 40,000
Best features: "The open seating, bright wall colors and views of the city from all nine floors and rooftop allow for creativity, productivity and innovation to happen, while also feeling connected to the brand and the people who work here," said Leslie Joseph, VP of people and organization. "Team members can collaborate, learn and enjoy a glass of kombucha or cold brew from our taps throughout the office."
As you would expect, the company that makes healthy snacks has a well-equipped on-site gym. The space features abundant natural light and the floor plans for each level are different, to prevent staleness. According to the team, each space is designed with purpose in order to serve the work styles for each group within the company.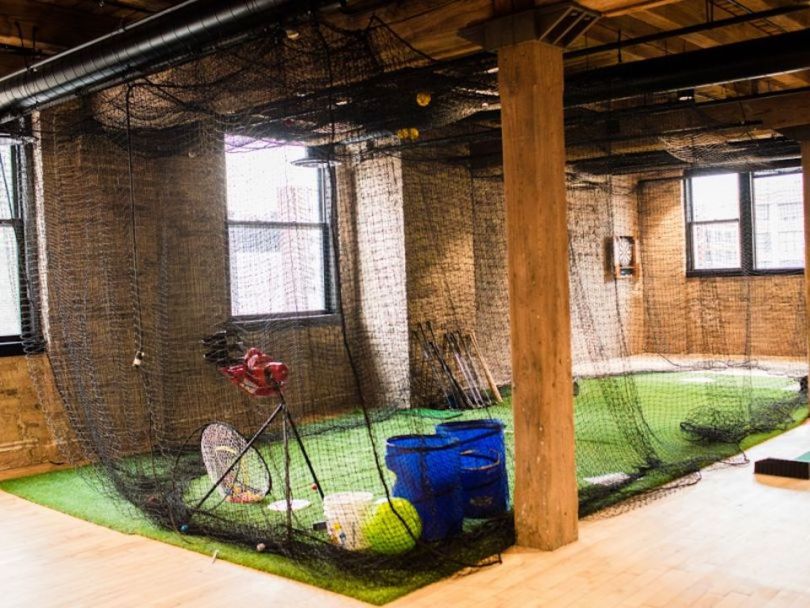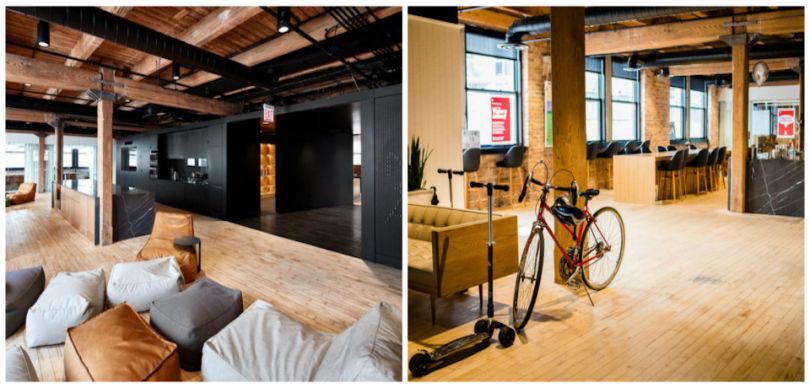 What they do: Ansarada helps enterprise companies through major business events like mergers, capital raises, audits and IPOs with deal-making software powered by AI. 
Location: 215 W. Ohio (River North)
Square footage: 9,000
Best features: The company has a fully fledged batting cage inside their office. What better way to blow off steam than hitting something with a baseball bat? Their space has a rustic-yet-modern feel, with plenty of exposed wood and brick contrasted against marble countertops and sleek, black accents. Additionally, the office has a rooftop deck and a gym with showers and laundry facility.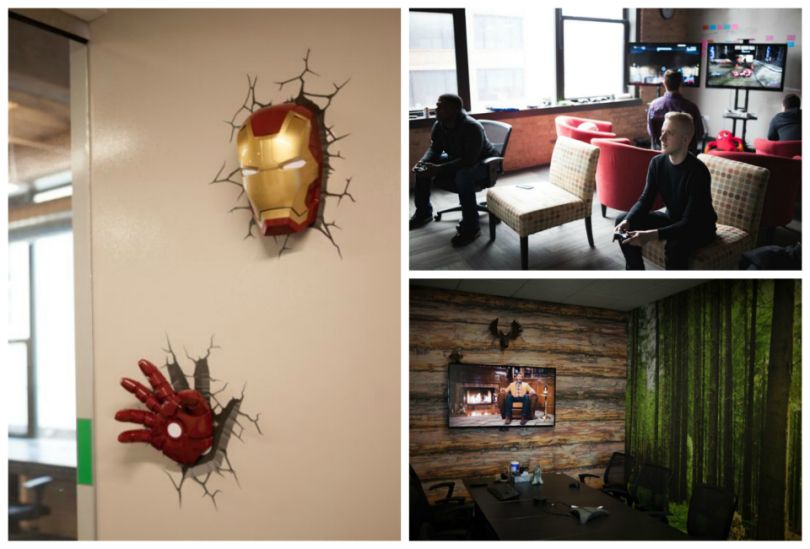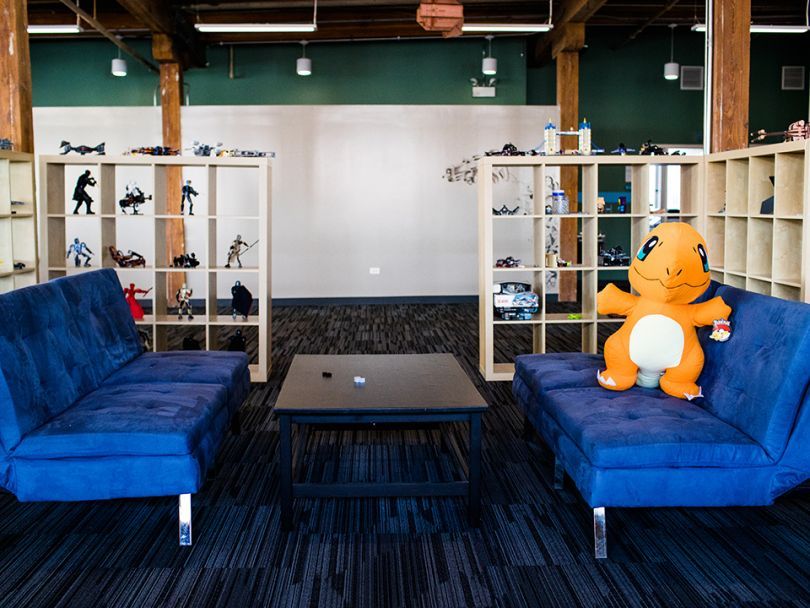 What they do: Nerdery is a digital consulting agency offering companies in the healthcare, retail and manufacturing sector with services like platform modernization, cloud migration and product development coaching. 
Location: 1033 W. Van Buren (West Loop)
Square footage: 24,000
Best features: "We wanted our space to be built by nerds, for nerds," said Gregg Walrod, head of software engineering . "Whether it be the NerdWall [an interactive installation that displays information about employees on a wall], the custom gaming cabinet, the shuffleboard table that keeps score with a Microsoft Kinect or our custom-built dashboard."
The pet-friendly office is full of collectibles spanning all of pop culture, but there is still room for a beer tap and plenty of free snacks in the kitchen.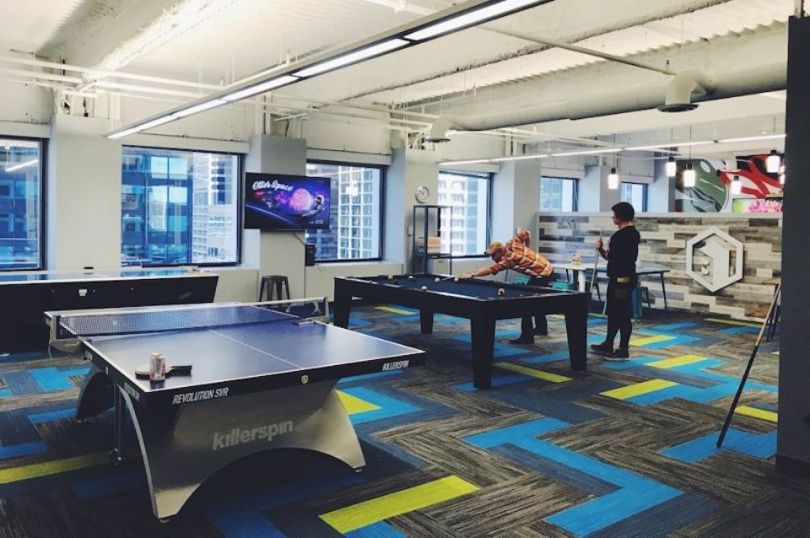 What they do: Buildout, Inc. is a cloud-based software platform for marketing within the real estate industry — helping companies improve their communication and property listing processes.
Location: 222 S Riverside Plaza (West Loop)
Square footage: 115,000
Best features: "All of our inside jokes have turned into decorations around the office," said Sonni Conway, branding director. "We used the corn emoji so often in Slack that it became the theme of a conference room, and another room is designed around our co-founder Jason Tillery's favorite hobby: taxidermy."
The quirkiness is further expanded by the blue and yellow color scheme throughout the office, which also has a video game area, air hockey table, onsite gym and kitchen serving free meals to staff daily.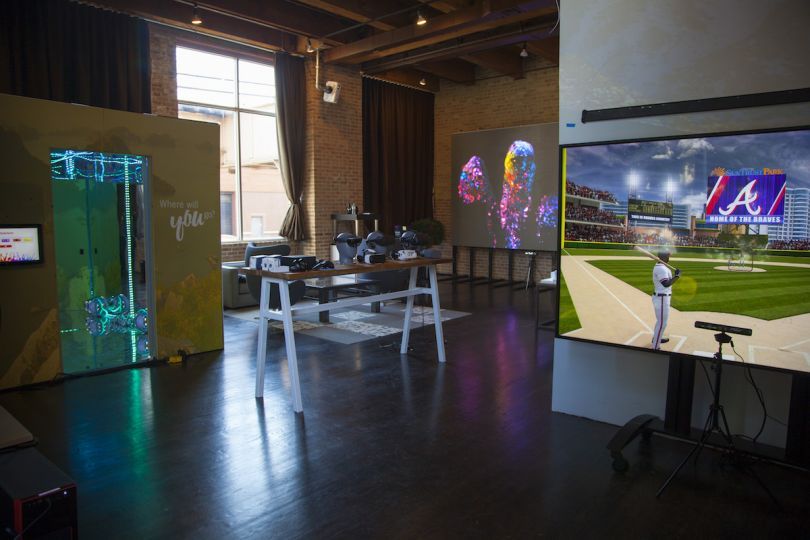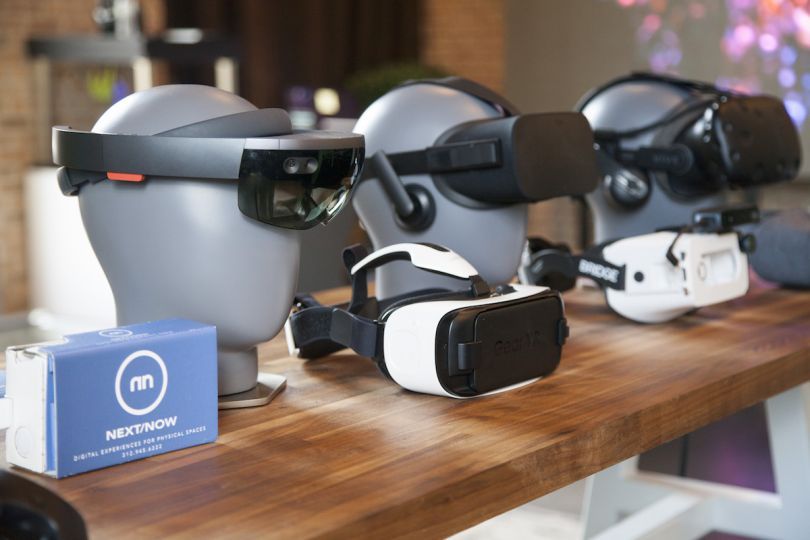 What they do: NEXT/NOW develops virtual experiences for users to enjoy in real places. It uses virtual and augmented reality and other digital forms of motion-based interactivity to bring company brand experiences to life at events, festivals, exhibits, museums and in other spaces. 
Location: 1200 W. Lake St. (Near West Side)
Square footage: 6,300
Best features: "Our 15-by-15 foot fully immersive virtual reality room," said Mark Matthews, marketing strategist. "We also have a projection mapped wall, a tournament-size shuffleboard table and a giant 11-by-8 foot LED screen."
Are you not entertained?