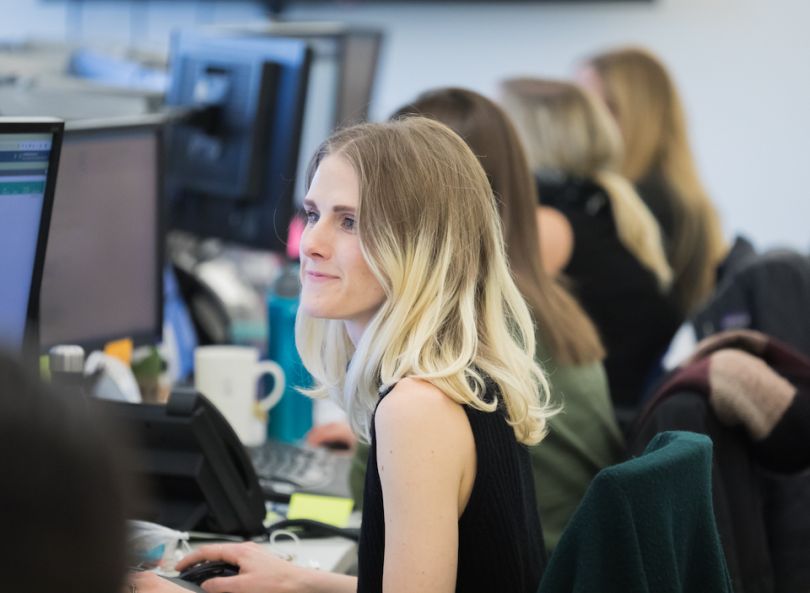 Truck drivers are instrumental in making sure the goods we depend on are exactly where they need to be, exactly when we need them. This job is no easy feat, and planning the logistics of connecting drivers to suppliers with goods in need of timely transport is no walk in the park, either. 
That's why MoLo, a Chicago-based freight brokerage, is using its tech and its team members to make logistics run smoothly for everyone involved in transport — drivers, suppliers and brokers.
"We are a middle man and a services provider between the trucks moving across the country, and the shippers that have the products they're hauling," said company president and founder Matt Vogrich. "We send tracking data to customers and ensure their product will be delivered on time. We automate some of our back-end processes so that we can handle increasing shipments daily, monthly and annually."
Vogrich founded MoLo in July 2017 and quickly brought on Andrew Silver, whose family name is well-known in logistics. Andrew's father Jeffrey founded Coyote Logistics in 2006 — then sold it for a whopping $1.8 billion to UPS in 2015. MoLo is following a similar pattern of rapid scaling, but like any fast-growing company, there have been challenges along the path to success. 
We focus on executing every order for our customer partners within a dynamic industry, regardless of how challenging the market becomes."
According to Vogrich, the company came into the freight market during a period when drivers were at a shortage and there was a large volume of shipments that needed to be moved quickly, leading to higher prices for shippers and receivers. MoLo was tasked with keeping customer costs down as much as they could.
"It's an ever-changing market in that, every single day, pricing is a little bit different," said Vogrich. "When prices go up across the board, it's something that not all customers are familiar with. How do we help them maintain their costs and provide them with a reliable service? We focus on executing every order for our customer partners within a dynamic industry, regardless of how challenging the market becomes, and sometimes that comes with taking a short-term loss on our shipments. I think that's a big area where we differentiate ourselves."
Eventually, the pendulum swung in the other direction. As more drivers and trucks entered the market, shipment availability lessened. That meant closer attention needed to be paid to carriers. Drivers were offered loyalty programs that paid out rewards and perks to those that hauled more loads for MoLo. They were offered higher take-home pay and around-the-clock assistance. 
"The lack of respect for drivers in our industry is frankly infuriating," said Silver in a story on Freight Waves, a trucking industry news provider. "We want to treat our carriers and customers better than anyone else."
What can we automate so that our software does as much of the work as possible, and so our people can focus on what they're good at?"
It's that attention to parties on both sides of the freight equation that has helped MoLo go from facilitating just over 1,400 loads per month in July of 2018 to over 6,500 loads per month by May 2019. And since the market scales have balanced in recent months, the company is focused on scaling  — that means bringing in lots of new team members and developing the skills of existing ones.
The company currently has a head count of 150 at its West Loop office and plans to bring in 150 more employees across a wide variety of roles over the next 18 months. To train new hires, MoLo has an in-depth, multi-week onboarding process that features classroom-like learning sessions of eight to 12 people, job shadowings and more. Staff are also encouraged to pursue their professional development, and recent opportunities to do so included a professionally taught Excel course; team members swapping roles for a day; and an internally-run, ongoing public speaking workshop. 
Some new tech is also on the horizon. Vogrich said the company is looking to adopt a significant number of new tools to improve overall efficiency — for drivers and customers, helping them get shipments to and from their destinations. 
"Every day, we try to add to our technology," said Vogrich. "How can we make our people as efficient as possible? What can we automate so that our software does as much of the work as possible, and so our people can focus on what they're good at — building relationships and servicing that connectivity between customer and carrier."