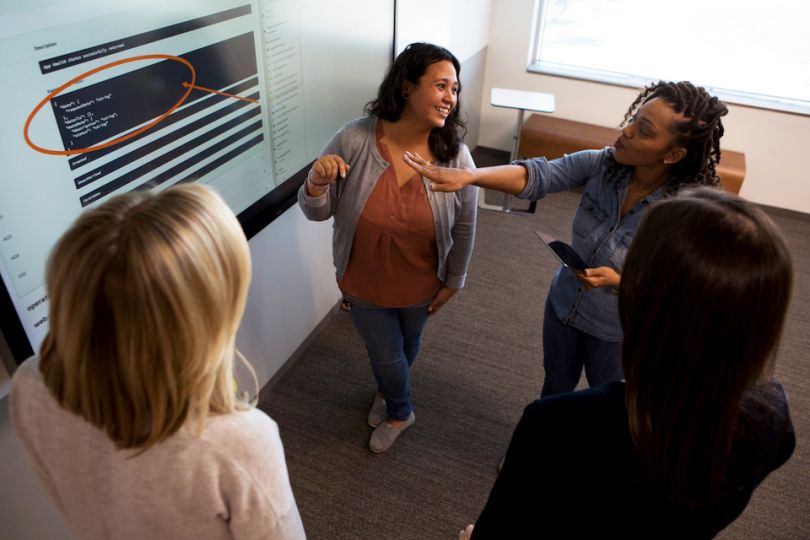 Mentorship makes money. Don't believe us?
A 7-years-long case study by Gartner looked into the effectiveness of having a formal mentorship program at a computer services company in 2006. Researchers found that $6.7 million was saved from avoided turnover based on increased retention rates of mentors and mentees in the program. Additionally, 25 percent of mentees and 28 percent of mentors experienced increases in salary, compared to the 5 percent of staff that received raises but were not in the mentorship program.
Mentorship helps trainees sharpen their skill sets and prepares them for future leadership positions. Mentees are not only more likely to advance their careers, they also create a tangible impact on their business. The four Chicago tech leaders we spoke with highlighted the most important lessons they learned from mentors, and how those teachings helped them grow their careers.
1. Enable Others
Mentor: Support Engineering Manager John Conrad at iManage
"The most important lesson that John taught me was the ability to enable others," said Oldenburg. "When one of my issues would escalate, John would help me reach a resolution rather than take direct ownership of the problem. This allowed me to gain additional insight that I did not originally have."
Preventing people from making mistakes will stifle their growth."
"I have taken on this same approach with many new hires and have seen success in their development, as it enables them to learn new information firsthand. John helped me realize that people need to make mistakes in order to learn. Preventing people from making mistakes will stifle their growth within the organization."
2. Control the Hourglass
Mentor: Project Manager Karen Seeto at Genevea Trading
"Karen Seeto is the project manager on the core technology team here," said Gibson Jr. "I joined Geneva with IT project management experience, but I was new to the pace of the trading industry. I had a lot of questions regarding resolving issues quickly, and Karen was instrumental in providing the tools I needed to be successful. She continues to be my 'go-to' for advice on implementation and best practices."
The biggest lesson she taught me was how critical time management is."
"The biggest lessons she taught me were how critical time management is when balancing multiple priorities and how to implement the necessary project management methods to excel in my role. Her guidance has helped me to thrive in my position and grow into a lead role within my department.
Karen's guidance has improved my time management skills on both a professional and personal level. I often find myself taking a step back to think about the best way to plan family outings or projects. It allows me the opportunity to think about what I'd like to accomplish and the best method to do so. And ultimately, I find myself enjoying these experiences a lot more."
3. Take Risks, Reap Rewards 
Mentor: A web of leaders throughout her career at Discover
"The collaborative way we work at Discover has given me a strong network of sponsors across the entire company; there has been more than just one manager that has helped shape my career," said Zettler.
My sponsors know my strengths and the areas I want to improve."
"Taking risks and moving into different roles with new challenges shaped my personal development and career path. Over my 23 years with Discover, I have proactively transitioned into new roles every two to three years. I gained exposure to new people, processes and problems that challenged my thinking and sharpened my skills. 
Moving into new roles avoids complacency, which leads to receding skill sets. By building new skills and demonstrating success in multiple roles, I was propelled into leadership. My ability to continue to build and learn with every new position has kept me at Discover for so many years. And my sponsors know my strengths and the areas I want to continue to improve."
4. Set the Bar High
Mentor: COO Julie Brinkman at Hireology
"I wouldn't be where I'm at in my career without the support of our COO Julie Brinkman," said Wilhelm. "Early on, she encouraged me to set high expectations for myself and my team and taught me how to achieve my goals. Julie helped me develop the skill set I was lacking and taught me how a SaaS company operates, all while remaining my biggest supporter."
She encouraged me to set high expectations for myself and my team."
"I had the opportunity to take over a department and build out its processes and team within two months of starting in my role here," Wilhelm said. "I was originally hired to recruit for sales talent and was quickly promoted to managing the recruiting for all roles at the company. This gave me exposure to all areas of the business and allowed me to collaborate with leadership and every department to ensure we were set up for success."