When Wes Schroll moved out of his freshman dorm and into an apartment near campus at the University of Wisconsin-Madison in 2011, he needed to go grocery shopping regularly, on his own, for the first time in his life. What he noticed was that he felt little loyalty to any particular grocery store. Instead, it was the products on the shelf he cared about most. 
"The only thing that was really driving me from one retailer to another was the price of those products," Schroll said. "I wondered why those brands couldn't reach out and reward me across any retailer I chose to buy from."
So he got to work creating the brand loyalty product he felt the industry was missing. After writing up a business plan for Fetch Rewards and securing backing from various corporate and university competitions, in 2013, Schroll dropped out of school to focus on building the company full time.  
Today, Schroll says his team has seen an increase in interest from the brand side of the platform as companies try to meet consumers where they are — something that's proving extremely important in today's world. Fetch Rewards is tapping into the current shift in consumer habits by accepting a wider array of receipts from stores beyond just grocery, to restaurants and a broad array of online retailers. 
Schroll outlines how the rapidly changing environment brought on by social distancing and changing shopping habits has impacted Fetch Rewards.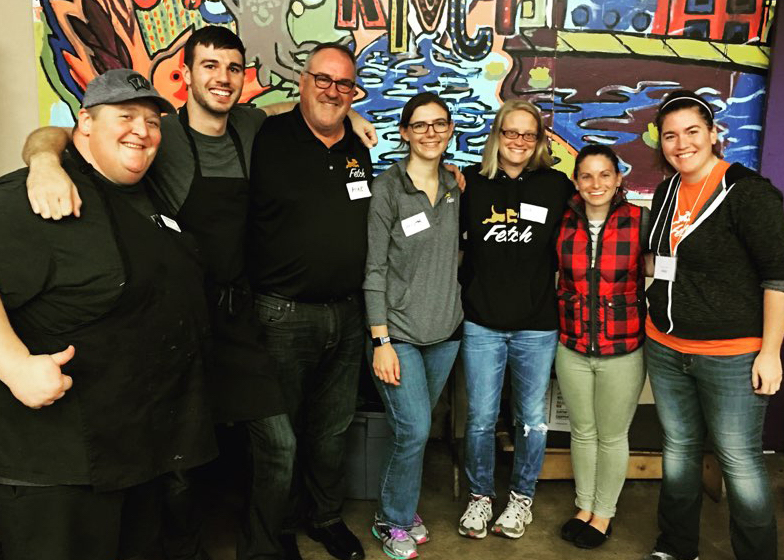 COVID-19 and the socio-economic changes that came along with it were thrust upon all business sectors. How has COVID-19 altered Fetch's product strategy, if at all?
Innovation and speed is key. Luckily for us, that's how we're wired anyway. It's definitely forced us to adapt to the data we're getting and the feedback that our users are giving us. We've always cared about what our users say. They help to inform a lot of our product strategy. But now, that's heightened. As the government issues different suggestions and guidelines, weekly household habits are shifting. 
People who were going to the grocery store five times a week prior are now only going once a week or once every other week. And we're trying to meet them there. We're trying to be helpful. More people are shifting their purchases to online. So we're really ramping up our ability to process online receipts. We also know that people are looking to get rewarded not just for groceries, but for all their purchases, especially now. So we're also moving toward starting to accept all receipts so we can give users even more ways to earn points. 
Listen to your consumers. Look at the data. Understand what's changing and try to make the product more adaptable.
What's been the biggest internal challenge about working remotely and how have you addressed it?
Any time you're forced to work remotely, communication is always going to be the toughest challenge. We want to make sure we're consistent. Everyone knows what they're working on and why they're working on it. Beyond that, it's important to check in on how your employees are doing. What do they need to become more productive? Are they also acting as teachers, part-time teachers or math tutors at home? What can we do to give the flexibility that's needed during this time? These are all questions we constantly ask. 
We're trying to be as flexible as possible. If some people need to work on weekends or nights instead, no problem. Trust and empower folks. Believing in your team makes this a lot easier. So for us, communication on numerous fronts is our biggest focus.
What upcoming project are you most excited about?
When we launched Fetch Rewards, it was aimed at rewarding you for your typical "grocery store" items, no matter what type of store you bought them at. Now we're moving to accept ALL receipts, whether that's grocery, restaurant, hardware, pet, clothing, etc. If you buy something, scan your receipt, and you'll get rewarded. It more than doubles the opportunities to save. There are very few features you can roll out where you can say that, so I'm really excited.
A lot of engineering work goes into being able to understand, categorize and read those receipts. We've been working on it now for close to nine months. The culmination will be coming together over the next two weeks. We'll start rolling it out to the entire user base.
I find that transparency is the best way to address external stressors.'' 
Can you share an example of how users have benefited from your product? 
I'll give two examples. The first is right at the core of what we do. Two months ago, I got a note from someone who was in between jobs, and was using our app to help bridge the gap between jobs by sharing the app with friends, family and beyond to rack up points. While it's rare to earn enough points to bridge jobs, we constantly hear stories from our users about times they've used our points to treat themselves to a night out, get their kids a gift or cover Friday pizza night. That's what we're here for.  
One unintended benefit we realized was that every time you scan a receipt, we display a digital copy back to the user, showing them how much they're spending on a monthly and weekly basis. This summary includes how much they're spending across different channels, essentially equipping them with a budgeting feature. Maybe a user is using a debit card for one transaction, cash for another and food stamps for the third. They might have a hard time understanding their collective household spend for an entire month period. Since we don't care what payment form or retailer they use, we can unify all that information. 
What is one new leadership or business lesson you've learned during the last few weeks?
Transparency matters. I find that transparency is the best way to address external stressors. Some folks think having one big meeting where you lay out all the facts suffices. We think that's much less important than keeping everyone in the loop consistently, around twice a week. 
It's scarier to update a team more rapidly because you're not able to claim wins every time, and you have to mention the ups and downs. But everyone going through the ups and downs together has a level of connectivity. They understand why they are working so hard during a certain day or week. 
What emerging trends do you anticipate making big waves in the food shopping space? 
People are going to continue to clean more than they ever have before, so those products are going to continue to fly off the shelves. People are also eating out at restaurants less, but our data is showing that they're not spending much more on groceries. We believe they're trying to save during this period of uncertainty. 
People are becoming efficient and conservative. While I think a lot of brands initially thought they needed to ramp up their supply, I actually don't think that's the case. I also see a shift back to shelf-stable, processed foods. It's just more efficient and easier during this type of climate. 
I just hope that people realize that times like these are great for innovation.''
Is there anything else you want to share?
I just hope that people don't get discouraged by the economy or losing jobs and instead realize that times like these are great for innovation. Maybe start your own thing. We're trying to think outside the box internally. We're looking for people who can do that. I have an overall positive outlook on everything going on right now. There will be some short-term pain, but it's up to us as a community to keep lifting each other up and get through it together.