Inclusive. Supportive. Collaborative. 
These are just a few of the traits that the following Chicago professionals used to describe their companies' cultures. From engineers to customer success managers to chiefs of staff, these employees shared how their growing employers support their professional development and provide opportunities to work on challenging projects in tech. For example, one professional described automating workflows for companies utilizing federal COVID-19 relief funds, while another employee said they're working on selling used and new musical instruments to musicians around the world. 
Discover what makes these employees proud to be a part of their organizations. Perhaps you'd make a good fit, too.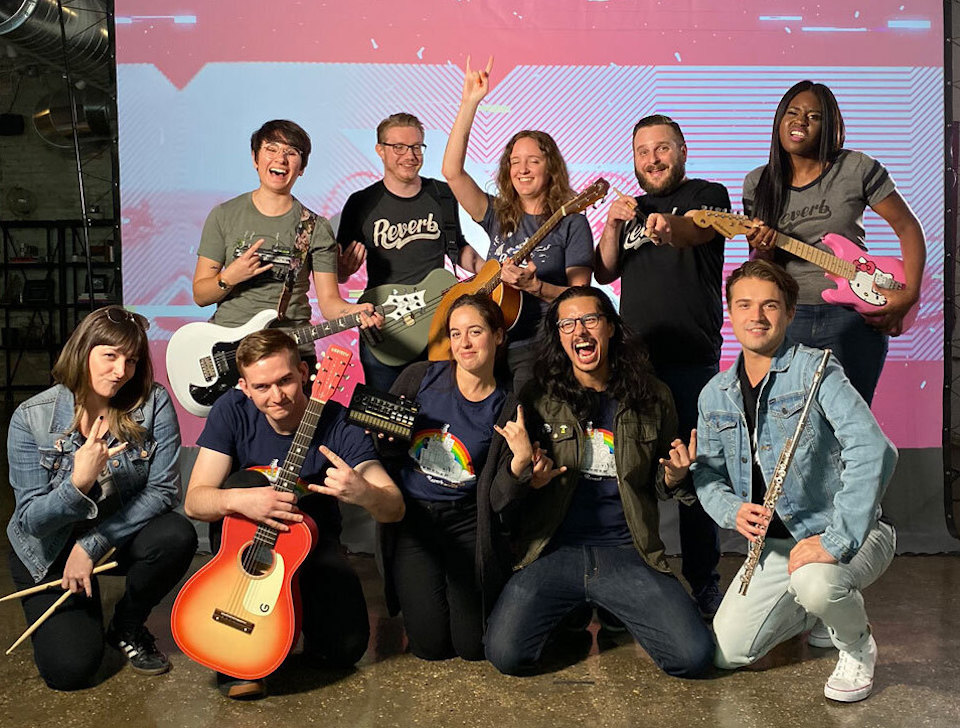 What they do: Reverb is an e-commerce site for new and used musical equipment of all types. Musicians can purchase instruments and tools ranging from acoustic bass guitars to software for sampling synth sounds, and many more items. 
Company culture in one word: "Empowerment," Spearman, a senior developer on the BuyerX team, said. "Regardless of level or department, we're given opportunities to take project ownership on the product. Developers are challenged to answer questions like, 'How do we make sure this hip hop production gear for beginners gets in front of musicians?'"
I recently got to work on a project aimed at helping gear listed on our site show up more frequently in search results. A teammate and I created a plan outlining the code necessary to ensure the listed gear got in front of the right buyers. Our work eventually resulted in more traffic to the site. It was rewarding to see success come from a plan we were empowered to create and implement ourselves."
Spearman's growth at Reverb: "In my three years at Reverb, I've experienced the most growth through our pairing program, where two engineers work together to tackle a project," Spearman said. "As a junior engineer, it was helpful pairing with a senior-level teammate to learn how they approached problems. Now, as a more senior team member, I'm invested in helping junior pairs flex their problem-solving muscles."
For example, our marketplace is a massive music gear database, which can be complicated. We do a lot of back-end work to ensure that when a mid-'80s Korg KR-33 Vintage Rhythm Box gets listed on the site, it's categorized correctly to be found by the player who wants it. I'm currently pairing with a teammate to make it easier for sellers to list gear more accurately. I'm helping him by talking through decisions and helping implement changes."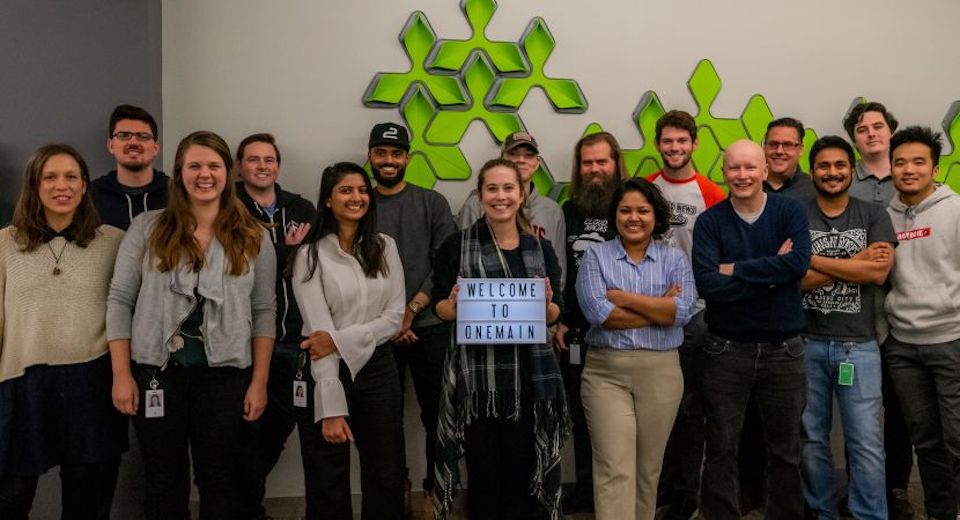 What they do: As a consumer lending company, OneMain Financial offers citizens personal loans they can use for any number of reasons, like weddings, car purchases or home renovations. 
Company culture in one word: "Supportive," Tess Ryan, a senior software engineer, said. "Since starting four years ago, I've always felt comfortable asking questions, sharing ideas and collaborating with other people. I came out of a coding boot camp and suffered from imposter syndrome for the first few years of my career. OMF's company culture allowed me to put my insecurities aside and focus on growing as a developer."
On my first big project, I was given control to architect a solution from start to finish. I was hesitant to take the lead, but my manager encouraged me to share my ideas and map out how I thought it should be built. A group of us met to collaborate and it made me feel confident in my thoughts, but also demonstrated how supportive my team members are. Everyone was there to help me become a better developer and provide our customers with a reliable product."
Coolest project Ryan worked on at OneMain: "We booked our first fully digital loan at the beginning of this year, which was exciting for our team," Ryan said. "Before this, our customers were able to apply online, but they would finish the process by connecting with a team member at our branch or over the phone. This project has been a key goal for our company and team for a long time, and it was gratifying to start offering this service to our customers."
Ryan's work during this project exposed her to working with new technologies, colleagues in different departments and challenges; all of which helped her grow professionally.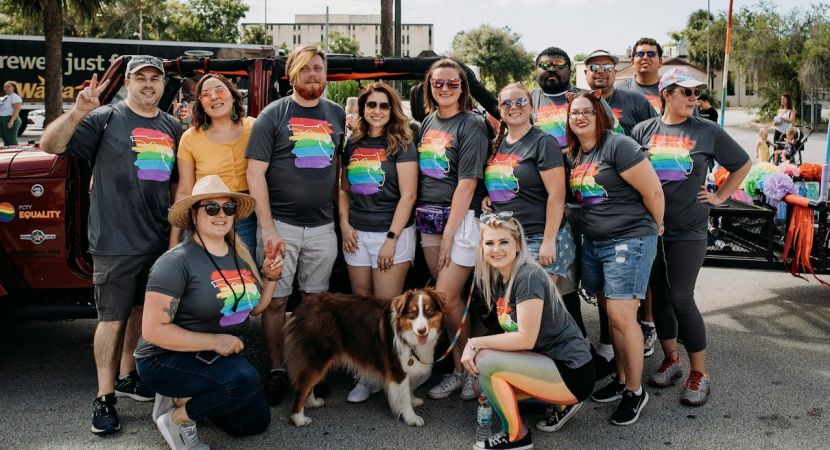 What they do: The Paylocity platform provides companies with HR and payroll services. Its product suites include services catered to workforce management, employee engagement, benefits and more. 
Paylocity's company culture in one word: "Inclusive," Saloni Shah, a software engineer, said. "I've worked at Paylocity for a year and have seen that everyone ensures you are included. Everyone is helpful and approachable, whether they are teammates or executive leaders. The product and tech organization is mostly remote, and highly flexible. That flexibility makes it easy for us to contribute effectively while juggling other priorities like family and health."
Furthermore, our employee resource groups (ERGs) help create a culture where every employee has a voice, feels appreciated and is free to be themselves."
Coolest project Shah worked on at Paylocity: "With the pandemic came many legislative changes such as the Family First Coronavirus Response Act (FFCRA) and Coronavirus Aid, Relief, and Economic Security Act (CARES)," Shah said. "These changes affected payroll taxes in a fundamental way. Our organization pivoted and automated the workflows so our clients could take advantage of the economic relief, which was heartwarming to me."
Being in one of the core payroll teams, I contributed to this effort by automating the FFCRA and CARES credit calculation. Working on this project gave me insight into the core functionality and also helped me make connections across the organization, improving collaboration and visibility. While these were unprecedented times and the situation was definitely not cool, it was great working on features that had direct and immediate benefits to our customers."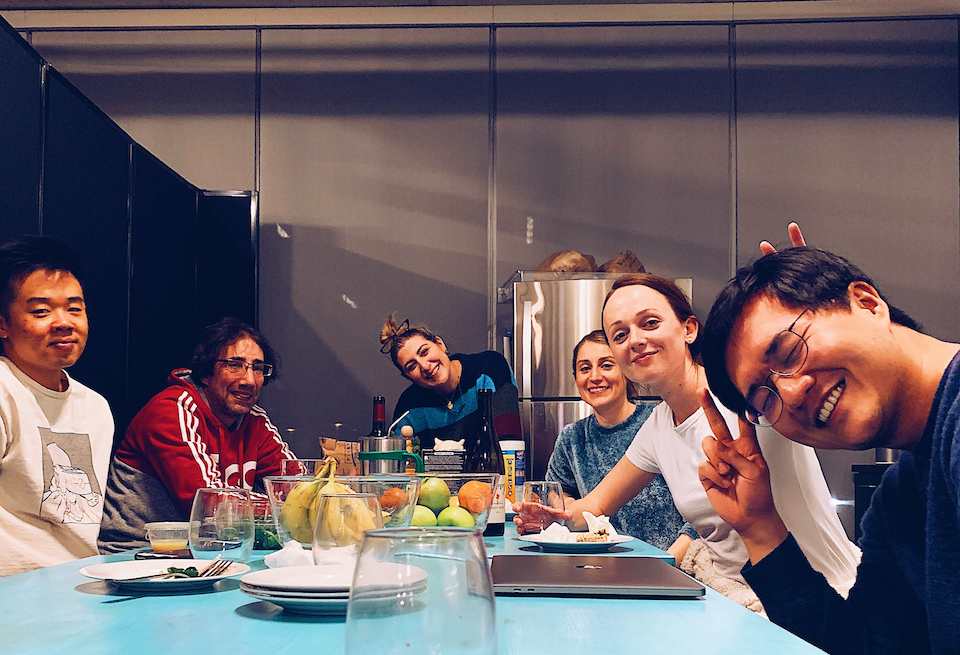 What they do: Otus is a learning management system for K-12 students, teachers and administrators to use. Teachers and administrators are able to build custom rubrics that students can engage with, and the platform presents data on academic performance.
Company culture in one word: "Supportive," Marty Murphy, director of talent acquisition, said. "Many current employees were once educators. I believe their time spent in K-12 classrooms taught them to be supportive, which has resonated throughout our company culture. As COVID-19 hit, our leadership team ensured social and emotional health were front and center. Consistent communication and transparency allowed us to move forward and grow as a team."
Murphy's growth at Otus: "I've been with the company for just over one year," Murphy said. "In that timeframe, 32 talented and diverse people joined our team, and we currently have 75 full-time employees. Team members at Otus are consistently teaching themselves new skills and adding value where they see a need. Working cross-functionally, employees work to find new ways to innovate while being a remote-first company."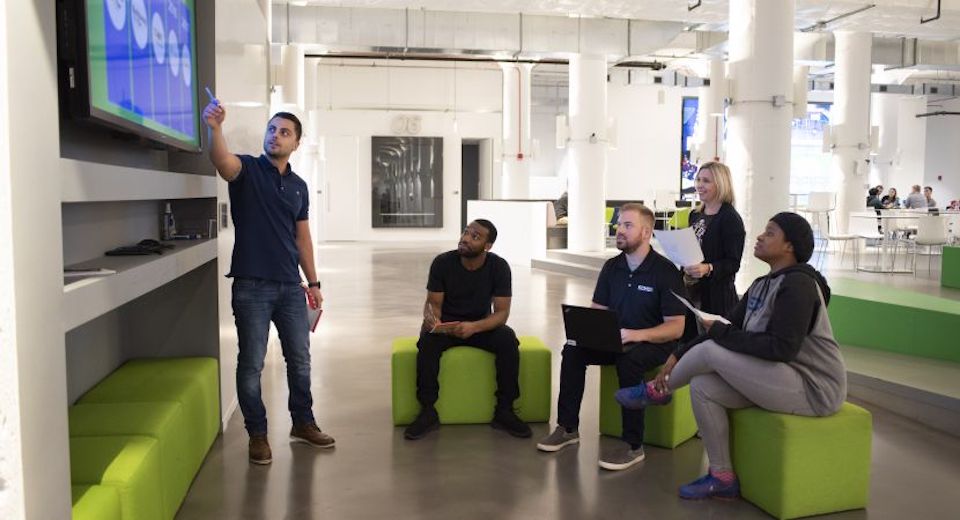 What they do: Echo Global Logistics is a transportation and supply chain management solution provider. The company offers suppliers and carriers tech solutions that assist with operations like freight brokerage and shipping.
Company culture in one word: "Hustle," Katy Werring, IT product owner, said. "It's one of our value statements. I'm lucky to work alongside such hardworking people. We exemplified this in one instance where we needed to pivot in the middle of a project, and managed to quickly complete another. That quick win happens to be one of our most successful projects to date."
Werring's growth at Echo: "I have been with Echo for 18 months," Werring said. "I have held similar roles at other companies, but I feel like I grew into the product owner role after coming to Echo. My time here deepened my understanding of both old and new technologies. I honed my capabilities of "translation" — speaking to the business and technical aspects of a project — which is one of the key parts of being in product. Immersing myself in the role helped me grow both as a contributor and as a leader."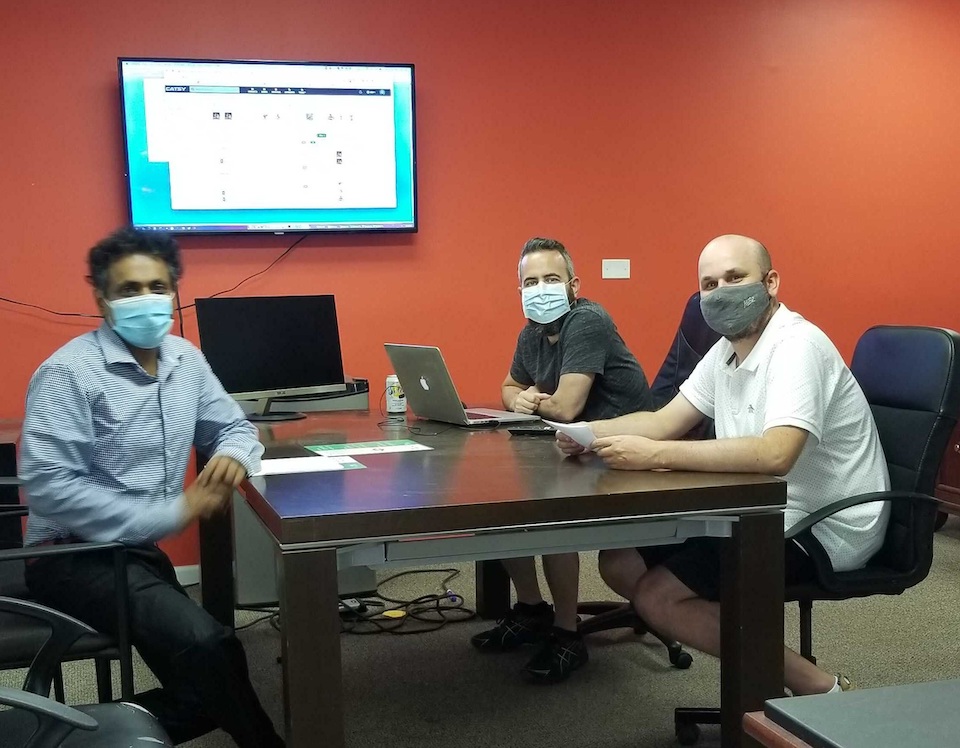 What they do: Catsy is a cloud-based product information management platform that helps e-commerce retailers centralize and optimize their product information. The platform also allows companies to syndicate their products across a number of retail channels including Amazon.
Company culture in one word: "Useful," Michael Krynski, customer success manager, said. "That word best describes what we try to be to help our clients achieve their goals and be more productive. Internally, we help each other become more productive based on that same philosophy."
Coolest project Krynski worked on at Catsy: "We release new features on a regular basis, sometimes as frequently as twice a week." Krynski said. "But we gave no insight to users on what these features were and how they could help them become even more productive. I implemented a method to inform users of these updates and to bring them up to speed. Now they know what the new features are, and that has cut down on the support we need to provide."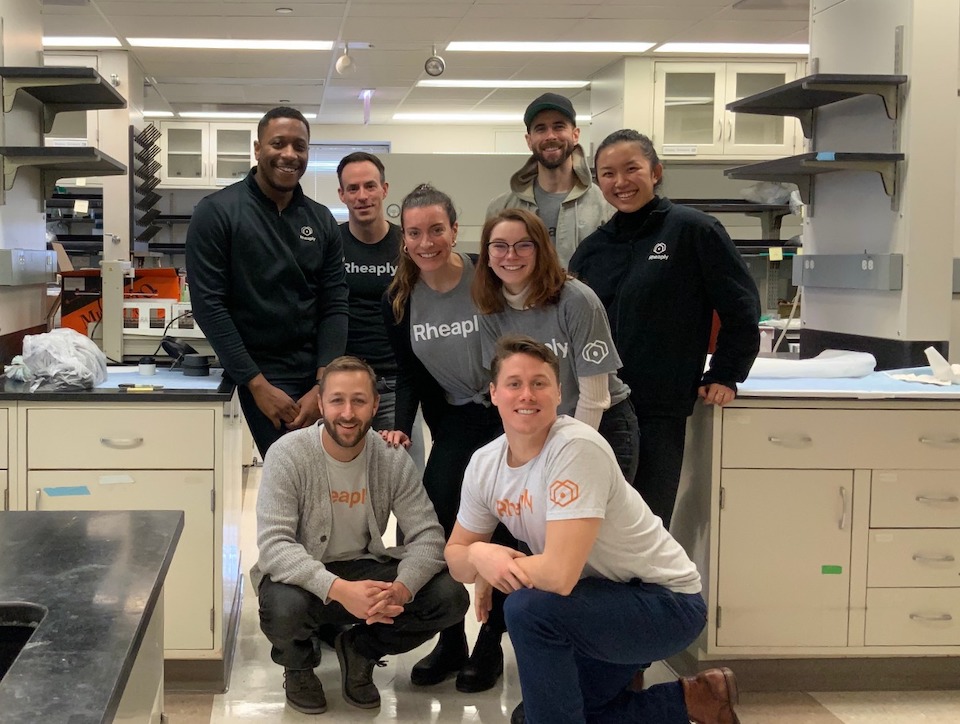 What they do: Rheaply is an asset management and exchange solution for academic, enterprise and government organizations. The company's software helps those entities reduce waste and cut costs by allowing them to scale the reuse of their property and resources. 
Company culture in one word: "Helpful," Garr Punnett, chief of staff, said. "To create successful solutions, we strive to be helpful not just to our users, organizational partners and communities, but to our colleagues as well. Helpfulness was exemplified in our work with Mayor Lightfoot's team and World Business Chicago in response to COVID-19."
As Chicago's small businesses were set to reopen, we created a PPE marketplace that could help ease their burden in procuring those resources. Our product, customer success and marketing teams worked together around the clock for two weeks creating the desired solution to help those who needed it."
Punnett's growth at Rheaply: After finishing graduate school, Punnett said he sought a career at an early stage company. Since landing at Rheaply, he's enjoyed the challenge and satisfaction of developing his skills, advancing through different roles and driving impact at the company.
"It's rewarding to see the direct impact you make on the people and the longevity of the organization," Punnett said. "The most enjoyable part about my job is the ability to work in a role I'm passionate about while pushing myself to develop new abilities."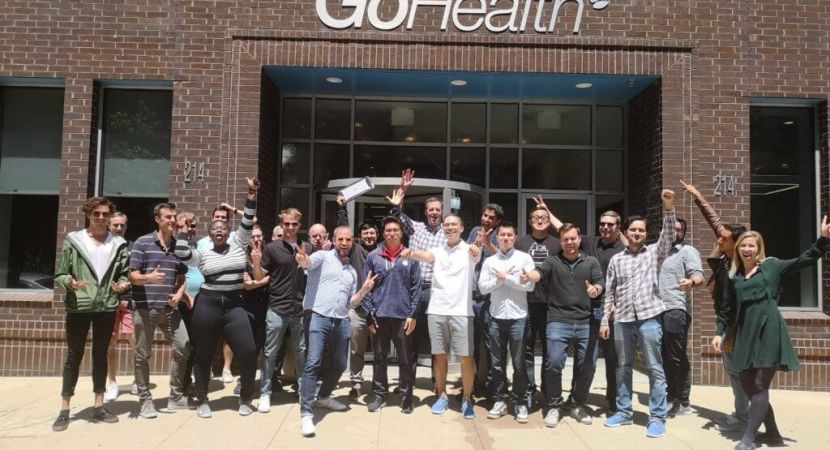 What they do: GoHealth helps consumers and small businesses shop for their ideal health insurance plan. The platform assigns users an agent then assists them in finding their best options for medical, dental, vision and other types of insurance.
Company culture in one word: "Collaborative," Philip Yob, director of talent acquisition, said. "There is a strong sense of collaboration across teams. Most recently, our communication, marketing, operations and recruiting team came together to work on a recruitment marketing video project."
Coolest project Yob worked on at GoHealth: Yob said the company transitioned its sales org remote in one week, which allowed that team to focus on expanding to four new markets efficiently. 
"I helped my team hire agents outside of their usual markets," Yob said. "I also collaborated with various teams across departments to establish GoHealth in the new markets.