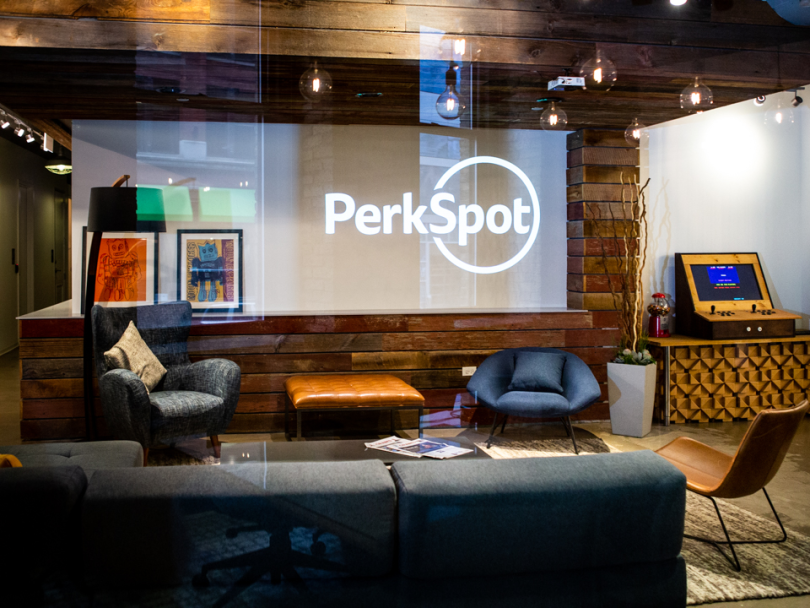 "There is no business without customers." 
PerkSpot CTO Michael Fineberg received this advice from his grandmother, and it's stuck with him ever since. So it's no surprise that at the employee perks and recognition platform, the executive, who has significant career experience in payroll, advertising and HR, tries to instill the importance of customer satisfaction in his tech team. 
As a result, the tech department recently shifted from a traditional pod structure to a project-based one. 
"Now, we work on the projects our members will value most," he said. 
Those projects currently include increased personalization for a variety of offerings and on-demand service across devices, which has required extensive research and tool shopping. Fineberg, who has been at PerkSpot just over a year, often reminds his team that what worked yesterday may or may not work today. 
For example, in the last few months, a PerkSpot member who was previously invested in hotel perks and theater tickets might currently be more intrigued by childcare and extensive healthcare benefits. Fineberg's team must take these fluctuations in stride and do their best to build what customers want as efficiently as possible — and sometimes that means keeping what isn't broken. 
"[As an engineer], it's your job to figure out what to keep and what to change," he said. 
Fineberg shared how his member-centric approach to technological development has influenced his team, leadership style and PerkSpot's product, below. 
Tell me a little bit about your background. What brought you to PerkSpot? 
When I first learned of PerkSpot, I thought it could be a good fit for me. I spent a lot of time in payroll and HR. After that, I spent several years trying to stand up a marketplace. And I grew up in advertising. When I found out that PerkSpot essentially sat at the intersection of those three things, I met with founder Chris Hill and CEO Jace Mouse. Fortunately, they invited me in. 
How is the tech team structured? What makes this structure unique from previous places you've worked?
We've made a number of structural changes to our team due to our growth over the last year. We are constantly trying to be responsive to our members and colleagues. We recently tweaked our structure from that of a traditional pod to project-based. Now, we work on the projects our members will value most. 
Certain big products have anchor personnel who stay on that product, but many team members can float to where they're needed. Nothing is particularly unique, but I hope our focus on delighting members is constant. As we enter this next wave of expansion, our team structure will likely change some more. That said, we're always focused on delivering the highest value products in a logical way.
What they do 
PerkSpot delivers meaningful savings and recognition to employees' workplaces. Members are able to get discounts on brands such as Samsung, Target and Adidas. Employers can send team members emails with personal notes of appreciation and reward credits to spend in PerkSpot's gift card store.
Describe your leadership style. Any mentors or peers that have shaped this approach?
My job is to keep the team as focused as possible on delighting our growing member base. Because we have more than doubled the team in the last year, and have continued plans for growth, that task has become even more important and challenging recently.
Especially in a pandemic, we have to remember that we're all human beings. Over time, I seek to earn enough trust from the team that they will help me understand them as people and help them when needed.  
I also believe that people grow and improve rapidly from both success and failure. New mistakes are welcome, as long as you can learn from them. Reviewing mistakes requires a courage and an honesty that not everyone enjoys. But we're trying to make it a central part of our culture. We do retros on projects big and small where the focus is on learning rather than blaming. 
Additionally, at PerkSpot, we work hard to put an emphasis on ownership. Every employee impacts our business and bottom line. In that vein, I feel strongly about the importance of employees being able to lead their own projects and see how the results affect our clients and customers, as well as the company as a whole.
My grandmother always drilled home that there is no business without customers and that what worked yesterday may or may not work today. It's your job to figure out what to keep and what to change.
You mention encouraging employees to think like owners of the business. Can you share an example of how that mindset has benefited your team in the past?
You can see it in tool choices and decisions about software. But it really comes out in things you may not see at first, like hitting goals with extra effort, asking even better questions up front, and challenging one another to get to the best answer. 
Encouraging employees to think like business owners also presents itself in the interactive nature of our all-hands meetings. Often, leaders drone on and group participation is low. At PerkSpot, we see frequent questions and interaction.
We want the change to be driven by customer demand, not a vendor.''  
What's a tech challenge your team has encountered in the past six months?
Our goal is to make our clients' experience with us as specific to each member as possible. We want to show our users how many impactful offerings we have and help them find what they want. This proved to be a challenging yet exciting task, considering our vast number of offers and our millions of diverse users. Creating that personalized experience required our team to tweak, monitor and consistently improve initiatives and enhancements. This personalization effort is new and has required a lot of research, tool shopping and new experiences. It's also required some measurement and review beyond what we are used to.  
The secret to accomplishing this goal is not that secret. We have to figure out what our members want and how to give it to them using data.
What languages and libraries are you relying on for newer initiatives and why?  
We're a Microsoft shop and default to using that ecosystem. That doesn't mean we always do that. But if all else is equal, there's great benefit in staying within the Microsoft family. Obviously, some of the tools for mobile are different. In that case, we're looking for basic tools that delight members and have a talent base we can access, like React.   
Of course, we want to build what our members want as efficiently as possible. With that in mind, we know what our customers want will change. So the tools and foundation we build today must be as easy to alter tomorrow as possible. We want the change to be driven by customer demand, not a vendor. It's important to buy the vendor first and the product second.