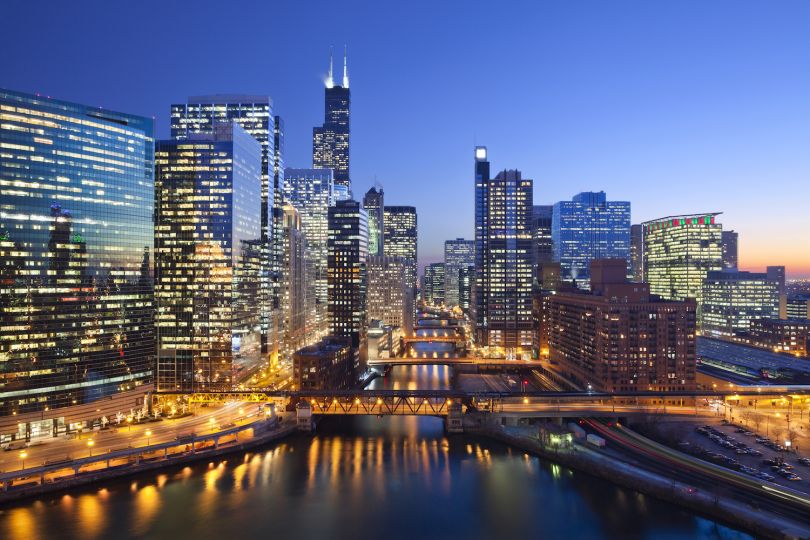 Chicago is leading the transformation of the old "Rust Belt" region into a "Silicon City in the Prairie," as the nation's third-largest city continues to attract startups, established tech companies and the people who want to work for them.
Indicators of Chicago's business vibrancy include a diversity of innovators and ideas, entrepreneurs sprouting up in tech, retail and consumer goods and more than 20 tech-startup incubators that train newbies how to be profitable.
The story is apparent in growth statistics, too.
The Windy City enjoyed a 17.6 percent growth in high-tech jobs from 2015 to 2016 and a notable increase in late-stage funding for tech startups in the past two years, according to new data from commercial real estate and services and investment firm CBRE.
Chicago ranked No. 13 in high-tech software and services job growth, the data showed. The local media report that companies are dangling incentives to would-be employees, ranging from free fully loaded computers to Lollapalooza-themed parties celebrating client successes.
The city also is seeing strong growth in IT sector employment and new hiring in computer and electronics manufacturing, the data reveal.
"It's a great success story for tech companies of all kinds looking to hire a diverse pool of skilled, energized workers," said Brad Serot, Executive VP, CBRE, Chicago.
Though Chicago's office market rents have increased in the past two years, the city ranks No. 22 on that list and falls far behind the rent boosts of smaller cities such as Charlotte, NC, Denver, Nashville and Portland, OR, the CBRE report shows.
"Chicago retains its reputation for being a livable big city," Serot said. "That's why established companies see Chicago as a strong market for tech employment, with notable opportunities for people in sales and well-educated engineers."
After all, Chicago is home to tech companies such as Motorola Solutions, Peapod, CDW, Abbott Laboratories, Uptake and Avant.
It's also home to a concentration of colleges and universities. At one of these, the University of Illinois, plans call for a new public-private institute that would do breakthrough research in fields ranging from food and agriculture to computing and big data.
The institute aims to bring together faculty, students and companies to think up new products and startups.
"It's just another sign of Chicago's proximity to all the aspects needed for technology growth," said Serot.
CBRE, the world's largest commercial real estate services and investment firm, delivers industry-leading facilities and project management, transaction and portfolio services and consulting that drive bottom-line impact and streamlined workplaces. Learn more here.