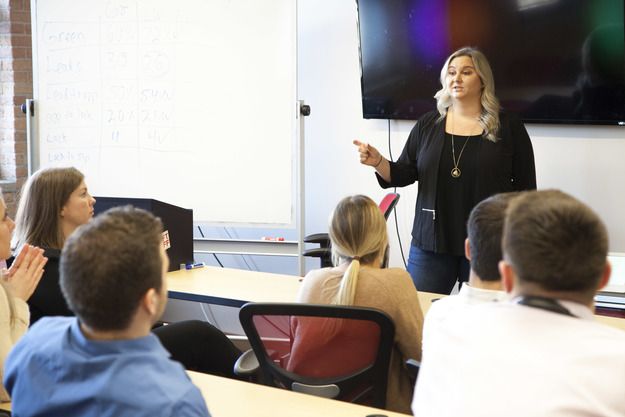 As an online recruiter for a university in Chicago, Amanda Marquet possessed sales experience, but she realized that her role lacked growth potential.
Amanda decided it was time to make a change. She was intrigued by Guaranteed Rate's Liftoff program, which offers loan officer training for those with no mortgage experience. The challenge appealed to her, as did the opportunity for career advancement and financial security.
Two years later, Amanda is a shining example of Liftoff's effectiveness in accelerating careers.
"I loved the program's intensity and how we were challenged in a very positive way by the trainers," recalls Amanda. "It was structured, but also fluid in that we had to figure things out on our own. That really helped us learn and develop as individuals."
The fast pace of the program had Amanda on the phone originating loans less than two months after she started. She credits Liftoff's instructional staff and leadership for helping her learn so quickly.
"They have the ability to make dry textbook material very interesting," says Amanda. "They keep everyone engaged, regardless of what level they are at. They allow you to build your fundamentals."
Upon completing the program, Amanda became a Mortgage Specialist. After a few months in that role, she became a Team Captain with a focus on a developmental team. She split her time between originating loans and coaching before being promoted to her current role, Director of Online Lending, less than two years after starting with Guaranteed Rate.
It's been a constant evolution for Amanda since her Liftoff experience ended—exactly what she hoped for when she signed up.
"I've continued to take on a variety of leadership responsibilities," explains Amanda. "I've been able to train classes that involve presenting and preparing loans, as well as listening in and reviewing trainees' calls. Those experiences helped me transition to the director role, and now I've got my own sales team."
Amanda's ascension wasn't the least bit surprising to Jason Jesudoss, Guaranteed Rate's Vice President of Production, Online Division.
"Amanda fully embraced being a student, which helped her develop into a true mortgage professional who inspires everyone around her," notes Jason. "She is a solutions provider who always seeks to understand the 'why' before accepting an answer. It's been exciting to see Amanda and her team develop—she has defined our standard of excellence as we identify future leaders."
When Amanda speaks to current Liftoff trainees or someone considering the program, she's quick to share what she enjoys most about working at Guaranteed Rate.

"It's the culture. Everyone loves being in the office," says Amanda. "People love who they work with and they love the work they do. We work hard, but we have a lot of fun along the way. We're continually pushed in a good way, and we're able to grow personally and professionally. With that comes opportunity, regardless of your specific career path."
It's opportunity that brought Amanda to Guaranteed Rate, and it's the enormous growth potential that has her so enthusiastic about the future.
"Within 18-24 months, you can absolutely reach six figures by working hard and putting in the time," she states. "You'll learn from your mistakes along the way. No one is expected to come in with a full understanding of what to do. It's those who implement what they learn from the coaching who are successful.
"Our online department is growing quickly and in 3-5 years, it could look like a different company," Amanda adds. "With that will come a lot of new opportunities, whether it's sales leadership or other roles. Guaranteed Rate has a knack for making the best use of our people who are a cultural fit. I'm a team player, so whatever my best use is, I'll explore that path."