Back on December 19, I had the privilege of moderating the annual Digital Collective meeting in New York. The Collective is a regionally driven peer-to-peer exchange that facilitates best practices and fuels new and meaningful relationships among digital marketers.
To kick off the meeting I reviewed what I consider to be the top ten "burning issues" in digital, based on what we at comScore have observed while providing data and analytics to more than 2,000 companies around the world. I thought they would be of interest to readers of the comScore blog. These issues will also form the basis of my comments at the New Media Expo on Tuesday January 8.
Here are my top ten burning issues in digital:
In this post, I'll examine these issues in detail and provide some perspective on the pros and cons surrounding each in order to help marketers better understand the rapid changes being driven by digital. This knowledge is so important in today's Brave New Digital World because the Internet forces "change without mercy." I like to say: "The Internet giveth but it also taketh away."
1. Big Data
"Big data" is a moniker for the explosion in data that has occurred as a result of dramatic increases in computing power coupled with sharp drops in the cost of both computing and data storage. These trends have resulted in a literal torrent of data as consumers go about their daily lives using and interacting with computers in a wide variety of ways.
Here are just a few astounding statistics regarding the growth of big data:
Today's smartphone would have been the most powerful computer in the world in 1985
120 million people in the U.S. now own smartphones, up 30 million in just the past year
For $600 you can buy a disk that can store all of the world's music
30+ billion pieces of data are added to Facebook every month
72 hours of video are added to YouTube every minute
By the end of 2012, comScore was capturing 1.4 trillion digital interactions per month
92% of the world's data was created in just the past two years
In a seminal white paper, the consulting firm, McKinsey, described big data as the next frontier for innovation, competition and productivity. For example, McKinsey estimates that retailers could realize a 60% increase in their operating margins through the smart use of big data.  
I'm convinced that big data can provide companies and governments with a basis for operating much more efficiently and effectively. But, as always in life, there's a catch. Today, we don't have anywhere near enough human talent to harness and exploit the promise of big data. McKinsey points out that in the U.S. alone we need somewhere north of 140,000 people to fill deep analytical talent positions and 1.5 million more data-savvy managers and analysts to analyze big data and make decisions based on their findings.
2. e-Commerce
Driven by lower prices, convenience and the broadest selection of products, online consumer spending is soaring. comScore data show that in the last twelve months $304 billion was spent via e-commerce in the U.S., with Travel accounting for $110 billion and Non-Travel (aka Retail e-Commerce) pulling in $194 billion. Retail e-Commerce now accounts for one in every ten discretionary dollars spent by U.S. consumers and in Q4 grew 15% versus the prior year, a rate about five times faster than for all consumer spending at retail.
Pure play online retailers such as Amazon and eBay have built massive businesses on the basis of e-commerce. Amazon for example, now attracts in excess of 110 million unique visitors in a month and reported North America sales of $7.9 billion in Q3, up 33% over the prior year. But the emergence of e-commerce also means that the physical store is under attack, which in turn means that those retailers who cannot maintain their in-store market share as their category shifts online face increasingly difficult times. Different product categories are shifting online at differing rates, creating particular challenges for multi-category retailers such as big store mass merchandisers. For example, the consumer electronics product category now sees about 30% of sales completed online while consumer packaged goods lags with no more than 1% of sales occurring via e-commerce. This means it's particularly important for multi-channel retailers to monitor trends in their market share by channel and also by product category so as to clearly understand the nature of competitive online threats.
The channel shift to online has also put downward pressure on prices, because the Internet allows consumers to easily root out the lowest price for a product. This creates myriad challenges for retailers and manufacturers since pricing power is now in the hands of the consumer.
3. Social Media
comScore data show that social media has just eclipsed portals in share of time spent on the Internet. In November Facebook attracted 150 million unique visitors in the U.S. alone while accounting for 10% of total minutes spent online. But it's not just Facebook that comprises social: In the same month in the U.S., LinkedIn attracted 41 million monthly unique visitors, Twitter saw 40 million, Google+ attracted 29 million, while Pinterest and Instagram each received more than 25 million visitors.
With the explosion in consumers' use of social networks, marketers are wrestling with the challenge of how to best utilize these channels to communicate with consumers. In many cases, social holds the promise of word of mouth persuasion achieved at scale. But many questions abound. For example: what's the value of a fan? what's the role of paid versus earned media? How to best measure the ROI from social?  It's clear that much research and experimentation is being conducted to help answer these types of questions.
comScore has introduced a service called "Social Essentials" to help quantify the impact of social marketing efforts according to the demographic and behavioral composition of a brand's social media audience, while also providing the reach and frequency of social brand impressions. These metrics allow marketers to tie social media exposure to desired consumer behaviors, including brand engagement and buying, and to measure actual campaign performance.
Beyond the use of social networks as an advertising platform, market researchers are pondering their use as a source of consumer insights, with some suggesting that this will replace the use of consumer surveys within the next five years. Count me as one of the skeptics when it comes to the ability of "listening" to fully replace "question and answer." While I certainly appreciate the ability of social to provide timely and valuable information regarding consumer preferences, it seems to me that the need to obtain consumers' answers to specific questions that might not be present in social media conversations means that surveys will always have an important role to play in consumer research.  
4. Shift of Ad Spending to Digital
Advertising spending has been shifting to the Internet at a rapid rate, with the IAB reporting that online advertising in Q3 increased by 18% over last year. For the first three quarters of 2012, the increase was 15% -- far greater than the increase of 3.8% in spending for all measured media during the same time period.
Here are the most recent IAB data by ad format for Q2, 2012: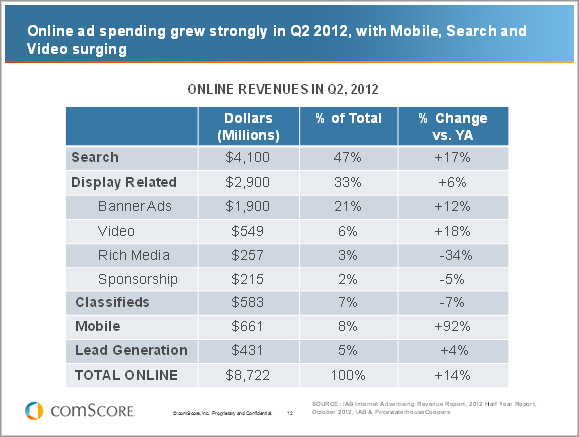 The IAB report reveals strong growth in a variety of formats, especially mobile (+92%), video (+18%), search (+17%) and banners (+12%). The notable exception is rich media, which posted a large decline of -34%. It has been hypothesized that the high production cost of rich media ads is causing a shift to other formats, especially video where a 30-second TV commercial can be easily repurposed into a 15-second online ad at a minimal cost. At the same time, concern is growing among advertisers and their agencies regarding the limited amount of video inventory available, with many reporting that video CPMs often exceed those of TV. However, it's also clear that the more precise targeting that can be achieved with online ads along with a higher consumer engagement with video ads is also helping drive video ad prices above those of TV.
5. Audience Targeting vs. Media Location
The rise in computerized cookie-based audience buying has been aided by the availability of demand side platforms and real time exchanges. It's now estimated that about 20% of all display ad impressions are bought via real time bidding and that this level is growing rapidly. The benefits of programmatic audience buying have been well documented. For example, in thisvideo, Bob Arnold, Associate Director of Global Digital Strategy at Kellogg's discusses the "lower, lower and lower" effective CPMs that Kellogg's has been able to achieve through programmatic buying of display ads.
On the negative side, publishers are understandably concerned about the downward pressure on ad prices that has occurred despite their efforts to hold back premium content from the exchanges. This has, in turn, led to the creation of private sell-side platforms, which allow the programmatic buying of audiences on specific internet properties. The hope is that this will protect publishers' premium pricing, while simultaneously providing advertisers with some of the efficiencies of programmatic buying and the higher impact of having their ads running alongside premium content.
6. Measuring Delivery and Effectiveness of Digital Media Plans
Just over a year ago, the 3MS ("Making Measurement Make Sense") initiative was launched by three key trade groups: the IAB, which represents online publishers; the ANA, which represents advertisers; and the 4A's, the agency body. One of the key tenets of 3MS was moving digital measurement from a "served" ad impression to a "viewable" standard.
Here at comScore, we've conducted numerous studies around the globe measuring the degree to which digital ad impressions are viewable and the results clearly show that there is much room for improvement. In studies involving billions of impressions from dozens of leading advertisers such as General Mills, P&G, Ford and Allstate, we have found that on average about 30% of display ads are never visible to the end user, generally because the user doesn't scroll down the page far enough or leaves the page before the ad is fully rendered. Obviously, a non-viewable has no possibility of affecting behavior. As a result, some publishers are now beginning to guarantee the viewability of their inventory, much to the delight of their advertiser clients. This undoubtedly helps make digital advertising more directly comparable to TV advertising and should help in the formulation of more powerful multi-platform advertising campaigns. It will be most interesting to see the rate at which guaranteed viewable impressions become an industry standard.
An important issue that needs to be mentioned at this point is the relative accuracy of cookie-based targeting. comScore's research has shown that while it's generally superior to what can be achieved using traditional media, it often fails to match the hype. Because of cookie deletion and the fact that a cookie is a unique browser identifier (but not a person identifier), a cookie can often fail to accurately reflect the demographic and behavioral characteristics of the person using the computer at any given point in time. Here's what comScore has found:
Targeting accuracy using cookies (% of impressions delivered accurately):

70% for 1 demo (e.g. women)
48% for 2 demos (e.g. women age 18-34)
11% for 3 demos (e.g. women age 18-34 with kids)
36% for behavioral targeting
On a related topic, digital media is seeing a growing use of online GRPs to plan and measure the delivery of digital campaigns. When coupled with a viewability measure and a targeting accuracy metric, this can provide a huge step forward in ensuring that an advertiser's media plan is being delivered as intended. An indication of the growing use of these metrics is that comScore's Campaign Essentials product suite has now been used in more than 5,000 studies by 160 advertisers / agencies across 32 countries, and its use is accelerating rapidly. The value is also clear, with Kellogg's reporting a 5X to 6X increase in financial ROI from their digital campaigns since they began using comScore's service.
Turning to the measurement of the impact of digital campaigns, there are now a variety of ways in which the attitudinal or behavioral impact of online campaigns can be measured – including the ability to do this while the campaign is still running (which allows for in-flight adjustments). Given the availability of these measurement options, it is especially frustrating to see click-through rates (CTR) still being utilized as an effectiveness metric, even though CTRs average no more than 0.1% (yes, that's 1 in 1000  ads in a campaign being clicked) and despite the fact that research has shown no relationship between CTR and campaign effectiveness. A recent comScore survey found that fully one third of advertisers, agencies and publishers routinely use CTR as a performance metric. The reasons are simple: CTR is fast, inexpensive and easy to compute … but unfortunately it's also a fundamentally misleading measure of digital advertising effectiveness.
7. Growth of Smartphones and Tablets
The rate of growth in the use of smartphones and tablets has been astounding. More than 120 million people in the U.S. now own a smartphone, accounting for more than 50% of all mobile phone users and representing an increase of 30 million over the past year. More than 48 million people own a tablet, representing a staggering growth of 300% from last year. The tablet is, in fact, the fastest growing electronic device ever created.
The emergence of smartphones and tablets represents a fundamental dislocation in how consumers access the Internet, with these devices now accounting for 13% of all Internet page views and growing at an accelerating rate. To help provide the advertising industry with relevant information measuring how consumers are accessing the Internet using various platforms, comScore recently announced the beta availability of Media Metrix® Multi-Platform, providing a unified view of web, smartphone and tablet audiences.
Mobile and portable technologies are radically altering the manner in which consumers make buying decisions and how they complete transactions. This presents opportunities but also challenges. On the opportunity side, marketers can "push" information to consumers with relevant geographically-targeted messages (e.g. delivering a brand promotion when a consumer is in a local store). Or they can deliver ads when the consumer accesses a mobile web site, although this does require building mobile-enabled web sites, something that many marketers have yet to do. Apps represent yet another way of reaching the consumer with mobile advertising or promotion messages, and here comScore data show that pure play online retailers are far ahead of their multi-channel competitors in the degree to which consumers are using the retailer's specific app as they shop and buy.
According to the IAB, mobile "push" marketing now accounts for about 8% of all digital advertising, while growing at a rapid 92% rate. This growth is occurring despite low CPMs / CPCs and some consumer resistance to the intrusion of mobile ads. 
As with all technological dislocations, there are challenges for manufacturers and retailers that accompany consumers' adoption of mobile technology. For retailers the downside is "showrooming," the phenomenon of consumers visiting a physical store to research (e.g. to "touch and feel") products but then using their smartphone or tablet in-store to price comparison shop -- often resulting in them buying the product online. comScore data show that consumers have increased their use of smartphones to access retail-related information by 50% in the past year alone. Retailers are using a variety of tactics to try to combat showrooming, including selling unique products that can't be found elsewhere or offering to match the lowest price that the consumer finds online. Whatever retailers' response might be, it's apparent that the practice of showrooming is creating more downward pressure on prices.
comScore data show that about 13% of all e-commerce transactions over the holiday shopping season were completed using a mobile or portable device, with tablets accounting for about 70% of that total. Overall, M-commerce is now growing at a rate of about 30% per year. That's good news for the consumer while presenting both challenges and opportunities for manufacturers and retailers.
8. Multi-Platform Media Planning and Analysis
Consumer consumption of media content is fragmenting across digital platforms at an accelerating rate. For example, originally-scripted TV content can now be viewed on the Internet using a PC or Mac -- and increasingly via mobile and portable devices; TV ads are being delivered online; and sports programming is being viewed live on smartphones. While this multi-platform behavior allows advertisers more opportunities to reach consumers with their advertising messages at a place and time that the consumer prefers, it also creates a pressing need for media planners to accurately measure how content is being consumed across platforms.
To help understand this multi-platform behavior, comScore recently conducted a seminal study for NBC that measured how consumers viewed programming from the 2012 London Olympics. Dubbed the "Billion Dollar Research Lab", the study involved measuring how 700 consumers used TV, the fixed Internet, smartphones and tablets to view the Olympics. In a compressed 17-day period, a massive amount of Olympic sports content is consumed across platforms. Since sports is the content category most viewed across platforms it was believed that by measuring this behavior we would be able to open a window to see into the future of multiplatform consumption and better understand how it might evolve across all types of content.
Some of the key insights from the study are shown below: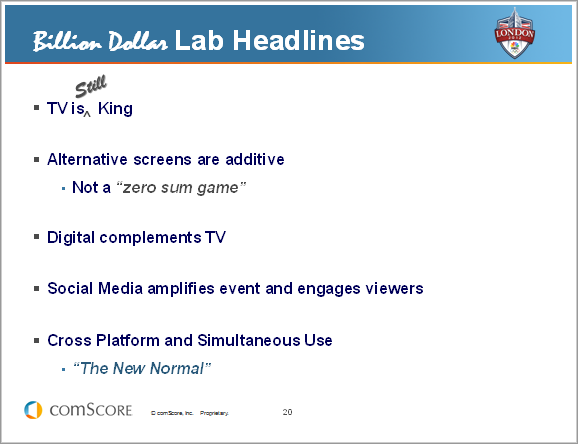 From my perspective, one of the most intriguing findings was that alternative screens are additive. In other words, there was no evidence that incremental screens cannibalize the use of other screens. Media consumption is apparently not a zero sum game. Consumption increases across all screens as more screens are used. This is illustrated vividly below: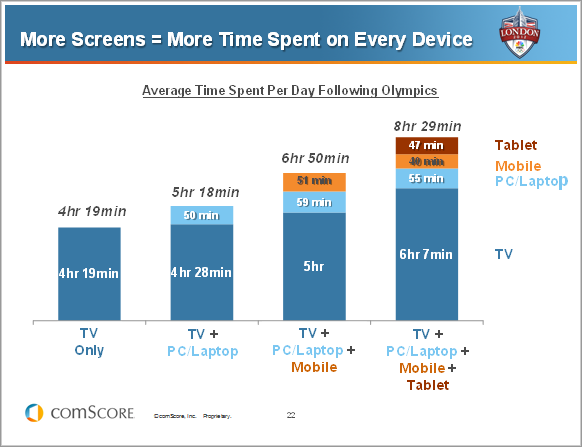 The study also confirmed the importance of the concurrent use of other digital screens while watching TV. Specifically, 25% of the time spent watching the Olympics on TV was accompanied by the use of another screen. Interestingly, there was no evidence that these simultaneous viewers skewed younger, since 55% of them were 55 years of age or older.
Given the current and growing importance of multi-platform consumption, it's critical that new systems be developed that can provide media planners and analysts with the ability to measure duplicated and unduplicated audiences across platforms at the most granular level, e.g. at the level of an individual show. comScore is currently building such a system for ESPN in partnership with Arbitron. In addition, comScore's Andrew Lipsman did an excellent job of covering the measurement challenges and solutions for digital media fragmentation in a recent white paper: "Brave New Digital World."
9. Real-Time Marketing Insights
Increasingly today, speed of decision-making is a competitive advantage -- and this is certainly true in the case of digital advertising. Gone are the days when an advertiser could wait until a campaign had run its course to understand if the media plan was delivered as intended or to measure the effectiveness and ROI of the campaign. Today's digital realities demand – and allow – real-time insights so that course corrections can be implemented quickly as needed, thereby significantly reducing waste and increasing campaign effectiveness. Smart advertisers and their agencies are already receiving near real-time comScore data summarizing the delivery of their digital media plans and their impact -- on a publisher-by-publisher basis. This allows for in-flight adjustments as necessary. It's encouraging to see this foster the development of strong but flexible partnerships between publishers and advertisers that are tightly focused on the advertiser's advertising objectives in terms of reach, frequency and targeting. The Kellogg Company has graciously allowed us to cite some powerful examples of their use of near real-time feedback data in a case study that can be downloaded here.
While there are many benefits from the use of real-time insights to gauge advertising effectiveness, it's also important to point out one potential downside that's especially relevant to brand marketing. This relates to the specific content in the advertising message. The use of price and promotion incentives will undoubtedly generate a more immediate consumer response than will a branding message. As a result, it's possible that real time measurement could tend to favor price as a preferred driver of consumer choice, with the unintended consequence of creating a long term decline in brand loyalty. Marketers will be well advised to carefully consider the creative that they employ in their advertising campaigns when using real-time measurements.
10. Privacy Considerations
The advent of digital marketing has been accompanied by a far higher level of scrutiny of privacy issues than was ever the case with traditional media. Some of that is to be expected. Data are, after all, at the center of the digital world and it's critical that consumers' personally-identifiable (PI) data be protected. Much of the privacy concern that digital marketing has encountered relates to the observation of consumer behavior and the targeting of ads based on this behavior. Ironically, the myriad new digital ad targeting approaches that dramatically increase the relevance and effectiveness of the advertising being delivered -- all while simultaneously reducing waste -- require no PI data about the consumer. Anonymous cookies are the basis of this matching up of advertising with behavior.
The industry as a whole has the opportunity to help legislative bodies here in the U.S., and especially in Europe, understand how both first and third party cookies, when used anonymously, present no risk to privacy.The IAB has been particularly active in this regard, both through their lobbying efforts and by publishing reports that quantify the economic value to the U.S. Gross Domestic Product (GDP) of the ad-supported Internet ecosystem. The IAB's latest report, published in September 2012, estimated that the contribution of the Internet ecosystem to the $14.5 trillion U.S. GDP was $741 billion in 2011. The report further concludes that the value of the Internet ecosystem sector grew by 56% from 2007 to 2011, while U.S. GDP, partly as a consequence of the 2008/9 recession, grew by only 5%. Clearly, online marketing has become a major contributor to the U.S. economy and it is to be hoped that legislators will see the need to keep this engine of growth running without undue interruption.
So, there you have my assessment of the top ten burning issues in digital marketing. As you can see, ours is a dynamic industry, driven by dramatic increases in computing power that allow for continuous and rapid innovation. But, as history has shown, in every technology-driven dislocation there are losers as well as winners. For any business today, it's clear that ignoring or resisting the changes wrought by digital technology will surely lead to disaster because as Rishad Tobaccowala, Chief Strategy Officer at Vivaki, put it: "Digital is like hydrochloric acid, it burns through everything." Successful marketers in contrast will ensure that they adapt to the new digital realities and improve their businesses by leveraging the many innovations that technology has provided.