Gaming, Legal Tech, Partners with Nonprofits
2 Companies

Founded on two basic ideas--people matter and delivering value is the highest priority--Inspirant Group is a digital transformation "consulting" (we prefer Unconsulting) firm intent on changing the way consulting is done.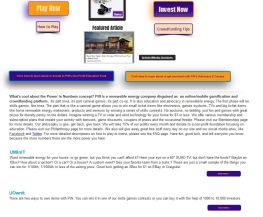 PiNumbers Corp (PiN, Power in Numbers)
PiN is a renewable energy company disguised as an online gamification platform via website and mobile apps. PiN is a social enterprise that is a hybrid between online and mobile games and penny auctions. Users can win prizes through skills games, initially trivia games, with renewable energy advocacy and education built in before each game.