At UPshow, team members work by the motto, "We win together and we lose together." That message of connectedness is what drives the tech startup as its platform transforms TVs into a business' top marketing asset. 
We caught up with a few members of the UPshow team to learn more about their culture of connectedness and how it has benefited their careers and daily work lives.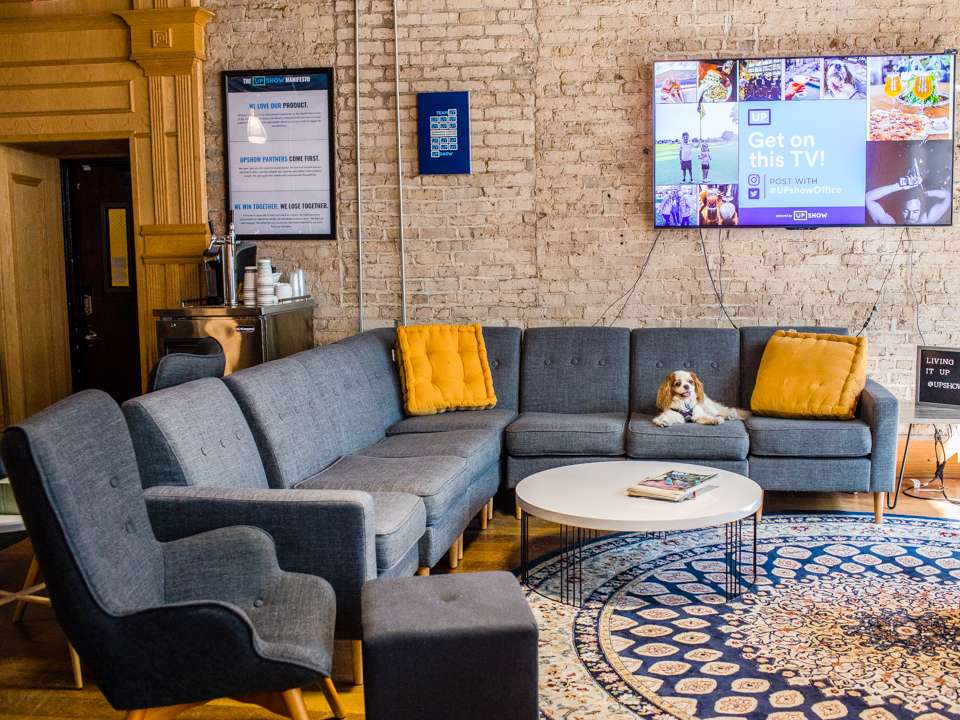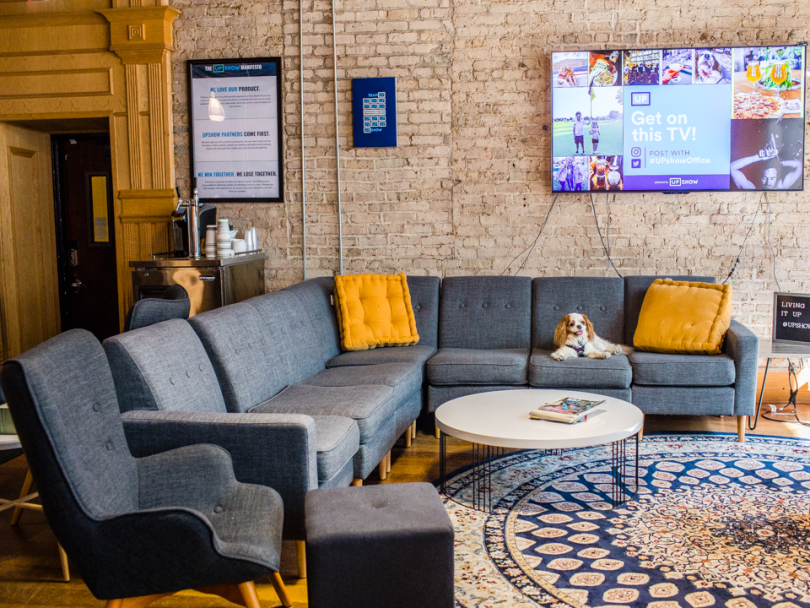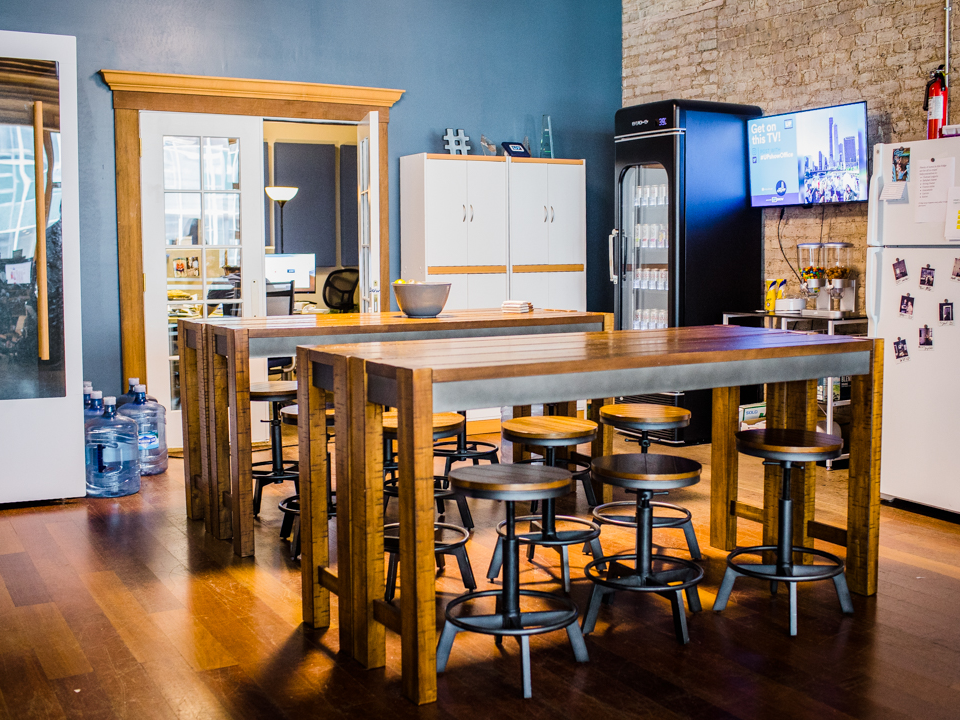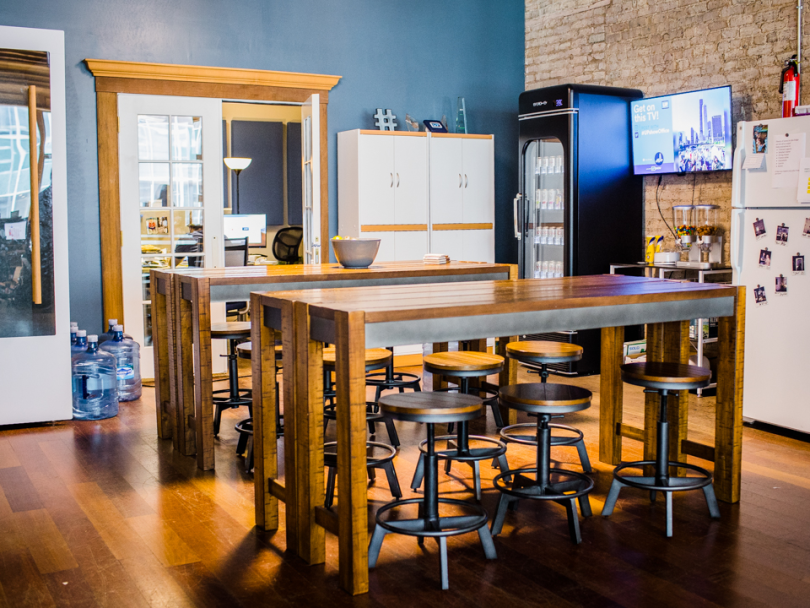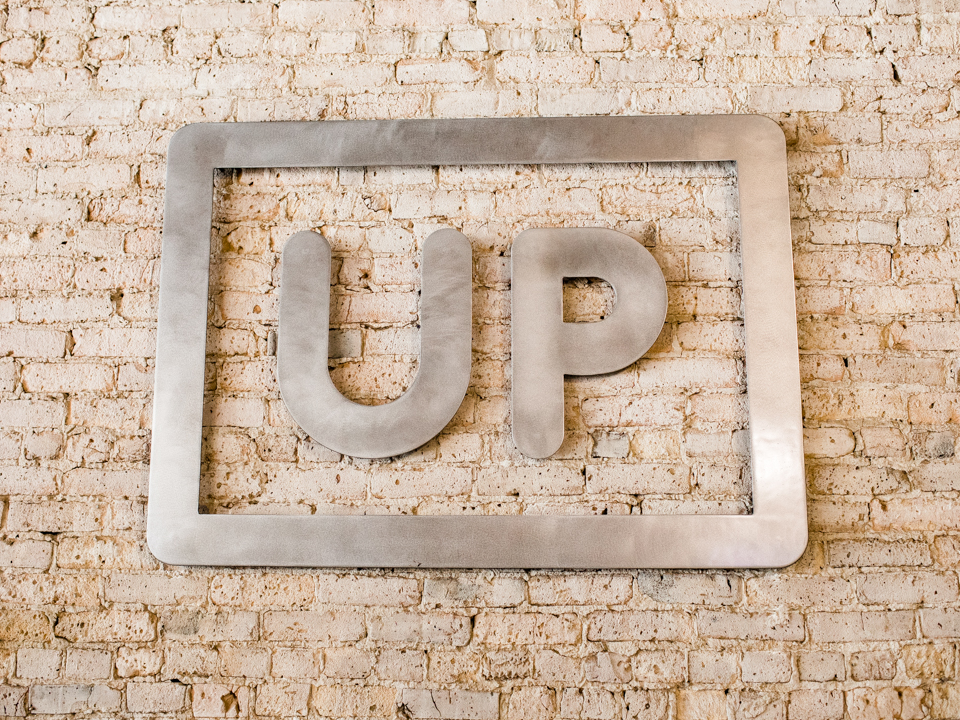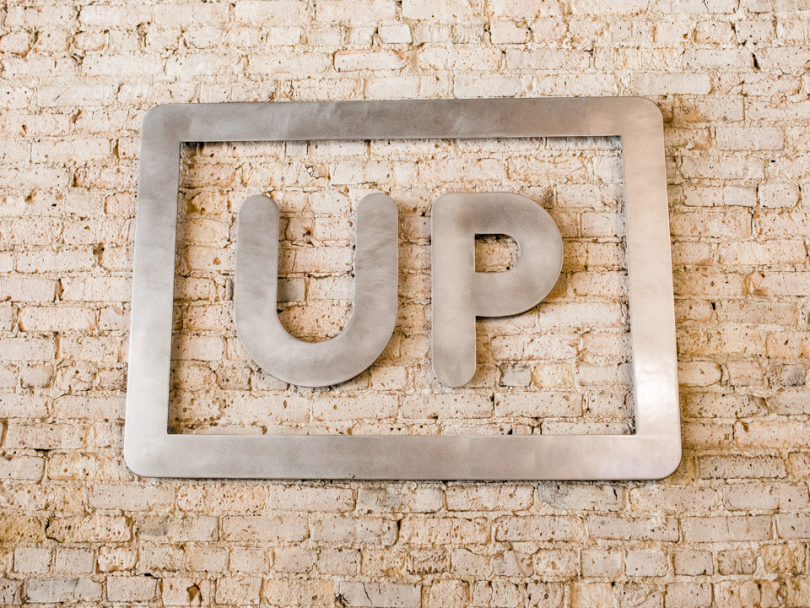 FOUNDED: 2015
EMPLOYEES: 60, 44 locally 
WHAT THEY DO: UPshow is a consumer engagement platform that transforms a business' TVs into its top marketing assets.
WHERE THEY DO IT: Chicago
NOTABLE CLIENTS: Crunch Fitness, Buffalo Wild Wings, ATI Physical Therapy
NOTABLE PERKS: Employees enjoy unlimited paid time off, a stocked kitchen and cold brew on tap, as well as weekly happy hours, team workouts, group volunteer projects and UPshow and Tell.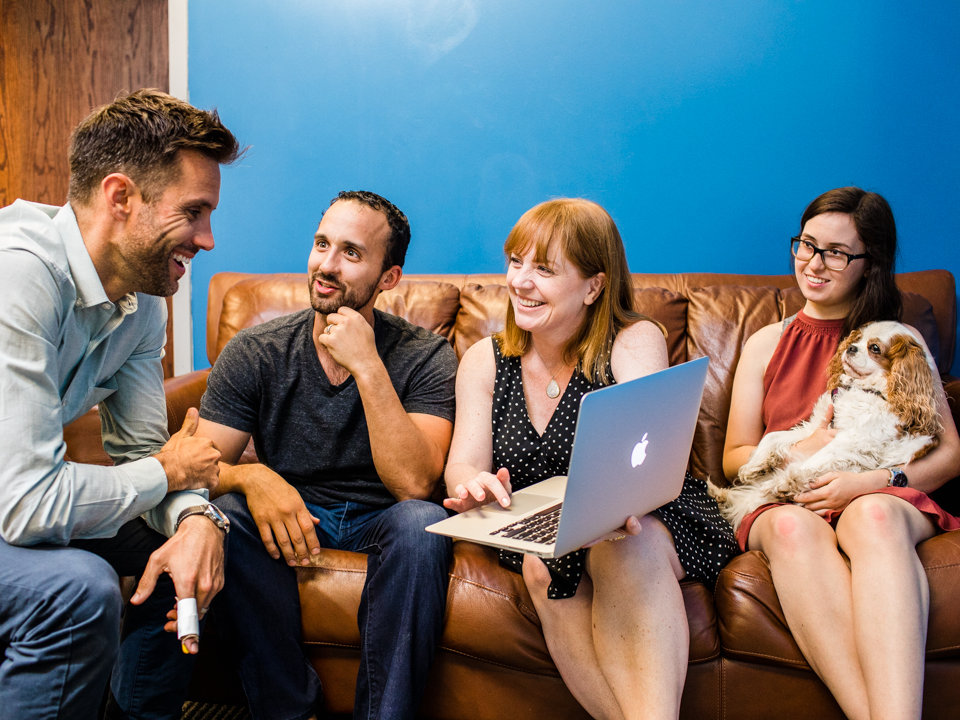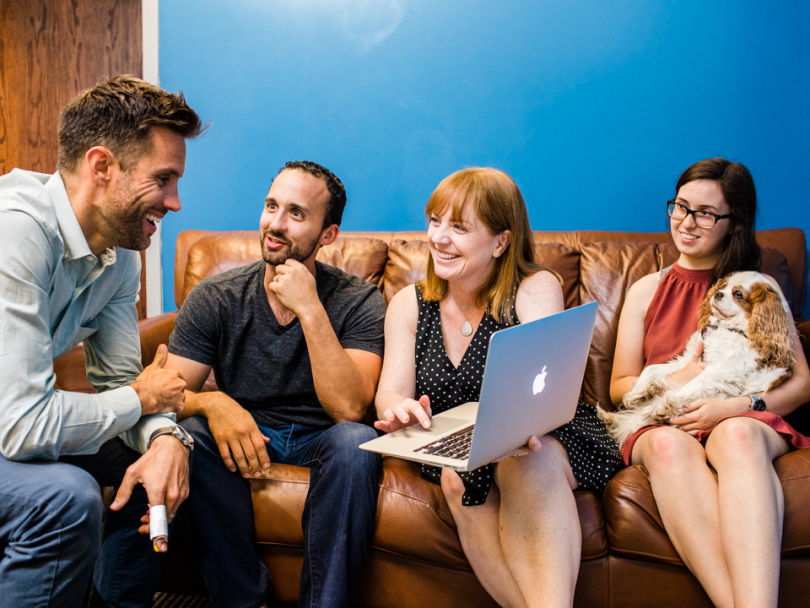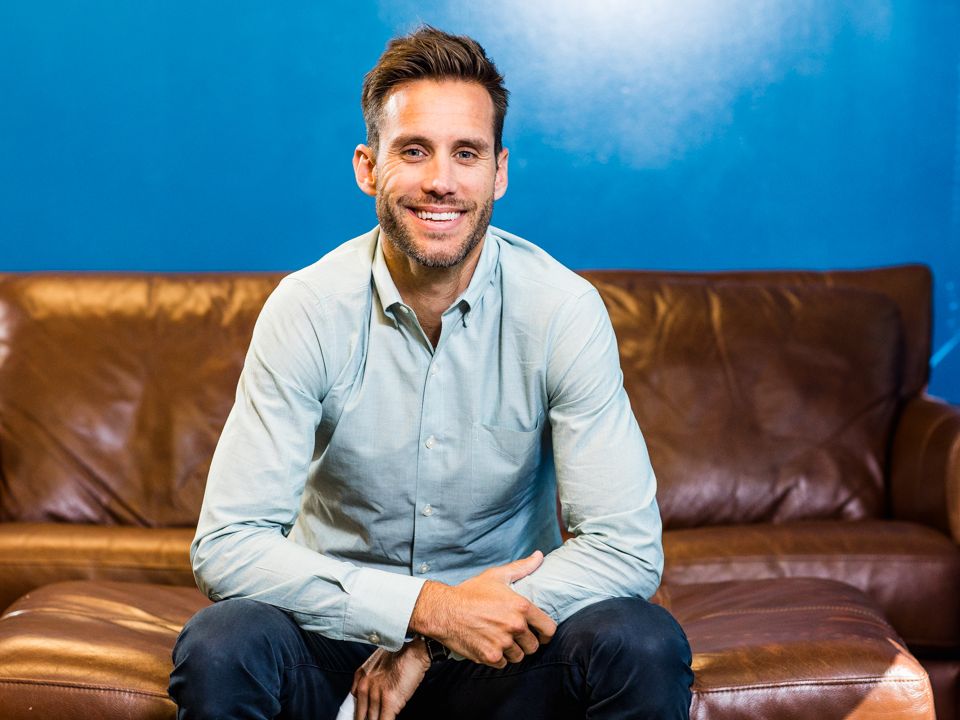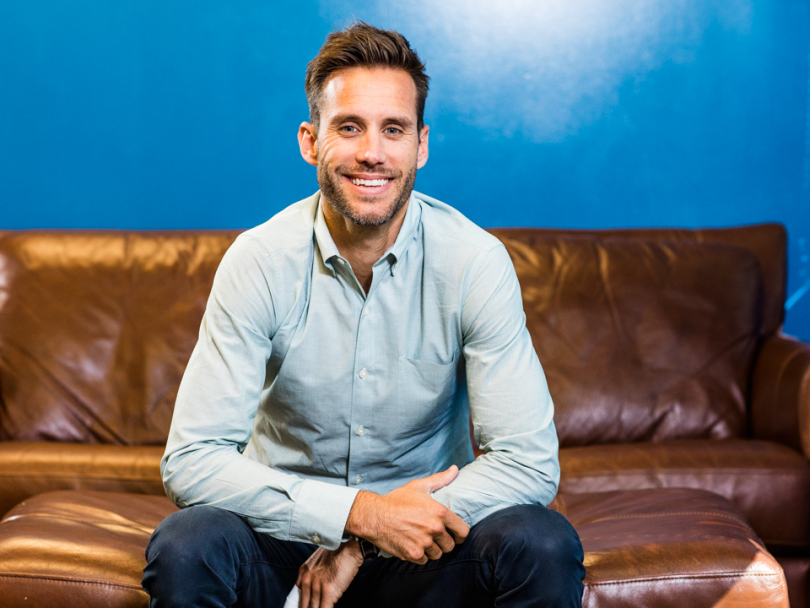 Tony Stehn, SVP, Sales
Tony develops and grows UPshow's sales function by creating a go-to-market strategy, growing the sales team and putting sales processes in place to scale.
BEYOND WORK: Tony plays soccer, ping-pong and golf, but his favorite activity is hanging out with his two daughters.
You were the first UPshow hire after the founders. What made you want to join the company? 
The idea of building something from the ground up was extremely enticing. Coming from a very large corporation, my voice was heard but never acted upon, and my success was rewarded but always forgotten. At UPshow, we are building an empire and legacy that will live on forever. Looking back at where we started four years ago to where we are now is more and more motivating every day.
It's been four and a half years since you joined. What's been something you've worked on that you're especially proud of?
Our team has built this business from zero customers to over 5,000 paying customers. We went from being completely bootstrapped to raising Series A funding, and all of us are incredibly proud of the success thus far. Understanding each other's strengths and weaknesses has been a huge part of how we've worked together to make it happen. 
A key factor to our success is our "win together, lose together" mentality. Everyone at UPshow is a leader in their own way and we act like it. No one person is better than another and if you can help someone in a way that does not fall within your daily responsibilities, it doesn't matter — you are expected to help, and we will recognize that behavior time and time again.
 
Our mentality is to identify the strengths of great people and put them in a position to succeed."

Besides "win together, lose together," tell us a bit more about your culture. How did it develop?
I'd like to think the culture was built both deliberately and naturally. Our mentality is to identify the strengths of great people and put them in a position to succeed. When people are successful, they feel great about their contributions, they are happy and the culture naturally becomes better. 
Culture is always evolving and a great culture is not easy to maintain all of the time. We are still small enough where it's pretty easy to have a good pulse on how people are feeling and what could be impacting the culture. When we start to see culture being impacted in a negative way, our leadership team steps in and addresses the situation right away. Strong communication is critical, and over the years our team has really focused over-communicating and being fully transparent.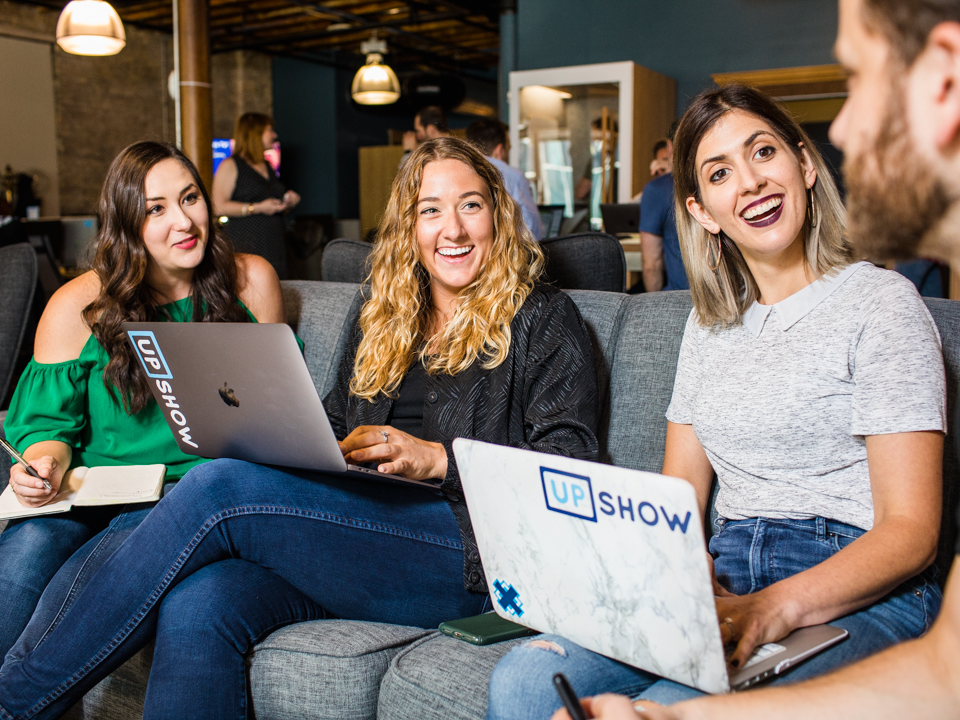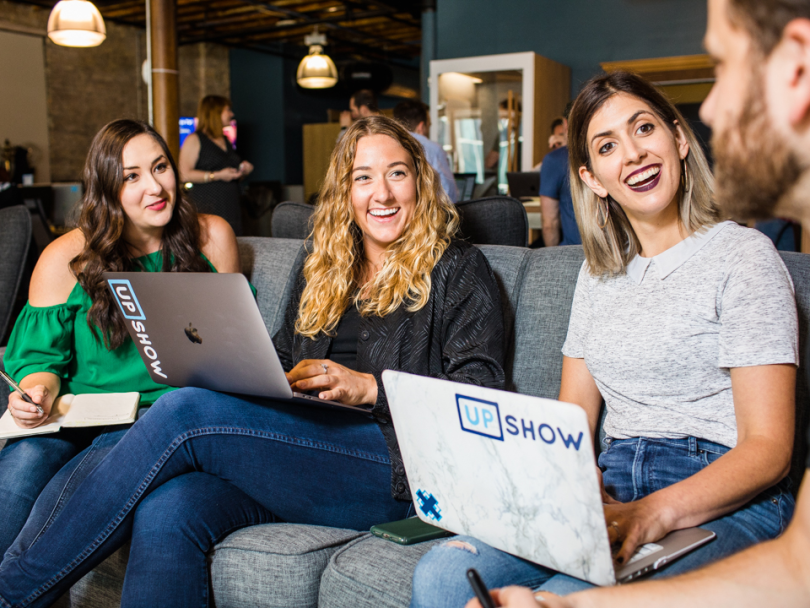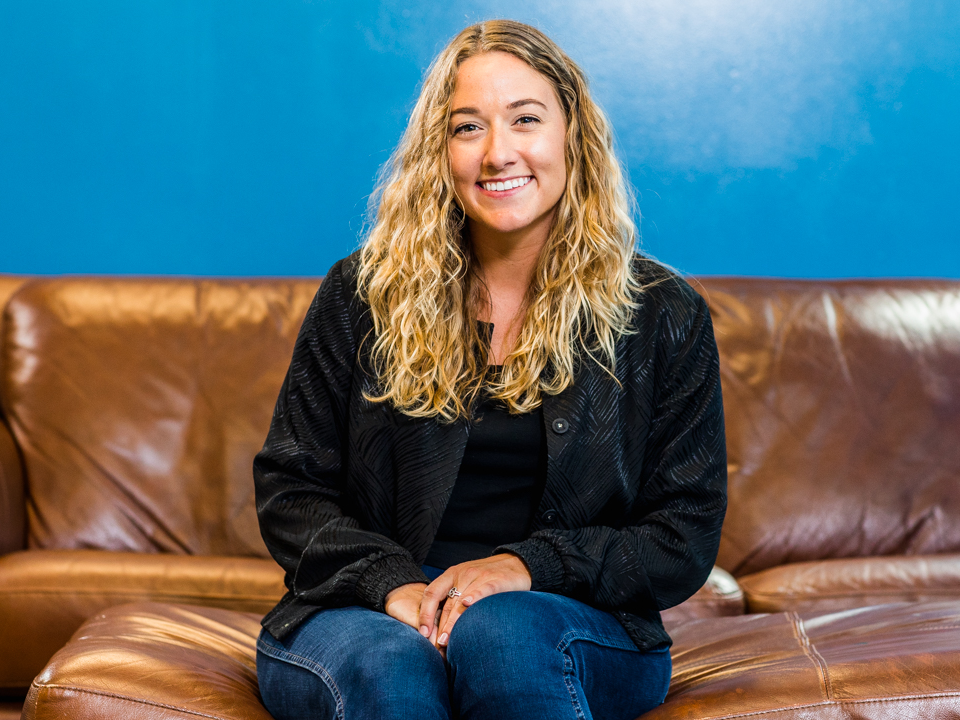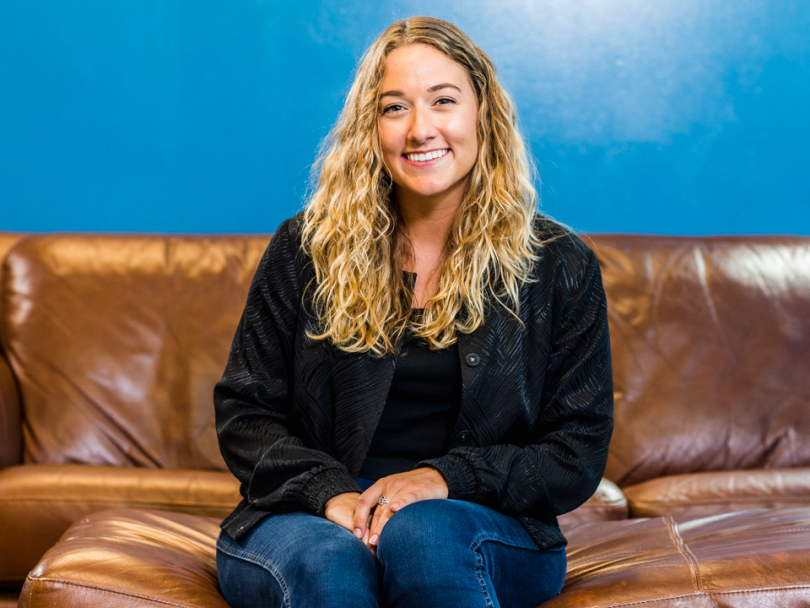 Jamey Walsh, Marketing Strategist
Jamey develops marketing assets, account-based marketing campaigns and customer engagement projects, as well as oversees the strategy and execution of events and trade shows and digital growth strategies.
BEYOND WORK: Once a year, Jamey and 11 of her friends run a 200-mile relay race from Chicago to Madison, Wisconsin. Though she claims she isn't much of an athlete, as captain of the team she gets to flex her organizational skills by making spreadsheets, checklists and workout training plans. 
We've heard a lot about your culture. How are employees empowered to participate in it?
Not only is everyone on our team invited and encouraged to shape our product, but also our office culture. We have a culture club called TeamUP (we love UP puns), which is a handful of volunteers that change quarterly. They organize and plan happy hours, summer outings, off-site product development days, in-office parties, holiday events, office decorating and all things fun. 
We also have many Slack channels: a recipes channel with reviews, ratings, tips and tricks, and a lot of humble bragging; the music channel is better than any release radar playlist you could find online; and our wins channel celebrates company-wide successes, like making a big sale or releasing a new product feature. We also have a shoutouts channel to let the whole team know who deserves an extra high five, then there's #bestupshowmoments — this channel is mostly just funny screenshots of UPshow history.
What's your favorite part or element of UPshow's culture?
We laugh a lot. Sure, I bet a lot of people laugh with their co-workers, but I can't count the number of times our whole office has erupted in full belly laughter. I think this says two things about who we are as a company: 1.) We have some hilarious, silly and clever employees; and 2.) We feel comfortable enough to share jokes and happiness with our co-workers, bosses, managers and co-founders.
 
I can't count the number of times our whole office has erupted in full belly laughter."

Tell us a little bit about your office. How does it enable you and your team to collaborate? 
The open layout of our office encourages and allows for wonderful collaboration. Sales and marketing teams historically don't communicate as much as they should, and I'm proud to say that this is not a characteristic of the UPshow team. You know when you catch yourself spending 20 minutes explaining something via email that could be better explained in person? With our regular marketing and sales meetings, we are able to efficiently prepare, explain, track and recap ongoing campaigns and projects between the two teams IRL.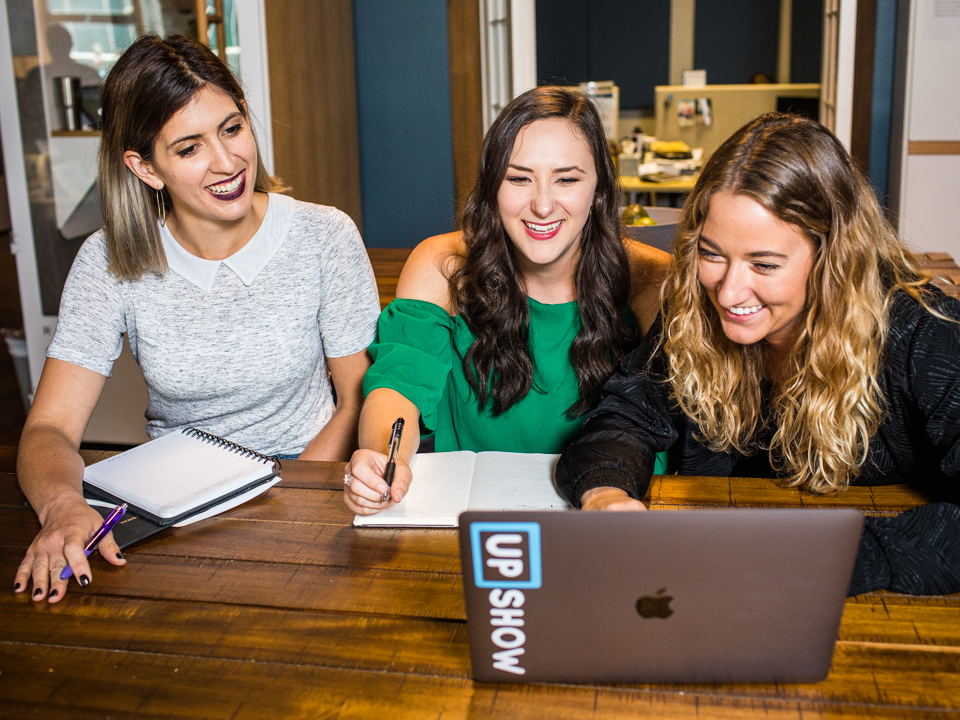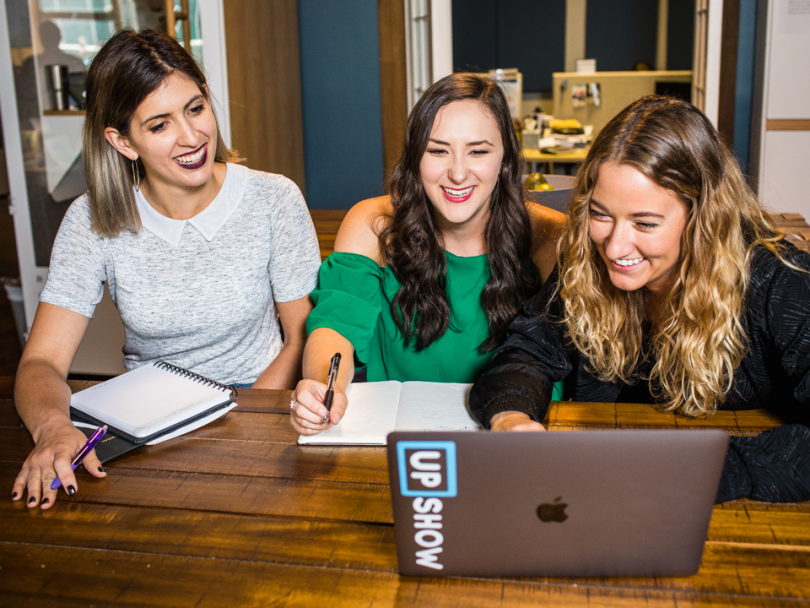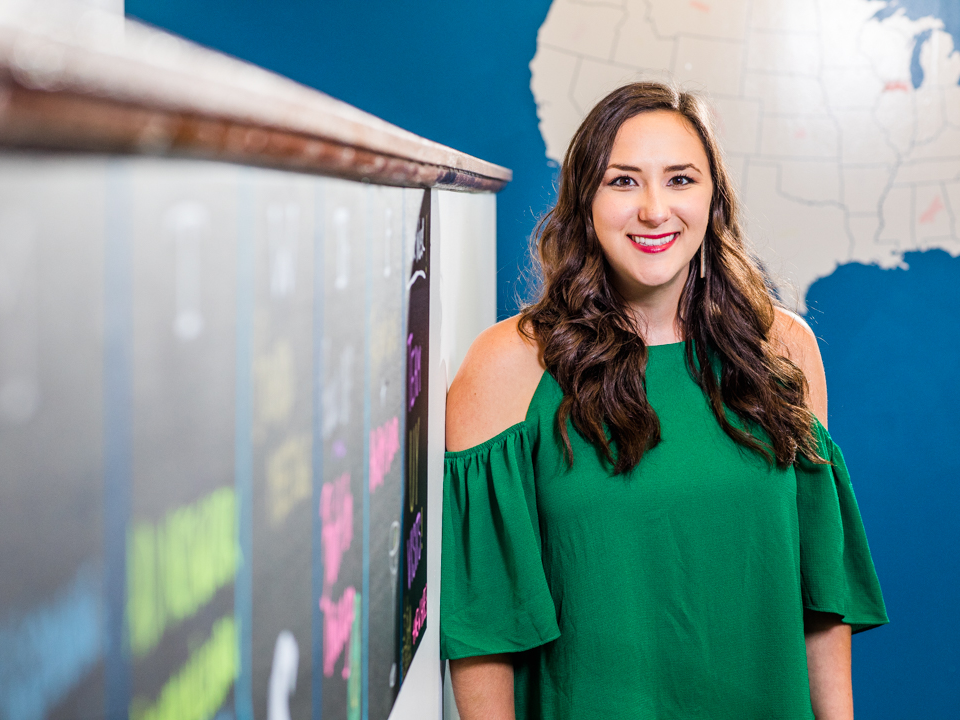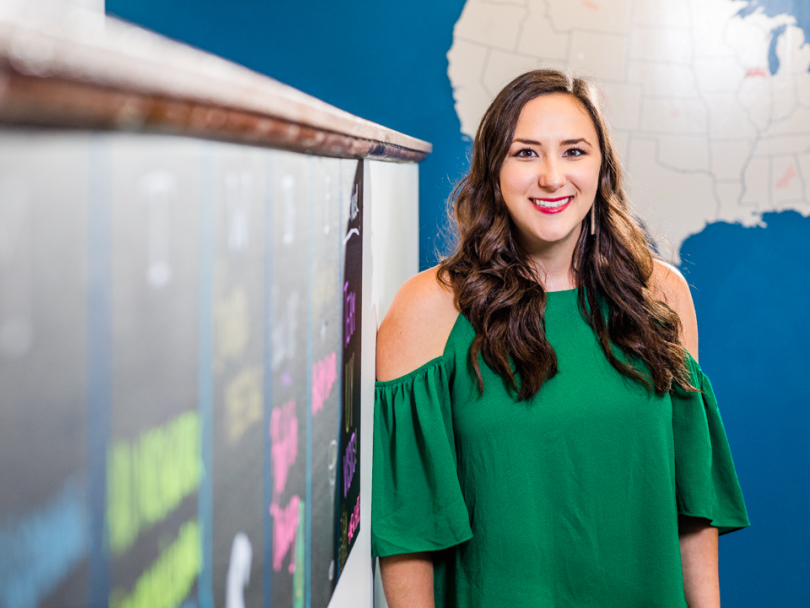 Angie Senkpeil, Product Manager
Angie is responsible for overseeing the development of UPshow's products and managing the launch of features.
BEYOND WORK: Angie recently took up watercolor painting. She appreciates that she must adapt and work through the process to complete her paintings — even when it doesn't go the way she first envisioned it.
Tell us about your career progression. How did you go from being an intern to a full-time product manager?
I started at UPshow as an intern right out of college in 2015 and ended up getting hired on full-time as part of the first customer success team. During my early career at UPshow, I had many different roles, from keeping clients happy to doing all of our account creation and shipping. Through my role in customer success and building our accounts, I dove deeper and deeper into the product, trying to get the most out of it for my clients. Because of that, I suddenly became the go-to in our Chicago office for any product-related questions and started working closely with our developers and CTO.
I definitely was not expecting this trajectory. When I started my internship, I did not know what a product manager was or how their role fit into a company. However, I do believe that starting as an intern and working in customer success has allowed me to deeply understand our customers and apply that directly to our product.
You work with a remote team based in Uruguay. How do you ensure your team is on the same page despite the distance?
Lots of video calls! I have scheduled check-in calls with our CTO at least three times a week, not including our teamwide update calls. We utilize Slack as an office, which helps with quick communication and keeps track of our ongoing projects. Even though there is distance, along with a time difference, we're able to ensure that we are all on the same page and keeping track of things as they happen.
One tradition we have put in place is having a traditional Uruguayan asado (barbecue) when we go and visit our team in Montevideo, Uruguay. Our teammates invite their families, and it is a great way to bond and get to know everyone on a deeper level, which can be hard when working with teams in two different countries.
 
Seeing different people at all levels help drive UPshow to success has shown me how every contribution matters."

What role has culture played in shaping the direction of your career?
We have an UPshow manifesto that includes the pillar: As a company, we win together and we lose together. This concept has greatly shaped my career because I have been able to witness so many individuals in different roles helping us succeed as an organization. Seeing different people at all levels help drive UPshow to success has shown me how every contribution matters. It has allowed me to feel comfortable taking on new projects and initiatives that led to my transition from customer success to product.