SPINS Helps Grocers Connect Consumers With Emerging Health Trends
Inside the data company's algorithmic approach to a healthier lifestyle.
The keto diet. 
You've heard of it, perhaps from Instagram or after a friend declined a roll at dinner.
Short for ketogenic, it's a low-carbohydrate, high-fat food plan that puts the body in a "ketosis" metabolic state, which allows for the body to burn fats more quickly. 
In theory, it sounds simple. Out with the bread and in with the avocados. Add some butter to a cup of coffee. Done. 
Not quite.
There are actually four different types of keto diets, according to Health.com. One involves intermittent fasting, another includes heavy carb days and a third does neither of the two. Ingredients that classify as "keto-friendly" or "strictly keto" are often argued over at length across online forums — carrots, for example —  and hundreds of authors have published blogs that attempt to answer "why keto is so complicated." 
Turns out, subscribing to diets takes research. 
One company hopes to remove this burden from consumers, retailers and brands by making it easier for all three to identify ingredients and products that align with trending dietary needs.
Called SPINS, the wellness-focused data, analytics and tech provider, offers retail consumer insights, analytics and consulting for natural, organic and specialty products for in-store and online retailers and brands.

Its product intelligence platform consists of more than two million Universal Product Classifications (UPCs) with 300 points of attribution information that SPINS captures from products, including front-of-label certifications — think: non-GMO, gluten-free — and back-of-label ingredients. 
Using this attribution data, SPINS' product library algorithm can, for example, inform retailers which items in their aisle classify as keto, or how the store can best market these products to customers. The algorithm can also automatically suggest keto-friendly products and ingredients to an online shopper in search of keto foods or introduce new keto products based on the shopper's history. 
That's just a couple of ways SPINS databases and tools are being utilized today. For more, Built In Chicago turned to Director of Business Development Kristin Litchfield and product managers Tyler Fuller and Jiyoung Kanu.
 
Organically Grown
The organic and natural food market has climbed by billions of dollars every year. In 2015, the industry was estimated at $115 billion. In 2019, that number jumped to $220 billion, and by 2026, researchers expect it to grow to $620 billion.
How was data used historically in the organic and natural foods industry, and how has SPINS elevated that data?
Kristin Litchfield, Director of Business Development: Historically, clients of ours were using point of sale information, demographics of customers and some panel information to understand the "why" behind consumer buying trends. That data was well available and being used across the industry. For the smaller, niche and natural players in the space, they needed a deeper level of data — data that could identify emerging trends so that retailers could have the most relevant assortment of products in their stores. That's the area in which we really started to gain traction. We wanted to help the smaller niche retailers carve out their space and define who they want to be so that they could compete with some of the bigger grocers.
 
They needed a deeper level of data — data that could identify emerging trends so that retailers could have the most relevant assortment of products in their stores."

How has this data evolved as the industry and company have grown? 
Jiyoung Kanu, Senior Data Product Manager: SPINS has spent a lot of time leveraging front-of-pack information with claims and positioning. As we've grown, and as we've built up our data and tech, we're able to offer new layers of information and uncover hidden insights. In the retail space, marketing is quite limited and not everyone gets a chance to highlight if a product is keto or paleo-friendly. Now, we're able to shine the light on all the ingredients and products that classify as keto or paleo friendly so that consumers can easily see in the aisle which ones fall in line with those nutrition plans.
Tyler Fuller, Product Manager, Destini: Destini merged with SPINS in 2015, and our core product is a store locator tool that's powered by SPINS data. Our platform allows shoppers to locate products they're looking for both in stores and online. Leading into 2020, we had a product in the works that would help measure the return on investment of in-store shopper demo programs. As everything shut down, the need for in-store programs became obsolete, so we pivoted to e-commerce programs like online coupons to help our brands activate their consumer base online.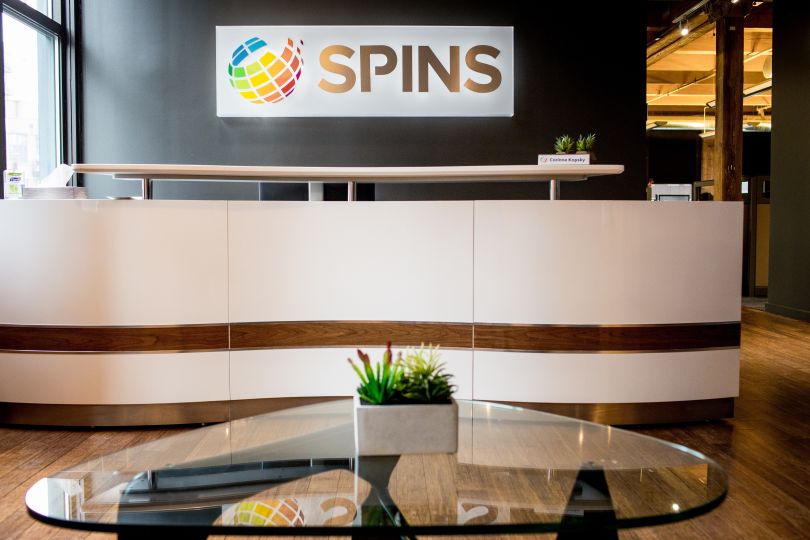 SPINS' Menu
Retail management system
Store-level data and inventory
Product intelligence
Product locator
Marketing tools like digital coupons
What are some other use cases of SPINS' data?
Litchfield: We can tell retailers which attributes are growing the fastest in their stores and compare that with their competitors. To take it even deeper, we can identify the fastest-growing items within that growing attribute to help retailers determine what items they should be carrying in their stores, or which products should be removed to make room for the high-demand items. We offer pricing and promotion analytics that help retailers understand how to price with the attribution overlay. We're also beginning to explore product recommendations, so if a shopper is gluten-free, and they've purchased gluten-free items in the past, SPINS can suggest and incentivize that shopper to try new gluten-free products through digital coupons. 
Fuller: One of the cool use cases on the Destini side recently was an enterprise client that had a consumer relations department. This department was constantly getting questions about where to find a specific product. We were able to leverage an API to power a chatbot on their website that could answer where this product could be found either online or in the store based on SPINS data. 
 
We want people to be healthier, and if we can help serve up the products that can help them do that, that's a win for us." 

What's the impact of this data for grocers and for shoppers?
Litchfield: Our retail partners are seeing an average of a 13 percent increase in shopping basket size when product attribution is included in the e-commerce space. By organizing items for customers in a way that's intuitive and easy to understand, customers will buy more products more often, which creates loyalty. For the consumer, health has become more important to a larger population. Shoppers are smarter, savvier and looking for food to help them be healthier. SPINS is in a great position to do that. We want people to be healthier, and if we can help serve up the products that can help them do that, that's a win for us. 
What's next?
Kanu: We will continue to build out our technology to derive more complex algorithms and interpretations of the different types of data we have from product packages. This will allow us to uncover some valuable insights that will strengthen our partners' brand positioning and make it even clearer for consumers interested in specific products. 
Fuller: For Destini, we will continue to focus on the online shopping experience. Our biggest challenge for our brands is figuring out how to reach consumers, especially within emerging social media platforms like TikTok, Instagram and Pinterest. We recently launched new shoppable landing pages that brands can embed into social media posts to grow their online consumer base and drive conversions at various digital touchpoints.