In 2008, Juha Koponen set out to make shopping more eco-friendly. Armed with a doctorate degree in physics and a big idea, he and co-founder Jussi Koskinen began laying the groundwork for what would eventually become Swap.com.
The service, which officially launched in 2013, has since become the largest digital consignment and thrift store in the country, boasting an online catalog of more than one million items. Having blossomed to a headcount of about 250, the team is split between the company's fulfillment center in Bolingbrook, an open WeWork space in downtown Chicago and offices in Helsinki, Finland.
Swap.com's marketing team is tasked with a lot of responsibilities, from building partnerships and coding digital newsletters to community management and graphic design. Between the chaos and thrill of working at an up-and-coming startup, they had us over at their downtown digs to see what it's really like to walk in the shoes of a marketer in Chicago tech. Interested in learning more about the team at Swap.com? Browse all of their open positions here.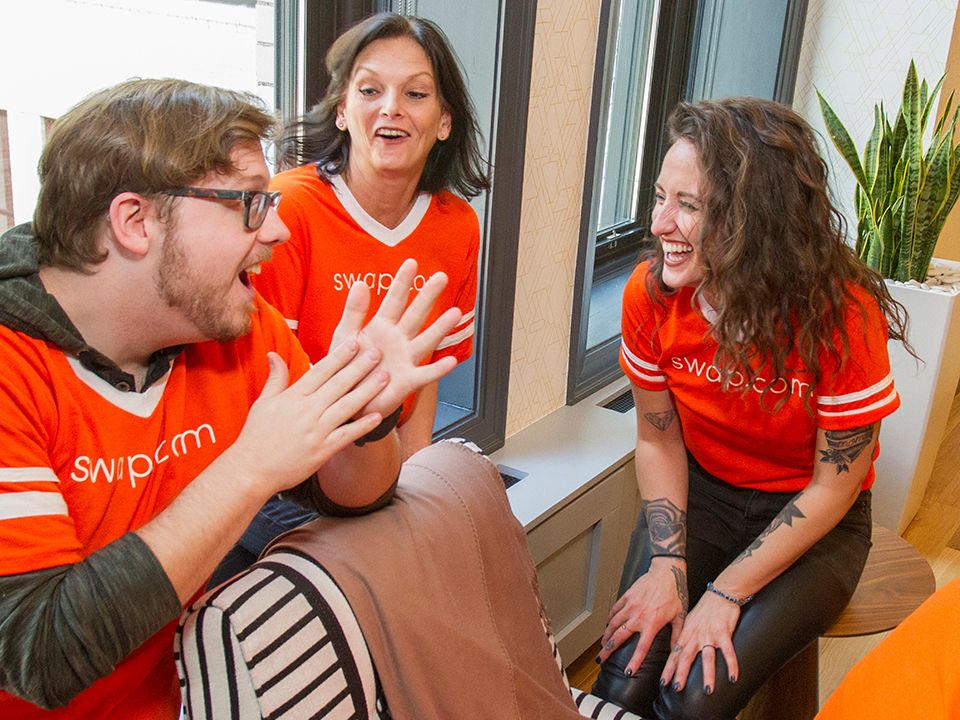 How would you describe Swap.com?
Beth, National Partnerships Manager: It is the largest consignment store in the United States, and we buy and sell peer-to-peer, gently loved articles, including books, accessories, baby's clothing, children, maternity, women's and menswear — and who knows what's next!
Tammy, Senior Public Relations Manager: There are a lot of online, peer-to-peer marketplaces, but what makes us unique is that a lot of them will market luxury brands. We sell real clothes for real people. We make the process for sellers and buyers easier with our proprietary technology.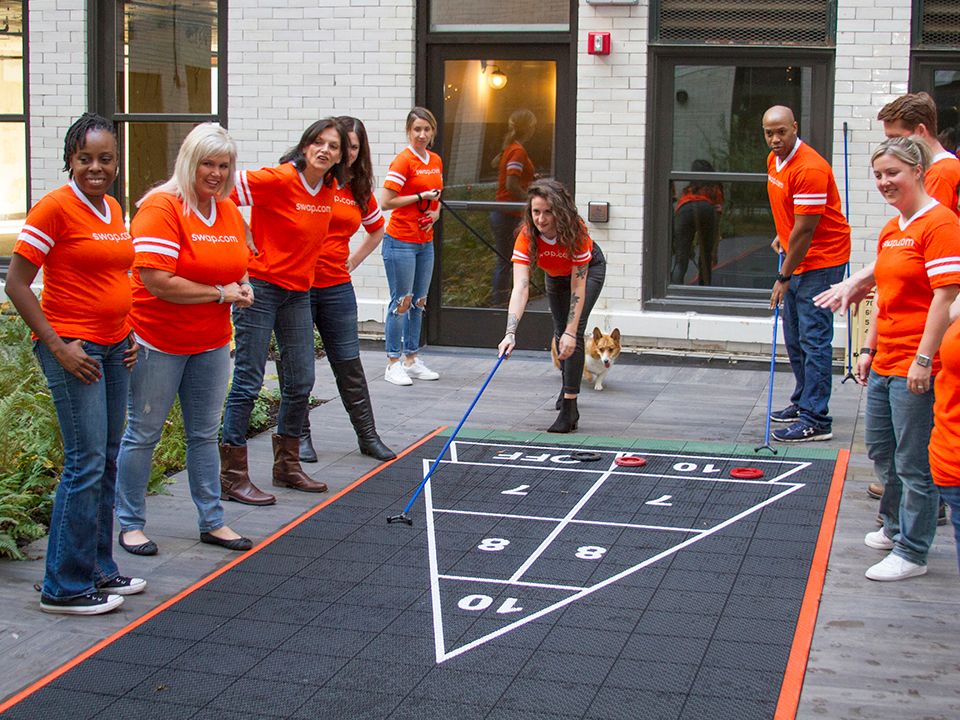 In a world that's so quickly becoming dominated by e-commerce options, how are you staying competitive?
Rich, CMO: That's really what's so special about the company. Standard e-commerce software and solutions are geared toward merchants buying products in bulk. With online thrifting, each item is really unique. Our customers love being able to find that one-of-a-kind item, but it takes a lot of technology and operational know-how to do that. We have proprietary software that's bringing in truckloads of items, snapping photographs and uploading inventory to the site.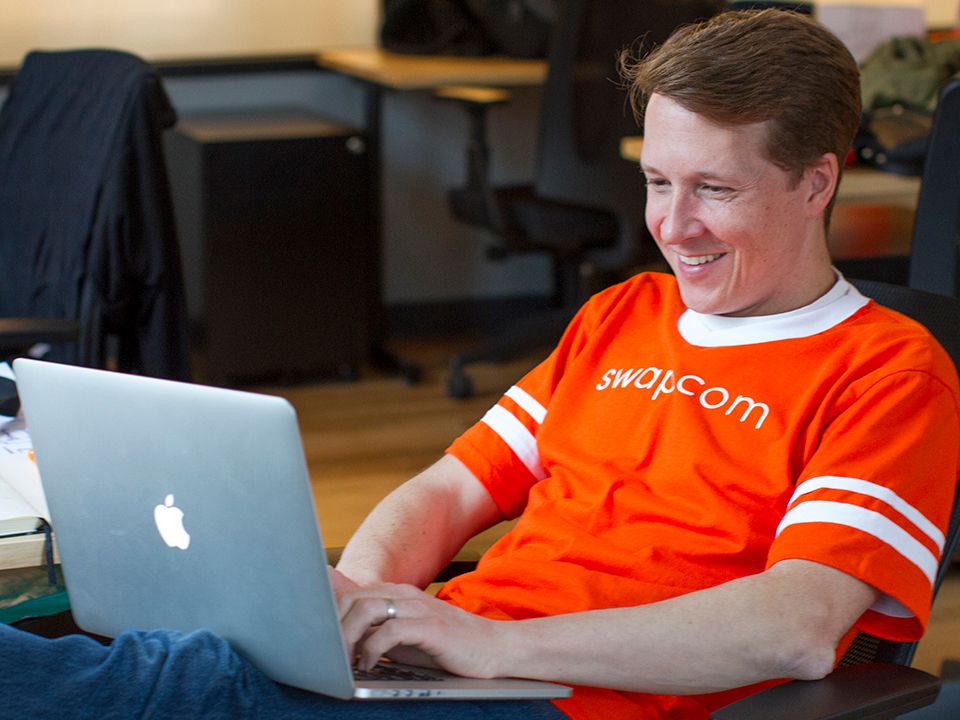 In a couple of words, what does your day to day work look like?
Rich: Everyday is different, but because we're building a new business and transforming an industry, we have to put a lot of feelers out there and see what fits. We celebrate failure if we learn from it. People all say that, but here it's really true.
Taylor, Social Media Manager: There's a lot of content ideation from all of us on a day-to-day basis. That's the nucleus of what we do, and then that extends out into our silos.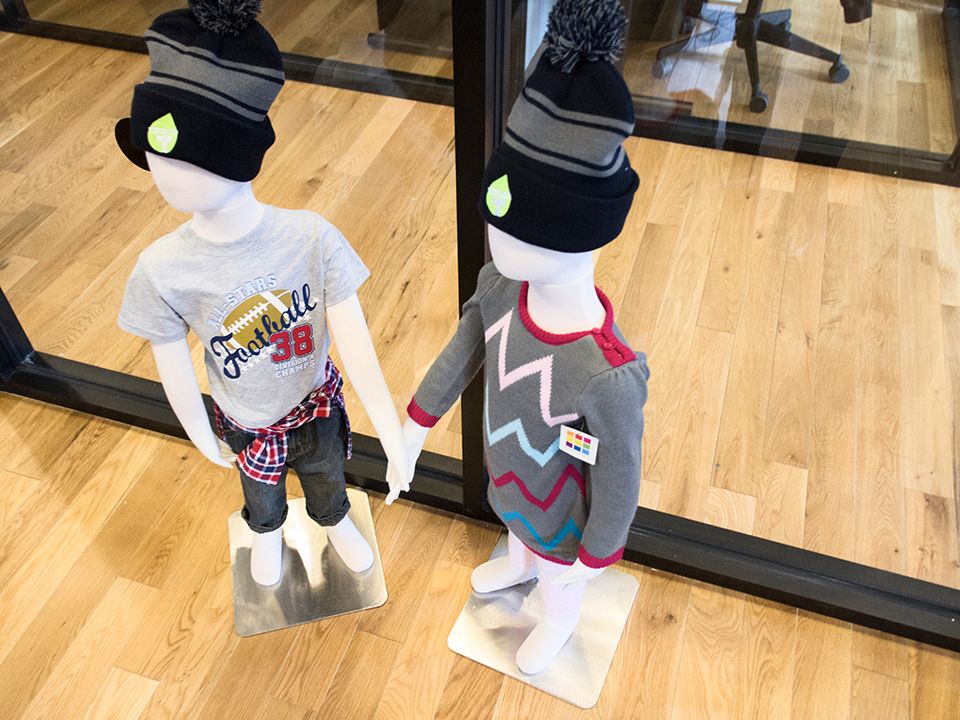 Not only are you a fast-growing team, but you're also a fast-growing business. What's it like to work at a place with so much growth?
Juha, CEO: We're very thankful to have people who have helped us grow. When you're small, you try to do everything. I was buying our first inventory myself from Goodwill. Now, of course, it's much different — we get to grow our fulfillment center, but we also get to make people more aware.
Taylor: There's a lot of camaraderie. When you're this small, you've got to be a jack-of-all-trades. You wear a lot of hats and you work really hard, but because we're such a small team, when you feel those wins, you feel them together.
Daniel, what's it been like to see some of that growth?
Daniel, Graphic Designer: Pretty crazy, actually. I'm not going to lie — when I first started, a friend of mine brought me on and said, "You know, it's pretty small. It's not going to be too crazy." Suddenly, boom — it got crazy in a matter of months. We were jumping from this shoebox-sized warehouse to a building that's two football sizes. Today, our fulfillment center is about six football sizes.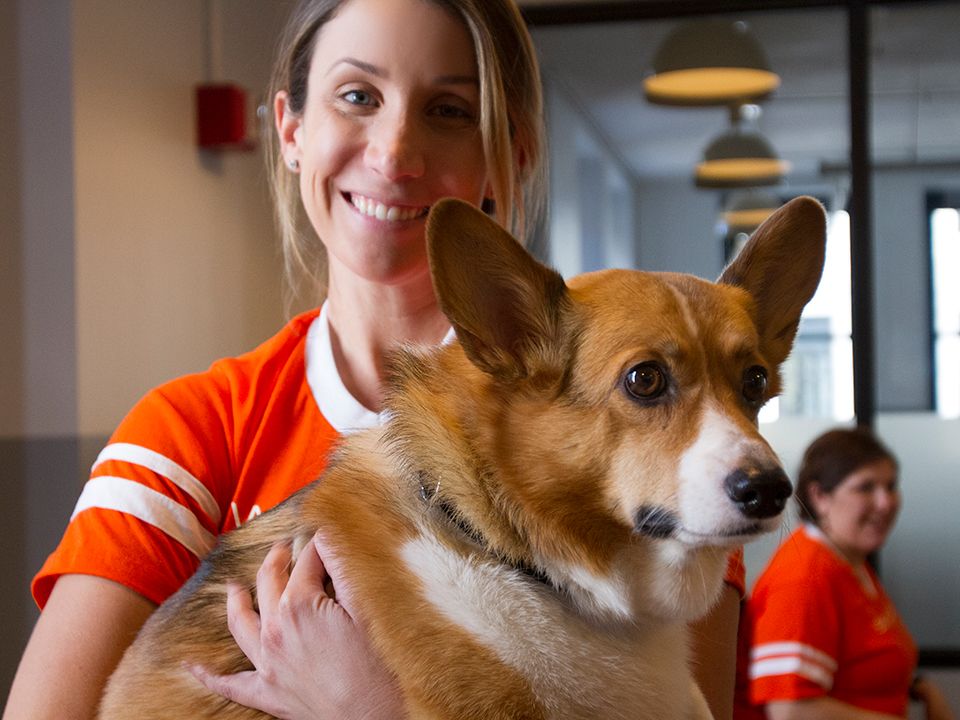 Fill me in on Swap.com's environmental mission.
Rich: 80 to 85 percent of all clothing in the U.S. ends up in landfills, and the majority of it is perfectly reusable. The 15 percent or so that's donated is often sent to Goodwill for a tax write off, and we think that's wonderful. It's that 85 percent we want to get after. We make it easy enough for people to sell through us that there's really no reason not to.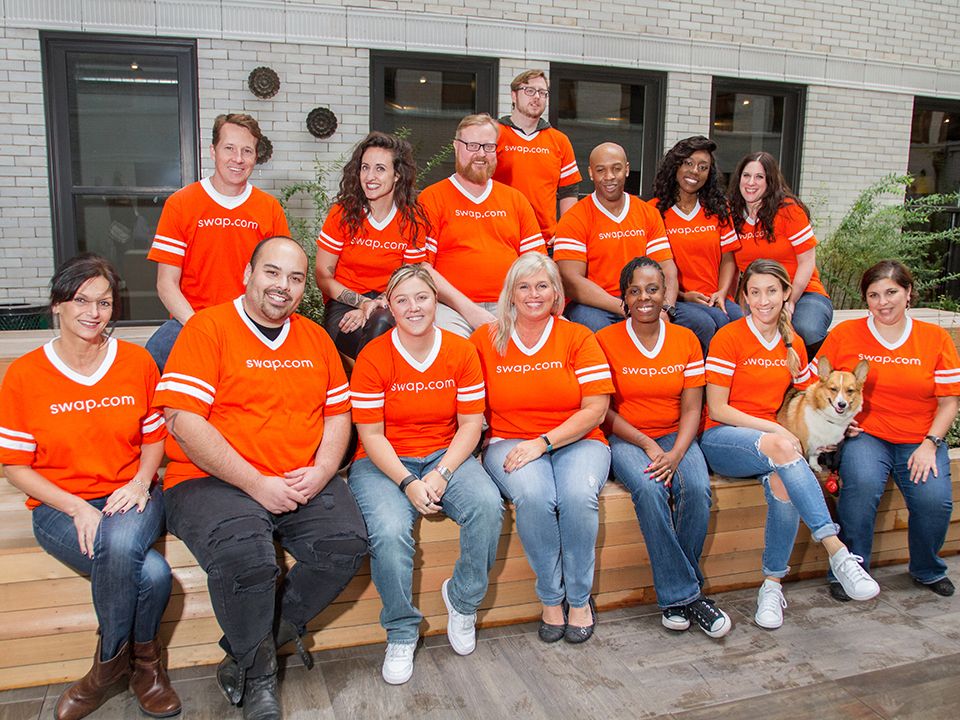 You're mission-driven, you're high-growth — it sounds like you're also pretty high-intensity as a team. What is it that keeps you motivated?
Tammy: One of the great things about starting at the ground level at a startup, especially with a marketing team, is the opportunity to make an impact. You're building out your function, and as the company grows, so does that function. There's a sense of pride you take in that, contributing to the overall success of the company.
Beth: It's really cool to watch the needle move. The goals are really aggressive, but everybody is pushing hard. It's much better to go through it as a group.
Daniel: I've been with the company since the beginning, so what motivates me is watching the personality of Swap.com develop. It's almost like every day we're learning a little bit more about who we are and what we want to do for our customers.
Rich: It's to change an industry, honestly. It's not every day you get that opportunity. It's not the way you grew up shopping, but with technology you can scale it. Now, it's here.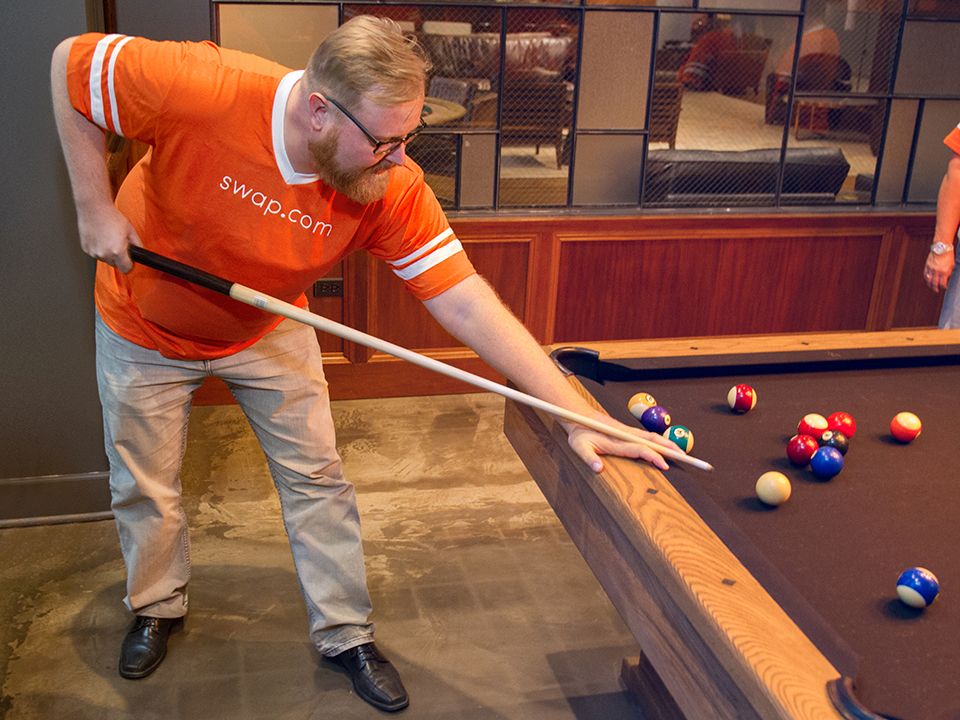 How would you describe the culture here, and how has it grown?
Tammy: For the marketing team, we're such subject-matter experts in our respective fields, and even though we have different backgrounds, we come together to collaborate. Working at a startup is exciting — it's fast-paced, and you hit the ground running — but also the culture at Swap.com really encourages new ideas and empowers our employees to execute.
Beth: It's fun — we're definitely all in it together. It's intense — it can be hard to end a day.
Becca, Email Marketing: One thing I'm so impressed by as an employee is that I've never had a company be this flexible. If you need to go to a doctor's appointment, that's fine. You can work from home. That's very unique.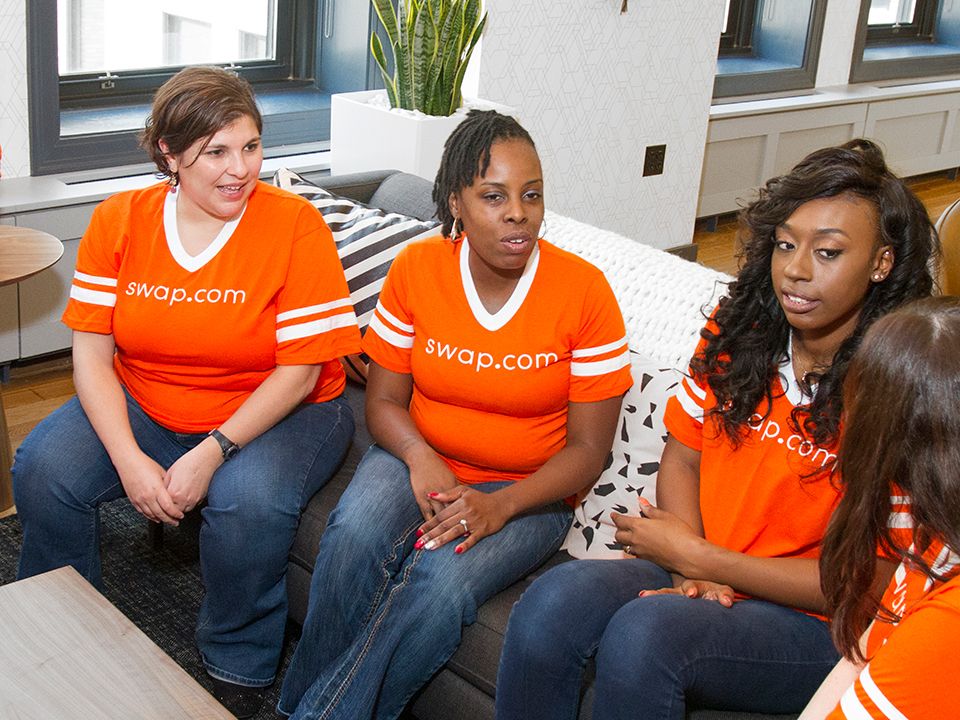 What's been the best day on the job so far?
Becca: I'm a developer, so I'm a geek. To me, my best day was taking a template that was using 700 lines of code and condensing it to 400 — making it something that actually would work. Cleaning up that code made me so happy.
Juha: There have been many good days, but maybe it was when I realized this was working. We always ask for customer feedback, and when we started to hear customer stories from grandmothers who have been able to spoil their grandkids with the best coats in the school, it's really nice.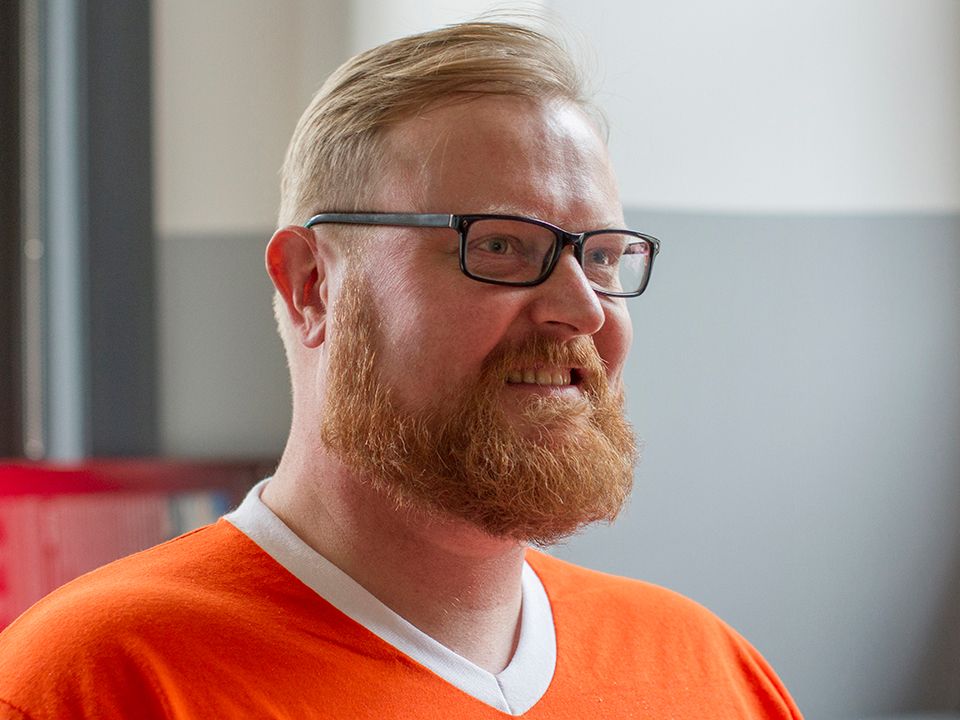 You just moved part of the team downtown. What's it like working in the office?
Daniel: Even though the warehouse in Bolingbrook is gigantic, we have very minimal office space out there. Our team was growing faster than we could keep up with, and it got to the point where we needed a larger marketing team.
Taylor: I love it. It's a collaborative and creative space. I don't always sit in our office — I enjoy the communal space. If there's talking and music, I can hone in a bit more.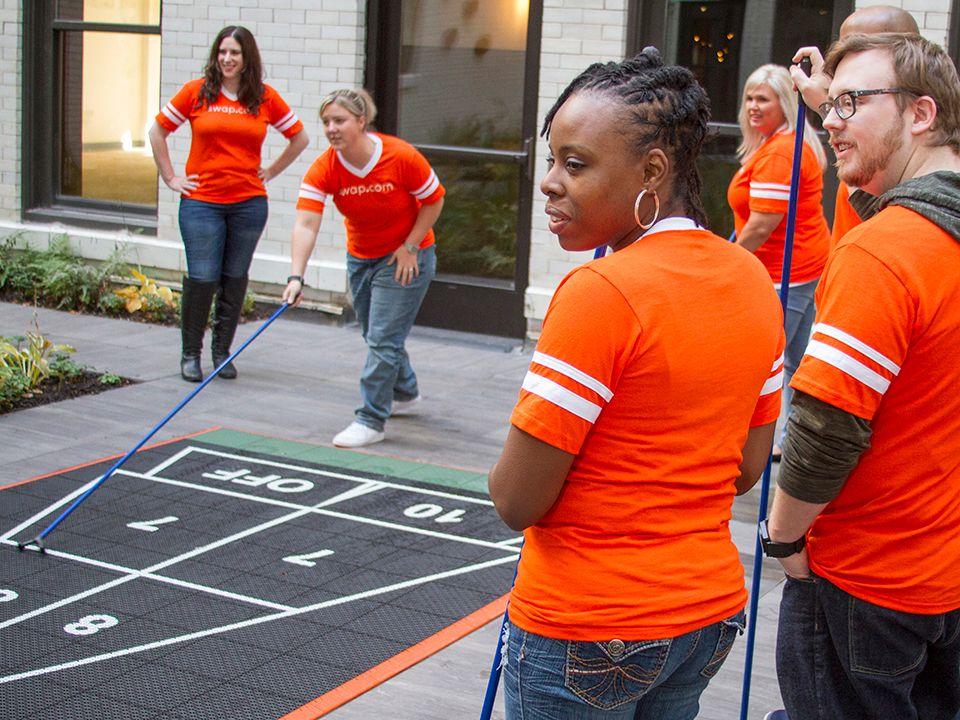 What specific roles are you looking to hire? How about six months down the line?
Rich: The most immediate roles include another graphic designer, a copywriter, and email strategists. And you don't need to be too senior. Everyone owns everything they're executing, and we need more people who can execute.
Tammy: We're definitely looking for people who are experts in email marketing. We're looking for marketing and business analysts to help us with the data portion, and we're also hiring across operations and customer service.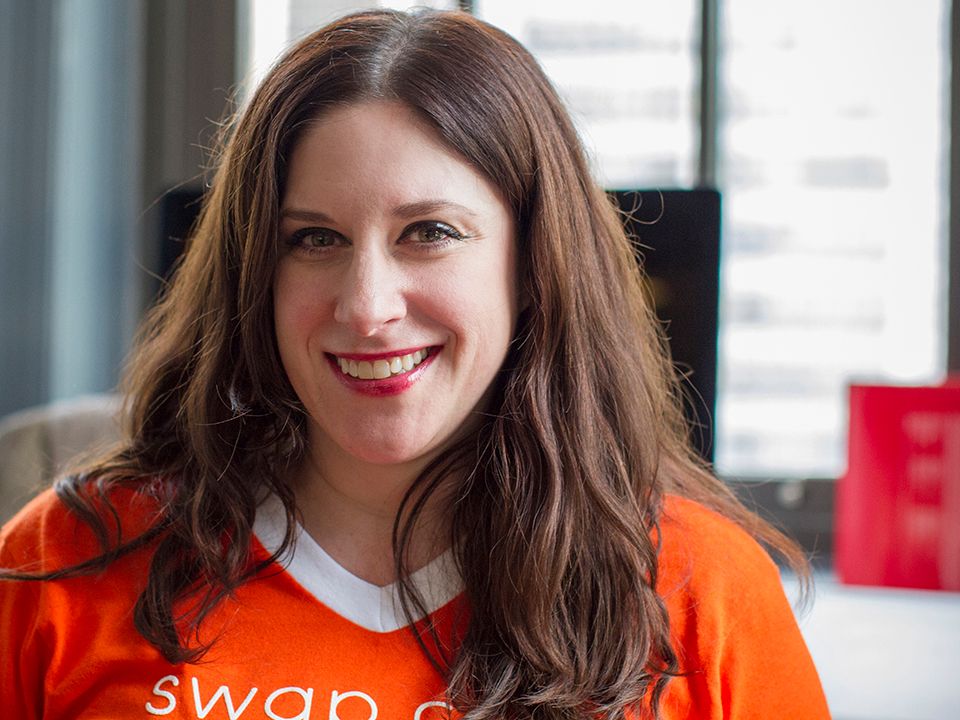 Are there any particular qualities you look for in new hires?
Rich: Having a good personality and culture fit. We need people who are really curious. We're figuring it out, so we need that sense of curiosity. I think naturally what we're expecting is that people want to make a difference in the world.
Juha: We're looking for someone who wants to be on this sort of team — someone who can do what it takes to grow big.
Tammy: If you want to work here, you have to be a self-starter, but you also have to be passionate about the business.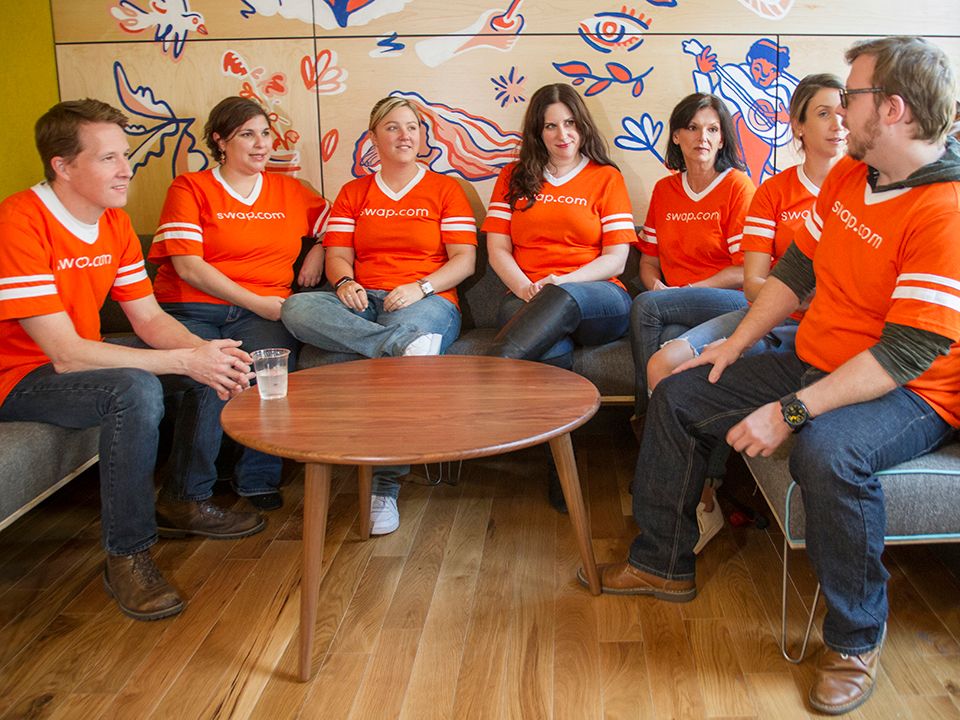 Any parting words of advice for jobs seekers who are interested in working here?
Rich: Shop the site, do your research and come with ideas. We are in idea-generation mode right now. The size of the industry is absurdly huge — about a $350 billion industry in the U.S. We have more ideas than we can execute. We want people to come in and contribute to that pool of thinking and try things out. No one can come in and be told what to do. Everyone's an entrepreneur.
Juha: It's the early days still. What we want to do is revolutionize commerce. In 20 years, people will buy most of their stuff pre-owned. If you want to be a part of that movement, join us.
Want to share your company's story? Email us here.