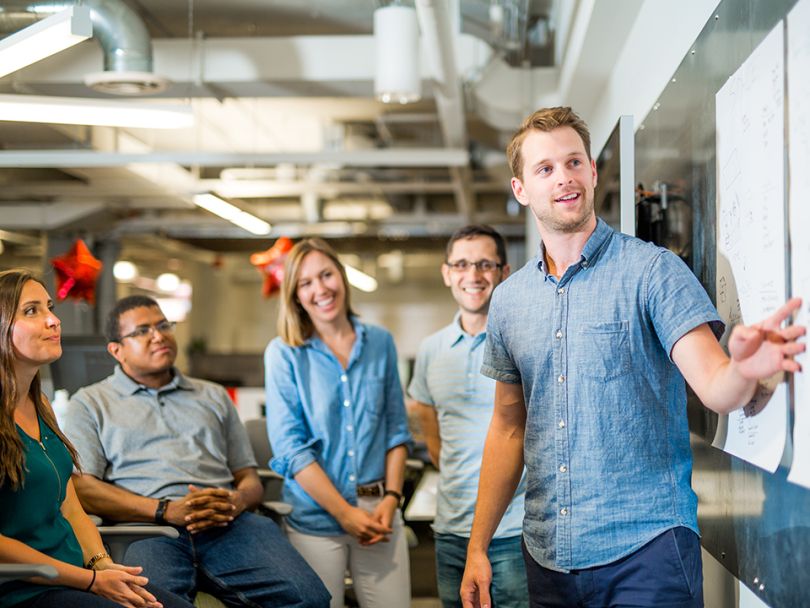 Unlike most companies, Solstice is not organized by departments. Its engineers and user experience designers sit side by side, hashing out the details of a project as they go.
This collaboration helps designers and developers gain a deeper understanding of each other's disciplines, driving them to further push the envelope in their own work. It also reduces handoffs, giving UX designers a chance to see their projects through from start to finish — and suggest opportunities for experimentation.
We spoke with four members of the UX team to learn more about their work with emerging technologies, their team's growth and what it's like to sit next to developers all day.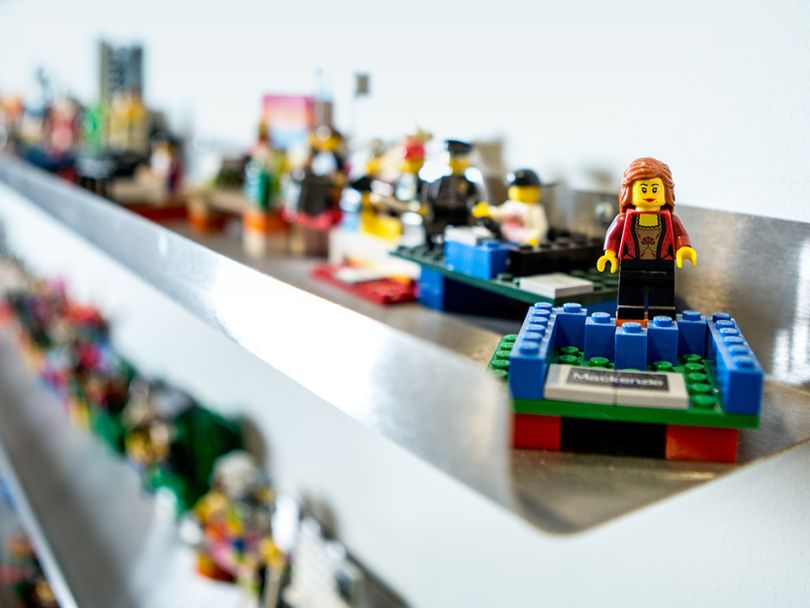 SOLSTICE AT A GLANCE
FOUNDED: 2001.
EMPLOYEES: 300.
WHAT THEY DO: Solstice is an emerging technology consulting firm that works with Fortune 500 companies across a range of industries.
WHERE THEY DO IT: Downtown Chicago.
ROBOTS EVERYWHERE: Solstice's office is filled with robots, Amazon Echos and other emerging tech. Legos, too.
SOLSTICE LABS: The firm has an internal research and development division tasked with discovering the next big thing.
TRACTOR DUTY: In working with a major agricultural client, Solstice sent its team out for tractor ride-alongs.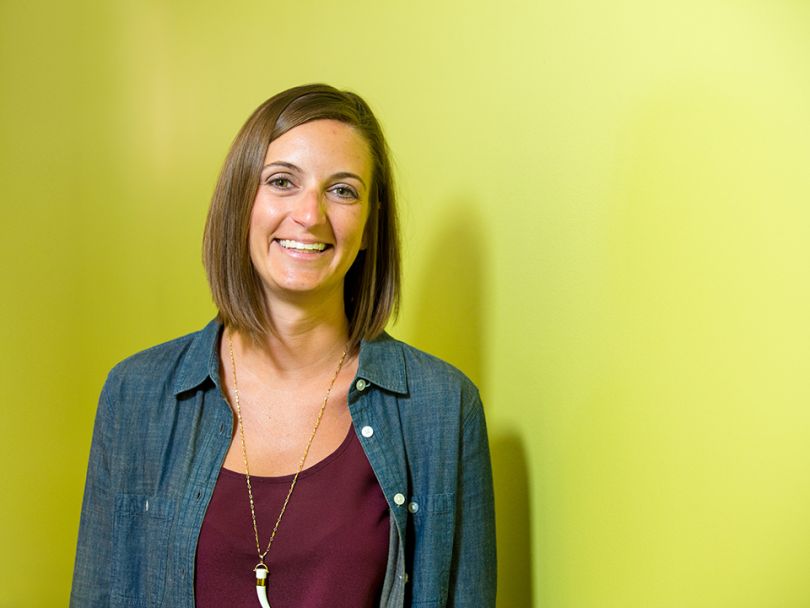 What does Solstice do?
Jessica Hiltrop, UX design principal: We design digital experiences for large enterprise companies. Those experiences span from web apps to conversational interfaces and mobile applications. We look at the problems our clients are trying to solve and come up with the solution that provides the best experience — whether that's for internal users or their customers.
Your team works with a wide range of technologies. What's that like?
Christian Nam, UX design consultant: You can go from improving a company's website with out-of-the box solutions to getting into technologies like Alexa, Google Home and augmented and virtual reality.
As new technologies emerge, do people on your team move into new disciplines — say, from visual UX to conversational interfaces?
Mark Ritchie, UX design principal: Yeah, we've had a few people make that switch, particularly last year when we really started getting into it. We look for individuals who have that passion to dive deep and explore.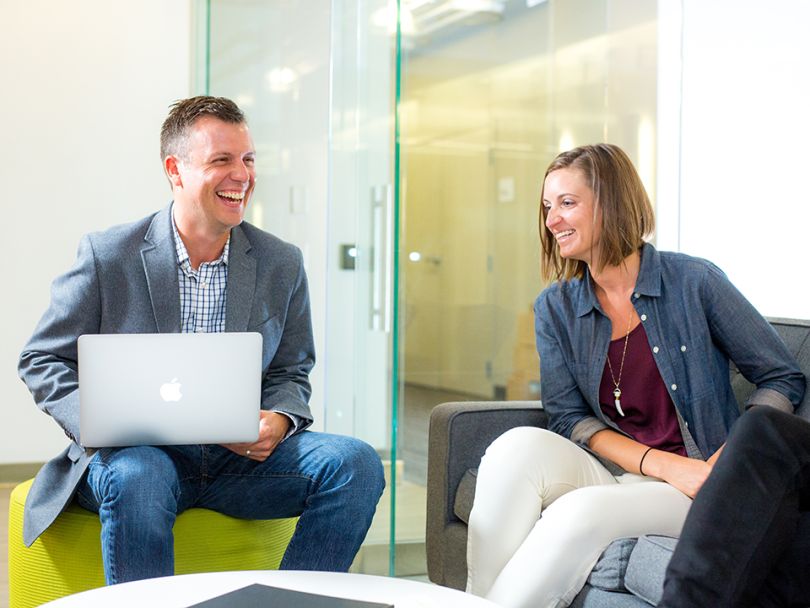 What sets your UX team apart from other teams you've worked on?
Hiltrop: Our ability to carve out our own identity, whether that's individually or as a team. We get to decide what we want the team to be like, and which tools we need to create good experiences.
We also get to carve out our own career paths. Some of us are really interested in UX strategy, while others are interested in animations, prototypes and really diving into the nitty gritty. No one blocks us from getting to do what we ultimately want to do. That makes the team really special, and I think that's part of why we're so successful.
Ritchie: The nature of our work is also really special, because we work on our products from start to finish. We all work on the information architecture, the wire frames, the prototyping and the high-fidelity visual design.
Right now, a lot of companies are very siloed, with individual groups that work on the IA and the wire framing before handing it off to the teams that focus on the creative and the visual. Neither side really gets the full spectrum of one project. Everyone here is talented enough to run a project from start to finish.
You're also known for working closely with your engineers. What's that collaboration like?
Hiltrop: A while back, we coined the term "design-gineering." A lot of people on our team have worked with developers in different capacities before, but there's usually a handoff where a lot of context is lost.
We had our own home base until the user experience team reached about 15 or 20 employees. Now we all sit with the project team we're working with, because we're going to learn a lot more from our developers than from each other. Developers can teach you about things you didn't even know you could try.
Ritchie: That makes for a better client experience, too, because when we present something, we know that our developers will be able to build it. We're not getting sign offs on designs only to find out a couple of weeks later that they aren't going to work.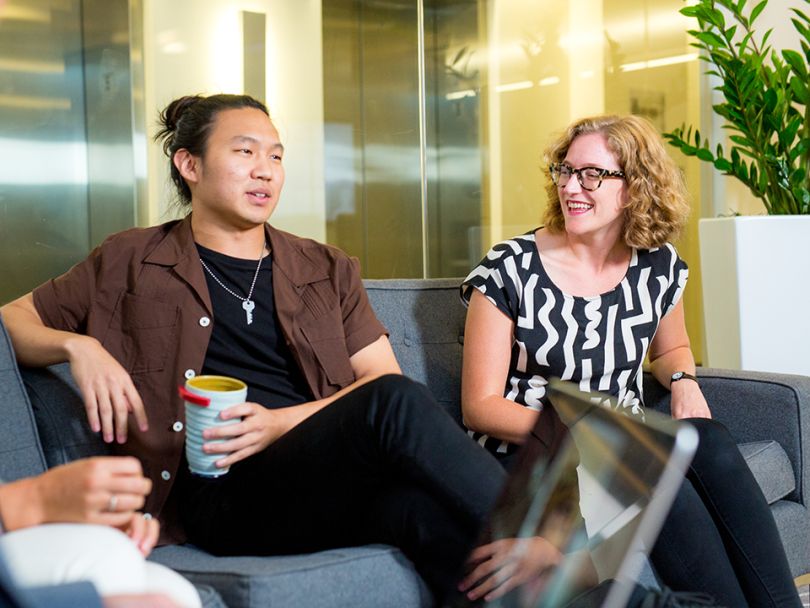 Speaking of your team's growth, what's that been like?
Hiltrop: Five years ago, when I joined, I was actually the first UXer on the team. There was someone doing UX work, but they had more of a development background. Solstice was looking to bring in someone with a creative background. For quite a while there were four or five of us, but now there's more than 50.
Cate Kompare, UX research consultant: To give you a sense, I started in October of 2016 as the fourth UX researcher on the team. Now there's 12 of us. That's given us an opportunity to carve out a space for our own practice, and to define what it means to be a researcher at Solstice.
What makes Solstice different from other consultancies?
Nam: Its good design culture. At Solstice, it's not just the designers or the UX teams who advocate for good design and good user research. The entire organization recognizes that user experience and user needs are important. In my opinion, that's the only way to make good products. It really shows through in the end product if we came up with something while sitting in a room with the client, instead of taking the time to understand the user's needs.
What was it about Solstice that excited you?
Nam: Previously, I was working for a wearable fitness technology startup. While there, I dove deep into the emerging tech space, and I was looking for the next place to put my best foot forward in design thinking. Solstice struck me as a place that was not only growing and developing its design team, but also making a bigger impact than a lot of the other places I was seeing. I also really liked the combination of emerging tech, great product strategy and a full-stack design community.
Kompare: My previous job was as a user experience designer, but it was more focused on the research element and information architecture. I was ready to get that new challenge, and to focus my skill set a little bit more. Here I have that opportunity to hone in on research and really bring the user's voice to the table.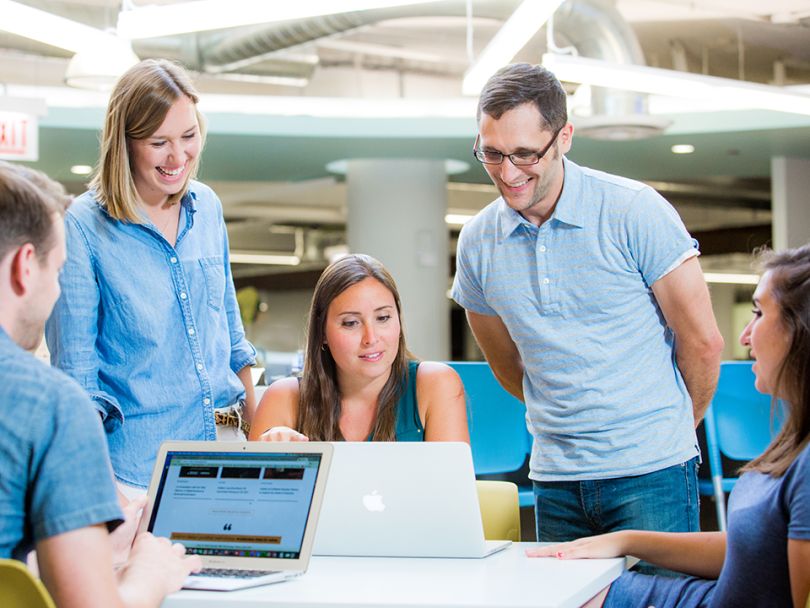 What are the biggest opportunities for professional development here?
Kompare: We have a few initiatives focusing on professional growth for the research UX team. I'm in one this quarter for storytelling, because we're looking for better ways to explain what we learn during research. We also have a bi-weekly meeting where we take on hot topics, and a book club where we're currently reading about measuring UX. Finally, we have a really generous professional development budget that I've been using to buy a lot of books. Now I've got my eye on a conference I'd like to attend.
Ritchie: Also, regardless of role or discipline, we all have client-facing responsibilities. That means we get to work on how to present to our clients, and work with them on a regular basis.
What do you look for in the people you hire?
Hiltrop: People who are driven, want to learn more and love pushing themselves. People hit the ground running from day one here. People who thrive when they're tossed right into a project are the people who end up doing best. That said, there is a good support system behind them if they're willing to try. We also want people who can point to something they made their own, and who have unique opinions about UX. That shows knowledge about the field.
Kompare: As for researchers, there's no cookie-cutter mold. We're always looking for complementary skills, whether that's quantitative, ethnographic or something else.
Interviews have been edited for length and clarity.