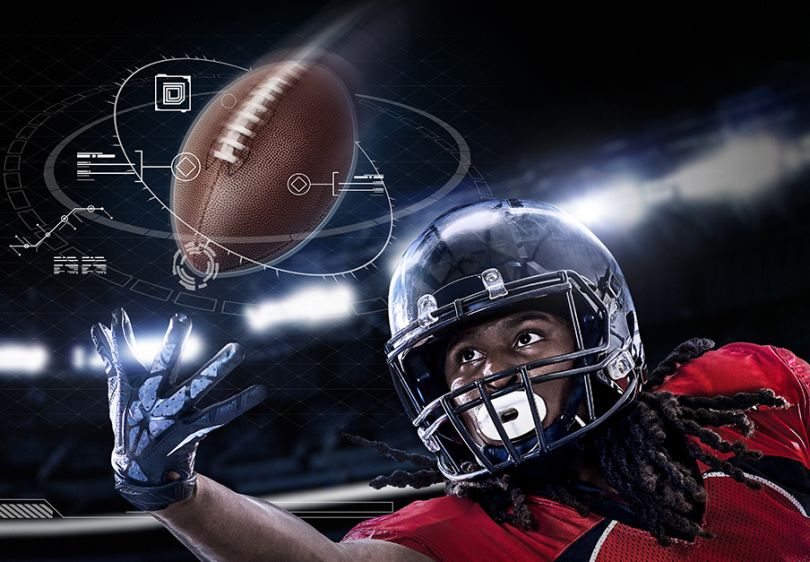 The past few years have been rough for the Chicago Bears, who've consistently placed dead last in the NFC North since 2013.
But there is one local outfit for whom the past few NFL seasons have been a runaway success — and their name also derives from the animal kingdom.
That company is Zebra Technologies. Its IoT devices are used by every team in the league to track players and equipment on the field, helping broadcasters and coaches get a better understanding of what's going on.
When we bring a prospective customer to an NFL game and explain how it all works, they get it."
"You can query the system about everything from how often people break left or right to the best matchup between wide receivers and defenders, and how fast players are at the beginning of the game, compared to the end," said CEO Anders Gustafsson. "And coaches can replay plays digitally on a tablet to understand what happened."
For fans, Zebra provides "Next Gen Stats" like individual player speed, closing tackle speed and distance traveled by a player on any particular play. The company also places sensors in the actual football to track hang time, throwing speed and rotation.
In addition to television broadcasts and stadium billboards, Zebra's data is used to power fantasy football leagues and collect player statistics for video games.
The technology used by the NFL to track players is an adapted version of Zebra's industrial tracking devices, which are typically used in factories to prevent accidents and mix-ups. Introduced in 17 stadiums in 2014, "Next Gen Stats" tracking equipment is now deployed in every stadium in the league.
Athlete tracking requires a much higher degree of accuracy than traditional industrial uses. To keep up, Zebra's player tracking systems relay data more frequently than their industrial systems do. The company also deploys sophisticated algorithms to smooth out inconsistencies in tracking data.
Gustafsson said advancements made in athlete tracking have helped the company enhance its technology in other verticals it servers, including healthcare, industry and retail. In retail settings, for instance, precise tracking is becoming increasingly important as customers become accustomed to pre-ordering items for brick-and-mortar pickup.
"Most retailers actually have pretty poor insight into what's actually on their shelves," Gustafsson said. "But if you place an order online only to find they don't have the items when you show up, that's a really poor customer experience."
But the biggest advantage of the NFL partnership, Gustafsson said, has been the opportunity to showcase how far IoT technology has come in recent years.
"Conversations about what can be done with our technology tend to be a bit abstract," he said. "But when we bring a prospective customer to an NFL game and explain how it all works, they get it — and they often come up with their own use cases to explore."