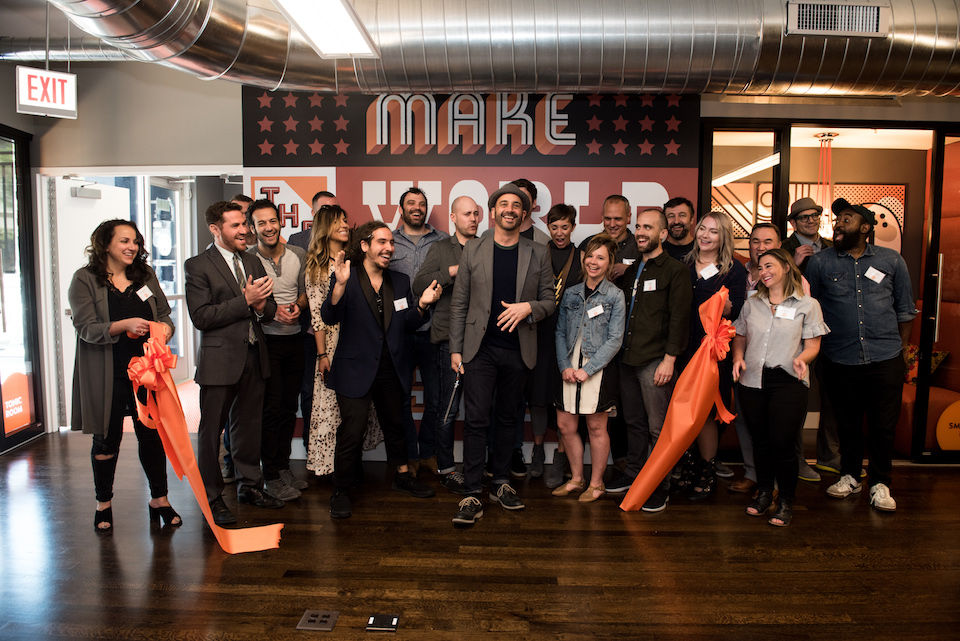 Reverb.com is making a serious run for the title of "Chicago's coolest tech office.
The music gear and equipment marketplace announced today that it has doubled the size of its Roscoe Village headquarters, which now occupies 19,000 square feet. The expanded space features music-inspired artwork, a full video recording studio and space for a lot more team members.
"Our hiring goals have been fairly aggressive," said Director of Talent Gina Contella. "We weren't intending on doing another buildout so soon, but we absolutely needed to do one and are hoping to stay in Lakeview as long as we can."
Headcount, which currently sits at 170 people, will grow by 50 percent this year. The majority of those hires will be for tech roles, but there are also plans to expand Reverb's international squad — a team of 10 spread throughout Europe, Australia and Japan.
Tech is probably going to account for 50 percent of headcount growth this year."
"Tech is probably going to account for 50 percent of headcount growth this year," said Contella. "Our second heaviest point of extension is going to be global and will include everything from support to sales and marketing."
In addition to making room for more employees, another goal of the office expansion is to increase the quality of Reverb's videos. The new space has a sound-balanced and acoustically engineered video production studio complete with a control room and green room.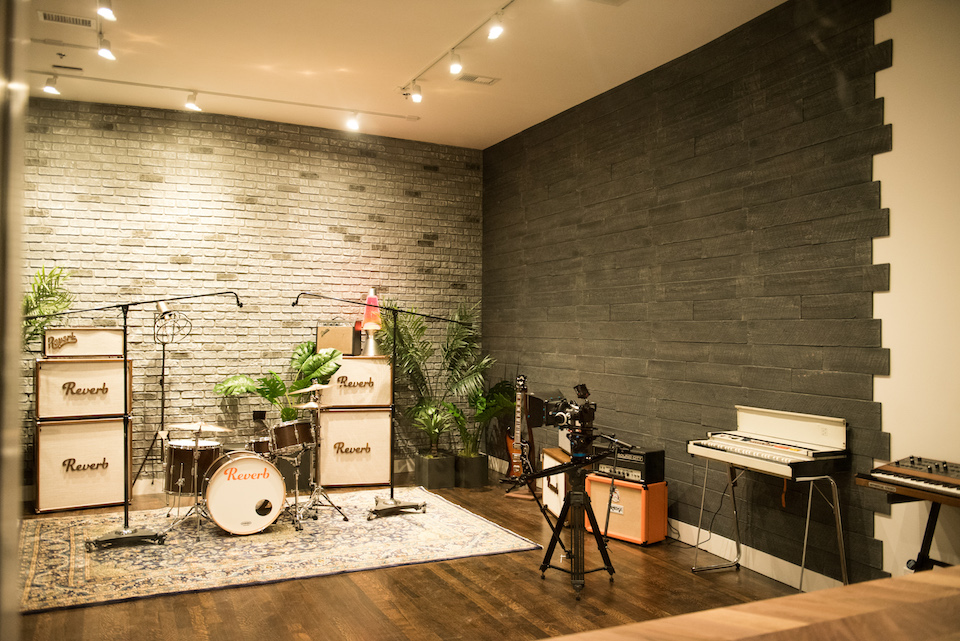 "We really took a lot of care when designing the space so we'll be able to capture the best sound quality possible," Contella said. "We also need more room in general, because sometimes we have a whole band in here at once."
The office's new meeting rooms are all named after local music venues. Each new meeting room has its own mural, and over 50 canvas pieces, featuring artists ranging from the Beach Boys to Beyonce, hang on the walls.
The majority of the art was designed in house by Art Director Lynette Sage and Senior Designer Ryan Ford. Reverb turned to All Things Esque owner Catherine Nordloh to design the space, which included sourcing furniture made by local artisans and featuring almost entirely reclaimed wood.
Continue below to see more photos of the company's new office.