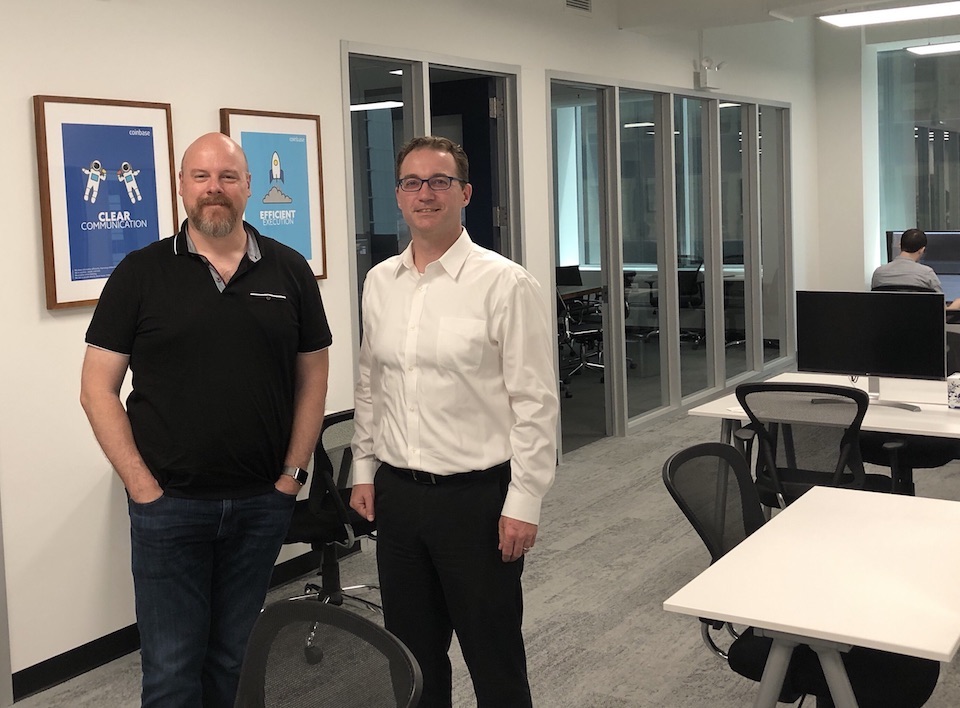 Few tech companies have benefited more from the recent cryptocurrency craze than Coinbase.
The San Francisco-based digital currency exchange and trading platform raised a $101.6 million Series D last summer as cryptocurrency prices hit new highs seemingly each week. Today, Coinbase counts 20 million customers who hold a combined $20 billion worth of Bitcoin, Litecoin, Ethereum and Bitcoin Cash in their accounts.
And as Coinbase continues to attract traders, the company has turned to Chicago to grow its tech team.
"You rarely get to be in front of something that's so new," said Derek Groothuis, head of engineering for Coinbase Markets and co-head of the new Chicago office. "It's a little bit of hyperbole, but not totally, to say this is kind of like when the internet first started. The possibilities are tremendous, and it's super exciting to be able to bring that to Chicago."
This is kind of like when the internet first started."
The new office will be filled primarily with engineers who will work on transitioning GDAX, the marketplace behind Coinbase's retail brokerage, to a new platform named Coinbase Markets.
The goal of the transfer is to further professionalize the trading environment. That makes Chicago a natural fit from a talent perspective, given its ecosystem of trading firms and fintech companies.
"A big part of bringing this to Chicago is the technical talent available in the city," said Groothuis. "Chicago has a really strong technical community, particularly in the financial world, across a pretty broad range of different financial companies and activities."
Chicago's trading firms have been early supporters of digital currencies. The Chicago Board Options Exchange issued the country's first bitcoin futures last December, with the Chicago Mercantile Exchange issuing its own about a month later. Trading Technologies rolled out a partnership with Coinbase in March, and DRW has been trading bitcoin since 2014.
Groothuis and his fellow office co-head, Coinbase Markets Product Lead Paul Bauerschmidt, know all about the city's trading and tech scenes. The two have decades of experience between them. In recent years, Groothuis was DRW's chief software officer and Bauerschmidt led CME's Swap Execution Facility.
Both were attracted to Coinbase by the prospect of working in an emerging space, and for the chance to build new products.
"As fast as you can come up with an idea, there's an engineering team that's already developing a proof of concept," said Bauerschmidt. "It's a very strong adrenaline rush every day."
Coinbase will grow its Chicago team to 30 and move into a permanent office space by year's end. In addition to technical skills, Groothuis and Bauerschmidt are looking for talent that fits Coinbase's culture, which places a high priority on collaboration and communication.
"One thing that's struck me about this firm is how open and collaborative everyone is," said Groothuis. "That makes for a really great technical culture."