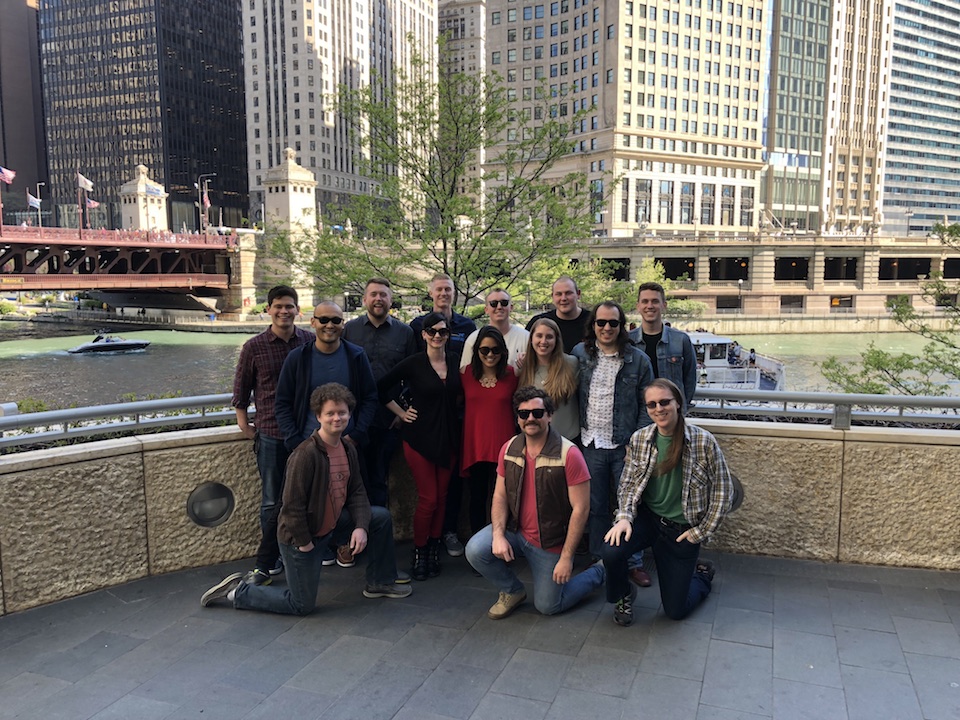 Everyone has that one friend who always talks about starting a company.
For Chowly COO Joe Lawton, that friend is Sterling Douglass, whom he met at the University of Illinois. After graduation, Lawton joined a construction firm while Douglass became an actuarial analyst at a professional services firm — but the two kept in touch.
When Douglass co-founded Chowly, whose software integrates restaurant point-of-sale systems with third-party online ordering platforms like Grubhub and UberEats, he reached out and asked Lawton to be the company's first employee.
"I told him I couldn't make the move," Lawton said. "It was scary because I didn't know anything about the startup world. He called me again a few months later and told me they had a couple of clients and needed someone to help build out the team, which is what I was already doing as a project manager."
We recently sat down with Lawton to talk about his major career move, Chowly's culture and what he looks for when hiring.
You were Chowly's first hire. What convinced you to take a chance on such a young startup?
I'll be honest: I did not know about the challenges restaurants were facing. It was truly just the trust in the co-founders, Sterling Douglass and Justin McNally, and their rock-solid belief that this was a serious issue that needed to be fixed that really pulled me in. They are very passionate and hard workers, and this wasn't an opportunity I wanted to pass up.
Sterling was the numbers guy and Justin was the tech guy with a great head for business. But no one was really there to scale the biggest resource: the people. That's what really made it a perfect fit for me.
What has it been like to watch the company grow?
When I started it was just us at a table, and now we have a full office. We were trying to hire one person at a time and find the perfect candidate for a specialized job. Now we're hiring five to six at a time. There have been ups and downs, but I wouldn't change it for the world. I'm very proud of everyone on our team.
What makes Chowly's culture unique?
We try to always be transparent. Also, everyone here is very passionate. But what really makes our culture unique is that we're very united. Our operations and sales teams were built to work as one unit. So when a fire comes up, no one tries to hide it or deal with it alone. I think that emphasis on teamwork has really helped the company grow.
Chowly puts a big emphasis on promoting from within. How do you prepare team members to take on leadership roles?
It goes back to culture. Leaders, those who really care and drive the team to hit their goals, tend to emerge early on. Being transparent about end-of-month numbers is something especially important to me, and those who ask questions about how we can do better are the ones who almost promote themselves. Beyond that, it's just letting people run free and seeing how they grow as they take on more leadership duties and responsibilities.
I'm a big believer in hard skills not being the be all and end all. Some matter, but it's more important to have the right mindset."
Can you give a bit of insight into some of Chowly's goals, both immediate and long-term?
Our short-term goal is to double the size of our team, which currently sits at 28 people, in the next quarter. Aside from that, we want to continue to get into more of the enterprise space — these large restaurant chains that have over 100 locations. We also sell internationally and want to continue building our brand abroad.
What roles or teams are you currently hiring for?
We recently moved into a new office right on North Michigan Avenue that our team members love. We're excited to fill it with new team members. Our current needs are mainly on the operations side, although we'll also be hiring for our sales and tech teams.
What do you look for when hiring?
I'm a big believer in hard skills not being the be all and end all. Obviously there are some that matter, but it's more important to have the right mindset. Is this person willing to learn and willing to put in the time and effort to build this startup? Are they going to fit into that united, team-driven culture? What can they bring to the table beyond their skills in Microsoft Excel or Google or EFT Suite?