My first time playing the violin started off frustrating and sweaty. 
I began with confidence, first learning basic notes and practicing stroke technique with fingers that felt comfortable on the strings. Then, as my brief but concise lessons increased in difficulty, my fingers felt like crowbars as I tried to pry sound from the delicate instrument, which screeched back at me in dismay.
The violin is a difficult instrument to learn, especially on the fly. That was my main takeaway from testing out an unreleased beta version of Trala, an app providing violin lessons to players of all skill levels.
We don't care if you sound amazing, we care if you're having fun playing."
And as I tried to learn Hot Cross Buns in under 30 minutes, Trala CEO Sam Walder was intently taking notes.
For first-time players, the platform delivers directions beginning with the opening of the instrument's case. I was guided through GIFs that taught chin positioning and finger placement on the bow, followed by how to play my first note: an open E. 
The next portion of the lesson takes on a "Guitar Hero" vibe, as notes pass along the screen sequentially. The device's microphone registers the notes being played and shows exactly how far you're deviating from what's assigned. 
"We have this signal processing secret sauce taking everything you play and giving you feedback immediately," said Walder. "If you make a mistake, we'll tell you, and you can correct it right away."
After a grueling 24-minutes, I triumphed in learning a song. It was nothing more than a simple children's tune, but I felt like I had played a symphony.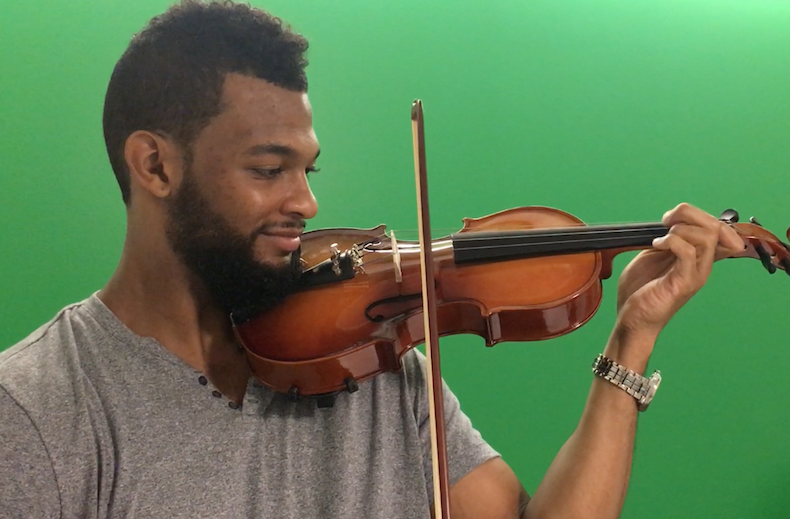 "Our goal is to make fun things for fun people," said Walder. "It's really important to us that it's delightful. We don't care if you sound amazing, we care if you're having fun playing."
Trala was launched in 2017 by Walder alongside co-founder and CTO Vishnu Indukuri. Early development was done with frequent assistance from professors at Juilliard, and a number of internationally renowned violinists have partnered with the platform since.
Walder places a high value on feedback, and spends hours talking to users on the phone and reading written comments. 
"We have to make something that works," said Walder. "A lot of people want to build something beautiful, but we think good design ends up being beautiful as well. We don't really focus on beauty, we focus on functionality."
Recently, Trala earned a spot in the Techstars Chicago program, housed inside 1871. Walder said he is very thankful for the mentorship and knowledge he has been exposed to since signing on. 
"If you've never picked up a violin before and even if you have no musical experience, we can have you learning a song in minutes," said Walder. "And you can be playing a song that you might want to share within a couple days."
I immediately sent a video of me playing Hot Cross Buns to everyone I know.