The hardest decision most people make on a regular basis is deciding where to eat. The second-hardest decision is deciding what to eat.
Menu3 aims to make that challenge easier to take on with its augmented reality menu app. The startup creates 3D models of restaurant dishes that are designed to give eaters added insight into the size of the nacho plate they're considering, or just how much fruit is really in that ice cream crepe.
"A lot of our research into restaurant reviews shows that many people have a problem with their expectations not meeting reality," said VP of Business Patryk Swietek. "We're trying to bridge that gap."
This "gap" takes many forms. It can be hard to accurately describe how much plate space a dish takes up or what just what khachapuri actually looks like. Menu3 bridges this gap with 3D models and photos.
To join the platform, restaurants send a copy of their menu and photos of the dishes they want on the platform. Only items with photos are uploaded to Menu3. Users can also submit menu items and photos.
We can help generate increased sales for restaurants by making it easier to understand their offerings."
Restaurants that want 3D models of their offerings snap a series of photos from specific angles, a process CEO Viktor Makarskyy said takes about 10 to 20 minutes per dish. Using those photos, the Menu3 team can create a 3D model in one to two days. Menu3 is currently free for restaurants to join.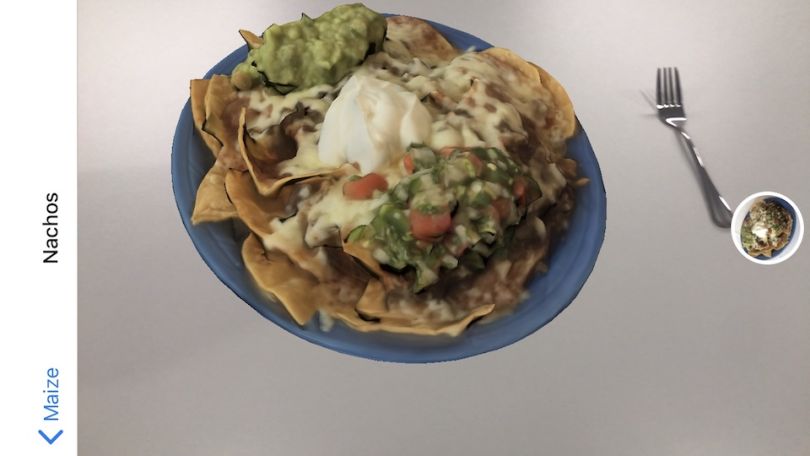 The majority of menu items on Menu3 aren't AR-enabled, but Swietek expects this to change as the startup gathers more data about how users interact with its models. The company also sees 3D models as a way to help introduce diners to new cuisines — and stoke sales for restaurants in the process.
"Our app makes it easier to understand dishes from different cultures," said Makarskyy. "We can help generate increased sales for restaurants by making it easier to understand their offerings."
Makarskyy, a senior at the University of Illinois, began work on Menu3 during the summer of 2017. He met Swietek at a campus event for budding entrepreneurs, who realized the potential of the app as a full-blown business, and the two took Menu3 from side project to startup.
Menu3 launched in February of 2018 and currently features menu items from 24 restaurants in Champaign-Urbana.
For many college students, remembering to attend class is challenging enough. Fortunately, Makarskyy and Swietek have received support from their school. Menu3 was accepted into U of I's 2018 iVenture Accelerator, which provides monetary support, mentoring and exposure for student-led startups. The accelerator offers internships in exchange for course credit, which helped the team grow its headcount to 10.
Menu3 is in the process of redesigning its app, which will be faster, have more 3D models and feature a restaurant search function. The redesigned app will be launched and tested in Champaign-Urbana prior to the company's official launch in Chicago, which is slated for this winter.