It can be a challenge to find a company that gives you the opportunity to both test yourself and build something special. Fortunately, you aren't alone in your search. We're highlighting nine Chicago companies with growing tech teams that are working on big, impactful projects. Continue below to learn more about what they're building and who they look for to help them do so.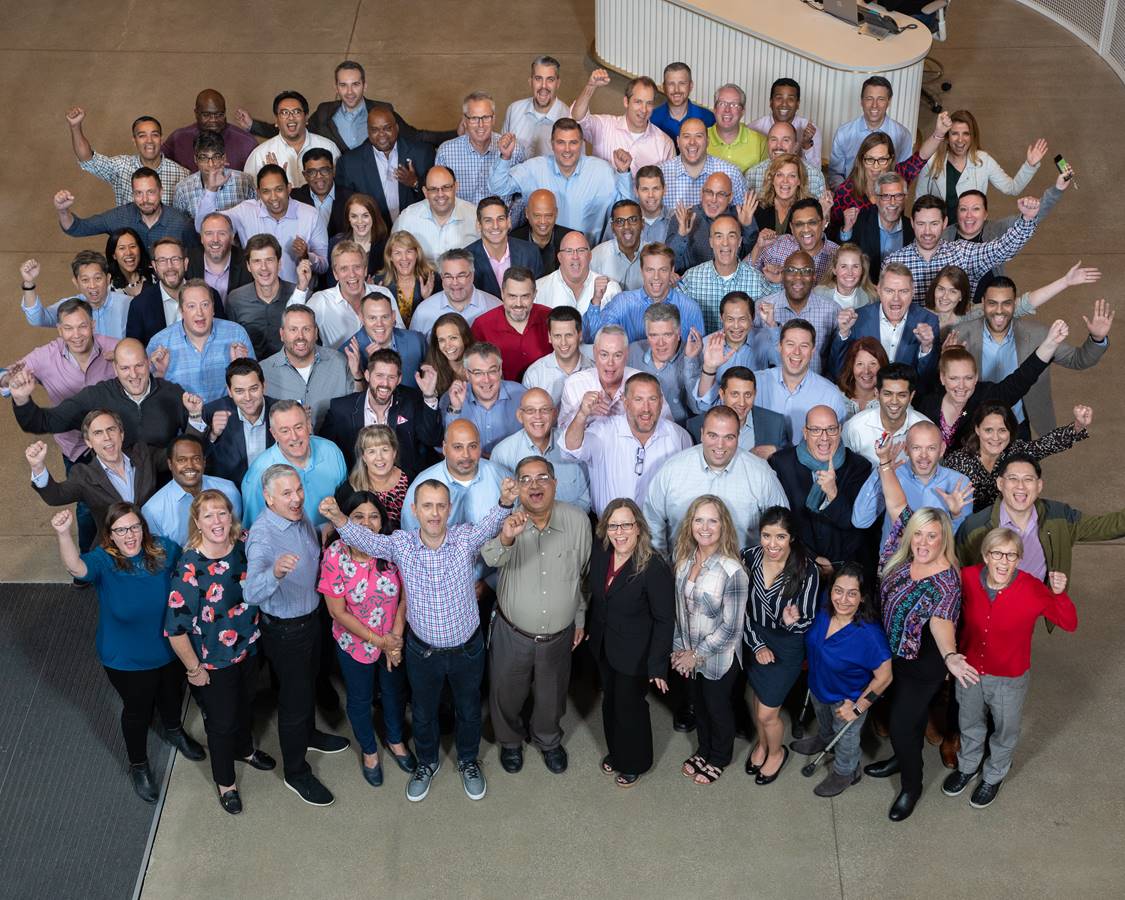 What they do: In addition to tasty burgers and fries, McDonald's is also home to a sprawling technology division whose teams develop everything from the technology that powers the in-store customer experience to internal infrastructure and security solutions.
What they look for: "Ideal candidates are highly collaborative and willing to take on any problem, no matter how big or small," said Global CIO Daniel Henry. "We need people with a learning orientation and strong curiosity to tackle the big challenge of how to develop products or architect solutions at a massive scale that are also cost-effective for individual restaurants. I believe challenging work attracts good people, and doing it at the scale of McDonald's offers career growth not found at many places."
Top perks: McDonald's sabbatical program offers team members time off to recharge their batteries, travel, pursue a new hobby and more. The company also offers support to parents, and those who want to start a family, in the form of its generous parental leave policy and adoption assistance program. Other awesome perks and benefits include a 401(k) match, summer hours and an onsite gym measuring 8,000 square feet.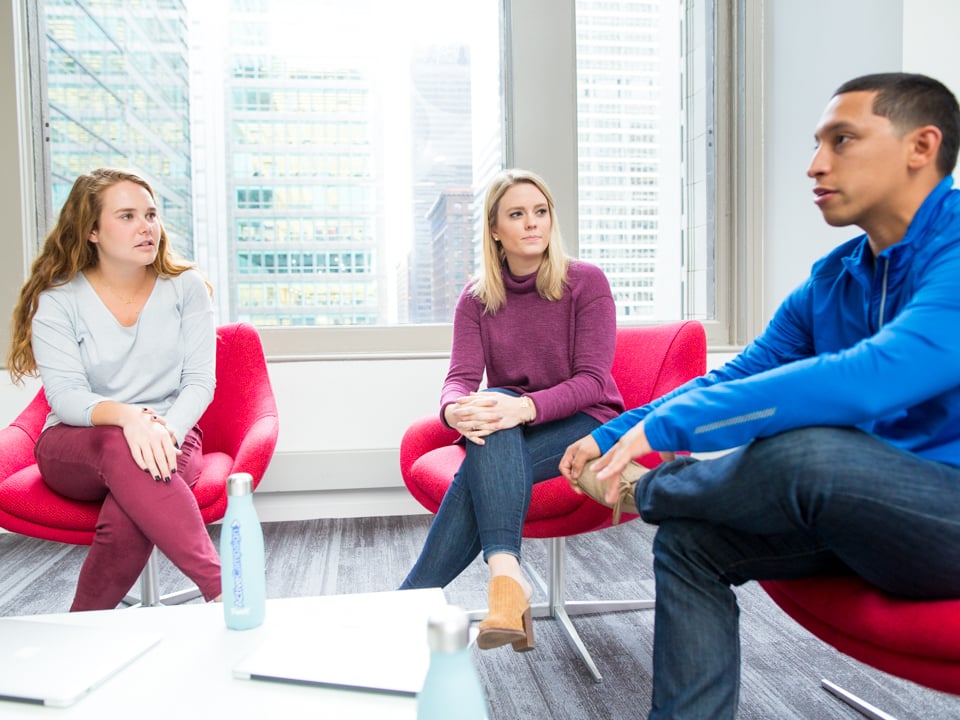 What they do: ActiveCampaign's cloud-based marketing automation software is used by over 65,000 small and mid-size businesses to engage and connect with customers.
What they look for: "We look for people who are excited about the opportunities ahead and eager to make a difference," said VP of People Denise Bindelglass. "That means hiring people motivated to understand, work with and solve problems for our customers. Our platform can truly change the trajectory for small businesses, and our employees help enable this impact for our customers."
Top perks: ActiveCampaign's office features an in-building gym, roof deck and daily catered lunches. The company also offers health and wellness benefits, continuous learning opportunities and a 401(k) match. And those looking to start a family will be happy to know that ActiveCampaign recently rolled out a family planning assistance program.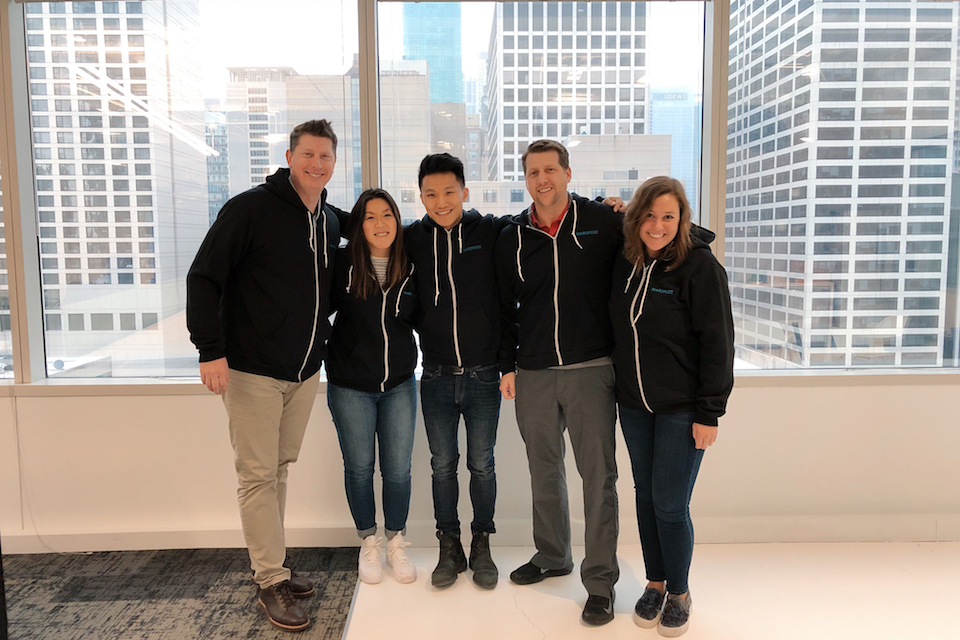 What they do: Maropost streamlines and simplifies the customer engagement process through its cloud-based, data-driven platform, which features solutions for marketing teams.
What they look for: "We look for candidates with heart and passion who also care deeply about their work and their teammates," said SVP of Marketing Jay Miller. "Humbleness, openness, collaboration and leadership are the top of qualities we love to see. And, of course, having fun is a part of who we are — we consider it part of the job description."
Top perks: Maropost's River North office features an onsite gym, which employees can access for free. Other workplace perks include a fully stocked kitchen and a shared Sonos sound system that plays tunes from a.m. to p.m. Maropost only recently opened its United States headquarters here, which gives employees a chance to have a hand in both shaping the company's brand in the states and its Chicago office culture.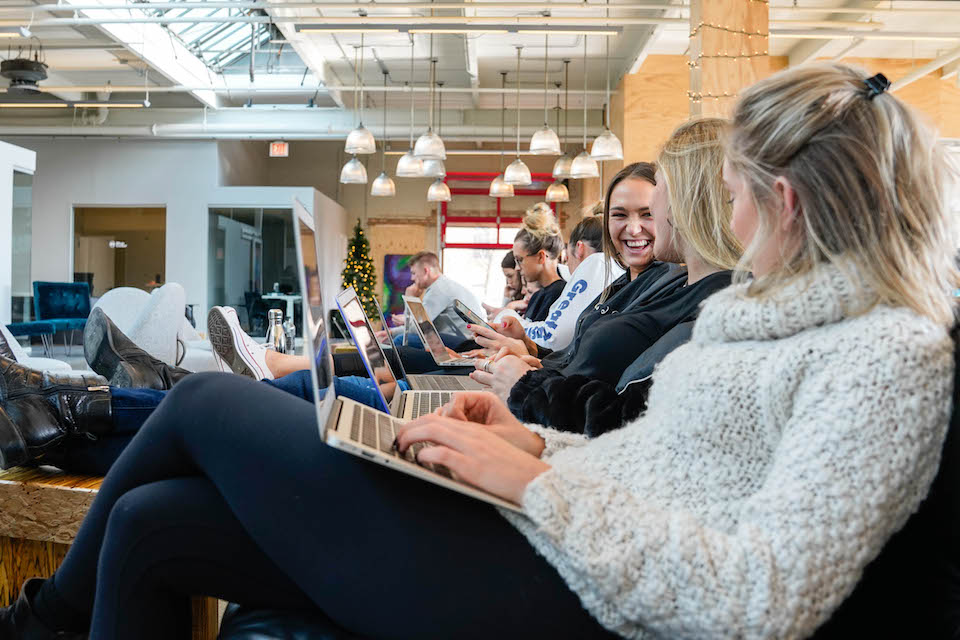 What they do: Cameo's marketplace enables people to book personalized video shoutouts from actors, athletes, singers and more.
What they look for: "Cameo is unlike any other company, and we're building a product that no one has ever built before," said VP of Engineering Chas Jhin. "We are at the intersection of video, influencer and technology, which is special in Chicago — so we need curious and inventive individuals who are ready buckle in with us and take on the unknown."
Top perks: Cameo helps team members strike a work-life balance with its unlimited vacation plan and company outings and happy hours. The office features a casual dress code and flexible work schedule. In terms of traditional benefits, Cameo offers health and dental insurance along with a 401(k) plan.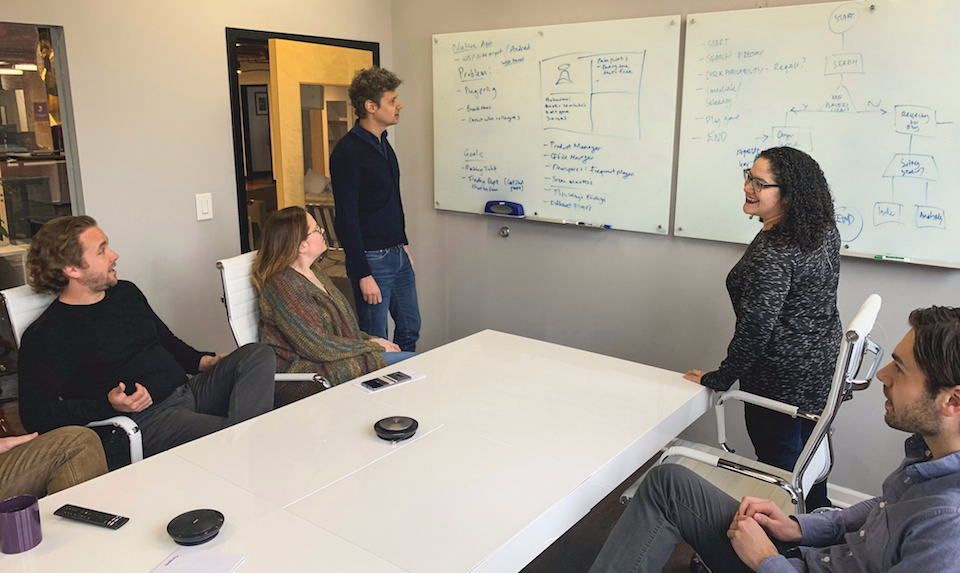 What they do: HealthJoy's mobile healthcare guidance platform is designed to simplify the often-complex world of health benefits. Using AI, the HealthJoy mobile app provides personalized guidance that focuses on finding the smartest, and most cost-effective, care option.
What they look for: "We are a mission-driven company helping people make better healthcare decisions every day," said CEO Justin Holland. "Regardless of the role, our team brings empathy into all aspects of their decision-making. Due to the complexity and opacity of healthcare, our ideal candidates will also be able to exercise intellectual curiosity and humility when developing novel solutions to challenge the current system."
Top perks: HealthJoy helps employees find a positive work-life balance through its flexible PTO policy, parental leave program and laidback work environment. The company also gives team members skin in the game in the form of company stock. Other notable perks and benefits include monthly company-sponsored happy hours, catered lunches on Fridays and generously subsidized healthcare premiums.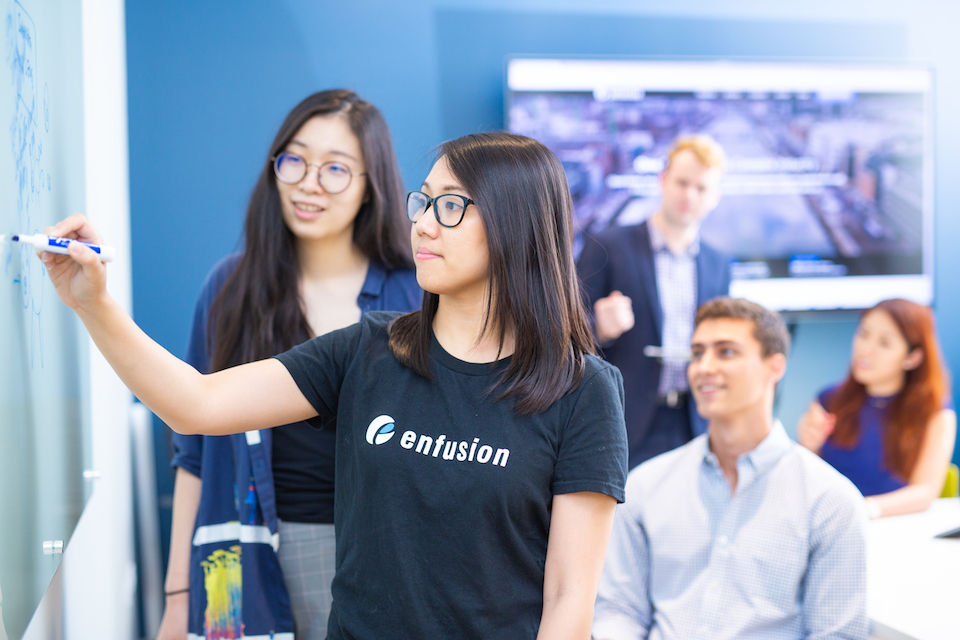 What they do: Enfusion is a leading provider of cloud-based investment management software and outsourced fund services.
What they look for: "Enfusion had a record year in 2018," said Lead Recruiter Alexandra Evangelou. "We added 90 new employees globally, 120 new clients, two new offices and one new product offering. We are excited to continue this amazing growth in 2019. If you are looking for a fintech company that is innovative and fast-paced, where you can make an immediate impact, Enfusion is the place for you."
Top perks: Finding time for the perfect vacation is made easier thanks to Enfusion's generous PTO package. Saving for the future is also easier with the company's 401(k) match program. Enfusion also covers the cost of medical and dental insurance for employees and offers a monthly commuter stipend as well as free catered lunch on Fridays.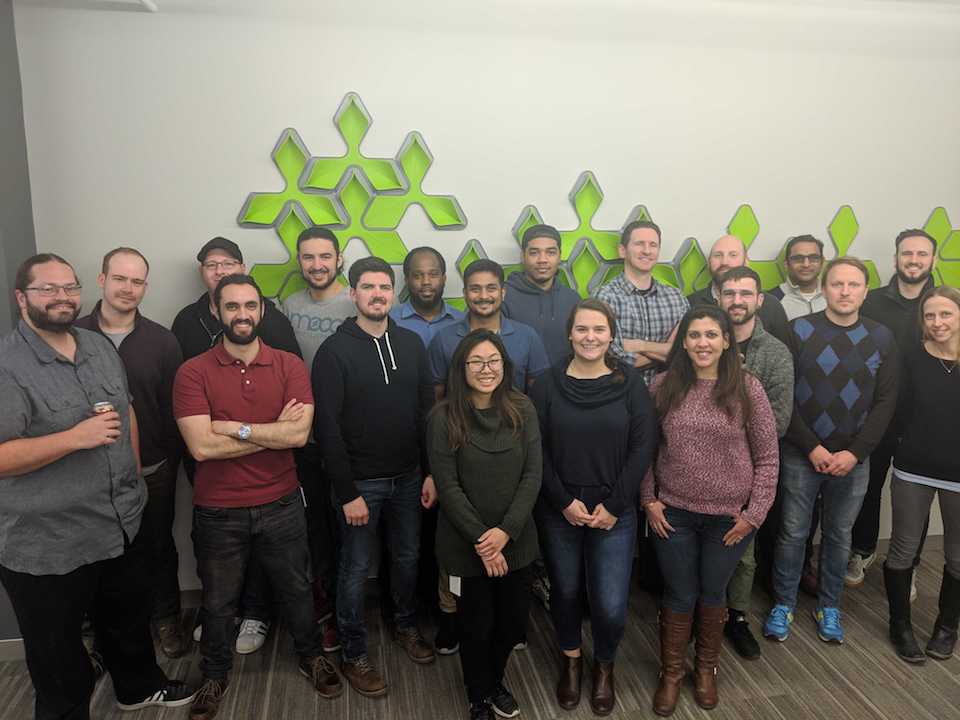 What they do: In addition to its brick-and-mortar locations, OneMain Financial also has a digital division that is working on making the online lending process simpler and more personalized for consumers.
What they look for: "For us, the ideal candidate is passionate about innovation and strives toward building a product that improves customer experience in every possible way," said VP of Technology Ron Smith. "They enjoy taking ownership of projects and delivering them end to end."
Top perks: In addition to a generous PTO policy, the company also goes on "winter break," which gives employees extra time off during the holidays. On the financial front, the company offers a 401(k) match and rewards employees who put in extra effort with performance bonuses. OneMain also offers tuition reimbursement, adoption assistance and paid time off to volunteer.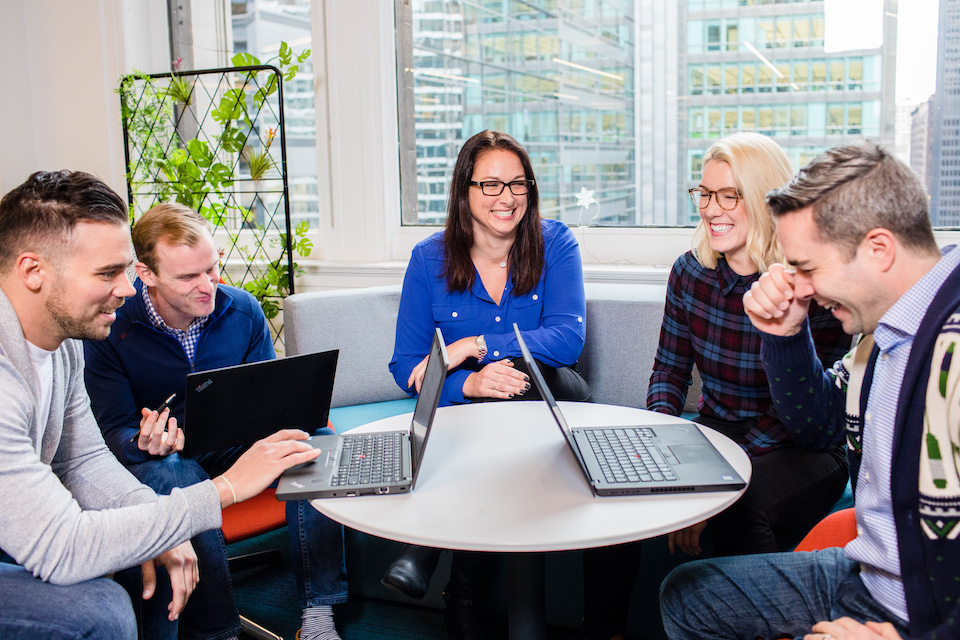 What they do: Using GPS tracking and predictive analytics, FourKites helps companies see where their shipments are in real-time — and when they'll arrive at their destinations.
What they look for: "Our hiring philosophy is centered around attitude, aptitude and upside," said President Sean Fallon. "Candidates will not just have the skills to meet the needs of the role. They demonstrate a great attitude that aligns with our core values and show upside to take on more responsibility as they grow."
Top perks: FourKites offers employees a comprehensive wellness program that includes membership at an on-site gym and access to health and wellness advisors — which includes mental health. To further ensure a positive work-life balance, the company's fun committee organizes events ranging from company happy hours to intimate inter-departmental lunches and sports team sponsorships. In terms of more traditional benefits, a 401(k) match and medical, dental and vision insurance are all on offer.
What they do: Relativity's cloud-based e-discovery software uses machine learning and data visualization to help legal professionals more quickly and efficiently analyze documents.
What they look for: "At Relativity, we seek people who want to take ownership of their careers within our workplace community," said Director of Talent Acquisition Matt Garvey. "We welcome values-driven people and are looking for those who will collaborate to help our customers solve their complex data challenges."
Top perks: All full-time, non-contract employees are given a budget of $3,000 per year to use on training and professional development. The company's week-long winter break in late December is also popular among Relativians. Other standout perks and benefits include a game room, a wide variety of employee resource groups and recreational clubs, and a generous PTO plan.