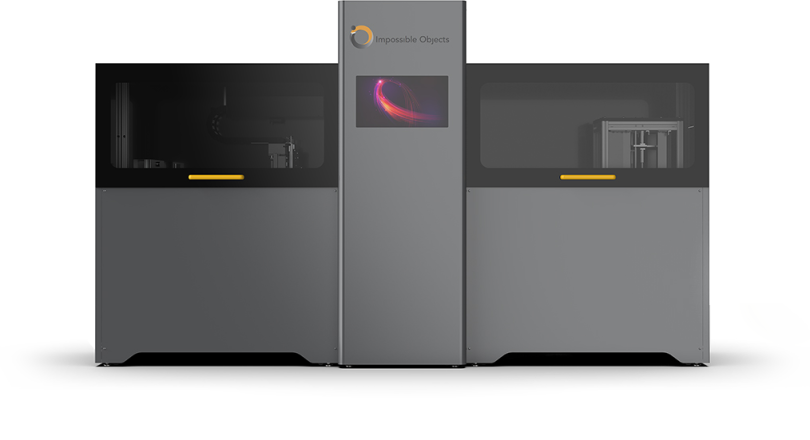 Impossible Objects has designs to speed up the 3D printing revolution.
The company announced on Tuesday its latest industrial 3D printer, CBAM-2, which is designed to be 10 times faster than the traditional 3D printing process. In addition, Impossible Objects also raised $4.1 million in funding to meet the growing demand for its 3D printers and printing materials.
The advancements continue the company's mission in transforming the manufacturing process, said Bob Swartz, Impossible Objects founder and chairman.
"It's been exciting to see how our customers are putting our approach to work to create high-performance parts for everything from aircraft and cars to lightweight athletic gear," Swartz said in a statement. "We're continuing to bring machines, materials and expertise to the market to transform the entire manufacturing process, from prototyping through to high-volume production."
Founded in 2009 and based in Northbrook, IL, Impossible Objects set out to create 3D printers and materials that would transform the manufacturing process. The company paired carbon fiber and fiberglass with Nylon and PEEK, the plastic polymer commonly used in 3D printing, to create what it claims is a stronger, lighter, and more flexible material. Its printers are designed for volume production.
The goal is to allow manufacturers to print things like car or airplane parts at volume, which is where Swartz said the company stands out.
"You can now use the machine in manufacturing and you can start making parts in volume at speeds which our competitors can't make," Swartz told Built In. "This is a machine for production, not just prototypes."
The CBAM-2 printer improves on the company's previous printer with faster production speeds, support for larger parts and increased precision, among other improvements, according to the company. 
Manufacturers like Ford Motor Company and Jabil have used its products and printer to produce parts, as have the U.S. Air Force and The National Institute for Aviation Research.  
Utah Advanced Materials & Manufacturing Initiative used Impossible Objects' technology to 3D print the first object for the U.S. Air Force, a first aid kit restraint strap for a B-1 aircraft.
Returning investor OCA Ventures led the round. The company has raised $13 million total.