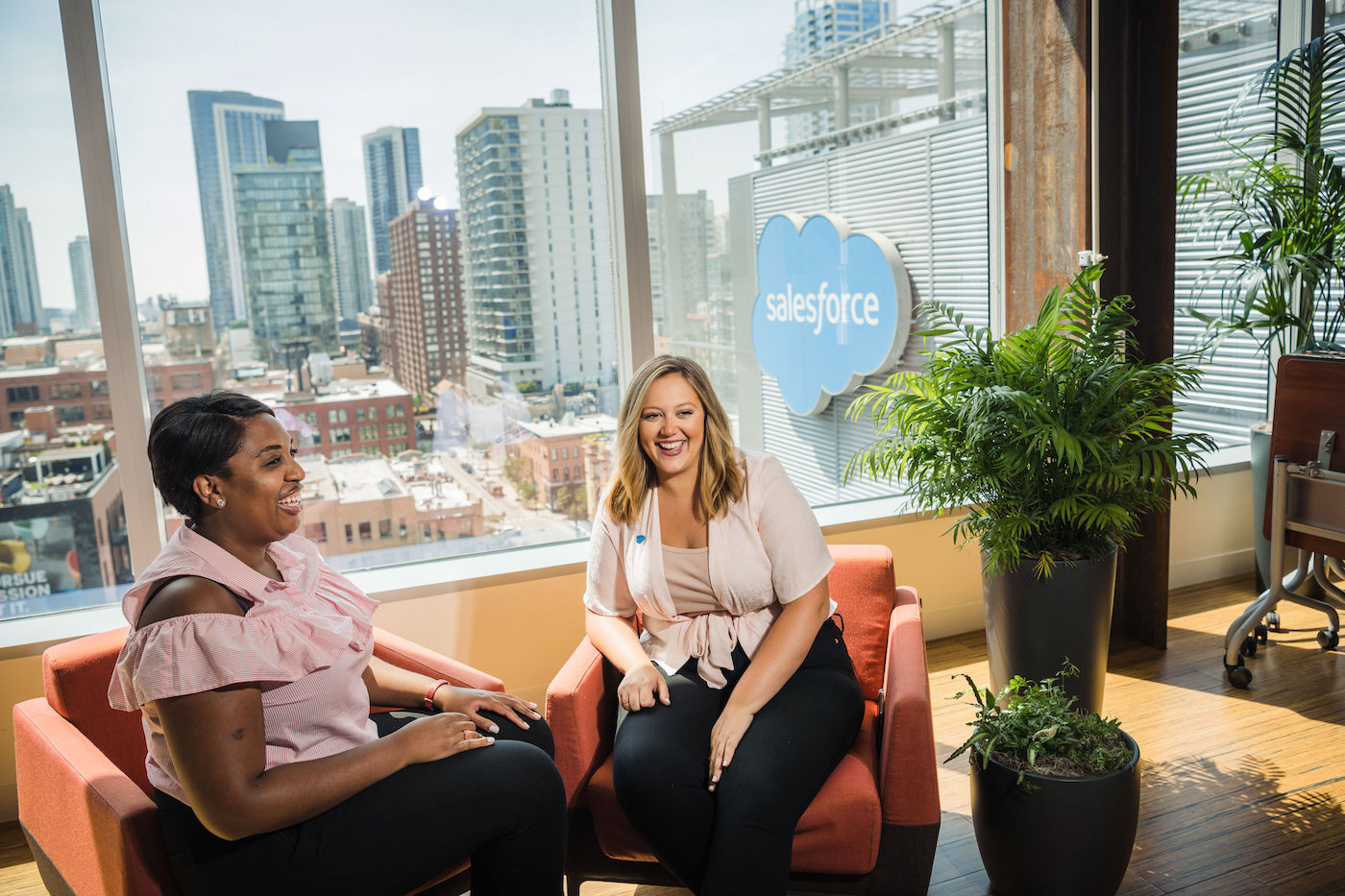 Salesforce is in the relationships business. More than 150,000 companies use its customer relationship management platform, or CRM, to track and personalize client interactions and streamline processes like market research. It's a versatile and innovative product that's part Rolodex, part captain's log and part analytics playground. 
One of the first SaaS products, the Salesforce CRM is also enormously profitable, contributing greatly to an overall company value of more than $100 billon. 
To maintain and continually perfect the CRM, Salesforce employs a workforce of 36,000 and has offices all over the world, including in Chicago. We got the inside scoop on what it's like to work at the Salesforce office in Chicago.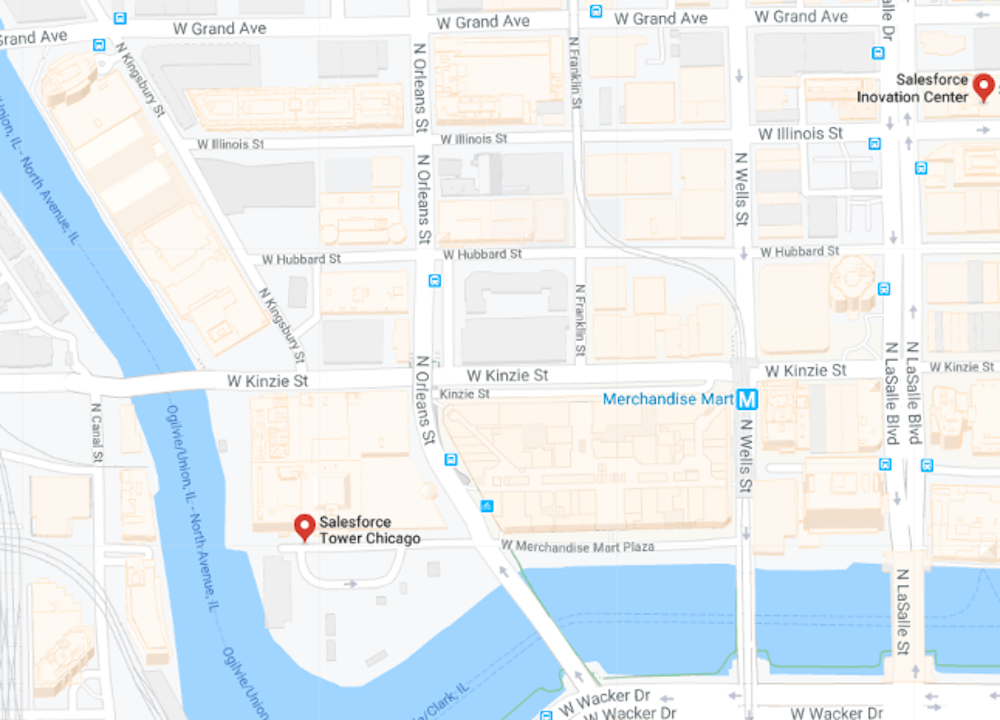 THE LOCATION
Salesforce's main Chicago office sits at 111 West Illinois Ave. in the city's River North neighborhood, a short distance from the Merchandise Mart and Grand CTA stations. Three other Salesforce offices are located within walking distance of the local headquarters and each other. And if all goes according to schedule, all four will consolidate at the in-progress Salesforce Tower Chicago in 2023.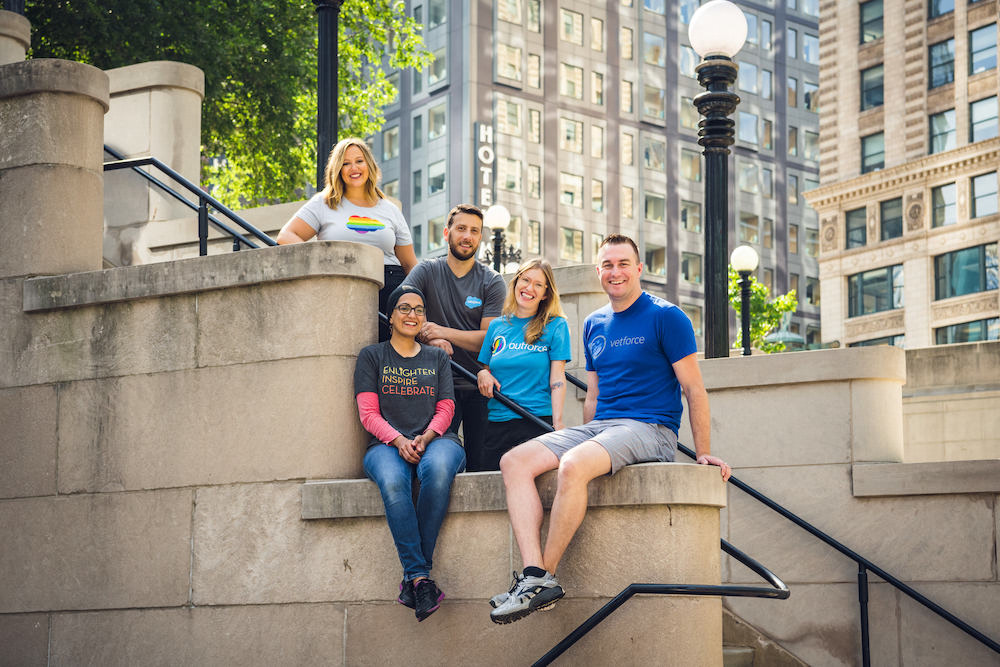 THE TEAM
Salesforce Chicago has 1,300 employees working in tech and product, sales, marketing, HR and real estate — the latter of which encompasses roles like event planner and office manager. The company plans to expand its local workforce by 1,000.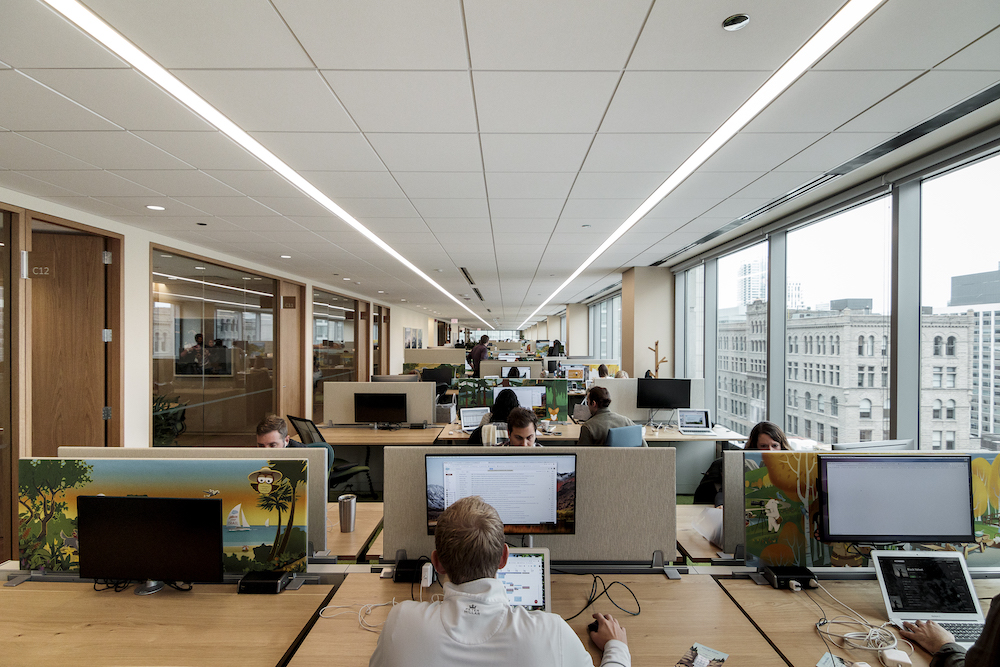 THE OFFICE TODAY
The Tribune named Salesforce the best employer in Chicago in 2018, thanks in part to the array of employee perks at its offices. Highlights include: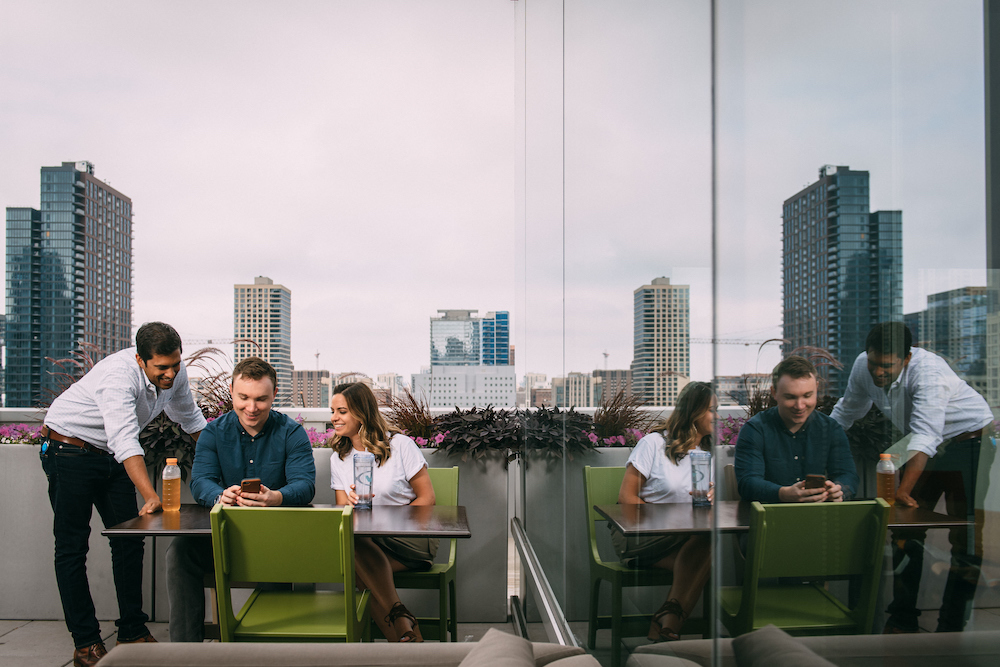 The outdoor terrace
At the main Chicago office on Illinois Ave., Salesforce employees can work from this outdoor terrace on sunny days. Laid out like a coffee shop patio, with a mix of four-top tables and communal seating, it offers panoramic views of downtown.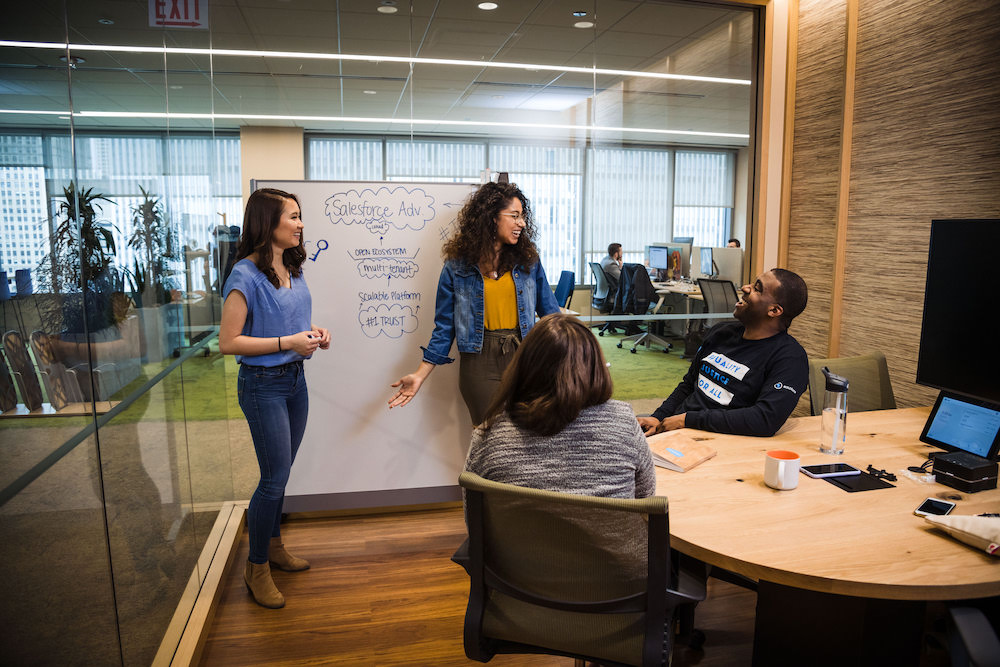 The natural decor
Even when it's eating-snowy-beef weather, employees enjoy constant indoor reminders of the outdoors. The offices teem with plants, wood and other natural materials. The grasscloth wallpaper seen in the photo above, which echoes the decor in traditional Chinese teahouses, is typical of Salesforce conference rooms.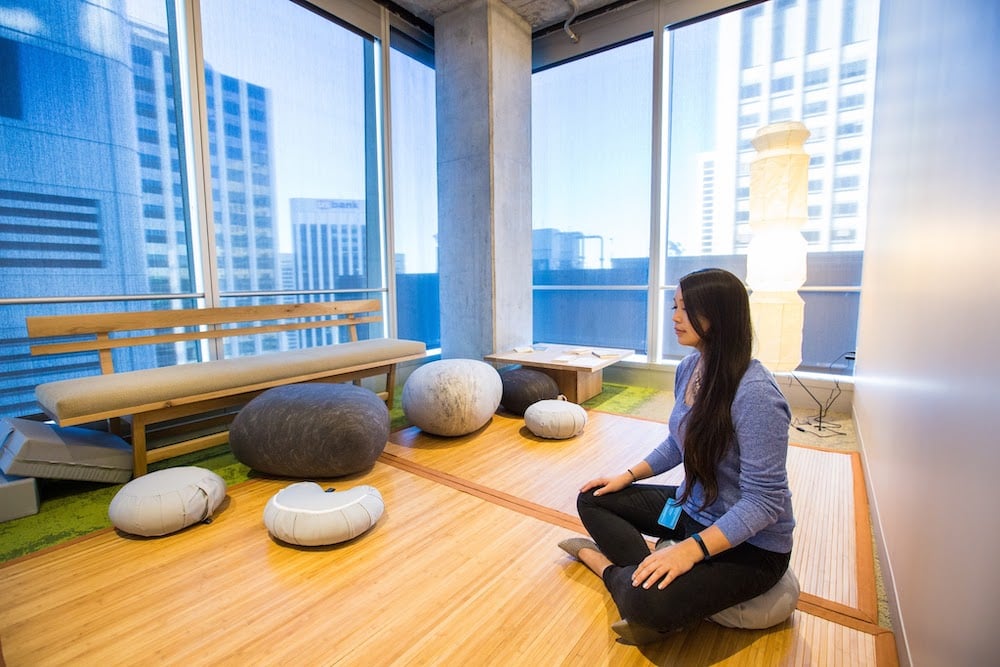 The mindfulness zone and reflection room
Employees can unwind on mats and cushions in an office mindfulness zone, outfitted with books and audio trainings on meditation.
"It's in a corner and kind of secluded, so you've got some privacy," says Michele Schneider, Salesforce's Senior Vice President of Global Workplace Services. 
Salesforce also offers a separate, more general-purpose reflection room, where employees can rest, meditate and pray.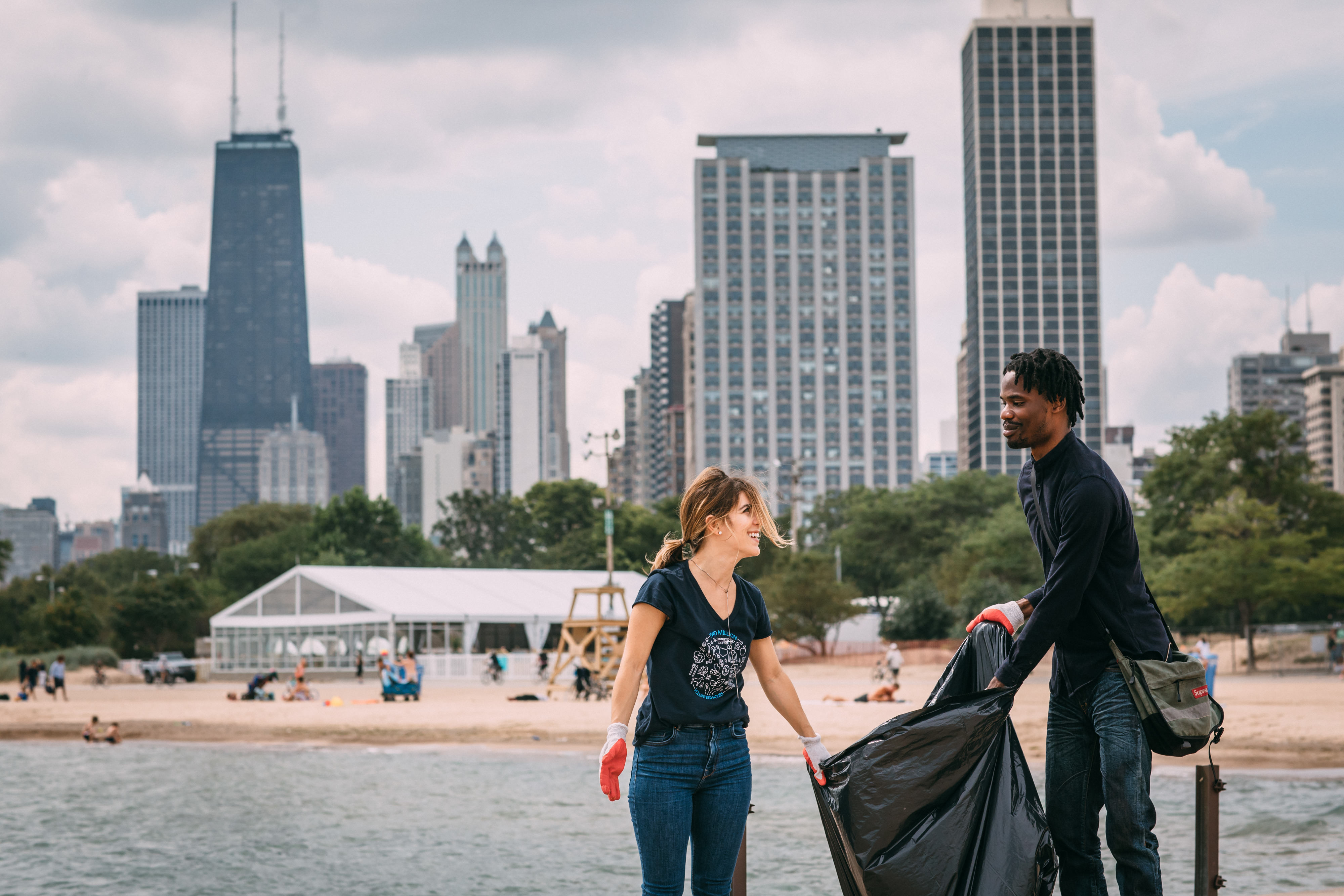 The time off for volunteering
At Salesforce, each employee can take seven days off per year to volunteer. Those days don't come out of traditional PTO, which accrues separately. Instead, they're specifically allotted for giving back.
Salesforce generally strives to pledge about 1 percent of company resources, including employee time, to charitable causes.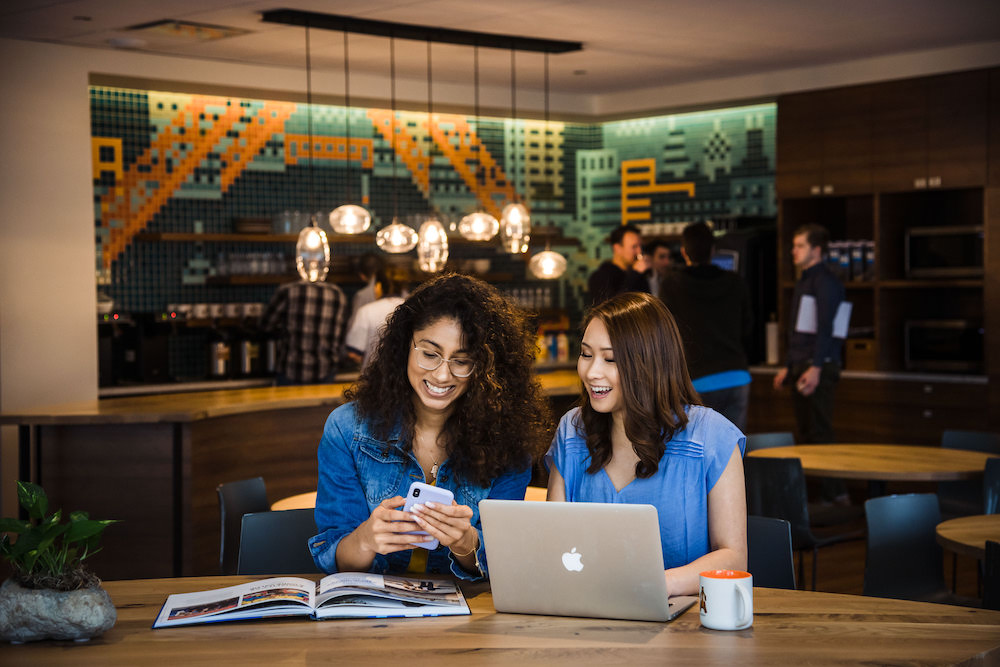 The rest
Employees enjoy a grab-bag of other office perks, including lactation rooms equipped with fridges, a ping-pong table and Fond discounts on concerts and more.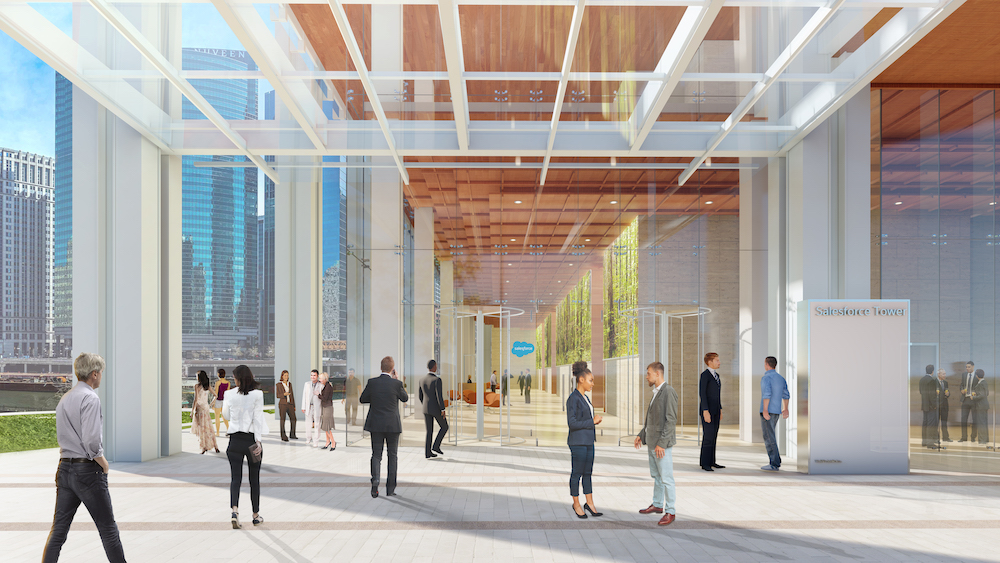 THE TOWER OF TOMORROW
Work life at Salesforce will only improve when the Salesforce Tower opens. Construction should begin in early 2020, and the new building will offer employees a variety of new features that include the following:
An eco-friendly environment
The Tower was designed with sustainability in mind. That means efficient temperature control, minimal water and electricity usage and renewable building materials. Salesforce plans to pursue LEED Platinum status for the building, the highest honor LEED offers.
"We're targeting net-zero carbon certification as well," Schneider says.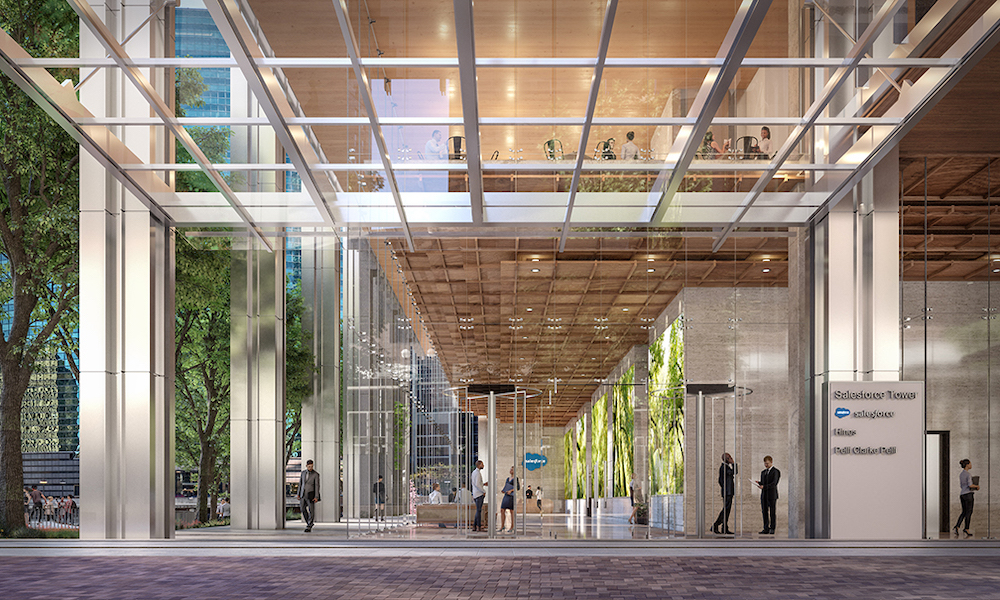 A breezy new design
The tower will hew to Salesforce's worldwide design standard, "Ohana," which means family in Hawaiian. (Salesforce's CEO, Marc Benioff, loves Hawaii so much he used to wear Hawaiian shirts to the office.)  
Created in collaboration with The Wiseman Group, the new building's interiors will take the natural feel of Salesforce's existing offices one step further. That means plenty of natural light and materials, and carpet that looks like grass cut through with gravel paths.
Mindfulness-related features will expand, too. Every floor of Salesforce Tower will feature a mindfulness area.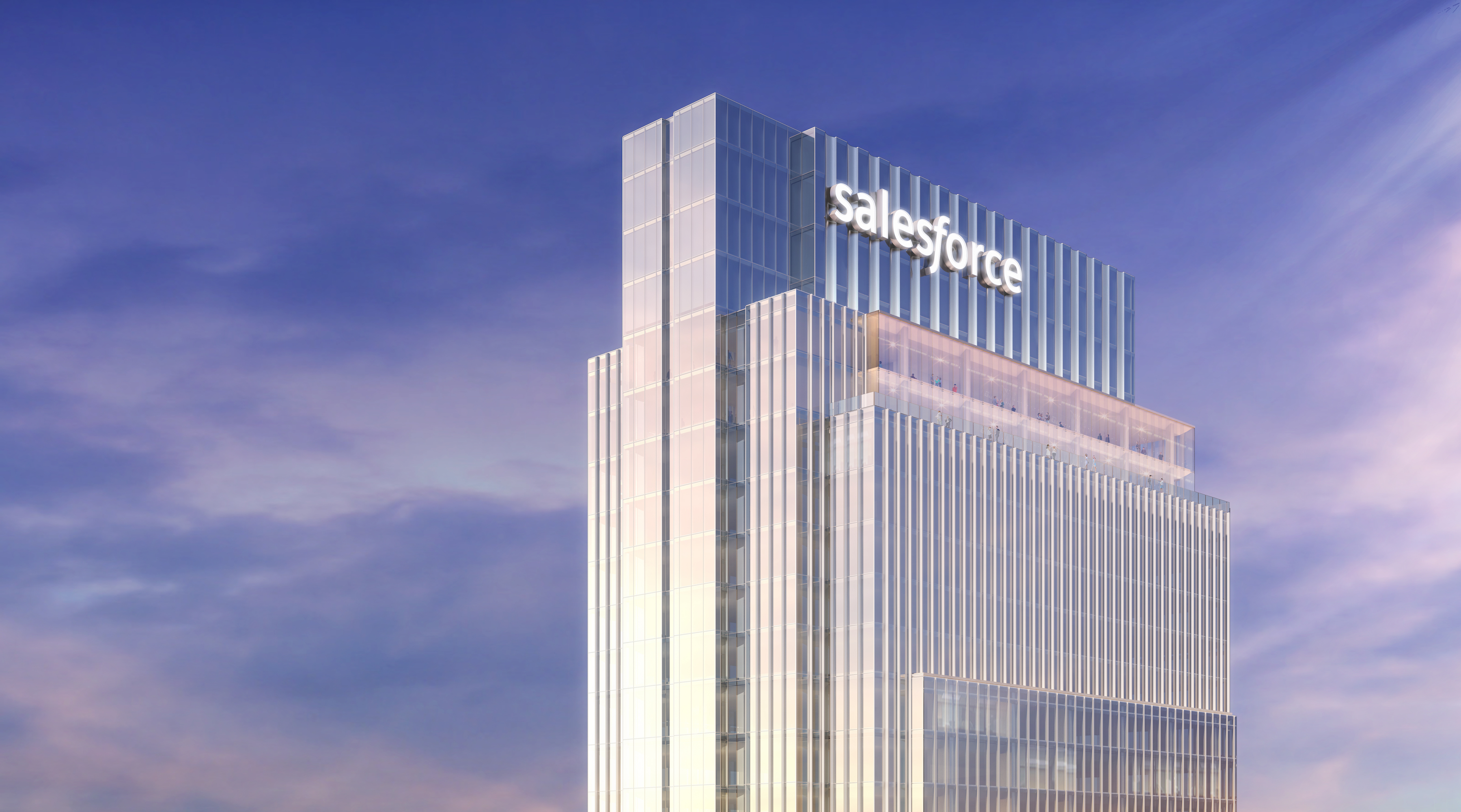 An events penthouse
Rather than a penthouse, an events space — or "Ohana floor" — will occupy the top floor of Salesforce's Chicago tower. It will be the company's sixth Ohana floor and feature what Schneider describes as a staffed "exposition kitchen" that offers 360-degree views of Chicago and Lake Michigan.
By day, the Ohana floor will host employee events and meetings with clients. After hours and on weekends, though, it will be available free of charge to nonprofit organizations that want to book it for fundraising events. To date, Salesforce offerings like the Ohana rooms have helped charitable causes raise $5.1 million, according to Schneider.
Benioff has said this spirit of giving is the company's "secret weapon."
"By integrating philanthropy into our business model our employees feel that they do much more than just work at our company."