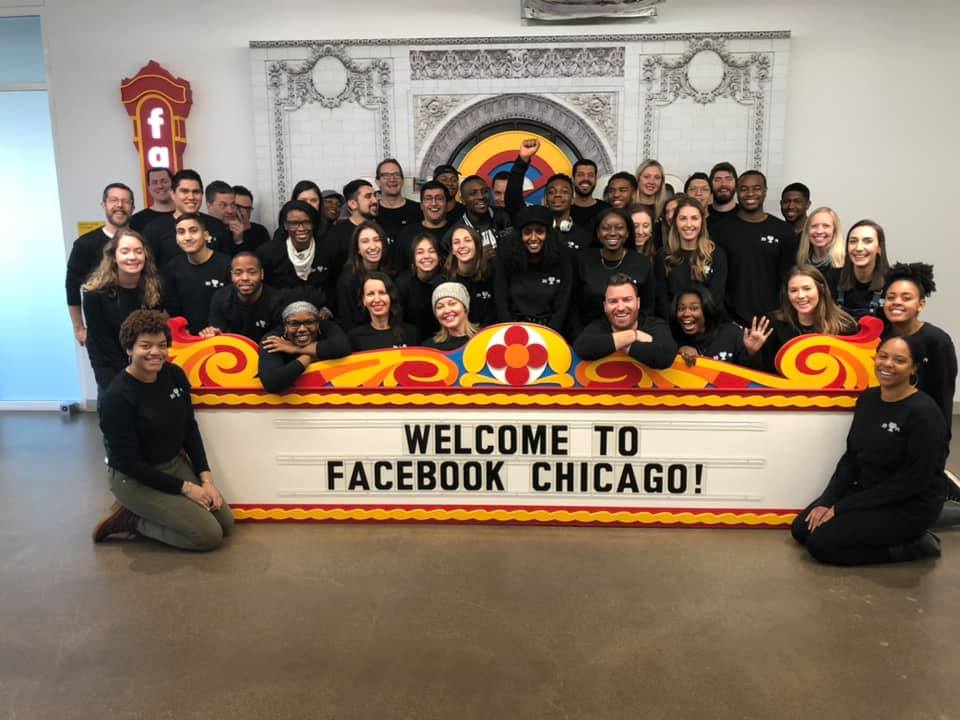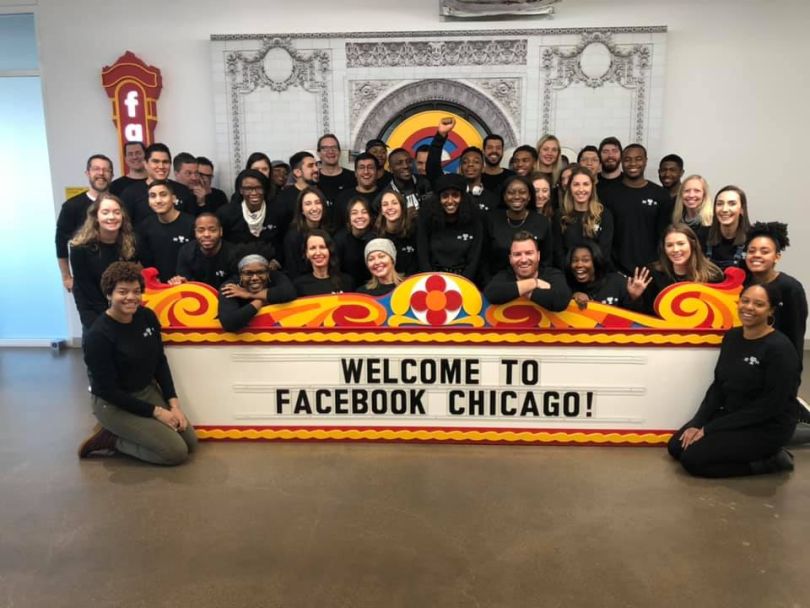 Facebook is so ubiquitous, it barely needs an introduction. It's the original social media platform, with 2.4 billion monthly users. That's more than a third of the global population, and most of those people use it every day. Checking Facebook is part of the fabric of daily modern life. 
The site is also a touchstone of American culture. A version of the platform's origin story was immortalized in David Fincher's The Social Network, which won three Oscars. The media obsessively covers Facebook's every move and obstacle. More than one outlet has written about the company logo's particular shade of blue — or as some call it, "Facebook blue." The Verge's daily social media newsletter focuses heavily on internal Facebook news. 
Facebook looms large physically as well as culturally. Revenue comes primarily from targeted advertising services, which means the company has offices and sales teams around the world. Since 2007, its outposts have included a growing hub in Chicago. 
In our latest office tour, Built In got the inside scoop on life at Facebook Chicago.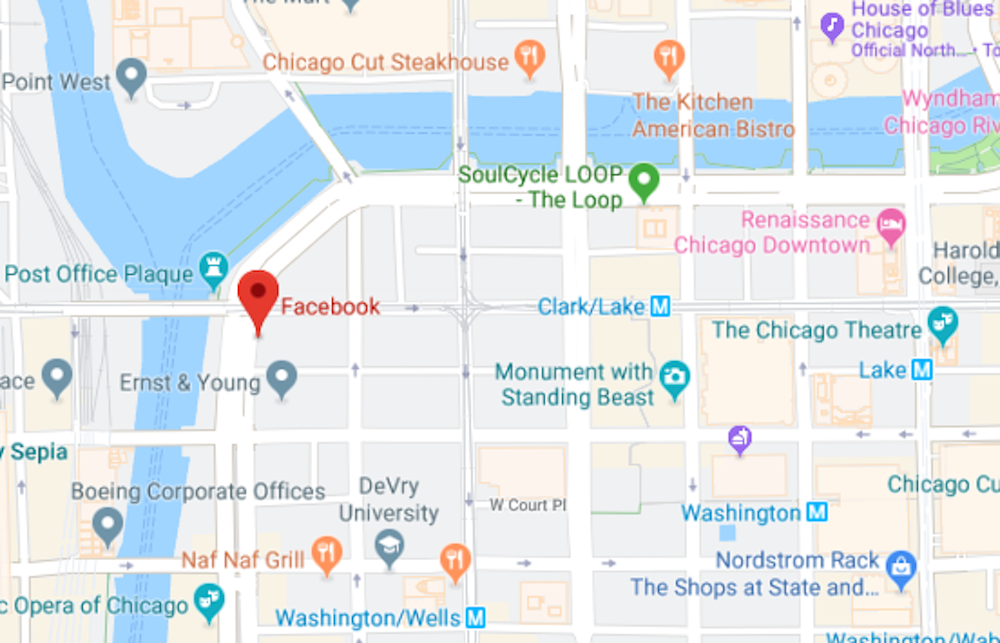 THE LOCATION
Facebook Chicago occupies a Loop office building with riverfront views. It sits less than a quarter mile from the Clark and Lake "L" station and walking distance from the Ogilvie and Union Station Metra stops.
"We want to make sure the commute is easy," says Nikki Newsome, site lead for Facebook Chicago.
In mid-2020, the team plans to move into a larger office nearby. It's equally convenient — in fact, employees can see it from the current space.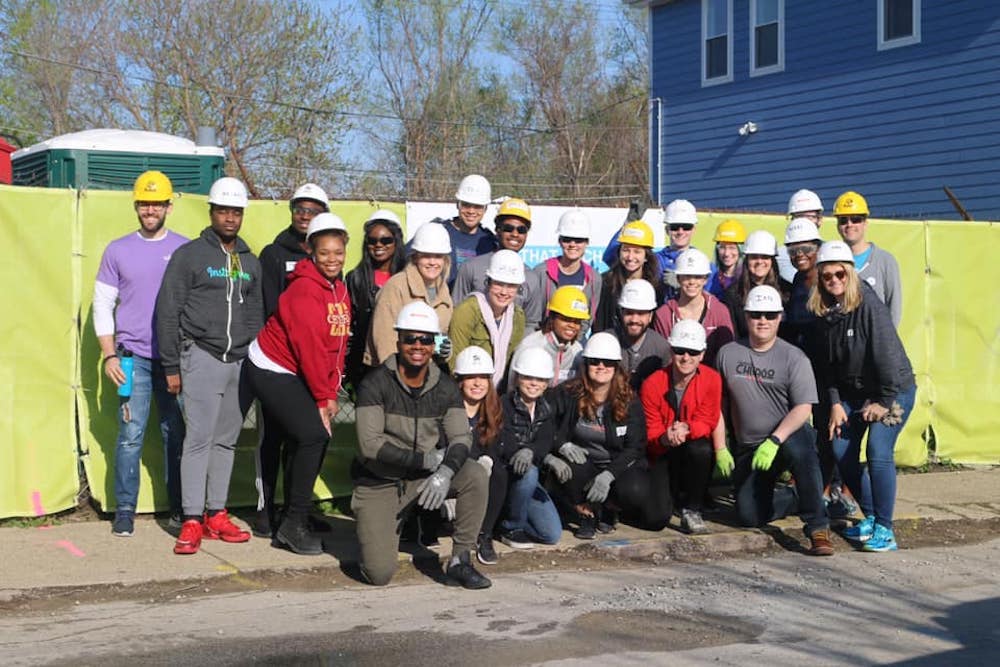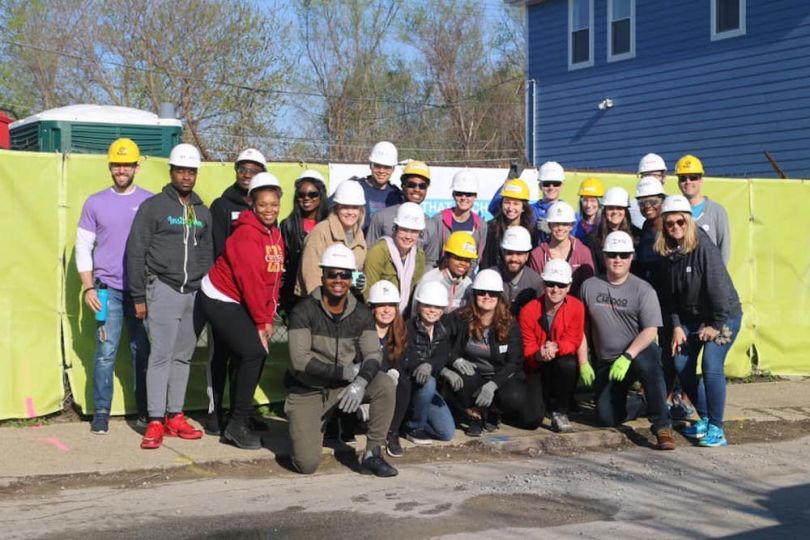 THE TEAM
Facebook Chicago has roughly 400 employees, a number that's quadrupled since 2016. 
Many of them work in sales, but Newsome says some also work in recruiting, creative services (which functions a bit like an in-house ad agency) and global business marketing. This multifaceted team's projects include Blueprint, a certificate course on Facebook's marketing platform.
The Chicago office houses a smattering of satellite employees, too, whose teams are based in other cities.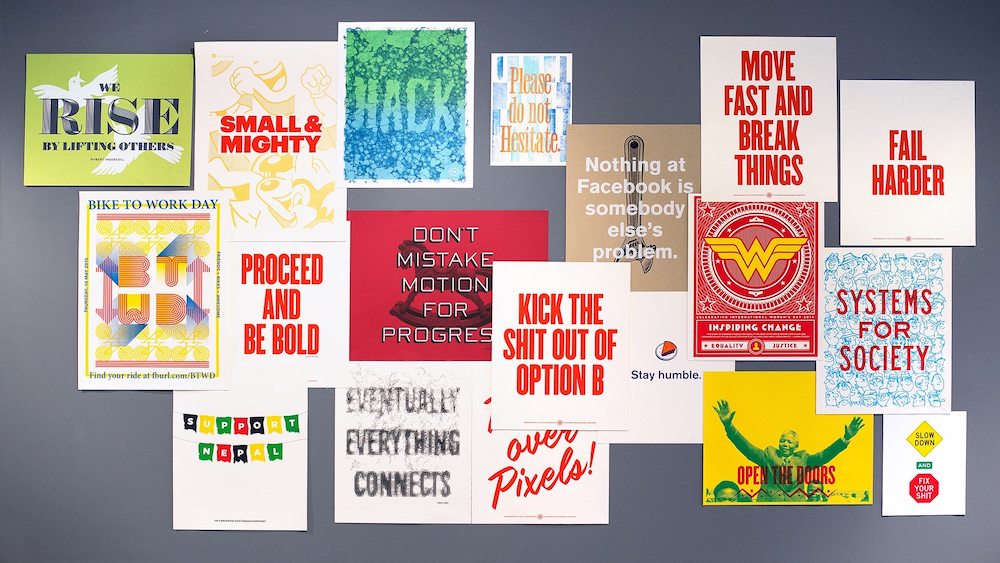 THE OFFICE
Facebook Chicago's four-story office overflows with rainbows. An LGBT pride flag hangs from a rafter, and its color scheme recurs in geometric wallpaper and assorted poster collages. One poster features a photo of Kendrick Lamar overlaid with lyrics from "DNA." Another reads, "They tried to bury us. They didn't know we were seeds."
Around every corner, we find a new, thoughtful touch. In a short hallway, there's a treadmill desk at which employees can work while "getting [their] steps in." In an alcove, we discover a Facebook wall that's a literal wall. It's topped by the prompt "What's on your mind?" and covered in a rainbow of marker scrawls. 
 "My children's drawings are up there somewhere," Newsome says. 
The office is kid-friendly — more than 100 children came to the company's bring-your-kid-to-work day in August. More generally, though, it's human-friendly, designed to make employees feel comfortable and connected to each other and the city at large.
Here are a few of the perks of working at Facebook Chicago.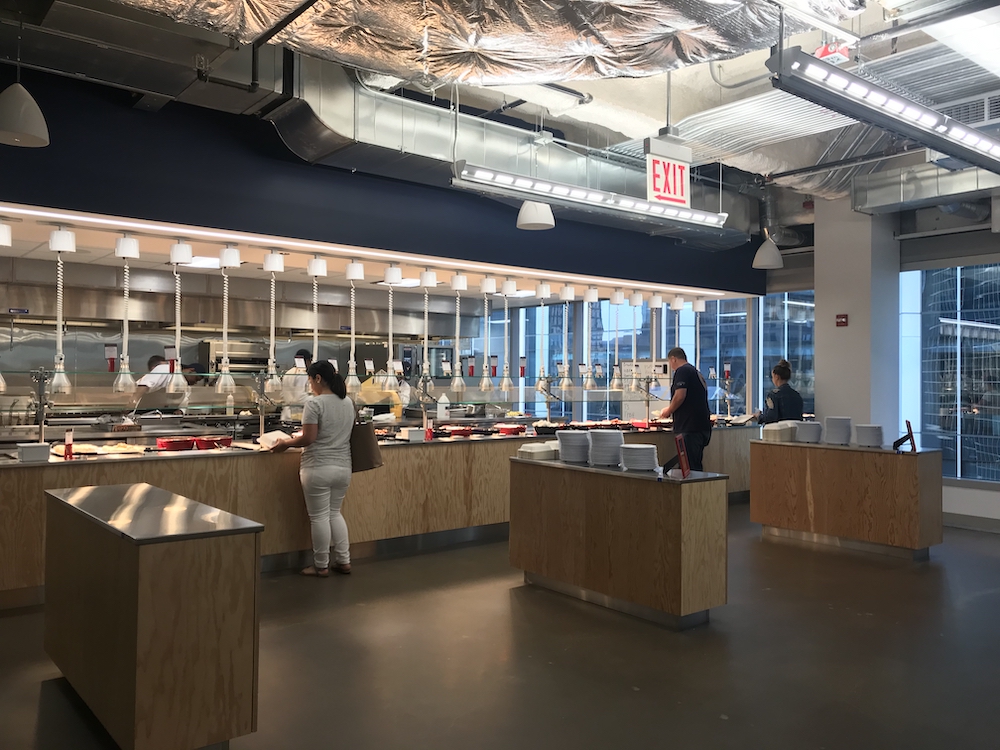 Free gourmet meals
A kitchen and dining area takes up a giant swath of Facebook Chicago's space, and all the food is free — not only for employees, but for any guests they bring to the office. The chefs serve breakfast, lunch and dinner Monday through Wednesday. On Thursdays, happy hour replaces dinner; on Fridays, it's just breakfast and lunch.
A wall-mounted screen in the dining area displays a looping feed of the menu, which changes daily but typically includes hot dishes, a salad bar and a smorgasbord of beverages and condiments. (One constant: fresh-squeezed orange juice at breakfast.) The team goes out of their way to accommodate dietary restrictions, too — during our visit, the menu includes vegan tempeh Swedish meatballs.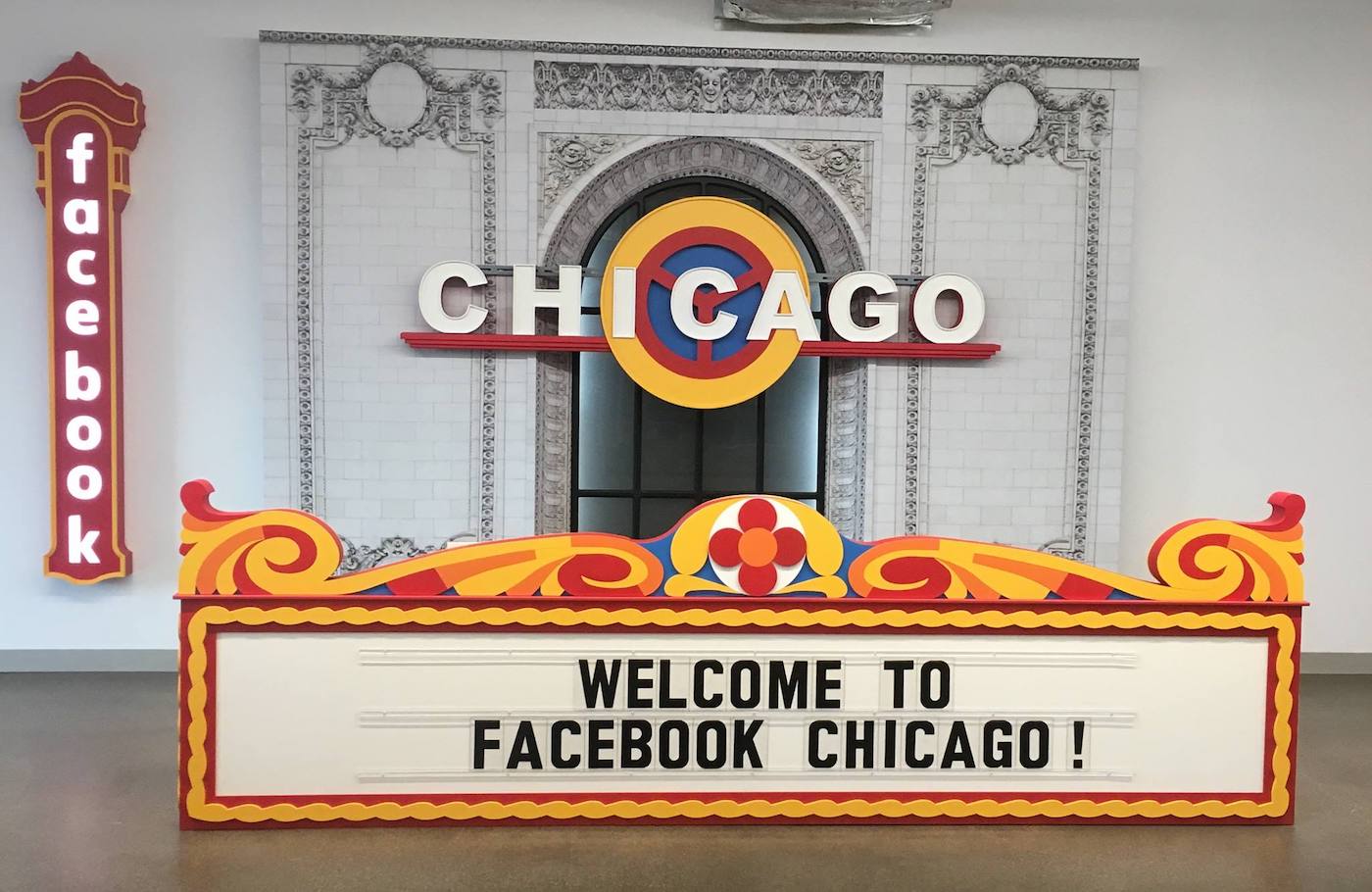 Chicago-inspired decor
Facebook may be a global company, but the office decor has firm Chicago roots. There's a replica of the Chicago Theatre's famous marquee that reads "Welcome to Facebook Chicago!" There's also Chicago flag iconography, the blue stripes replaced with a blue "Facebook Chicago," and assorted 312 signage, in a tribute to Chicago's original and best-known area code. 
The office's 13 art installations are also by local artists. Chicago-based Claire Ashley, for example, created a Facebook Chicago conference nook, with tufted rainbow walls that look like a cross between comforters, clouds and a Lisa Frank landscape.
Even the conference rooms have a Chicago feel. There's no standard naming convention; instead, the rooms sit in themed clusters. One focuses on Chicago bars (sample room: The Empty Bottle); another is movie-themed (sample room: She Doesn't Even Go Here, a quote from Mean Girls, which is set in Evanston). It's not all Chicago vibes, though — one group of conference rooms is named after cheeses.
Environmental sensitivity
It's clear that Facebook employees care about their environmental impact. Asked about silver balloons scattered around the office and shaped like numbers — they're celebrations of people's work anniversaries, or "Faceversaries"— Newsome says they'll be phased out in September. Helium is a non-renewable resource that can be used for MRI scanners and other "wonderful things." 
In place of the balloons, she adds, "we're advising employees to bring cupcakes or flowers."
In a similar vein, Facebook Chicago will soon phase out almost all bottled water, replacing it with Bevi stations where employees can get filtered water and forego the single-use plastic. 
The office also features recycling bins, composting receptacles and battery recycling stations.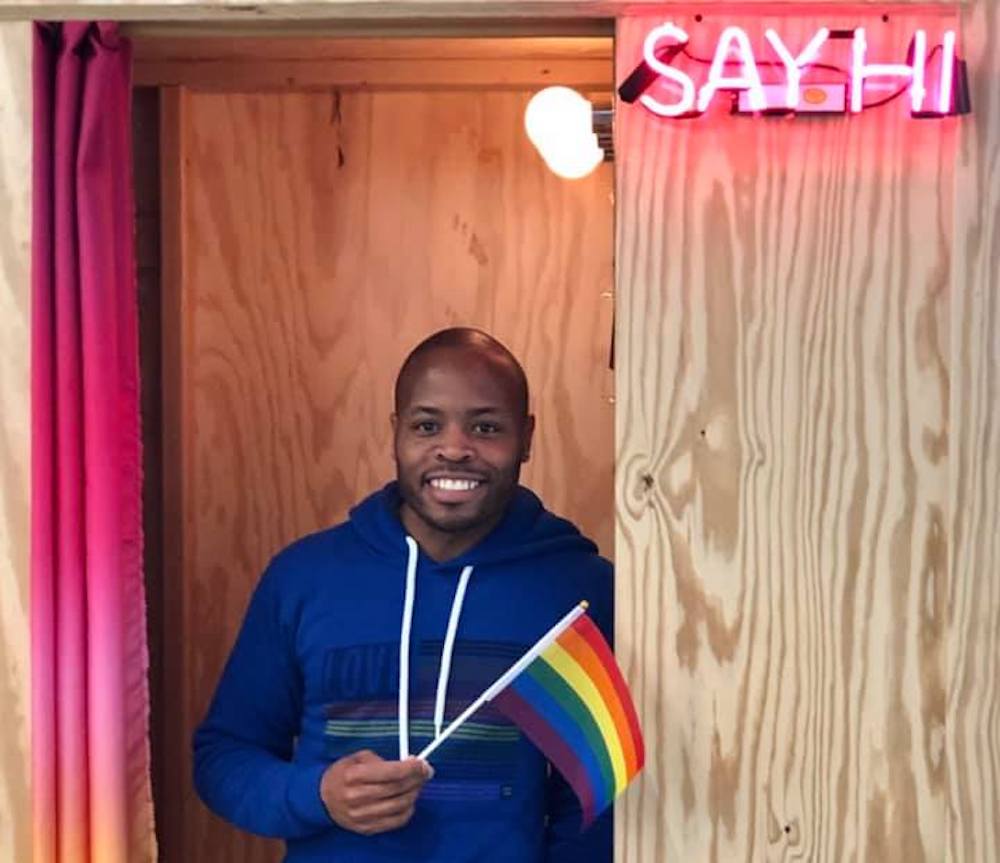 A photo booth — but make it video
One of Facebook Chicago's mottos is "In Chi, we say hi," a nod to Midwestern friendliness. In that spirit, the company has a video booth on the main floor, where clients, visitors and employees can greet the office at large with a quick video message. "Say hi!" encourages a glowing neon sign on the exterior. Inside, a variety of prompts hang above the interior camera, like "What are you currently reading?" and "Tell us about your hometown in three words."
Facebook posts the video clips to its Chicago office Instagram and plays an assortment of them at company meetings. 
Amenities for working moms
Facebook Chicago has three Mother Rooms where working moms can pump and store their milk. 
"I had my third child here, and I didn't have to run to a special fridge like I did at my last job," Newsome says. 
And there's no need to lug a pump to work, she says, because the rooms have their own pumps. They're also outfitted with fridges and freezers, upholstered chairs and posters bearing feminist slogans.
The company complements these rooms with a generous maternity leave policy. (Only about a third of U.S. companies offer employees paid maternity leave of any kind.) At Facebook, new moms get five months of paid leave, plus an optional sixth month of disability, in compliance with California regulations.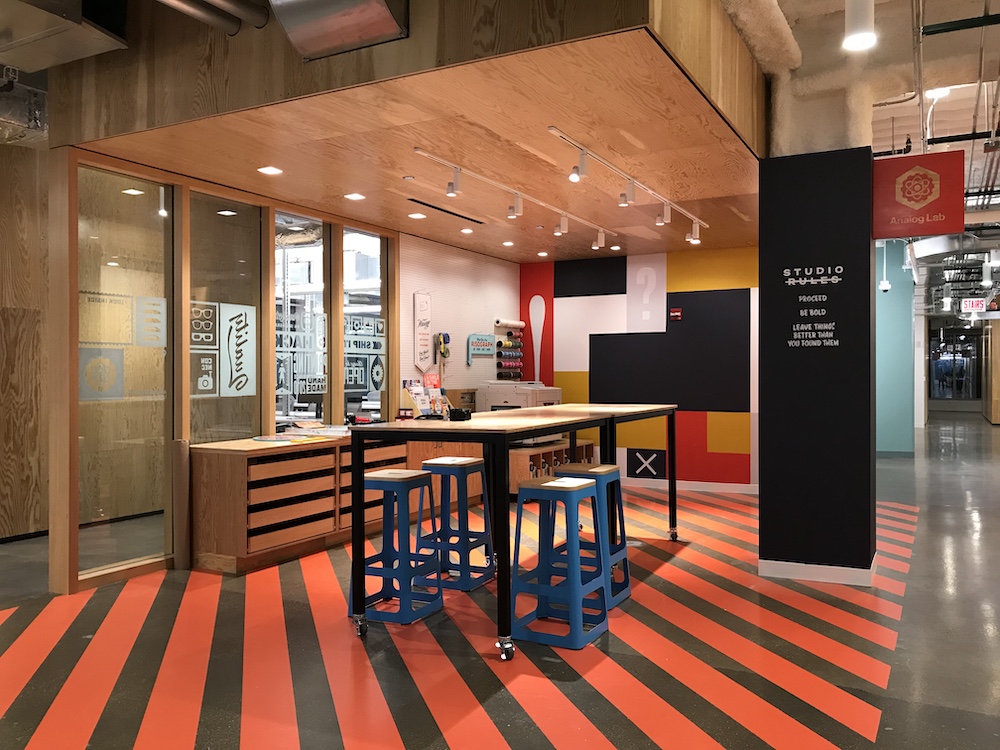 The analog lab
The office has its own miniature art studio in a corner that's stocked with art supplies and a Risograph printer, which gives images a stencilled or screen-printed look. It's a great place for DIY visual projects like buttons, zines and the posters that adorn many walls. Internal groups, or "ats" — like [email protected], for multiracial employees — often make posters there to advertise meetings and events. 
Says Newsome, it's "a great way to add culture in the office that really sticks."