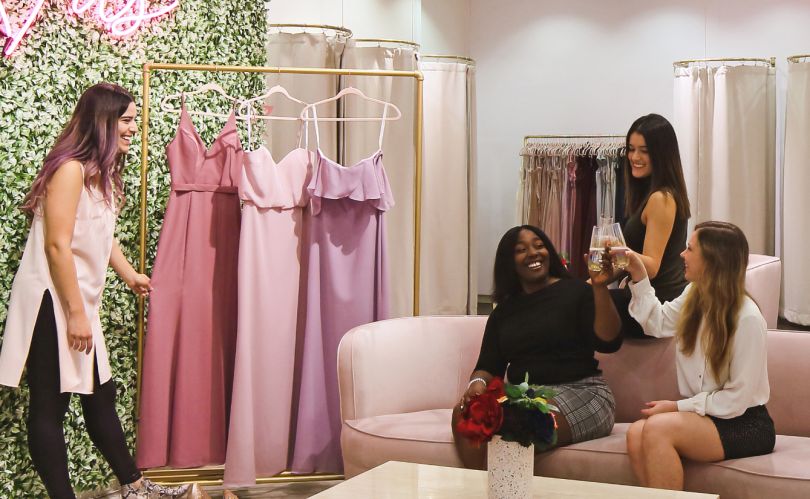 Brideside, which helps brides-to-be find dresses for themselves and their bridesmaids, announced today it closed a $7 million funding round. 
The startup was founded here in Chicago in 2014 by Nicole Staple and Sonali Lamba, who befriended each other while attending Northwestern's Kellogg School of Management. 
The pair initially thought of the idea for Brideside when Lamba was planning her own wedding in 2009. She found the process burdensome and in need of some modernization. Her interest in the industry coupled with Staple's history in tech venture capital created what Staple describes as "a perfect marriage."
"We felt that there was a much more fun, collaborative and easy way for women to experience planning a wedding," Staple said. 
So, the women decided to take a data-driven approach and create a personalized digital experience for each client. When a bride signs up for the Brideside website, the company collects about 50 data points on her that the company uses to assess her specific needs. The bride is also connected with an in-house stylist who stays with her through the entire planning and shopping process. 
The company's omni-channel setup allows the bride to plan online and then go into one of Brideside's showrooms or use its try at home program to ensure everything fits and everyone is happy.
This additional $7 million brings Brideside's total equity funding raised to more than $13 million. The company is using that funding to expand and enrich its digital experience.
"When you're an e-commerce company, it's really hard to deliver that sort of in-person wow-moment digitally," Staple explained. So they are working on ways to translate the experience of a showroom to their website through a step-by-step process that better narrows down things like vision, designers and styles.
Having gotten its start in the bridesmaid game, Brideside also recently launched a bridal gown line, offering top designers like Jenny Yoo, Amsale and Dessy. Right now, bridal gowns are only available in showrooms, but the company is working to bring that experience online as well. This includes expanding on their exclusive line of dresses that Brideside has designed.
The company already has showrooms in Chicago, Boston, New York City and Charlotte, but it plans to enter two or three more markets by the end of 2020. This expansion includes an additional location in Chicago's Lincoln Park neighborhood, where Staple said the company plans on having nine showrooms — five for bridesmaids, four for brides — to provide a one-stop shop for their clients. 
Going forward, Staple says Brideside is putting an emphasis on pushing the boundaries of diversity and inclusion for both its employees and its clients. The recent funding was critical in hiring key executives to join their team of almost 100 people — 95 percent of whom are women and 35 percent of whom are women of color. This culture of diversity internally has translated to a focus on inclusivity externally as well, she said. 
"The Brideside brand really stands for bringing women together to celebrate. And that means women of all sizes, colors and ages," Staple said. "We feel that the industry has really neglected a large population of women in the past and we're looking to change that."