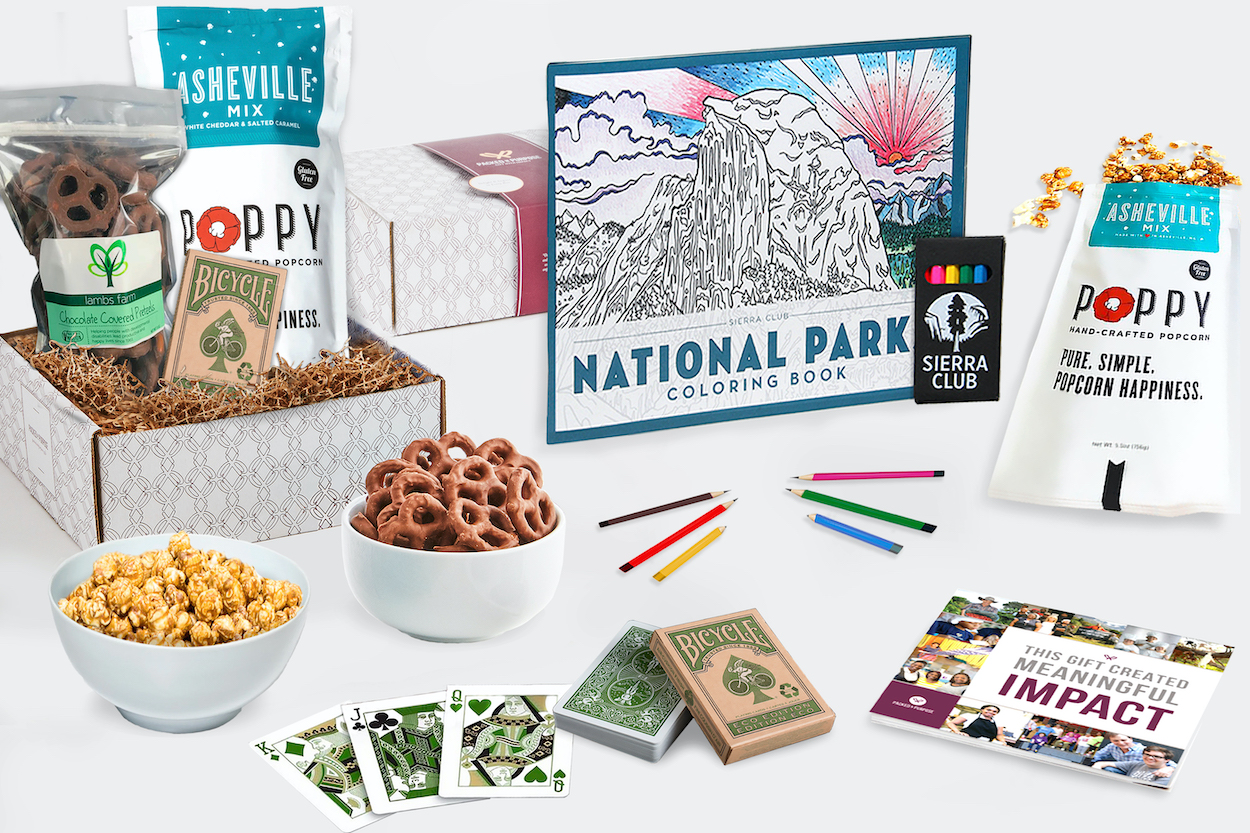 As the COVID-19 pandemic rages on, forcing businesses to close their doors and go remote, individuals across the country are having to accept and navigate a new, more isolating existence. Packed with Purpose, a corporate gifting startup out of Chicago, just launched three new gift boxes curated specifically to help people cope with this crisis.
Since its launch in 2016, Packed with Purpose has provided more than 1,000 companies with gift baskets they can give to clients and employees. CEO and founder Leeatt Rothschild says these new baskets were designed to promote human connection.
"The first thing is just thinking about the theme in terms of what people might be interested in and who they might be sending it to," Rothschild told Built In. "We realized that companies were really eager to send gifts both to their employees and to their clients where it might offer a distraction or it might provide an opportunity ... to have some fun as folks remain stuck in their homes."
With this in mind, the company designed several different baskets with specified themes. The Brighten Their Day at Home was designed to be a source of entertainment and comes with things like coloring books and colored pencils. The Family Game Night basket is full of tea, granola and other snacks to fuel family activities. Finally, the WFH Care Package is meant to be a source of comfort and energy and is kitted out with coffee-infused brownies and caramel popcorn. Each basket also comes with recyclable Bicycle playing cards.
A key difference between this company and others out there is that Packed with Purpose works with more than 100 product suppliers — Rothschild calls them "purposeful purveyors" — that have their own unique social impacts. For example, the colored pencils in the Brighten Their Day at Home package are from the Sierra Club, an environmental organization that supports nature conservation; the tea-infused snacks in Family Game Night come from TeaSquares, a group that fuels economic growth and employment in Chicago; and the cold brew coffee bites in the WFH Care Package are made by Wild Ophelia, which provides culinary education to aspiring women food entrepreneurs.
"Beyond having a wonderful product that's high quality, that's designed well, that's delicious, [these companies] also do good," Rothschild said. "It's such a wonderful thing to get a gift, period. Then, giving a gift that also has the benefit of telling stories about our purveyors and how each of them is creating an impact in the community — whether it's an emphasis on environmental conservation or providing job opportunities to individuals that are underemployed — that's basically the cherry on top."
Looking broadly, Rothschild says the main goal of Packed with Purpose's new baskets is to strengthen the personal and professional relationships that bind us, even if it needs to be done from home.
"There's a lot of uncertainty and stress, but there's also an opportunity to bring people closer," Rothschild said. "Whether it's a CEO or a manager that wants to send gifts to their employees, or whether it's the head of sales that wants to send gifts to their clients, it's really an opportunity to create that human connection at a time when people are craving it and really need it most."