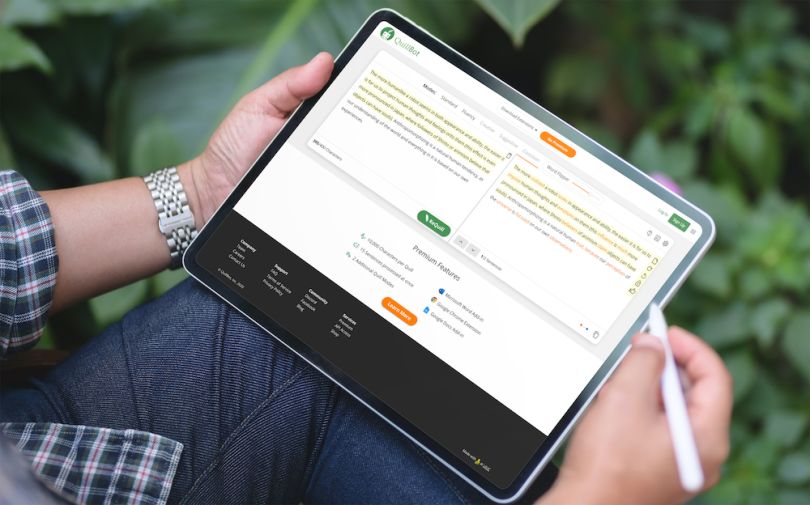 If you're a college student, there are plenty of ways to become a better writer. Unfortunately, most of them involve actually going to class. However, three University of Illinois–Urbana-Champaign students discovered a different way to augment people's writing skills: using AI.
In 2017, Rohan Gupta, Anil Jason and David Silin were UIUC students pursuing computer science degrees. While studying artificial intelligence algorithms and natural language processing, they had a breakthrough. Essentially, they figured out a way to look at a body of text and generate a summary using AI, something the technology has struggled with in the past.
The three students then tried to figure out how to apply this tech to the real world. The result was QuillBot, an AI writing tool that can reconstruct whatever you type in to create writing that is clearer and more concise. The trio was so proud of their work that they shared it on Reddit, where it quickly took off in popularity.
Over one million users and a few years later, QuillBot has become a full-fledged startup with VC backing. On Wednesday, the company announced that it raised $4 million in a seed funding round led by GSV Ventures and Sierra Ventures.
QuillBot has seen a lot of success with non-native English speakers, who make up 60 percent of the tool's user base. A significant portion of these users are college students enrolled at English-speaking universities. Many international students dream of going to top-tier American universities, so it can be extremely frustrating to get in only to be held back by a language barrier.
"We say that QuillBot is AI writing with you, not for you," Gupta, now CEO of the company, told Built In. "Augmented writing will help more people share their perspective with the world."
Gupta adds that some non-native speakers are even using QuillBot to help learn English, because it helps with paraphrasing and semantics.
The startup plans to use this new seed funding to further develop its product. It's currently working on a paraphrasing tool that scans an article or online post and quickly comes up with a summary. It's also developing a tool that can complete a user's sentence based on what they intend to say.
To do this, QuillBot is building its own natural language processing (NLP) lab in Chicago, where it'll conduct research into the field of NLP and work to find new innovations.
"Our vision for QuillBot has always been to make writing easier, so that people can spend more time focusing on what they should write instead of how they should write it," Gupta said in a statement. "We're already helping a network of more than a million people write at a high level, many of whom would not otherwise have the option. This funding will allow us to expand our global reach and impact as we take our holistic approach to AI-driven collaborative writing to the next level."