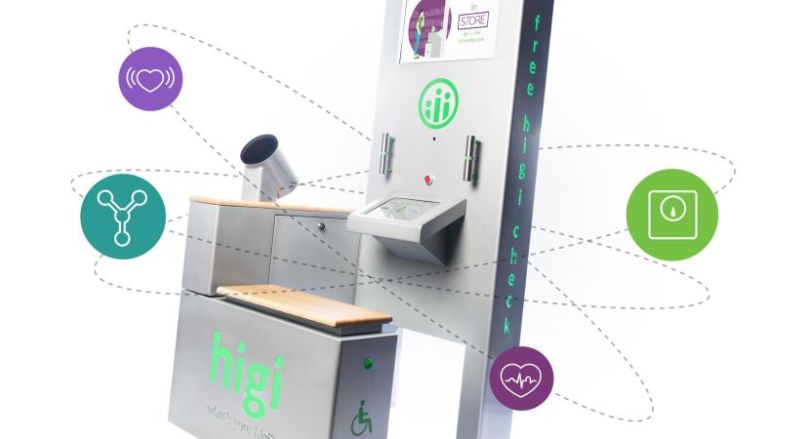 Higi, a Chicago startup with a nationwide network of "smart health stations," announced Wednesday it closed on a $30 million Series B round led by Babylon Health. This brings the company's total funding raised to more than $90 million, according to Crunchbase data.
Founded in 2012, Higi has developed a Food and Drug Administration-cleared, self-service kiosk where users can measure health indicators like blood pressure, weight, BMI and hydration for free. Currently, there are about 10,000 of these machines across the country, most of which are located in grocery stores and pharmacies. The company also offers an app to help users monitor their health and input their fitness data to better track their progress toward health goals.
Higi says its technology has been used by 62 million people in North America to date and that it has conducted more than 370 million biometric tests. How the company stores and shares this can be found in its  privacy policy, which says it collects and "may anonymize and aggregate" some personal data for "marketing or other purposes." This will prove to be valuable in its partnership with Babylon, a London-based health tech giant valued at $2 billion.
"Our partnership with Babylon broadens our clinical capabilities and ability to support consumers with acute medical problems or those with chronic conditions like hypertension, diabetes and obesity, thereby allowing us to better meet the needs of payors, retailers and health systems," Higi CEO Jeff Bennet said in a joint press release with Babylon. "With Babylon as one of our investors and strategic partners, we are beautifully positioned to drive real change in the delivery of primary care across the U.S."
Both Higi and Babylon said the goal of this investment is to "democratize access and affordability in healthcare" through further development of digital capabilities and tests.
"Whether it be for chronic conditions which already place a heavy burden on patients in the healthcare system, to the everyday support of a person's health and wellbeing, Babylon and Higi's offerings place greater emphasis on prevention and tackling issues earlier, helping millions of people proactively tend to their health and connect them to the information and medical support they need," Babylon CEO and founder Dr. Ali Parsa said in a statement.