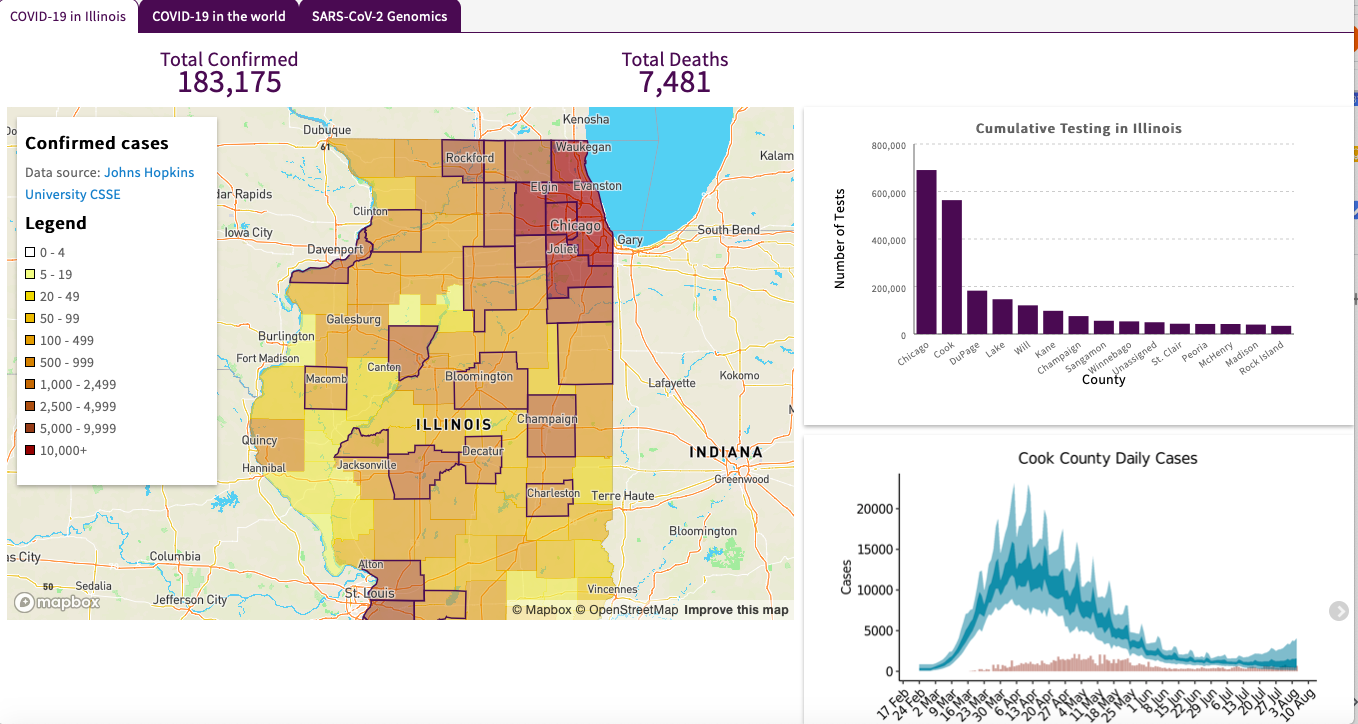 A Chicago tech organization is building an open-source tool that hospitals, researchers and decision-makers across Illinois can use to understand the impact of COVID-19 across the state.
"If we don't collect the data and have it available from this pandemic, we will have learned nothing," said Michelle Hoffmann, senior vice president of life sciences at P33. "Everything we've gone through will have been a waste."
P33 has been working with MATTER and the Open Commons Consortium since March to launch the COVID-19 Data Commons Project, which aims to centralize coronavirus patient data from every healthcare system across the state. The group launched the platform last week with a skeleton budget, Hoffmann said, and now aims to raise "several millions" in donations to build a team of data engineers to help safety net hospitals upload their information.
Collaborating with healthcare institutions committed to serving all patient populations — regardless of their insurance status — is critical as the virus continues to disproportionately impact Black and Hispanic communities, Hoffmann said. An analysis of coroner information by South Side Weekly reports that about 68 percent of those who have died from the coronavirus in Chicago identify as either Black or Hispanic.
"We have tons of dashboards to tell us how badly the Latinx and Black patient populations are being hit," Hoffmann told Built In. "But this will enable us to have questions about what are their symptoms, what do they have in common, what treatments are working, what treatments are not."
Unlike the South Side Weekly tracker — or the city's public dashboard of coronavirus information, which was built by Slalom Consulting — the P33 initiative aims to map proprietary healthcare data, like a patient's individual genomic information or their hospital summary report. Once hospitals submit their data, Open Commons cleans and maps the information, so researchers can overlay specific patient characteristics onto one another, finding out the average symptoms a 35-year-old patient indicated, for example, and the outcome of their treatment. P33 aims to have the data ready for individual analysis by September, Hoffmann said.
The group has so far uploaded data from about 10 healthcare systems, including Rush University Hospital, the University of Chicago and the Illinois Association of Free and Charitable Clinics. With the funds, Hoffmann said P33 aims to add even more member hospitals to the initiative, including Amita Health, OSF HealthCare and Advocate Aurora.
"This is something that's going to last long after P33 is gone," Hoffmann said. "What it really amounts to is being able to democratize data and make sure that we're all learning from each other."