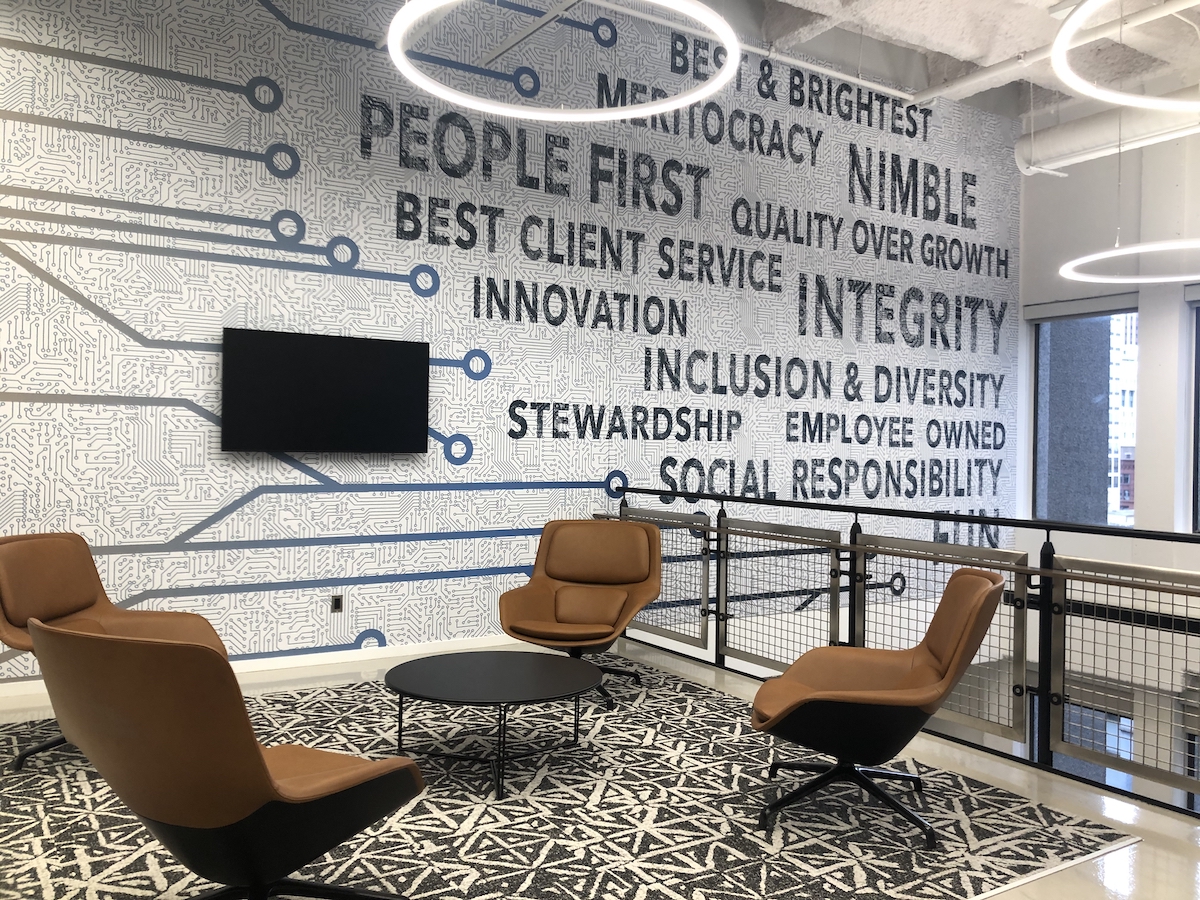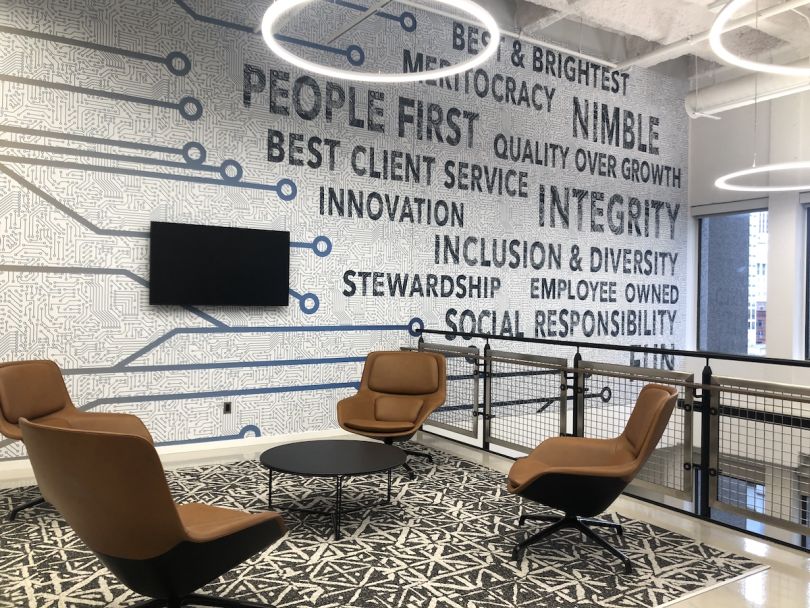 As companies continue to ditch close contact for telecommuting, West Monroe Partners announced on Monday it has officially opened its expanded office, after an uncertain year of development.
Kevin Rooney, the company's chief administrative officer, said staff at the Chicago consultancy have been working remotely since March. But post-pandemic, he said West Monroe views the opportunity to work alongside colleagues in a state-of-the-art new office as a way to drive top talent to the company, particularly as the business aims to double its local workforce.
"I think people are still craving some of that face-to-face interaction," Rooney told Built In. "So we are still betting on that as being part of our differentiator."
Founded in Chicago in 2002, West Monroe is a Chicago-based business and tech consultancy that helps customers digitize their businesses.
Over the past seven years, Rooney said revenue at the employee-owned company has grown about 26 percent year over year. To meet demand, West Monroe announced about a year ago that it was doubling its Chicago headcount to 1,600 people by 2024. At the time, developer Sterling Bay approached the consultancy about becoming the anchor tenant to a new development located across the street from what was then its office at 222 W. Adams St.
The company had remained in the same building since it was founded, combining four separate spaces to accommodate its growing team. Last October, West Monroe announced it signed a 12-year lease at, fittingly, 311 W. Monroe St. The company said it would occupy six floors of the 15-story building, double the amount of office space it held and secure naming rights to the site.
Less than a year later, West Monroe went into lockdown.
"I distinctly remember the decision on March 13 to go completely virtual," Rooney said. "We knew it was going to be different. But I don't think anyone quite realized at that time how long it would go."
The move to remote work changed West Monroe's office plans in Chicago — but didn't slow them down. The state labeled construction an essential service and, because the office was vacant, workers were able to get more work done, since they did not have to adhere to "quiet times" limiting demolition and other activities, Rooney said. The consultancy also decided to limit the scope of its initial build out, and leave the ninth, 10th and half of the 15th floors unfinished. The only hiccup West Monroe experienced was the AV equipment and few other items that got tangled in stalled supply chains, Rooney said, and took longer than expected to arrive.
"But COVID gave us a lot of time to not have to worry about it too much, except for the fact that it was just one more thing to keep track of," Rooney said.
And with a few updated design and technological elements, West Monroe's new office officially opened on Monday. The consultancy installed touch-free hand sanitizers, additional AV equipment, and thinned-out work stations, and it marked hallways as one-way routes. Building managers updated the space's ventilation system to circulate more air from outside. To track staff scheduling, West Monroe deployed Salesforce's Work.com software, which requires individuals to submit a health check before they're able to reserve a workstation in the office. The company will only allow the office to reach about 25 percent capacity, and Rooney said he expects the space to remain filled by about half that amount.
"We want to meet people where they're at," Rooney said. "We're opening the office on an optional basis, as a short-term space where they can be productive."
In addition to building out its new workspace, Rooney said West Monroe remains committed to growing its local team. Today, the company counts about 800 employees in Chicago, and is hiring for data analysts, cybersecurity experts, product managers and more. The COVID-19 pandemic has only accelerated business' digital transformation, he said, driving additional demand for West Monroe's services — and a need for updated space. To that end, the consultancy is also building out expanded offices in Minneapolis and New York City.
"We are committed to growth and we're also committed to the relationships that we know can only be developed in-person, face-to-face," Rooney said. "We know we're not going back to the way we were six months or 12 months ago, and learned that certain things do work pretty well remotely. But we know that everything from mentoring to how we work with our clients in terms of being visible, and establishing those relationships, is really, really important."