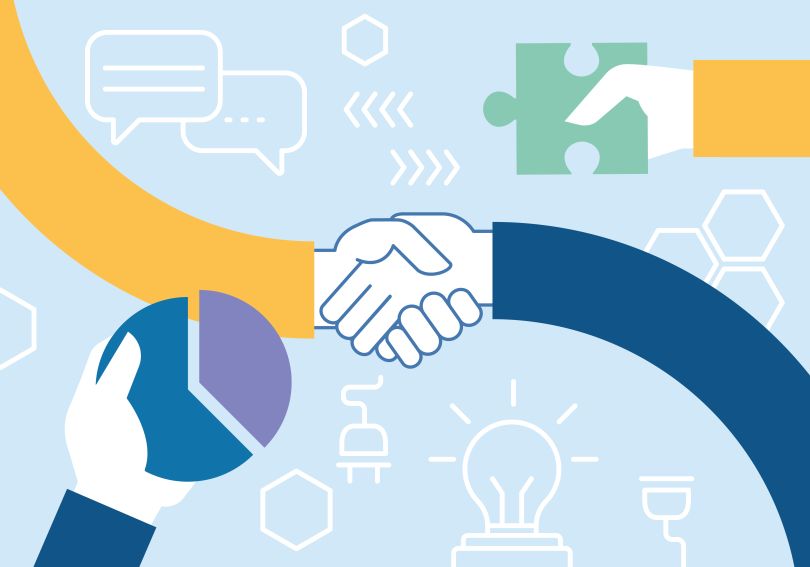 Sometimes the solution to a modern business quandary is a century-old management theory. When it comes to stakeholders, that solution is called integrative unity.
In 1984, Edward Freeman, an American philosopher and business professor, published "Strategic Thinking: A Stakeholder Theory." His near-monolithic influence led directly to a mindset used by many of today's product managers, who, in Freeman's words, must "figure out how the interests of customers, suppliers, communities, employees, and financiers go in the same direction."
Pleasing such varied groups has always been a challenging and delicate task. Yet while Freeman credits the Stanford Research Institute with coining the word "stakeholder" in 1963, he also points to the contributions of Progressive Era theorist Mary Parker Follett who, many decades earlier, created the model of integrative unity that many product managers use with stakeholders today.
Integrative unity involves managing the expectations, feedback and conflicts of a product's many interested parties — both internal and external stakeholders — and finding creative ways to incorporate their different desires into mutually beneficial solutions. Importantly, Follett considered integrative unity to be superior to compromise, because integration aligns the interested parties, while compromise can leave stakeholders feeling as if they've made a sacrifice. If that tipping point is reached, the sense of unity required to champion a product might fray.
Today, many successful product managers use integrative unity (or similar concepts) to align stakeholders and discover creative solutions for managing stakeholder feedback. What's the secret? We checked in with Adam Godfrey of Chicago's CityBase, a tech company that offers a single platform for public services, who says he has found success as a solution-oriented product manager. By providing stakeholders with visually-detailed roadmaps and fulfilling the fundamental needs behind the feedback, integrative unity becomes possible, and turns a potential pain point into a springboard for empowerment and trust.
When it comes to managing stakeholder feedback and expectations, Product Manager Adam Godfrey focuses on finding solutions that meet the stakeholder's underlying needs, all while providing detailed, visual mapping that keeps them informed of the product's larger picture and goals. The result: a level of synergy and support that empowers everyone involved, and creates a unified vision for the product and its roadmap.
Which stakeholders do you include in the product planning process, and what role do they play in informing the product strategy?
Many stakeholders present product ideas, including clients and prospects, engineers and designers, and client-facing leadership from sales, implementation, and engagement. 
As a product manager, it's important to consider input with the goal of developing the strongest product. The product manager must decipher the presented vs. the actual reason for each stakeholder's idea. The key is to never take stakeholders' product proposals at face value; always dig deep to understand the underlying wants and needs.
For instance, a client might ask for a specific new feature. When we dig in, it may uncover a different need. By walking through the client's experience with the product end-to-end, we can find solutions within existing functionality, optimize the client's experience using the product, and we've just saved two weeks of work.
Or a prospect might want you to build a feature that matches their legacy application. Through reviewing their process, we might observe a specific use case we hadn't encountered, but could see it being a common need. Even if we don't replicate the legacy application exactly, we've found a different solution and agree to build a "new and improved" feature.
Tips For Building Trust With Stakeholders
Include the stakeholder in the design review and quality assurance (QA) portions of feature development so they can contribute their ideas from the frontline and also buy in to the solution
Create a warm handoff of the new feature or solution by providing demos, training, and/or proper documentation. The most effective documentation is a thorough FAQ list because it's written in a friendly, colloquial style and is presented in a bulleted format that's easy to read
Provide a reason when saying "no" and an alternative solution, when possible, so the person doesn't feel they've hit a dead end
Include stakeholders early, explain features and functionality thoughtfully, and find solutions to their challenges even if it's not exactly what they had in mind, so they better understand the end outcome and will become champions for the product and its roadmap
What steps have you found to be particularly helpful in managing stakeholders and their expectations regarding how products and features are prioritized?
Visual prioritization and contextualization are key to facilitating and managing stakeholder expectations. Just saying "yes," "no," or "maybe" to a stakeholder isn't helpful if they don't understand the bigger picture. I keep living, prioritized roadmaps of near-term work to share with stakeholders so they can advise where their new idea should or shouldn't fall.
When a stakeholder presents a product idea they deem urgent or critical, I will present that stakeholder with a high-level estimate for building out that idea, and then present a list of upcoming products. I'll ask the stakeholder to help me determine where their feature idea falls above and below what's already on our roadmap. This helps the stakeholder understand the bigger picture of the product, including other important features in development, so they can help make an informed decision about where their issue should fall.
For larger effort roadmap ideas that will take many sprints to complete, I specifically budget time and resources for that idea and make it impenetrable to disruptions. To prevent disruptions, I budget 10-15 percent of each sprint to unexpected support issues so we don't overextend the developers' time.
What steps have you taken to build trust with stakeholders? Share a specific example of how that trust has affected how you get buy-in from stakeholders.