Finding the Right Note: Why This Music Tech Company Embraces Experimentation
Reverb encourages its employees to invent unique solutions — and then uses analytics to monitor each experiment's success.
A punk rock drummer is looking for 14-inch hi-hat cymbals, which produce a smoky response when her fiery bandmate shreds the guitar. A part-time jazz trombonist needs to sell his Bach 12C mouthpiece, which he ultrasonically cleaned and polished. Meanwhile, an LA grammar school teacher needs 11 tambourines and a Boston guitarist is selling her prized Electro-Harmonix sitar emulator, which she used for years to cover The Beatles "Norwegian Wood."
Enter Reverb, a popular online marketplace dedicated to buying and selling new, used and vintage musical instruments.
"Last year, more people bought musical instruments on Reverb than ever before," said Staff Product Manager Lauren Katzberg. "As our community of buyers and sellers continues to grow, our team has to make sure they can find each other. Our marketplace features a large variety of products that differ by not only instrument type, but also year, color, brand and more. We're working with a huge amount of data that needs to be optimized to ensure that the perfect instrument will get in front of the right buyer." 
To meet the challenges of optimization, increased demand and company growth, Katzberg and her teammates embrace Reverb's spirit of experimentation, which encourages employees to take agency and discover unique solutions.
"We're building a marketplace that didn't exist a decade ago," Katzberg said. "There's no playbook and we're solving new problems every day, which often requires our whole team to dive in and learn new skills."
Whether it was using experimentation to make it easier for sellers to ship music gear during the COVID-19 pandemic or taking an entrepreneurial approach to create a brand-new site-within-a-site, Reverb's unique culture has allowed employees to think outside the box and test their ideas and skills.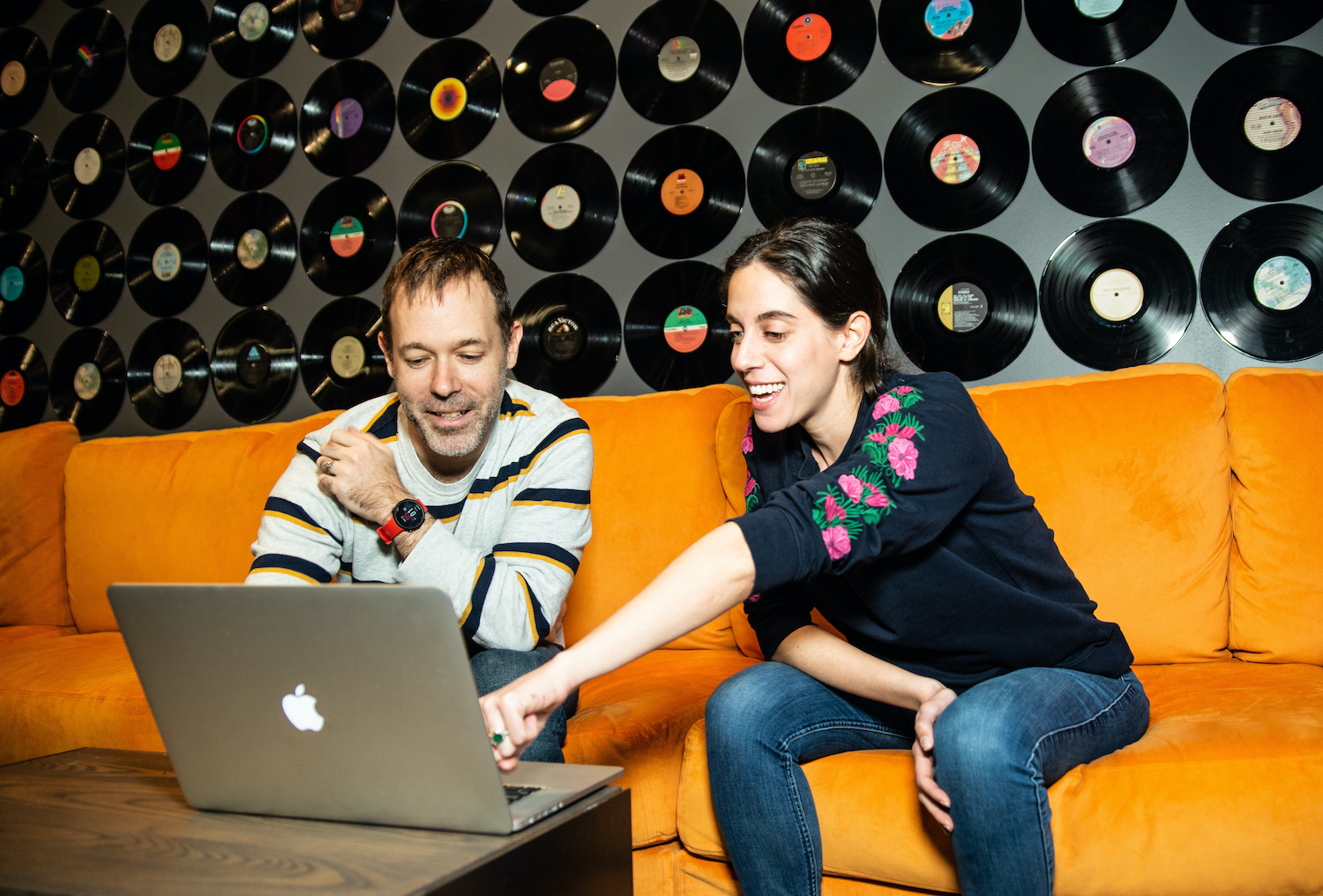 Tell us a little more about Reverb and your role at the company. 
Since launching in 2013, Reverb has grown into the largest online marketplace dedicated to musical instruments. Reverb helps anyone — from large retailers and well-known musicians to local music shops and everyday players — to sell musical instruments online. I'm the staff product manager for Reverb's inventory and shipping team and our mandate is simple: we make it easier for individuals to sell their musical instruments on Reverb. I'm responsible for defining our product strategy and business outcomes, and making sure they align with wider company goals. A lot of my work involves evaluating and prioritizing opportunities to solve user problems — like how we can help less experienced sellers appreciate what their music gear is worth — and making sure priorities are understood across the organization. 
Tell us more about the culture of experimentation at Reverb.
Our product teams work closely with our analytics team to ensure we can measure the impact of the changes we make to our site and mobile apps with proper experimentation. It's universally understood that not every product change will be a winner, and it's okay to launch a feature that ultimately might not succeed. The important thing is that you learn more about how buyers and sellers are using Reverb so you can continuously improve their experience. 
Describe the entrepreneurial approach you took in creating the Collections project.
This year, we started working on Collections, which allows music makers to keep track of the music gear they own. One of the initial challenges with a concept like this is that it didn't fit neatly within our existing product offering, which made it difficult for any one team to take ownership and prioritize it. Thankfully, there is a lot of support at Reverb to take bigger swings on opportunities that will delight our users with something new. 
There were a number of fun and interesting directions we could have taken the Collections concept and our team had the agency to work through it. We decided to build an initial version of Collections that would allow us to learn as much as possible about what music makers want from this feature. We were specific about the assumptions we wanted to test, which helped narrow the scope of our prototype. Design and engineering teams were able to create a flexible core that could evolve as we learned from our users, and the research team built a process of continuous learning into our launch plan. This approach allowed us to get something in front of users quickly, and then evolve and extend its focus and functionality incrementally as we learned more about user behavior and preferences.
Thankfully, there is a lot of support at Reverb to take bigger swings on opportunities that will delight our users with something new."
What are some additional instances in which you or others used experimentation or creativity to solve a problem?
It was clear from the beginning of the pandemic that Reverb was emerging as a real lifeline for our sellers who had to close the doors of their physical shops. Our attention quickly turned to helping them find crucial income through online sales.  
As shipping delays started impacting retailers across industries, we turned our attention to alleviating whatever shipping pain points we could for our sellers. We were quickly able to enable our sellers to set up combined shipping rates, so they could easily package all of a buyer's items under a single shipping rate. Through experimentation, we were able to confirm that introducing a new layer of complexity to the purchasing process wasn't negatively impacting our sellers' business. We were, in fact, making purchasing multiple items from their shop more attractive and helping them meet the demand for musical instruments that started at the onset of the pandemic. 
What has surprised you (in a good way!)  — about the culture of experimentation at Reverb?
It is very important that we can actually measure the impact of the changes we make to improve our users' experience on Reverb. To do this, we run experiments on almost every product change we deliver. Often, it's easy to pinpoint the value we want our users to get from the work, but it can be difficult to ensure we're set up to test and measure our success. A simple change — like adding language intended to provide clarity about a button — can cause us to revisit how we track and think about user behavior. Highlighting a certain aspect of a page can detract from another, and a single change can impact a vintage synthesizer collector very differently than someone buying their first guitar. 
I found the process a little intimidating at first, but I've been surprised at how easy our analytics team has made building and tracking our experiments. Anyone on our team can check in on a given experiment at any time to see how it's performing, which helps democratize the process and creates a culture of learning. 
Anyone on our team can check in on a given experiment at any time to see how it's performing, which helps democratize the process and creates a culture of learning."
Why are you and others so passionate about Reverb and its mission?
Reverb lives its mission — to make the world more musical — in everything we do. It's exciting to work on a product that makes it easier for people to express themselves, and I can draw a direct line from our team's work to the company's mission. Teams here are composed of musicians and music lovers, so making the world a more musical place resonates with everyone, across all departments. We are passionate about our work — not just because it's our job, but because we care about what we're building.