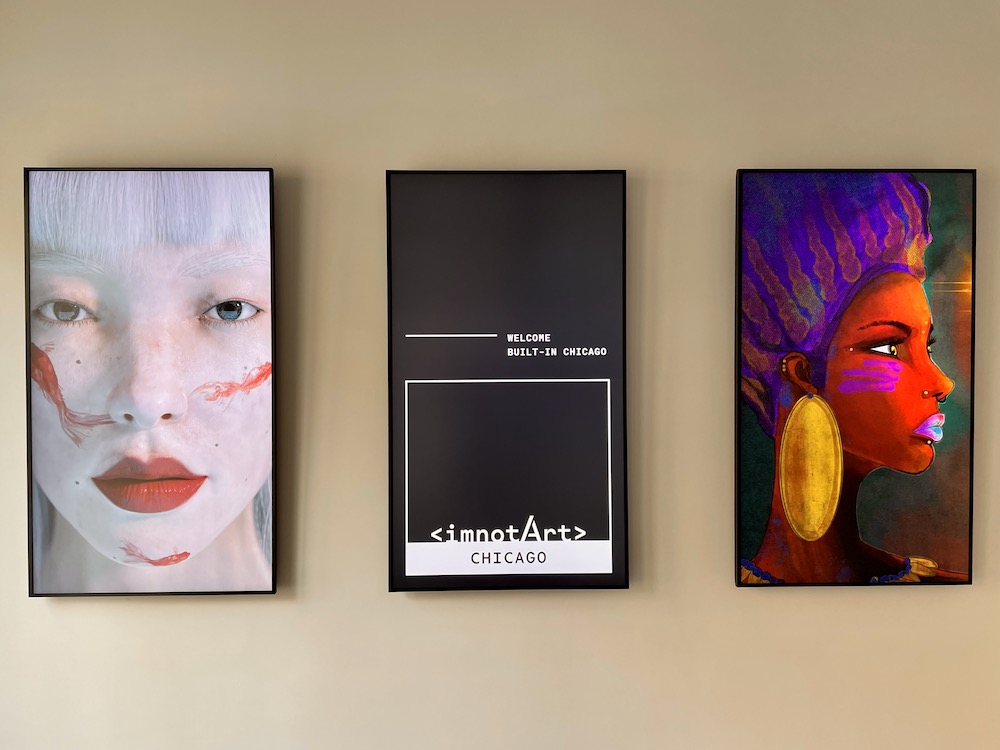 At first glance, the imnotArt space at 1010 N. Ashland Ave. looks like any other independent art gallery. There's a single airy room that's clean and modern, with several pieces of art displayed on each of the white walls. But look at one piece of art long enough and you may see a still life move, a face blink or watch as the art changes into a new scene entirely. That's the first clue that imnotArt is no ordinary gallery.
imnotArt is Chicago's first physical NFT art gallery, and one of the earliest in all of North America. It uses an array of 12 horizontal, vertical and square displays to feature digital art by a rotating selection of artists. These displays allow for an immersive art experience. It supports both still and moving images in high resolution, and allows imnotArt to switch between different works of art on a single display — meaning the gallery's collection isn't limited by the number of screens it has.
imnotArt Chicago first opened its doors to the public in June, and after a month of letting people view the collection via appointment, the gallery announced its first official exhibit on Monday.
On August 14, imnotArt will open its "The New Digital: Born in Chicago" exhibit, a collection featuring digital art created by Chicago-based artists. The exhibit's goal is to showcase art that highlights the ways Chicago inspires creativity — from the city's architecture, to the culture of the Midwest and communities within Chicago.
The art is created by artists who were born or raised in Chicago. Some artists in the exhibition include Chuck Anderson, Sean Williams, Sophie Sturdevant and more.
The exhibit will run from August 14 to August 22 at imnotArt's gallery on Ashland. Information about how to visit can be found on the imnotArt Chicago website.
"Part of the reason that we created imnotArt Chicago, was that we could sense that there is a community here that is looking to connect," imnotArt co-founder Matt Schapiro told Built In. "Whether it's people earlier or later in their journeys with NFTs, there's a desire to connect not just virtually in the metaverse, but physically in the real world too. And so our first show will feature Chicago artists, creating artwork about Chicago. We think it's a great way to kick things off, because there's this universal desire to build something here in Chicago — and that's special."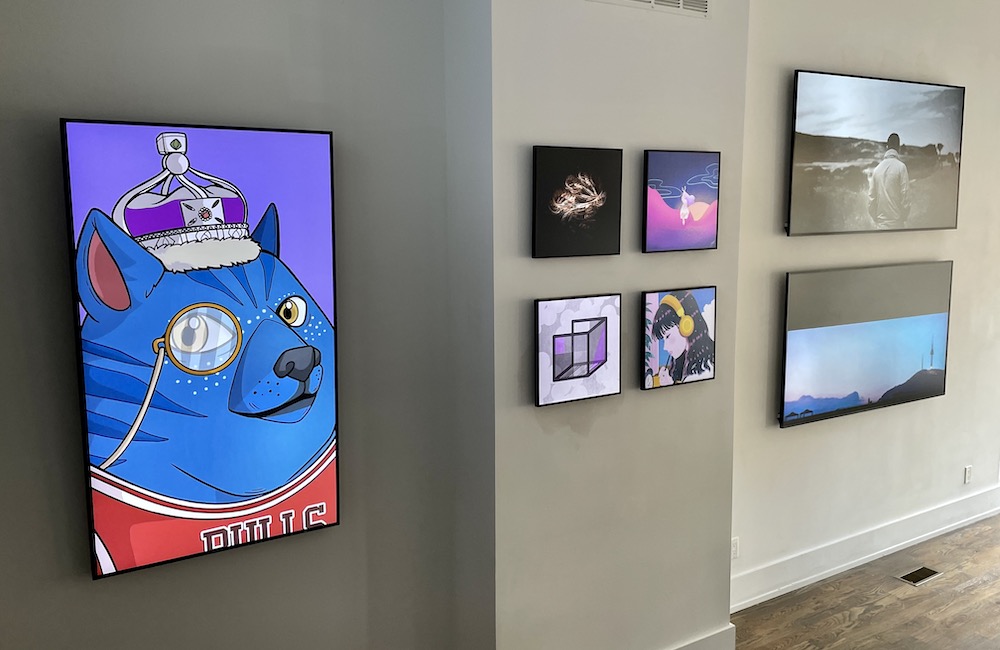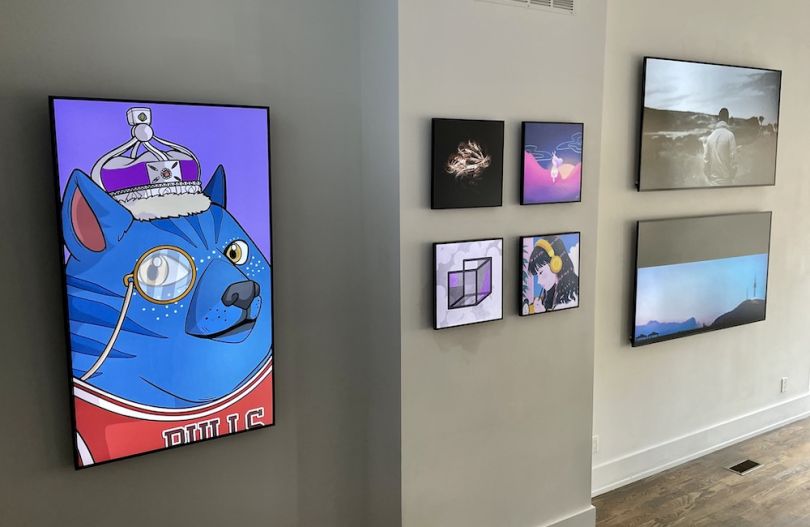 What, Exactly, Is NFT Art?
If you've stayed up-to-date on tech news this year, you've probably heard the term NFT thrown around a few times. It often appears in headlines with large dollar amounts, like that time the artist Beeple sold an NFT for $69 million or when someone bought Twitter CEO Jack Dorsey's first tweet for $2.9 million. The NFT explosion has also coincided with the cryptocurrency boom from earlier this year.
But none of that explains what an NFT actually is. Without going into too much detail (if you want to get into the weeds, here's a good explainer) a non-fungible token (NFT) is a piece of code or token that is supposed to represent something digital, like a work of art or even a tweet. Essentially, that NFT is like a certificate of authenticity for that digital thing, and since NFTs live on the blockchain, they are unique and cannot be reproduced.
This means that NFTs are a great way to show ownership of a digital good. Digital goods, like a JPEG image or an MP3 song, can be infinitely copied due to their nature, which makes it really hard to find an original source or keep tabs on where copies of that item appears. This can be especially frustrating for people creating digital art.
Let's say you're Vincent van Gogh and you just painted The Starry Night. You physically have that canvas in your possession, and you can do whatever you want with it — hang it in your bedroom, sell it or use it as a frisbee. But if you're a digital artist, it can be harder to maintain control over the art you create on a digital medium. You can keep the original file on your computer and print out copies, but if you post it online it can be copied by anyone, which makes it harder to prove that it's yours or sell it (artists have to eat too, you know).
By creating an NFT to go along with a piece of art, these digital artists can control who owns their art, whether it's them or someone else. And this allows digital artists to have full creative expression and take advantage of digital media to create their art, without worrying about giving up control of their own art.
"A lot of artists are experimenting, and that lends itself to working with the digital medium," imnotArt co-founder Chase McCaskill told Built In. "But as a gallery, we want to be able to showcase art in the best way possible, whether it's a still image, something animated or if it has some interactive experience."
Blending the Virtual and Physical
Although imnotArt's gallery recently launched in Chicago, the gallery already existed somewhere else: the metaverse. Before launching its physical gallery, imnotArt created a virtual gallery on the NFT art website cryptovoxels.
Anyone can visit imnotArt's virtual gallery by navigating to that website. From there they can explore a virtual replica of the physical gallery, complete with a rotation of actual NFT art for sale. And once you're in the cryptovoxels metaverse, you can explore other NFT art galleries by guiding your virtual avatar. The experience feels a lot like navigating a video game world, except the art you see is created by real artists and is available to buy via cryptocurrency.
This sort of virtual exhibit is common in the NFT art world, allowing artists to show off their work to online audiences, and allowing art collectors to purchase art. And while the imnotArt physical gallery caters to audiences in or visiting Chicago, a virtual gallery can host anyone regardless of where they are.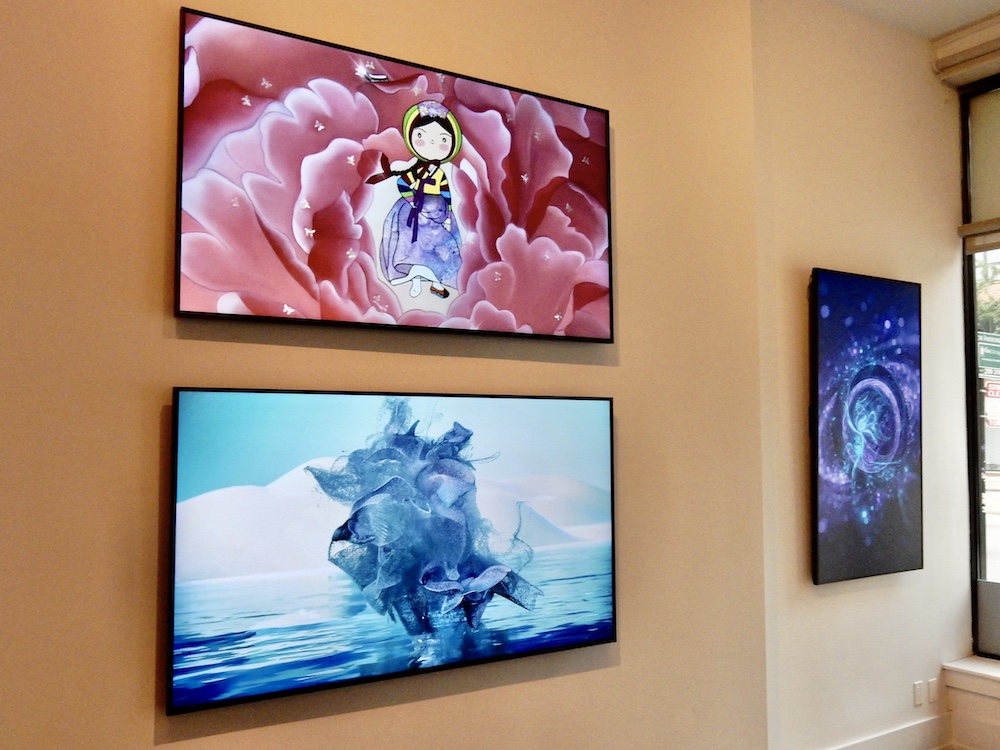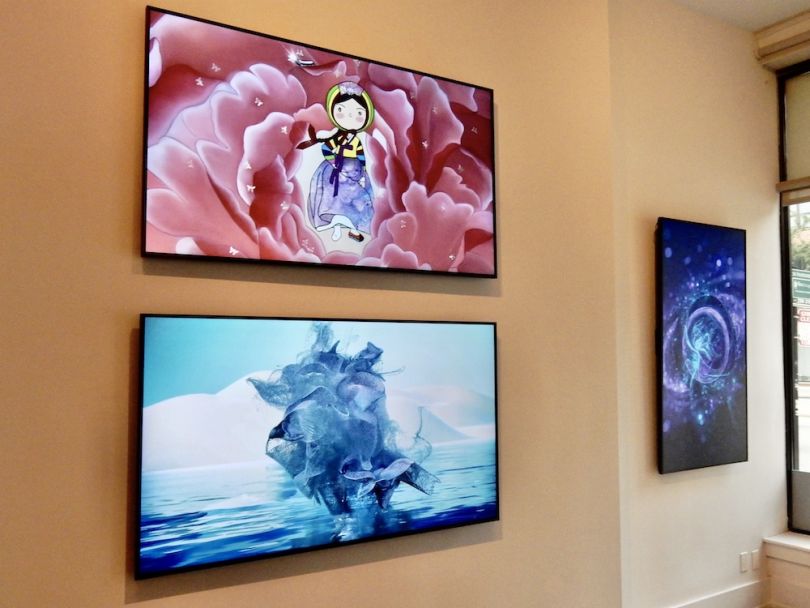 "Although the [NFT] metaverse has existed for a couple of years, it hasn't really taken off until recently. When I used to look around there, it was very empty, and there wasn't really a sense of community being born there," Schapiro said. "When we really kicked this project off in February, we noticed that there was this legitimate community that was that was being built. And we figured if we were going to build an NFT company, it almost seemed essential that we had metaverse land because it was very clear that this is the next direction that the community is going."
But having both a virtual and physical space to showcase NFT art isn't enough. For imnotArt, it's all about how you blend the two. To do this, the gallery will hosts events in both its digital and physical spaces at the same time. If you're in the physical gallery during one of these events, you'll see one of the displays showing the virtual gallery with avatars exploring it or people calling in via Zoom. If you're visiting virtually, you'll see a livestream of people in the physical gallery. imnotArt will also play the same music in both of its galleries at the same time.
"We really hope to create first of its kind digital/physical experiences. Whether that's a curated exhibition of Chicago artists, or whether that's a party supporting Crypto Art Week Asia, and bringing on the community over there. I think there are so many ways that we can create experiences that nobody's seen before," Schapiro said.
These events will play a large role in imnotArt's future, starting with its "The New Digital: Born in Chicago" exhibit. With these events, imnotArt hopes to give the NFT art community a place to gather. And at the same time, imnotArt hopes to educate people just getting their feet wet with NFT art, in order to help the community grow.