How Relativity Takes Bets on Its People
Built In Chicago sat down with three hungry team members to learn how the company has invested in their growth — and how it's paid off.
Senior strategy and business operations associate. Chief of staff. Senior software engineering manager.
This isn't a list of the various job openings at Relativity — it's the positions Liza Petrie has held in her four years at the company. 
That's because one thing that Relativity does well is take bets on its people, she said. Managers and leaders at the global legal and compliance technology company have a unique ability to see potential in those who may not see it in themselves, find talent in overlooked areas and support ambitious ideas from employees and turn them into realities. What's more? This knack for taking bets on its team has led to major business wins.
"This is a huge part of Relativity's growth story that's more intangible than looking at top-line revenue," Petrie said.
To that end, the legal and compliance technology company is scaling globally, recently announcing plans to add multiple new data centers throughout the next year, as well as new integrations with Microsoft Teams and Google Workspace, and key investments made in artificial intelligence and machine learning. The new data centers — opening in India, the United Arab Emirates, and Ireland — represent Relativity's commitment to making its SaaS platform as accessible as possible for its growing global client base.
And those are just a few of the company's ambitious plans for 2021. 
In 2022, they're looking at expanding availability to Japan, France and South Africa. With such an aggressive roadmap in place, Relativity will be depending on its talented, driven team members to lean into their entrepreneurial spirits and own the results. In a nutshell, Relativity wants to hire and support more people like Petrie.
Built In Chicago sat down with Petrie and two of her colleagues to learn how they each took risks — and how those opportunities paid off in spades for both the company culture and the business's bottom line. While each of the following employees took initiative to own their career paths, Relativity supported them every step of the way.
WHAT THEY DO
Relativity's SaaS product RelativityOne manages large volumes of data and quickly identifies key issues during litigation and internal investigations. The AI-powered communication surveillance platform, Relativity Trace, proactively detects regulatory misconduct like insider trading, collusion and other non-compliant behavior.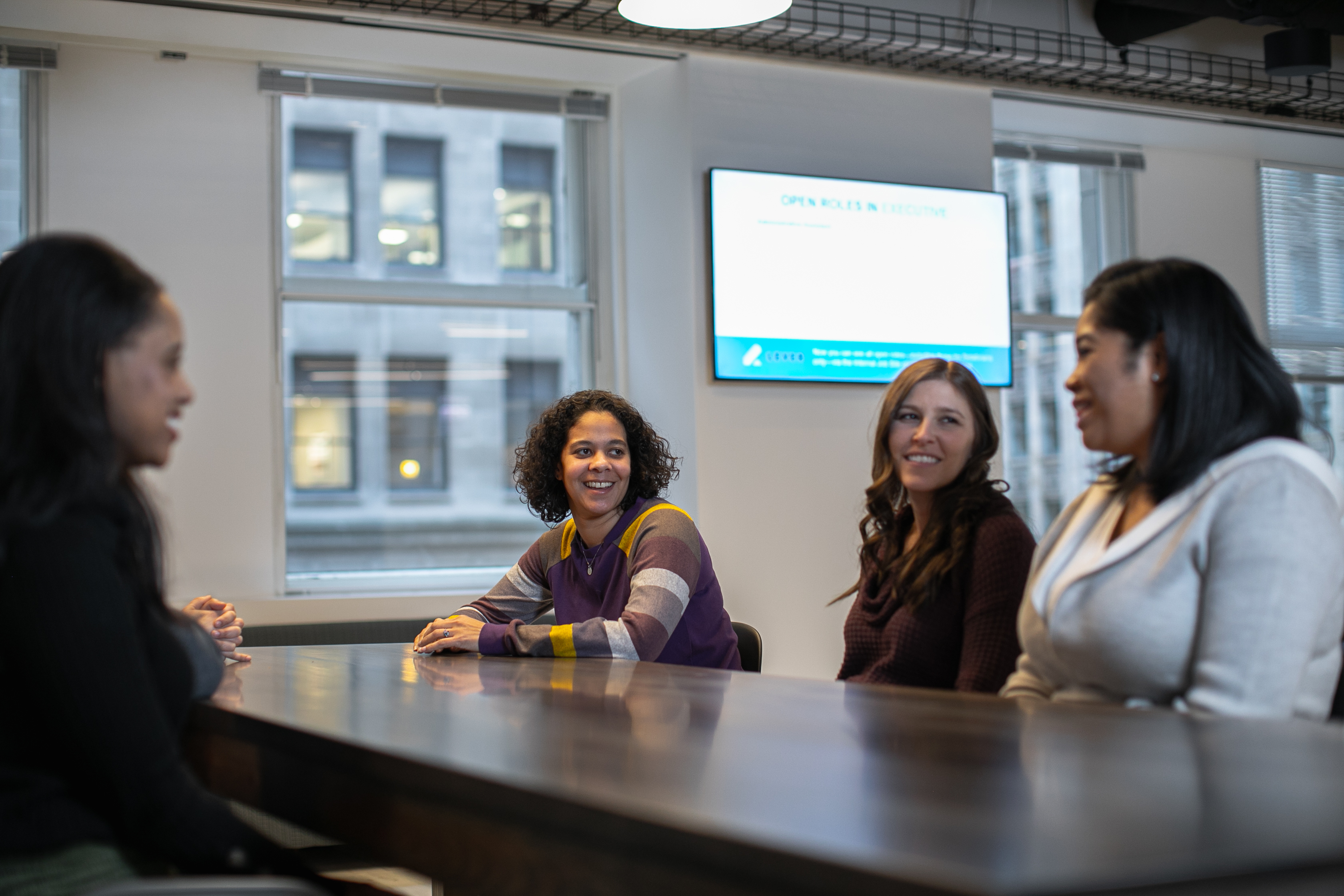 'This cannot be it for me'
By the start of 2020, Maria Padilla was losing hope.
She was the executive assistant to a CEO at a non-profit organization, but the role was no longer satisfying and Padilla wanted more. She wanted to be challenged with her job, and to continuously grow. She wanted to feel excited about coming to work.
"I felt very claustrophobic," Padilla said. "I felt hopeless, like, this cannot be it for me."
Padilla started applying for jobs, knowing it was her responsibility to change her path. She had a bachelor's degree in computer science and loads of administrative experience, so Padilla applied to roughly 100 jobs, earning an initial interview for about half of those positions. 
But she never got past the first interview.
"Everybody was telling me 'no, no, no,'" Padilla said. "Either I was underqualified, overqualified or there were better candidates."
Then she learned about Relativity Fellows. Launched in 2020 by Relativity, the program welcomes motivated professionals from overlooked communities and nontraditional backgrounds into a five-month program to learn Relativity's software so they can begin careers in e-discovery and litigation support. Once a fellow completes the program, they are guaranteed a full-time job with Relativity, its partners or its customers. The goal of the program is to find, certify and place untapped talent in the e-discovery field.
"I lit up when I read the description," Padilla said. 
She had no real-world tech experience, but that didn't matter. The program is geared toward individuals like her. So she applied. The interview process was a challenge, Padilla said, but she was accepted into the program. She quit her job as an executive assistant and took a leap of faith.
"I had plenty of naysayers at that time asking me, 'Are you crazy? Do you know what's going on? People are getting laid off, and you're quitting your job?' But I didn't care. I wanted to do this."
Though the program wasn't easy, Padilla felt Relativity's support the entire way. She not only learned about e-discovery and Relativity's software, but she also passed tests and received certifications along the way. And she was never alone. The program provided Padilla with a mentor, a tutor and tech buddies, including 30 different Relativians who volunteered their free time for the fellows, she said. 
There was no way you couldn't get through the program unless you gave up on you.''
When the program ended, Padilla applied for a role as a project manager at Relativity.
"I got it, and I've never been in a happier place," she said.
GROWTH MINDSET
Outside of the U.S., Relativity currently employs almost 300 people across five countries in Europe and the Asia-Pacific region across all departments. The company expects to increase that to 350 employees by the end of 2021. It will also have 14 data centers publicly available by the end of 2021, and will continue to increase its headcount of nearly 1,400-plus global employees heading into 2022.
'Thrown into the deep end'
Two years ago, when Liza Petrie felt that her growth at Relativity had stalled, she reached out to her boss and told him it was time for a change. The problem?
"I really had no idea what I wanted to do," Petrie said.
She had been with the company since September 2017, starting on the strategy and business operations team, and then transitioning after nine months to be the chief information officer's chief of staff. Eighteen months into that role, it was time for another switch. But to what? She reached out to her boss and other team members at Relativity for help, whiteboarding ideas together and talking through different scenarios to figure out where she'd be most successful and happiest.
"People were more than happy to have that conversation and talk it through with me," Petrie said. "Ultimately, you have to step off the edge of the cliff and take a bet on something."
That bet? Engineering. Despite having never worked as an engineer in her career, Petrie had other transferable skills from her past roles, like leadership, emotional intelligence and problem-solving that directly relate to being an engineering manager. So, after a number of conversations, she joined the engineering team, participating in a brief training period before jumping into an engineering manager role on the platform team.
I can't see myself leaving anytime soon because of these opportunities.''
Since then, Petrie has felt the opposite of "stalled." She said she's learning, growing and is challenged on a daily basis in an interesting and rapidly changing environment. And it's all thanks to Relativity giving her the opportunity to try something new.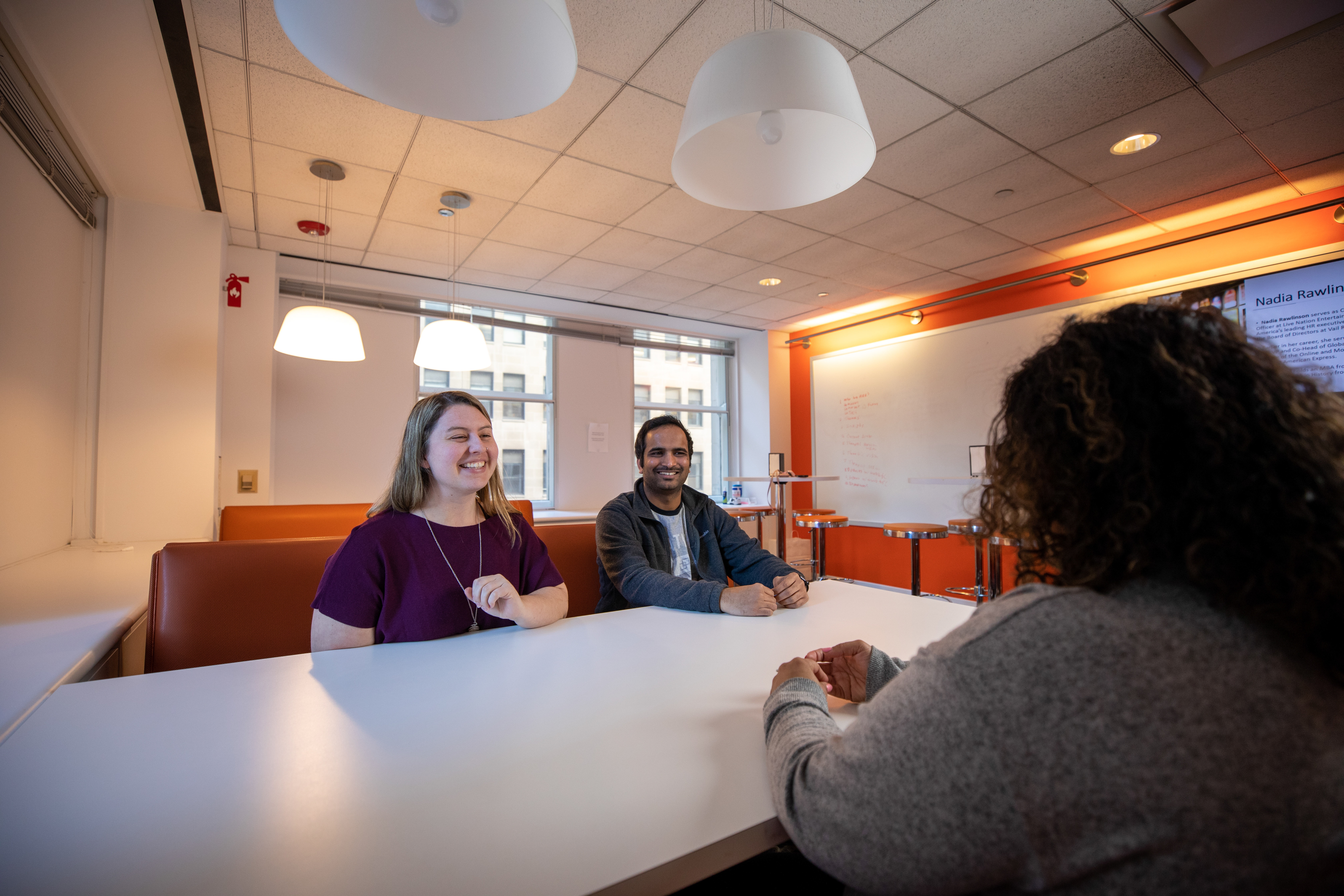 'Brought the idea to life'
Sometimes, the best ideas are born in a closet. Let Nikita Solilov explain.
A few years ago, Solilov and two co-workers approached the company's founder, Andrew Sieja, and told him about their vision for Relativity Trace, an application that would be built on the Relativity platform for proactive compliance and surveillance workflows. The idea had been sparked from multiple hackathons.
Sieja's response? Go for it. He gave the trio six months, and provided them with an office on the seventh floor. Except it wasn't exactly an office.
"It was actually a closet," Solilov said, laughing.
For six months, they sat back-to-back-to-back and created the product from the ground up as a dream team of sorts, with Solilov bringing his engineering expertise, and the two others providing deep backgrounds in sales and operations. They practiced something Solilov calls "extreme ownership," which is owning a feature from end to end and everyone does a little bit of everything.
What I've learned is, you can't just talk about an idea. You really have to show it.''
In short, they got scrappy. Their only requirement, Solilov said, was a door so that they could shout when they grew excited about what they were creating.
"A lot of things happened in that closet," Solilov said. "Ideas were brainstormed, client goals were taken into account, strategy sessions were held, celebrations were had. There are many different memories."
The bet paid off. Today, Relativity Trace is a crucial piece of Relativity's platform. It has enabled the company to thrive in a new market with its ambitious mission to "Make the world free of professional misconduct." 
And the space where it was created has been upgraded from a closet to a full-fledged floor.
"We really brought the idea to life," Solilov said. "And what I've learned is, you can't just talk about an idea. You really have to show it, because once people see it, they will start to get on board. We started with the mission, 'If we can accomplish this quickly and capture people's imagination, we can hopefully start a business.' And we did."
STAYING HUNGRY
As a manager, Solilov feels it is his job to always be on the lookout for employees who are hungry for more opportunities and challenges. "We had an intern who got promoted to full software engineer, and a year later, after all of the great features he's released, he's about to be promoted to advanced engineer."