The Power of Shared Values: How CityBase Is Putting Employees First
Thanks in part to a newly established values system, employees at CityBase are growing into the future more prepared, experienced and connected than ever.
In May of 2022, if you were wandering around Chicago's River North neighborhood at dusk, you may have heard a heartfelt rendition of Elton John's "Your Song" drifting from a nearby rooftop. Or perhaps the earworm chorus of an early aughts Fall Out Boy hit, followed by a little DMX or Salt-N-Pepa sprinkled in.
The source of the music wasn't a secret karaoke bar tucked away in the heights of an office building. CityBase had flown employees into town for their first Chicago office gathering since the pandemic began — and after a hard day's work was completed, they were reveling in the energy of simply being together.
"It was a big office party where we brought in local chef and hipster Rick Spiros of Bento Box, who put together a unique menu of incredible food," said Chief Operating Officer Melissa Footlick. "Even though we were working, we were mostly focused on just having fun and getting to know each other."
WHO IS CITYBASE?
CityBase is on a mission to make government and utility payments easier to access for the public both online and in person, and easier to manage for staff. "One of the ultimate goals for CityBase is to create a digital government space — similar to a digital city hall that's easily accessible to the constituents of the world, in a framework that can be implemented across any local government," said Support Manager Anthony Amaro. "I think at its simplest form, we want to create a government that works for everyone."
From the outside looking in, this could have appeared to be just another office soirée to build camaraderie between teammates who typically fade from memory outside of work hours. But according to leaders at CityBase, the meaning of the party was more substantial: Fostering a culture of caring for one another and developing authentic relationships is one of the company's five core values recently recodified this year after two years of working remote-first. 
"It was a very organic, lengthy process over months where we had members from all across the organization discussing what we should be striving toward as we grow into the future," said Software Team Lead Mark Richardson. "Each of our core tenets is important to who we are as a company. It was a great exercise because we really all had to figure this out together from every level, role and title, and I think we actually learned a lot about each other that would not have happened otherwise."
Embodying a supportive culture has always been at the forefront of CityBase's mission. Establishing formal company values offered both a new opportunity to create alignment among internal teams, and to proudly declare exactly who they are to their clients and anyone else looking to join the organization as they grow into the future.
"It doesn't matter what your title is," said Support Manager Anthony Amaro. "You treat the janitor with the same level of respect that you treat a CEO. We're all one team, we're all working toward the same goals and we're here for one another."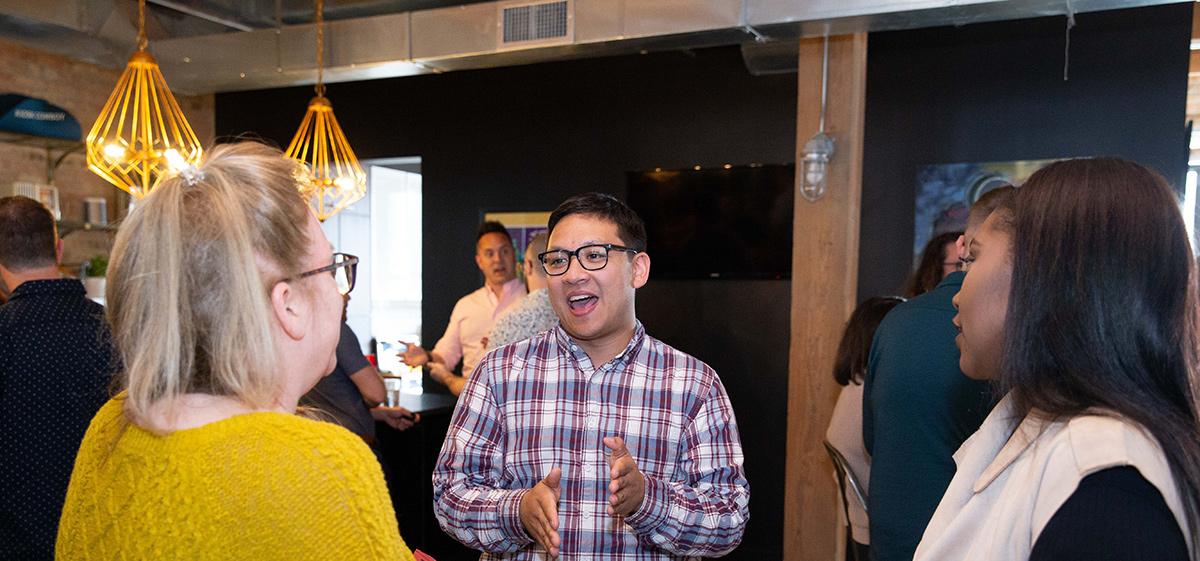 Building a Culture of Meaning
When it came to deciding what CityBase's new core values would be, it was obvious to leadership that it needed to be an all-hands-on-deck situation: Thus, a values committee was born, made up of seasoned employees like Amaro and Richardson.
"It was a very inclusive and collaborative effort the whole way through," Amaro said. "It was clear to everyone across the organization that we needed to believe in the goals that we're all working toward every day, and that our support systems be both encouraging and rewarding."
CITYBASE'S FIVE VALUES
Always practice trust, transparency and communication
Take risks, set goals and hold each other accountable
Focus on lifelong learning and development
Improve the lives of clients and their constituents
Foster a culture of caring for one another, develop authentic relationships and share in the successes of others
"It felt really good to be considered for something like that — to be able to give my input with others who share those same interests and create something so essential for the company together," Richardson added.
As the team brainstormed the aspects that made up their CityBase culture, transparency and trust were at the top of the list. As a hybrid workforce with remote employees across the country, communication had become an essential factor across project rollouts and routines to replace the impromptu "water cooler conversations" that previously allowed teammates to feel connected.
"A lot of companies pay lip service to this idea of culture, but I think actions speak louder than words," Richardson said. "Anytime that I've had ideas to do team-building activities or social events at CityBase, the company has been super receptive, and encouraged those things to happen. Coffee chat at the beginning of the week, one-on-ones and board game nights together have helped us feel more like a community — and that trust is irreplaceable."
Another essential piece of the value puzzle was an emphasis on continuous learning — by embracing cutting-edge tech tools to disrupt the govtech space, as well as by building an environment of psychological safety to take risks, fail and grow. Senior engineers are encouraged to be conveyors of experience and act as mentors to junior employees, which in turn enhances the customer experience. "It goes to show that every value is intrinsically connected," Richardson said.
Melissa Footlick joined the company in April 2022. She made one of her first orders of business as new COO to help formalize aspects of the unique CityBase culture through company-sponsored events and initiatives.
"You can just feel how much everybody is coming together," she said. "Whether it's through employees creating a coffee club learning about nitro cold brew on tap, volunteering at the Chicago Food Depository or encouraging other employees to volunteer in their local communities, we feel united. You'll always have someone in the office to drink Malört with you."
Leveling the Playing Field
What's your favorite way to pay a bill?
No, it's not a trick question — but if your immediate answer was "not paying bills," you're not alone. In fact, for many Americans, the process of paying a bill can be an extremely time-consuming or even expensive process on top of what is already owed to utility companies and government agencies. 
"Processing payments in the public sphere is infamously bad, and one of our long-term goals is to change that," Richardson said. "Why should it be more difficult to pay a water bill than paying for Netflix? It should be equally as easy for anyone to be able to do what they need to."
In the public services space, paying an expense in cash or by check requires an in-person visit, which not only includes cost of transportation but oftentimes an additional processing fee. Many government or utility offices run on standard workday hours, meaning that a visit may require additional time off from your job or experiencing a late fee.
Why should it be more difficult to pay a water bill than paying for Netflix?"
Through CityBase payment products, constituents can pay online or in-person at kiosks set up in public spaces that operate 24 hours a day. For employees like Footlick and Richarson, what gets them out of bed in the morning is being able to level the playing field between someone in New York and someone in Lawrence, Indiana by introducing technical systems of support.
"At the heart of the issue, paying bills should be simple regardless of socioeconomic status," Footlick said. "Everyone at CityBase is driven to create a better experience — not for the people that tech services and big businesses are normally targeted toward, but also those individuals without a bank account or who pay in cash who can get lost in the shuffle."
Growing Into the Future
When Mark Richardson started working at CityBase in December of 2020, he didn't start in leadership. In fact, he wasn't even sure that was the direction he wanted his career to head. However, thanks to a manager that not only saw his potential but stoked it through active mentorship and training, he was able to rise through the ranks into his current role of software team lead.
"I feel like I'm an example of a positive growth mindset on a personal career level," he said. "Now, I try to foster that with my own team, and we have a lot of discussions about 'Where is it that you want to go? How do you want to get there? How do we achieve those goals that you want?' A lot of that comes down to the culture we've built to continuously grow together."
We're able to shape employees into not only technically strong individual contributors, but we also strive to give them the non-technical soft skills that are required for future growth."
With so many opportunities for career growth as CityBase scales, it could be easy to fill open roles with outside job seekers. And while having an established, healthy culture can attract great talent, there's a key reason that growth and development are part of the company's five values. In fact, leaders like Footlick are working to formalize the growth process by building clearer paths for career progression and formalizing professional development check-ins for employees. This will establish what competencies and skill sets team members should develop, and help them achieve their professional goals.
"As leaders, we have to coach and develop our team members to help them achieve their goals and advance their careers," she said.