United Bought 200 Air Taxis, Upfront Got $10.5M, and More Chicago Tech News
Catch up on the Chicago tech news you may have missed last week.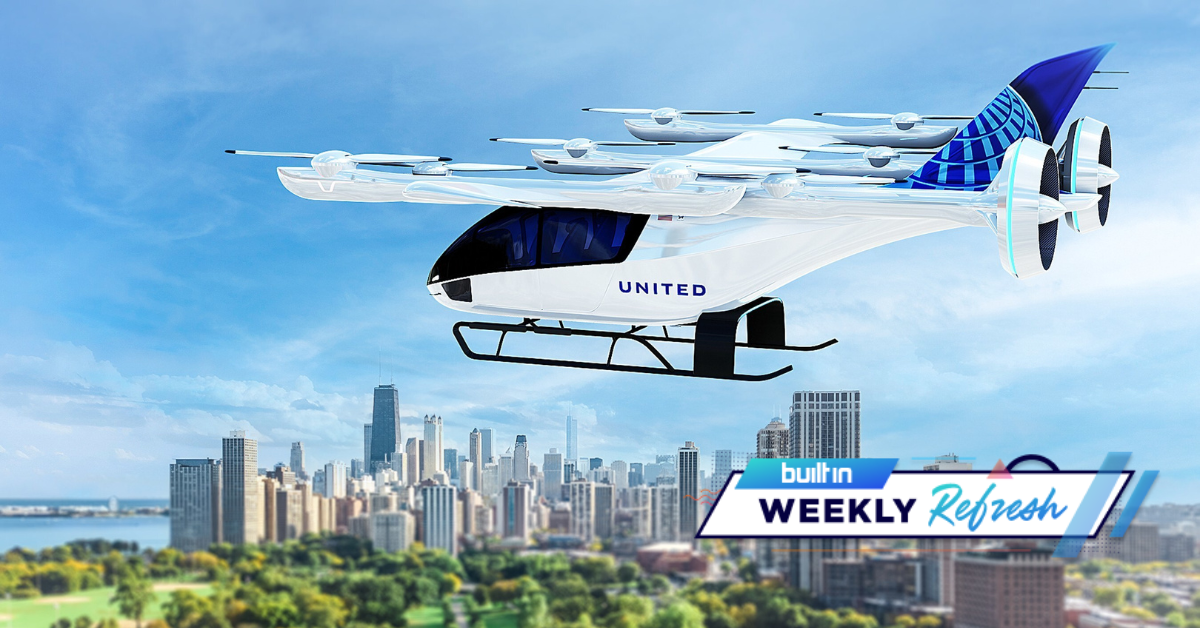 It was a busy week for Chicago tech startups, with many companies closing deals while others showcased their projects. Catch up on United Airlines' investment in electric airplanes, or read about a Chicago company turning sugar water into mycelium flour. This is the Built In Chicago Weekly Refresh.
United purchased electric airplanes. United Airlines announced last week that it invested $15 million in Eve Air Mobility, an aerospace company that manufactures electric-powered airplanes. With the investment, United would also be getting 200 electric airplanes that hold four people. The airplanes would be delivered in 2026. The company's investment in electric planes is a continuation of its goal to reach zero emissions by 2050 without the use of carbon offsets. [PR Newswire]
12 startups pitched at Techstars Demo Day. Startups from the Techstars Chicago accelerator program had the opportunity to pitch their companies at the 2022 Demo Day event. Techstars hosted the event in collaboration with 1871, a local innovation hub. The participating companies included many that are based in Chicago and the Midwest, as well as startups from Nigeria and Israel. [Built In Chicago]
Chicago Tech Quote of the week
"More and more fungi companies are really starting to find a home [in Chicago]. Fermentation needs a lot of water...so there's a bright future for Chicago to attract a lot of that talent, and we're working on being like leaders in the community." — Michelle Ruiz, co-founder of Hyfé Foods
Hyfé Foods was featured in Built In's Future 5 series. Hyfé Foods creates mycelium flour from discarded sugar water that was used in beverage production. The company was founded by Michelle Ruiz as a way to make foods without refined carbs and to reduce the amount of food-safe water ending up in reclamation centers. Hyfé recently closed a pre-seed round and is working on a prototype for mycelium flour pasta. [Built In Chicago]
Accrew opened for crowdfunding. Accrew is an FDIC-insured banking service with high-yield checking and saving accounts that shares profits with its users through the Accrew crypto token. The company announced last week that it will raise capital through crowdfunding. [PR Newswire]
Upfront raised $10.5M. Upfront is a medical platform that facilitates communication between patients and caretakers. The latest raise, which comes two years after its Series B raise, was co-led by Baird Capital, Echo Health Ventures and First Trust Capital Partners. Upfront will use its new funds to grow the company. [Upfront]