Oak Street Health's Tech Platform Is Lifting Up Patients and Health Professionals Alike
The healthcare industry is rife with stories of troubling experiences. As a champion for the health of older adults, the team at Oak Street Health is rewriting the narrative.
 Walking into one of Oak Street Health's medical clinics, Lotus Lindez discovered a quiet symphony of interwoven sounds. 
Beyond the clacking keyboards and scribbling pens, a sense of warmth and vibrancy came through in the social interactions. It was more than just nurses providing flu shots and patients recalling past medical history — there were also the excited sounds of patients playing bingo and small groups dancing to music.
Lindez, director of experience design at Oak Street Health, had come to observe the company's product at work — and the multifaceted nature of patient care. 
In addition to receiving that care, it seemed like many of the patients were simply connecting with people in their neighborhoods.
"Being able to sit with a physician, nurse practitioner or PCP and watch them interact with the patient — seeing how much care and attention they give — I became touched by their story," said Lindez. 
Normally out of place in a medical clinic, Oak Street Health's tech employees are a commonly seen and welcome presence. They're often encouraged to see firsthand how the healthcare solution they helped build is facilitating patient care. 
For these employees, direct exposure and feedback collection not only validates Oak Street's technical work, but gives these traditionally backend operations a firsthand account of its importance. 
Oak Street Health, a network of value-based primary care centers across the country, specializes in providing patient care for older adults on Medicare. "The populations we serve come to Oak Street seeking something different from the poor experiences they've had with the traditional healthcare system," explained Colton Ortolf, VP of product.
The holistic approach to patient care is especially important for older patients that require a more personalized understanding of their medical needs. In a current healthcare environment wracked by the complex web of insurance, specialist referrals and fragmented patient communications, Oak Street Health has seen tremendous success in bringing together a truly multidisciplinary care team to treat the whole patient. 
Underpinning this foundation are the technology teams embedded within the core domains of the company's Care Model.
"When you think about healthcare, you don't think about cutting edge, especially with a primary care provider," Ortolf said. "We are as innovative as most tech companies; we leverage technologies that have historically been nascent in our space, and we use them to move fast." 
It's not hard to find heartbreaking stories of the healthcare system's failures in its present state. These difficult conversations help cement a unifying vision for the technical teams, who identify as a startup within a larger company. 
"People talk about technology as a burden, something that gets in the way of the care you deliver to patients," Orolf added. "Our goal with the Canopy platform is to be the first piece of healthcare technology that people love to use."
 
Canopy
"Technology can never replace great physicians, but great technology in the hands of great physicians is transformational." Some of Oak Street Health's values mirror this quote, which extends to Canopy, an inpatient review system that takes a holistic approach to decision making and patient care. From electronic medical records and CMS to care management and external platform integration, the all-in-one, data-driven healthcare platform is woven into a multidisciplinary primary care practice for a streamlined workflow. Oak Street's doctors and nurses are not only able to derive key insights from its internal pipeline, but also help iterate the platform from within.
But life-changing technology, at its core, is still about the patient experience. Many healthtech companies understandably make products for the bottom line to sustain their business model. At Oak Street Health, being able to funnel resources directly into the hands of its own providers, shifts the optics of business towards the patients. For the product, engineering and design teams, clients are not faceless stakeholders and external hospital systems, but colleagues and their patients. 
Director of Engineering Geoff Niehaus remembers his first patient center visit. "The expectation is that the engineering team's job is to sit and look at code," he mused. "That's how you lose touch with the mission, so I appreciate that we make opportunities — even with remote workers — to visit clinics and see the impact our software has on folks using it."
He recalls having conversations with staff there about what they wished they could have to improve patient care. It turned out that his team was working on just that request at the time. 
For a closer look at how technology and patient care can intertwine to improve health outcomes and help change the system, Built In sat down with Lindez, Ortolf and Niehaus to see how the team is rewriting the stories and sounds of modern healthcare.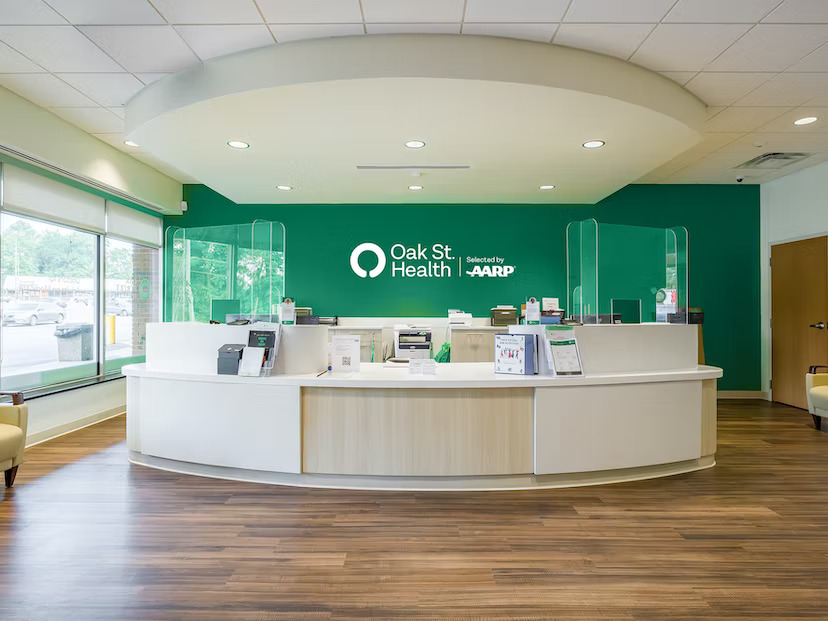 Let's talk about the Canopy platform. What is the long-term vision for the product and what you hope to achieve with it? What problem is it trying to solve?
Ortolf: The care model of Oak Street is our product, and Canopy is designed to hardwire that care model at scale. The platform itself is always evolving, because we always want to make it easier to use and to surface key insights to our care teams. But that evolution also goes hand in hand with the evolution of our care model. We are always looking for innovative ways to better improve the care of our patients. Ultimately, the role of Canopy is to make sure that the things that work in our care model, we're able to do at 100 or 1,000 centers in the exact same way.
Lindez: We are designing and developing a product that's going to be used by the employees who work here, so we have consistent access not only for inputs on how something should be made, but also feedback as they're using the product. Because we have access to our co-workers, we're able to quickly get that feedback, test our products and have them involved in the brainstorming and ideation. 
That's a big advantage compared to a company that's building an EMR or a technology suite for any hospital system. They're going to have to generalize to the point where they will not be able to mimic or respond to all of the different specific workflows that their customers might have. But because we have one customer, Oak Street, we are catering the design to our workflows.
The Five Valuable Points of Canopy
Streamlines workflow — standardizes different activities across all patient centers, with automation capabilities to expedite work.
Easy to use — follows latest software design techniques for better approachability.
Personalized according to role — highlights individual priorities, since Oak Street Health comprises many different types of healthcare workers, all working in the same space.
Facilitates patient connection — streamlines communication so team members can respond to patients faster and more accurately.
Provides targeted clinical decisions — presents data-backed or AI-based information by population health experts when needed to prevent potential risks in patients.
How does the Canopy platform reflect the larger mission or goals of the company?
Lindez: Oak Street Health's mission is to rebuilt healthcare as it should be. That's why we need Canopy in the first place — because there are a lot of values that aren't showing up in the UI and in the organization of other tools. 
Think of a baseball bat. Somebody could use it to hit a ball, or someone could use it to hammer a nail. It's really up to the user. We help direct what users will end up using a tool for, so it's not necessarily value agnostic. The reason we had to build our own scheduling tool is that we have different values than other scheduling tools. If the value you need is to make money, then your tool will emphasize that. But we want to get people in quickly because they need our help, so the design of the tool is going to be different. 
Niehaus: Using data science or AI as an enabler to do more, we're looking at some things that are preventing people from returning. It's great to get that first welcome visit, but we want them to keep on coming back and not miss their appointment. For example, we've built our own scheduling app.
Over the years, I've found that software tends to be very similar to how a leader in that space does it, and tries to mimic that. But I think our approach is more to design and implement in order to provide the best care. I'm not worried about aligning with another EMR, or anything else out there, which opens our minds to thinking more creatively on how we can solve these things. 
There are a lot of values that we have that aren't showing up in the UI and in the organization of other tools."
What feedback have you received from partners or patients?
Lindez: We have our PCPs, our podiatrists, our behavioral health specialists and our medical social workers, so the great stories we usually end up hearing out of Oak Street are because we touch into those other disciplines. So if a patient you know is having a medical issue, but also has a housing problem, then those two are connected. 
Our team will go above and beyond in connecting the people with their communities to help solve some of those larger problems that they're having and remove that barrier to their health. For an emotionally distressing condition like depression or PTSD, they will notify the behavioral health specialists using our tools and build in the wellness plan. Or they will send each other internal messages in their inbox and use our technology to send the referral to specialists with embedded options. Our technology plays a role in all of that.
We do things beyond clinical care, which is only one piece of our overall model."
Niehaus: Yeah, it's not just physical, like if you're in good shape for blood pressure. It's looking at the behavioral and social aspects and how that affects their health. We do bingo nights and other things to give patients a sense of belonging. Then, during those events, we can also provide care like getting them up to date on flu shots. For the company as a whole, there are a lot of creative ways to provide care, and our software enables that.
Ortolf: I can't tell you the number of stories I've heard about a social worker calling a patient's utility company to get their lights turned back on, or a provider picking up a medication and dropping it off in a patient's house for them because they couldn't go get it, or a social worker connecting someone to resources in their community because they were experiencing food insecurity. 
We do things beyond clinical care, which is only one piece of our overall model. A lot of the work we do goes well beyond technology and primary care — it goes into giving these people the support they need in their communities.