You might not have heard of DFIN — but most of the companies on the Fortune 500 have. 
The Chicago-based company provides end-to-end risk and compliance solutions that help businesses manage their portfolios and analyze their data using AI and other forms of automation. They've been involved in some of the splashiest IPOs of recent years, thanks to their financial software solutions.   
We caught up with the team behind that software to learn more about how the company builds solutions, hires the best and brightest, and where they're heading next.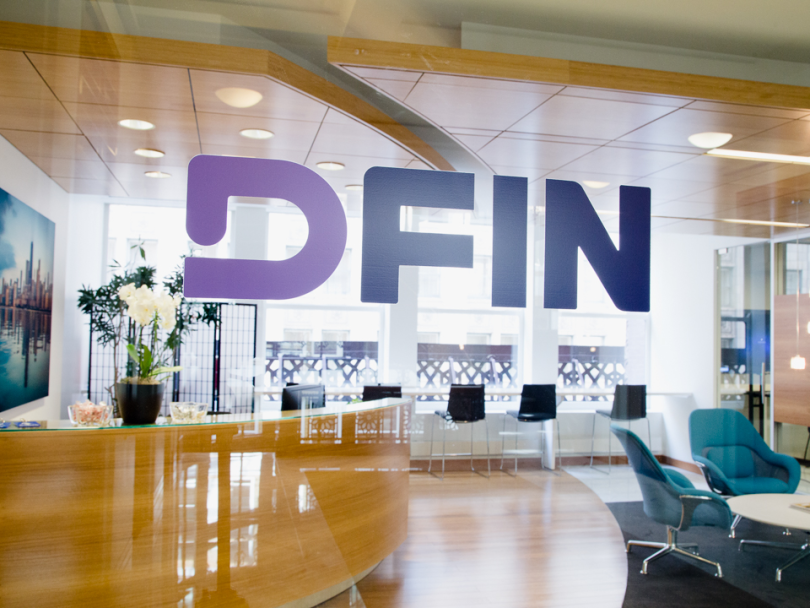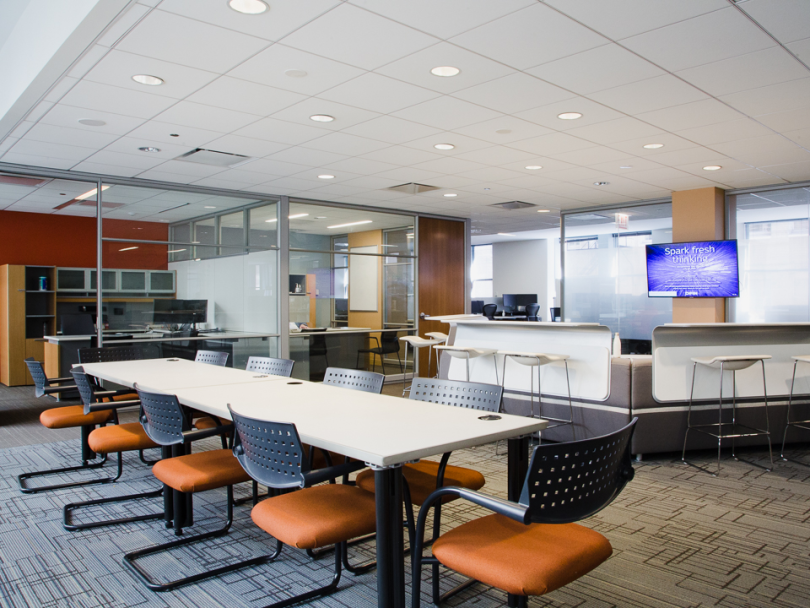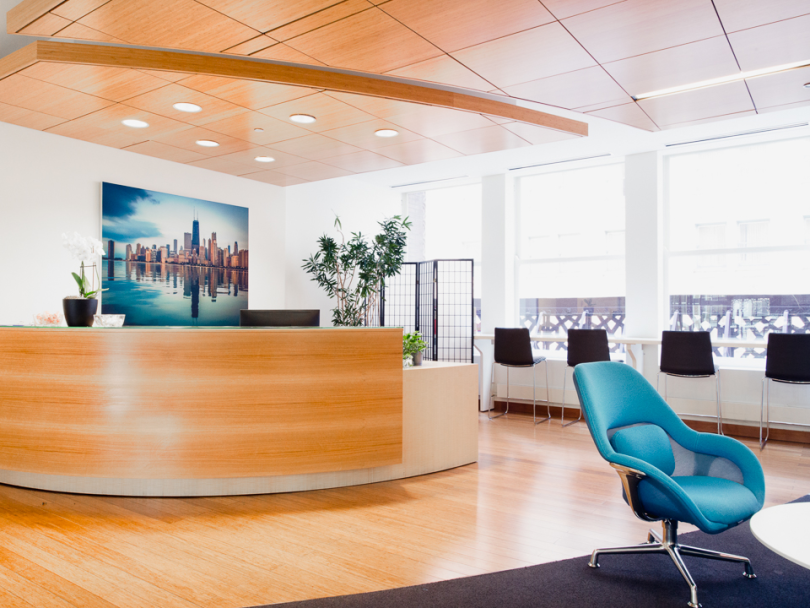 FOUNDED: 2016
EMPLOYEES: 3,500 globally; 250 in Chicago 
WHERE THEY DO IT: Chicago
WHAT THEY DO: DFIN is a global risk and compliance solutions company, providing domain expertise, software and data analytics for companies at every stage of their business and investment lifecycle.
LUNCH N' LEARNS: DFIN puts a premium on professional development with regular lunch and learns and cross-functional training sessions.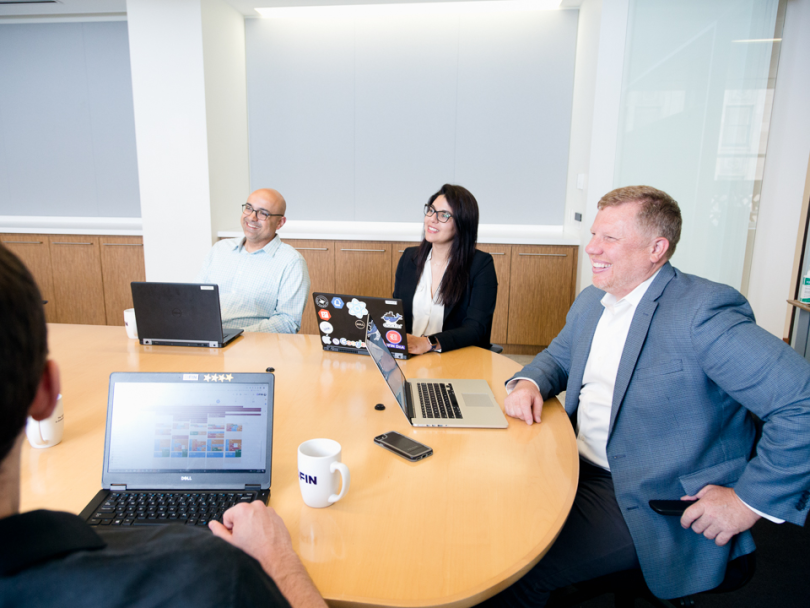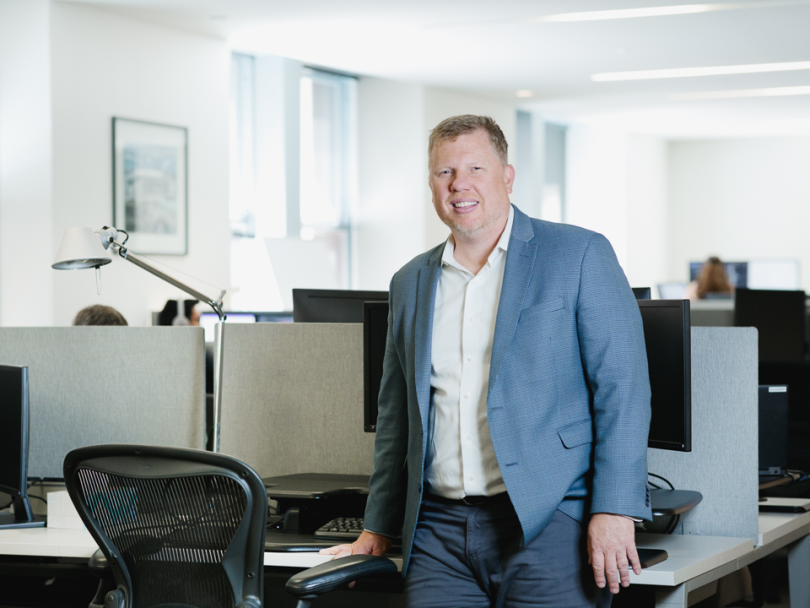 Christopher Benes, Vice President of Software Engineering 
Christopher leads the team working on DFIN's Venue Virtual Data Room product. His job is to lead, nurture and empower people to deliver client value through the application of best in practice software engineering processes. 
BEYOND WORK: Christopher has been getting back into hockey so he can play with his young son. He also completed Second City comedic improv training and finds applications for what he's learned in his professional life.
Talk to us about the product you've spearheaded at DFIN. How does it fit under the umbrella of the larger company?
The Venue Virtual Data Room helps buyers and sellers complete a financial transaction like an IPO or merger and acquisition. Some of the biggest IPOs and mergers and acquisitions in the world are now trusted to DFIN and Venue — billions of dollars are at stake in these transactions. I've also worked on a number of other DFIN financial software products, including tools to help companies complete quarterly and annual SEC filings.
What's special about DFIN's approach to developing new products? 
We've inserted a quarterly planning cycle into a traditional Agile software development process. It's helped us prioritize what value to deliver based on the business opportunity and to execute on that delivery. By aligning on what we need to deliver and when, we're able to make more room for creativity and initiative. 
I want members of my team to feel motivated at work each day by being appropriately challenged and empowered, technically, and in soft skills application. I want them to have a healthy work-life balance while strengthening their cloud-native distributed software engineering capabilities. 
 
By aligning on what we need to deliver and when, we're able to make more room for creativity and initiative."

What tools does the DFIN software team use? How do these tools enable your team to work efficiently and successfully?
My team uses Git, C#, .NET, SQL, Slack, and numerous services in Azure such as DevOps, Monitoring, Search (Elasticsearch), Cosmos DB, Redis, and more. We are emphasizing serverless computing in our SaaS architectures.
How would you describe the opportunity at DFIN to engineers who are interested in joining the DFIN engineering team?
We give talented engineers and builders the chance to build cloud-native microservices in Azure for the financial services industry, and it's a chance to learn and apply cloud-native design patterns. We want you to be a software engineer and craftsperson — not a coder — to use AI to help complete financial transactions.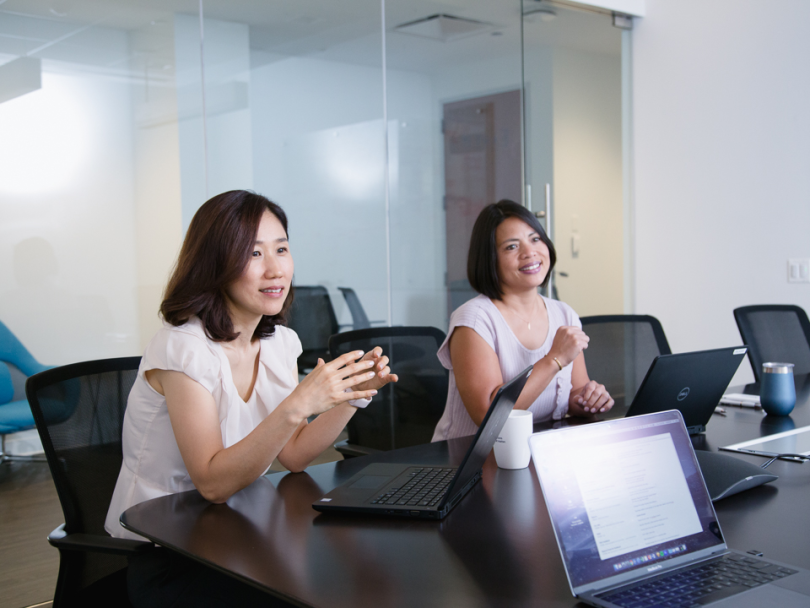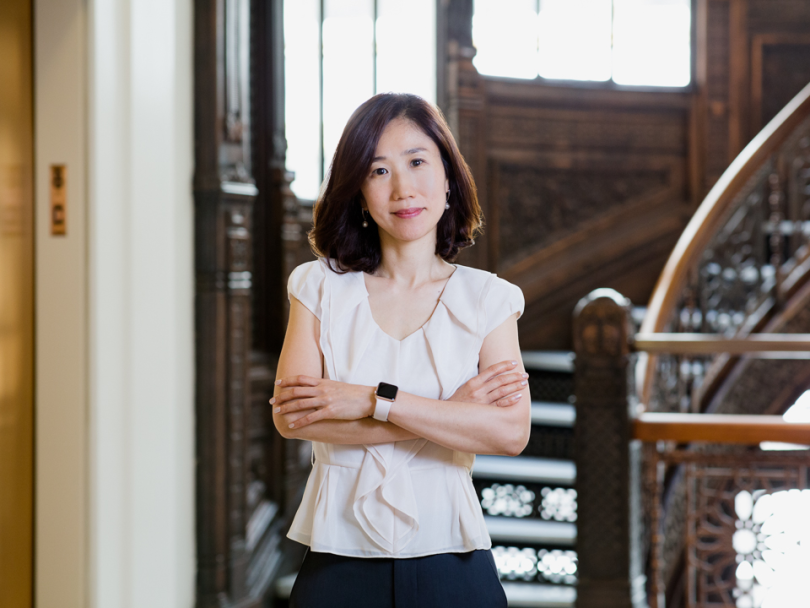 Hyunzoo Chai, Director of Data Science 
As DFIN's director of data science (and also the first data scientist at DFIN), Hyunzoo built the company's data science team from the ground up and launched company-wide machine learning and natural language processing initiatives.
BEYOND WORK: Hyunzoo, a self-professed vagabond, was born in Korea, studied in France and now works in the United States. Her most recent trip was with her family to Scotland where she spent time camping around a flock of sheep and playing Uno. 
How is the environment at DFIN different that for other companies you've worked with? How does innovation play into that environment? 
My previous positions were mostly at research-oriented organizations where AI is at the core of the business – the University of Chicago, AI Labs at LG Electronics, and the Research Center at Xerox, to name few. In the past, my goal was to create state-of-the-art algorithms without necessarily thinking about how AI and machine learning could play a role in the organization. 
DFIN is different. Delivering the best financial services is DFIN's first commitment, with or without AI and innovation. I constantly challenge myself to answer the question: "Do we really need AI/ML for this?" and "How can we apply AI to deliver the best risk and compliance solutions?"
 
I've been working over 16 years at different places but never had this kind of team where everyone is a leader."

How would you describe your team's culture? What about this has informed the way your team works together and with other groups in the org?
One is diversity. My team is culturally and technically diverse — we have people from Romania, India, Korea and the United States. People come from a diverse range of backgrounds, from physics to computer information systems, business analytics, economics and natural language processing. What happens when all these ingredients come together is magical.
The second is ownership. Each of my team members has ownership of the project they're working on. I've been working over 16 years at different places but never had this kind of team where everyone is a leader. 
Where do you see DFIN's product in six months? What about in one year? How will your team get there?
AI and machine learning aren't just buzzwords at DFIN. At our 15th Annual FundSuite Arc User Conference in New York this June, we unveiled our AI-driven Fund Analyzer, which helps analyze client funds for faster onboarding. I'm excited to see this model to help more and more clients in the next six months.
As we accelerate innovation across the company, we're introducing machine learning into our product capabilities including our ActiveDisclosure product. My team and I have been stretching our boundaries to help our clients experience faster and more accurate filing services this time next year.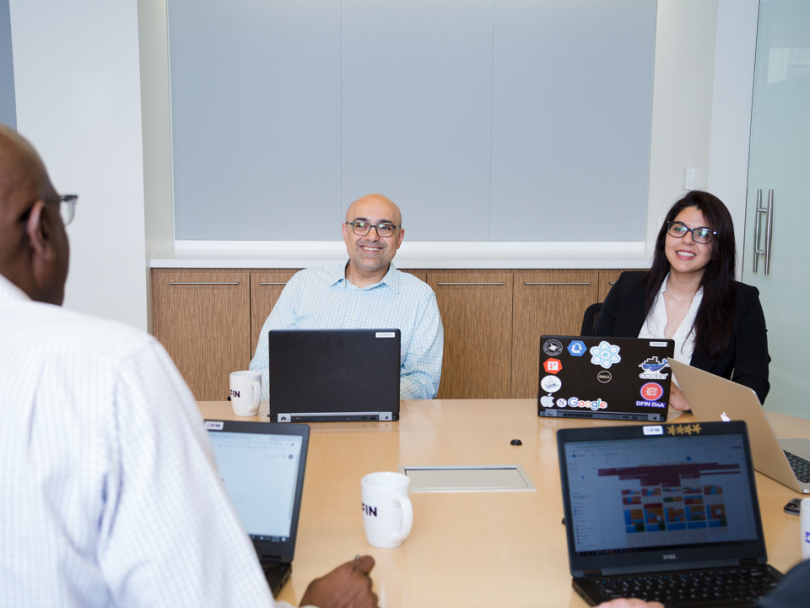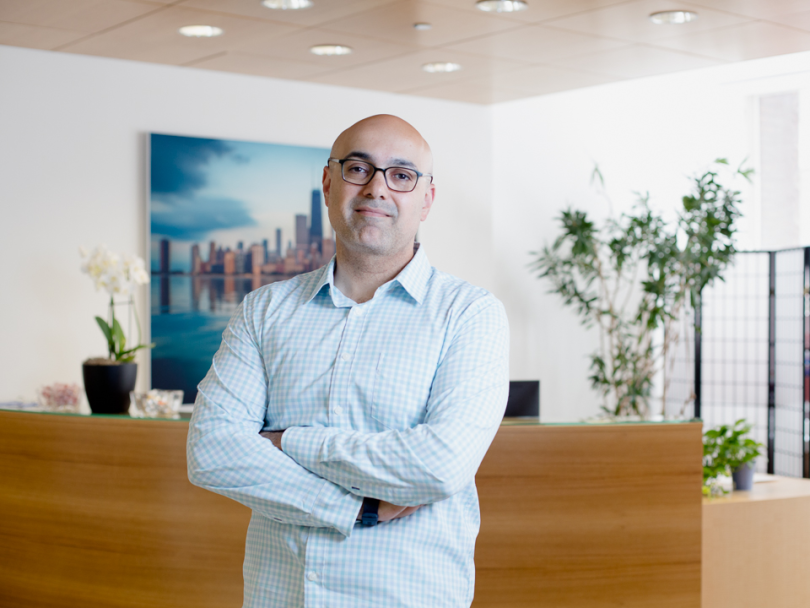 Naveed Asem, Chief Data and Analytics Officer
Naveed leads the way for the development of the company's financial software and tools. 
BEYOND WORK: Naveed is a board member and teaches engineering courses at Northwestern's McCormick School of Engineering.
What did your career look like before DFIN? How did you arrive in your current position heading up data and analytics at DFIN? 
I led the data and analytics practice at Slalom Consulting before joining DFIN solutions. My time at Slalom was spent guiding customers in strategies to monetize data, coaching employees on to grow their careers, and mentoring the leadership teams to innovate and evolve our analytic capabilities.
When I first learned of DFIN, I was impressed by their business model — it was (and is) mostly driven by data and analytics. I was pleased by the humble personalities of the executive team and excited by the regulatory use cases that DFIN solved. It was enough to lead me to join the team in 2016. 
 
I look forward to coming into work and bringing 100 percent of myself to every aspect of work, and I know everyone around me is doing the same."

What's the toughest challenge you asked this team to tackle?
The toughest challenge we've been asked to tackle was to automate data extraction, comparison and analysis from various unstructured PDF documents and then highlight the differences using machine learning and artificial intelligence. I put a team together, consisting mostly of data scientists, and we architected the solution at a high level. Once we understood the architecture, we rapidly built a proof of concept (POC) to prove that our solution would work, and once our POC was successful, we started building the product. Today, that product is in production and already making a huge impact for our clients. 
What about your job most excites you right now? What do you most look forward to coming into work for each day? 
The thing that excites me the most about my job is the people I work with. I am surrounded by professional, fun-loving, humble and driven people. I look forward to coming into work and bringing 100 percent of myself to every aspect of work, and I know everyone around me is doing the same.