From mainframe to the cloud and everything in between, Ensono's services portfolio is, to put it simply, broad.
That's purposeful and also what has contributed to its success.
Named Microsoft's Datacenter Transformation Partner of the Year in 2018, Ensono has received some hefty accolades for its ability to deliver sought after client experiences when it comes to cloud migration. 
Now, as the demand for public cloud services continues to increase, the company has some ambitious plans in the making, including a Cloud Academy that will crop the next generation of cloud transformation technical talent. 
We spoke to three leaders from Ensono's cloud team to learn more.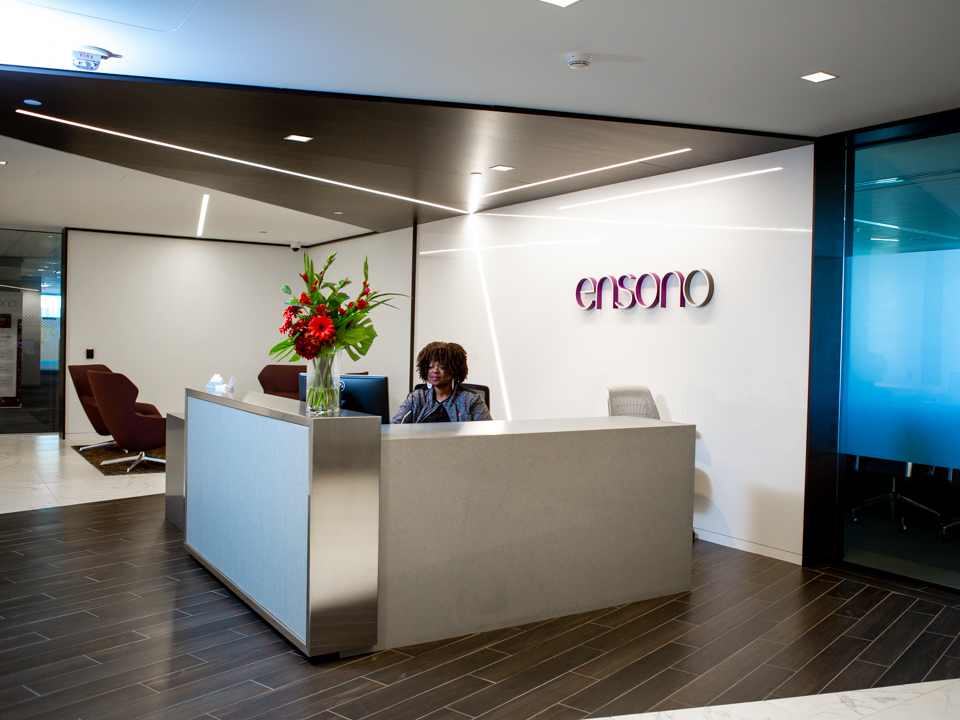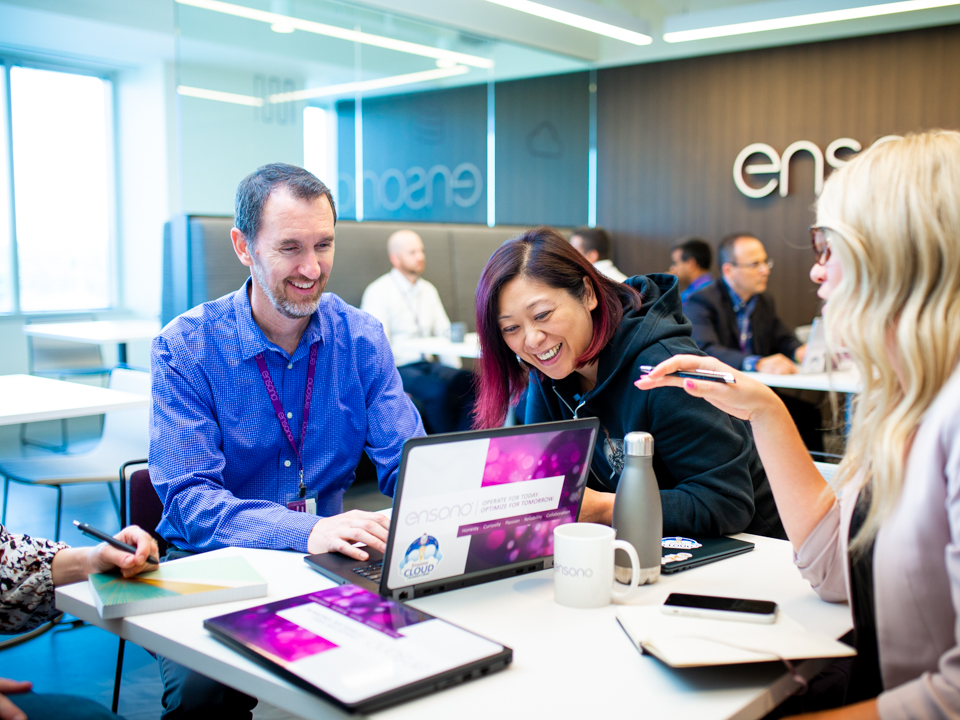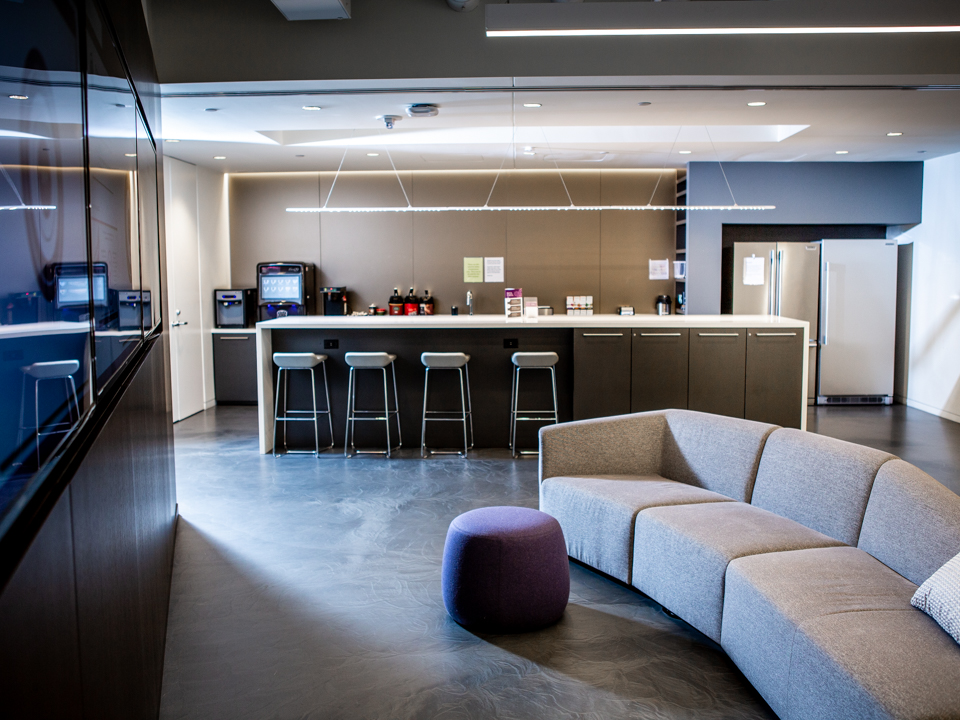 FOUNDED: 2015
EMPLOYEES: 2,300 globally; 440 locally
WHAT THEY DO: As businesses migrate from their mainframe IT structures to the public cloud, Ensono guides their digital transformations by supporting them with hybrid services every step of the way.
WHERE THEY DO IT: Downers Grove, downtown Chicago, and other global locations. 
FORMAL FITNESS: Not only does Ensono offer an onsite gym for their employees, but there's also a trainer. 
PASSION FOR MISSION, TECH: Individuals driven by curiosity and the chance to make a difference through the power of technology are in high demand to join this team.
STACK: Microsoft Azure, AWS, Azure DevOps, Terraform, Ansible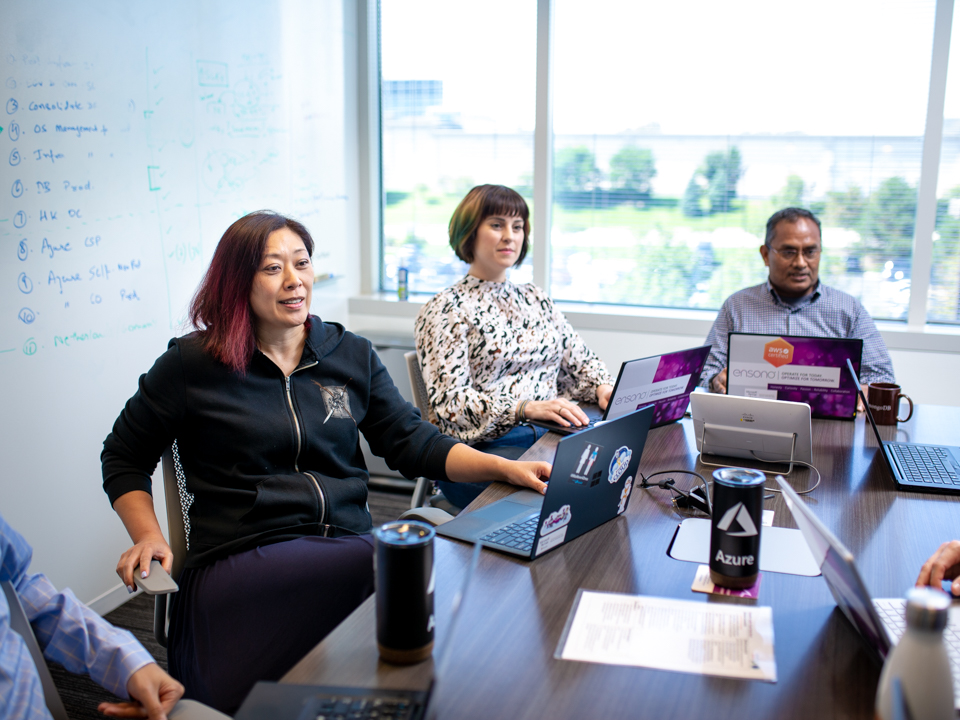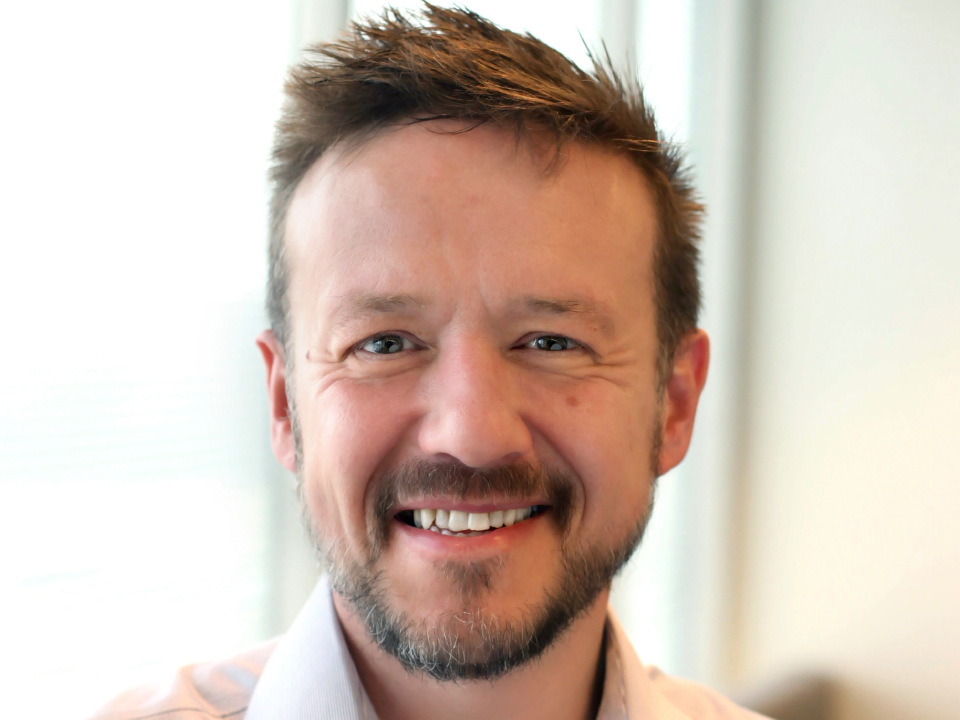 Gordon McKenna, CTO, Cloud Business
Gordon sits at the helm of Ensono's cloud business, driving public cloud adoption from their current and new customer base. He joined Ensono's C-suite following the acquisition of U.K.-based Inframon in 2017, which specialized in transitioning large Microsoft-centric organizations to cloud technologies.
CROSS COUNTRY USA: Gordon enjoys traveling, exploring and experiencing all the great things his adopted country the United States has to offer. 
How is Ensono now positioned for success following the acquisition of Inframon? 
The world is changing and going through a digital revolution. The ability to move our clients to a more agile way of thinking is essential. By combining Inframon's unmatched skills in the cloud with Ensono's world-class support services, we are able to truly help customers through their digital transformation journey. Our public cloud services ensure their future is filled with accelerated innovation.
 
...we have some of the brightest technical and commercial brains in the business, along with a leadership team that isn't afraid to drive change."

In leading Ensono's cloud service implementation, what are the biggest challenges your team is faced with?
What a client wants from the public cloud is very different from what they would want from traditional on-premise or hosted managed services. With traditional services, customers want stability, little change and very high service level agreements. In the public cloud, customers want agility, flexibility and to deploy fast-fail methodology. Our work combines these two worlds to give customers a consistent set of hybrid services, which is always difficult. 
Luckily at Ensono, we have some of the brightest technical and commercial brains in the business along with a leadership team that isn't afraid to drive change. This has allowed me and my team to come up with a framework that meets our clients' needs exactly.
What is the Cloud Academy, and how will this impact your team?
Cloud Academy is one of the most important initiatives Ensono has embarked on. The demand for public cloud is outpacing the ability for us to retrain existing personnel in new technologies and recruit to meet our staffing requirements. Nearly all of the organizations that I speak to that are embarking on cloud transformation journeys are struggling to hire due to the lack of availability of skilled individuals in the marketplace. 
We have to play our part in solving this for ourselves and our clients, so by using our vast expertise in the public cloud, we are training the next generation of architects, DevOps engineers and salespeople.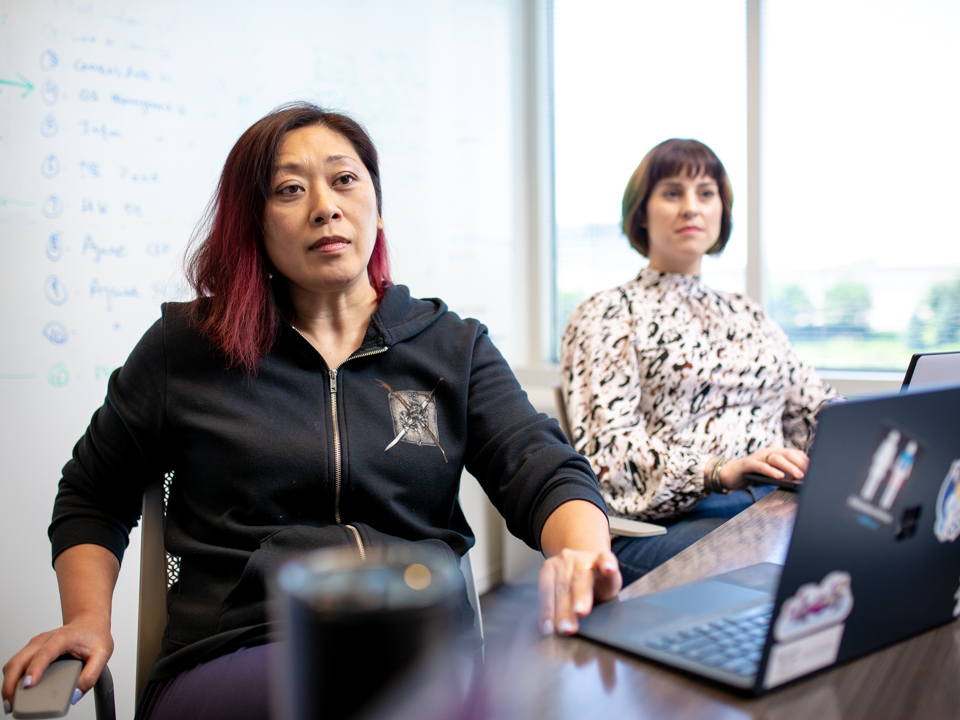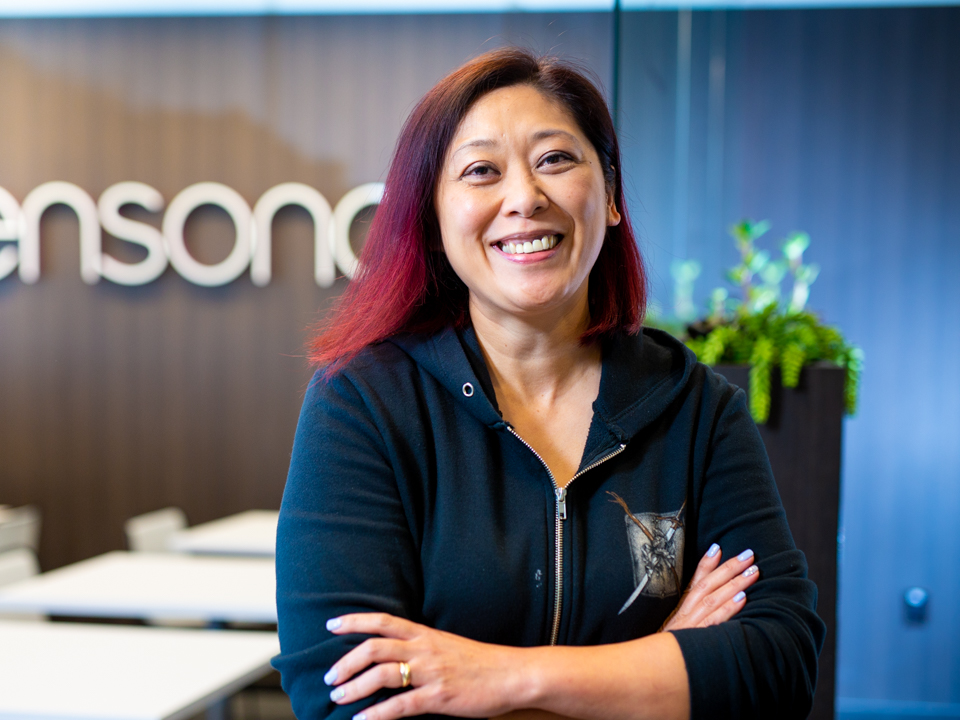 Lin Classon, Director of Product Management
In addition to leading the product vision, Lin executes on the product strategy for Ensono's managed public cloud services. She's inspired by those around her, who share her passion and dedication to democratize technology innovation through the power of the public cloud. 
SEEK YOUR TRUTH: Lin believes in living one's purpose, living during the week and resting on the weekends. She hopes for her kids to one day find a job that they cannot wait to get out of bed for every day. 
You have a Ph.D. in theater and performance studies — does that ever inform your role in product management?
I often marvel at how the two seemingly divergent threads of my life have come together so brilliantly. Product management involves working with stakeholders from every department, from concept and development, all the way to launching and delivering the product. The design and planning, the hard work, the negotiations, the collaboration with all people and personalities, the rolling up of your sleeves to get things done, the organized chaos, and finally, the exhilaration on opening night — you see where I am going with this. 
Like great directors, great product leaders bring clarity, generate positive and infectious energy and make things happen. 
 
My ambition for Ensono is to become the No. 1 enabler of the public cloud."

What is the next big step for the team or for the whole company? What specifically will you and your team do to make that happen? 
You know the song, "Anything Can Happen" in Mary Poppins? The line goes, "If you reach for the heavens, you get the stars thrown in." My ambition for Ensono is to become the No. 1 enabler of the public cloud.
To do so we need to remain agile, build new things faster with deliberation and intention, and most importantly, we need to grow our team of world-class cloud experts who are passionate about learning new technologies and who are just as passionate about enabling our clients to change the world with new technologies.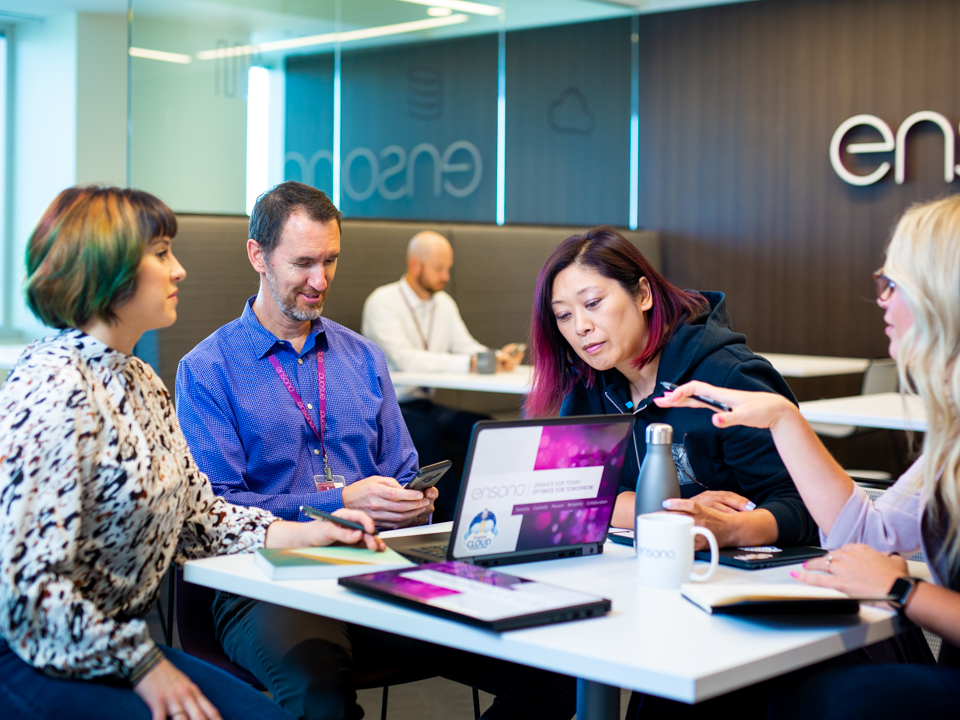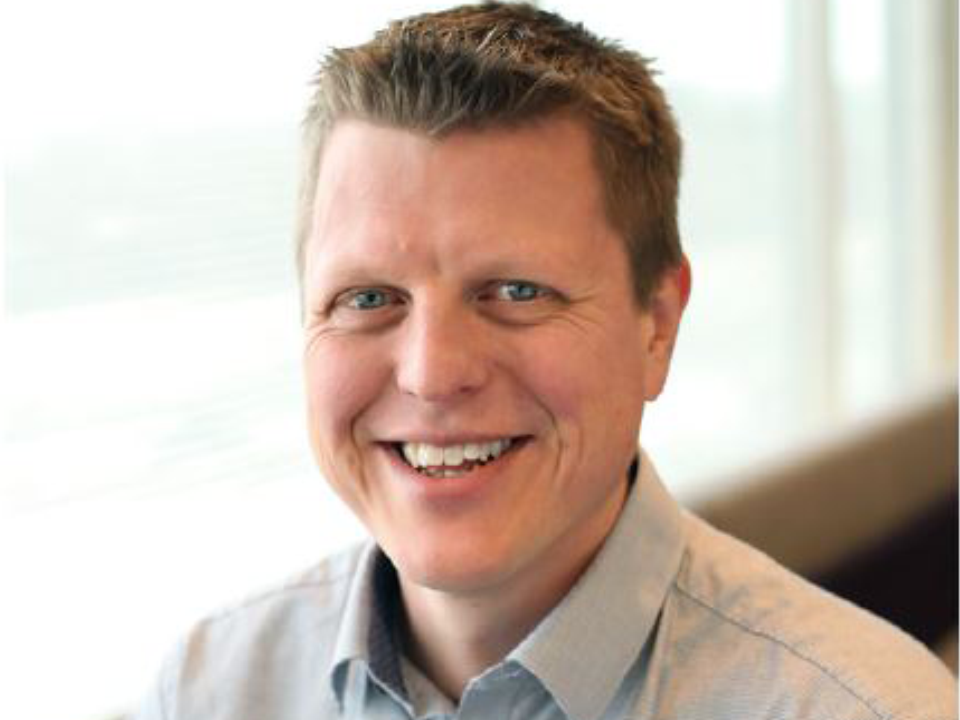 Sean Roberts, General Manager, Cloud Business
Sean said all of Ensono's clients are either evaluating or executing upon their cloud journeys and need the help of partners — like them — to navigate through the "technical minutiae." It's an exciting space to be in, and it's only at its infancy in potential. 
PAPA BEAR: Learning to master the art of patience and resilience, Sean enjoys taking a break from the office by spending time with his three young children.
Walk us through the name, "Public Cloud Center of Excellence." What does this mean and how does it best represent the work your team takes on?
We created the Public Cloud Center of Excellence as a center of gravity within our business for public cloud across all of our execution venues, which is AWS and Azure — for now. It's resulted in the AWS and Azure teams coming together and sharing best practices, learnings and insights. Fundamentally, we are here to deliver on the promise of the cloud for our customers in a secure, well-governed and agile way.
We do this through innovative and flexible products that deliver a combination of personalized and self-service experiences that enables our customers to simplify and modernize their estate by transforming to the cloud and optimizing when they are there.
 
As a team, we're techies at heart and love finding new and exciting ways to get something done."

How would you describe your team's culture — what's unique about it compared to other teams you've led or been a part of?
Ensono's purpose is to be a relentless ally, disrupt the status quo and unleash our clients to do great things. As a team, we're techies at heart and love finding new and exciting ways to get something done. We want to challenge ourselves and embrace new technologies and ways of doing things. 
We're also collaborative. The best example of this was recently when the Azure team got stuck on a Hadoop problem for a customer, only to have a member of the AWS team step in and help unlock the problem.
Can you tell us about a recent win from your team?
We recently won a massive five-year, multi-tower cloud deal worth more than $1 million a month on cloud alone at a major financial institution. It was a real team effort across the business, from our traditional infrastructure to the cloud. It was a fantastic win celebrated across the team. For my team, we celebrated this by going to out a lovely restaurant owned by a very famous Chicago Bulls basketball star — I'll let you guess who!