If you're a skilled engineer in Chicago, you have your pick of incredible companies to work for. In fact, there are nearly 3,400 startups in the Chicagoland area alone, making it one of the top tech-hubs in the country. With all of these companies, you'll find that each one offers a special brand of perks, exciting project work and sparkling culture.
So, how is a tech company supposed to stand out? 
ServiceNow, a workflow management company that has grown substantially since bursting onto the Chicago scene, has some ideas. "I took several interviews at larger companies before coming to ServiceNow, and while all could promise working with smart people and great benefits, only ServiceNow seemed interested in creating and maintaining a culture where I would thrive," said Erik Nielsen, a senior software engineer at ServiceNow. 
He's not the only one who feels that way: Since opening its doors in the spring of 2018, ServiceNow's Chicago office has tripled in size. Instead of merely keeping up with the rapid growth, ServiceNow uses the influx of new hires to help shape a culture in which everyone feels challenged, supported and happy. Apparently, this approach is working. 
Meet the Team
What she does: Fiori and her team are currently working on a new feature that will allow customers to automate their development processes. 
Why she chose ServiceNow: "The platform is really powerful. There is always something to learn and there is no room for boredom."
Why she's staying put: "ServiceNow uses state-of-the-art technologies, which I want to learn and grow in. I was also attracted by company culture which embraces diversity, inclusion and belonging."
What he does: Sundarrajan's role is a blend of quality and performance engineering, which means he does a lot of testing to make sure products are functioning at a high level. 
Why he chose ServiceNow: "I was drawn to ServiceNow in Chicago because it blends the resources of a larger company with the nimbleness and family feel of a smaller company."
Why he's staying put: "I have the best of everything in a job: a large and growing employer, a great boss, friendly co-workers, excellent perks and benefits, and an opportunity to work on cutting-edge technologies." 
What he does: Nielsen aims to make ServiceNow's products the best they can be. With his team, he listens to feedback and charts out ways to improve stability and usability for the user.
Why he chose ServiceNow: "There were only six other people at that time, but I was very impressed with everyone." 
Why he's staying put: "The focus on designing and creating a consumer-level user interface is what made me want to join ServiceNow. We're investing heavily in UI and our leadership has not shied away from risks."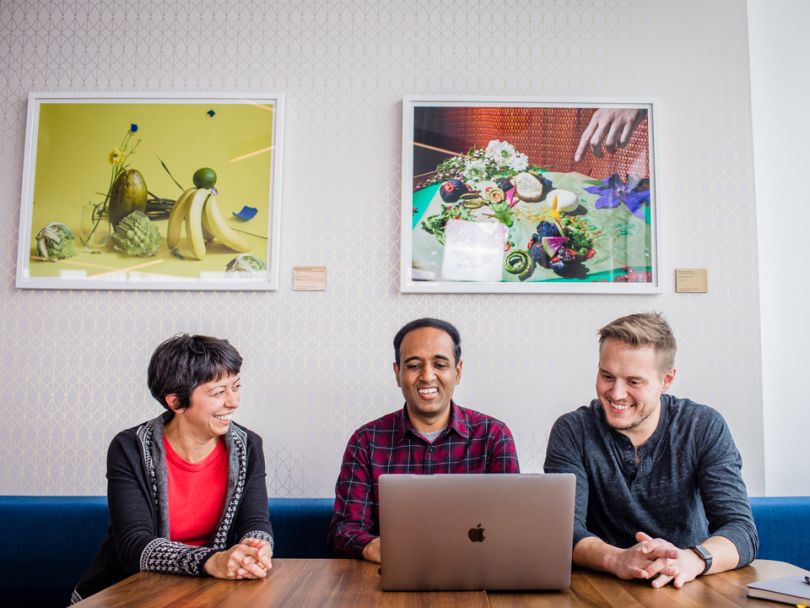 Erik and Suraj, you've been at ServiceNow for about a year. What's changed in that time? In what ways have you seen the impact of your work across the platform?
Sundarrajan: As one of the early hires in Chicago, I've seen the office grow from 20 employees to around 80. We've moved from a coworking space to our own office with top-notch amenities. The persistence team that I'm a part of builds features that are used by every other application team. As a result, the quality improvements and optimizations that I help bring have a huge impact across the platform.
Nielsen: I think that one reason I was able to become a tech lead so quickly was because I joined while the team in Chicago was still growing. I was able to establish myself while the opportunity was still available. The growth of the office has definitely impacted the size and scope of our projects, too. With a larger team, we were able to shift resources to the Chicago office, which gave us an opportunity to take larger projects and run with them.
Adriana, you're a little newer and have been at ServiceNow for about six months. How do you like it so far?
Fiori: My first six months have been a rewarding experience. I have been able to contribute to highly visible customer features, work with the great minds who build ServiceNow solutions and grow my technical skills in a meaningful way. The most challenging part was learning the ServiceNow Operating world, which is vast and complex. But having plenty of help, such as training, bootcamps and very cooperative team members eased those challenges.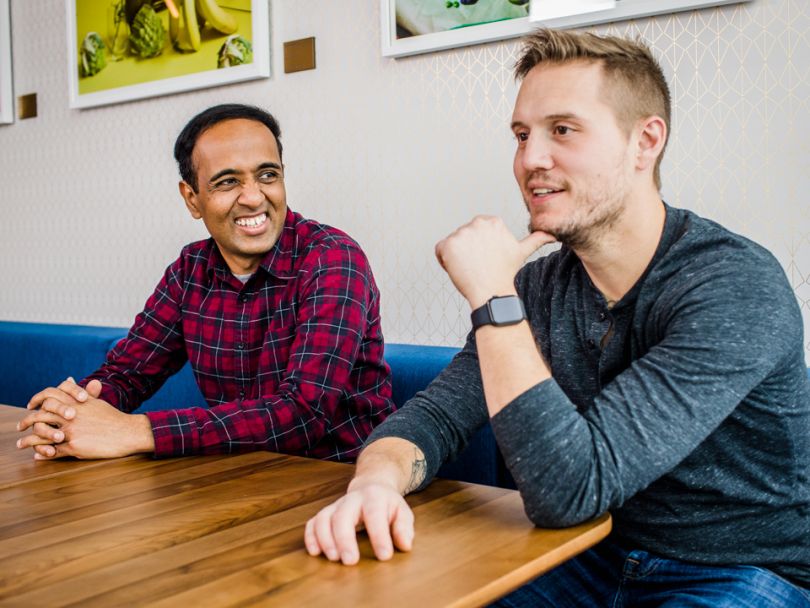 Suraj and Erik, we heard you were working on a couple of pretty big launches. Want to fill us in? 
Sundarrajan: I'm currently working on something called MetricBase, which allows ServiceNow customers to collect, retain, analyze and visualize measurable time-series data from any source or combination of sources on the Now Platform. MetricBase ingests and processes vast volumes of time series data so customers can accelerate business decisions and actions, with both historical perspective and predictive analytics. MetricBase was built from the ground up to be a purpose-built time series database that works with the Now platform.
 
As one of the early hires in Chicago, I've seen the office grow from 20 employees to around 80."

Nielsen: One of my projects is the Mobile Studio. This product is exciting because it provides our customers with the ability to create their own internal mobile apps without having to hire native mobile engineers. That process can, for a Fortune 500 company, cost hundreds of thousands — if not millions — of dollars and take at least a year to develop. By using Mobile Studio, they're able to quickly and easily create mobile apps in a no-code environment, giving anyone in their organization the ability to do so.
The process for creating an application like Mobile Studio is very interesting — there are a ton of moving parts that need to come together. We have to interpret data relationships and technology-framework interactions while taking into account branding and user-focused design. A lot of thought goes into something like this and as a result, we have a highly desirable product that's helping a lot of companies do business better.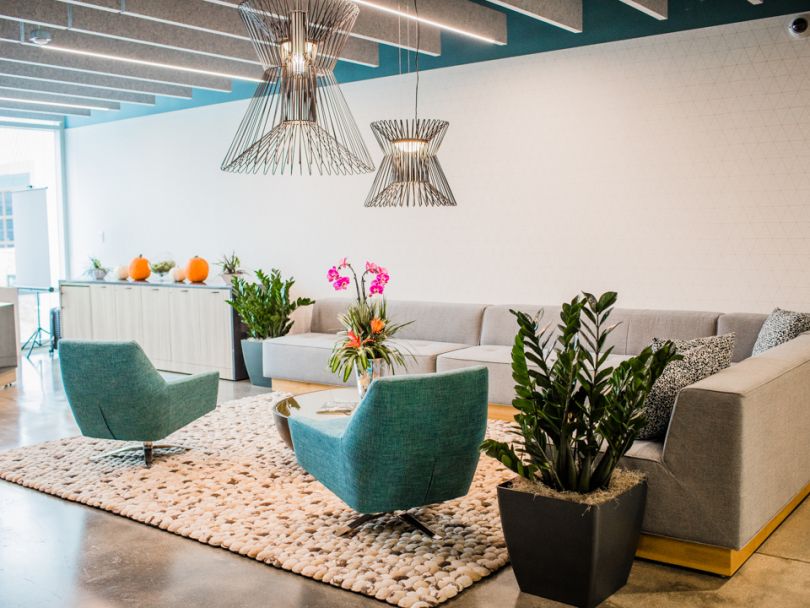 ServiceNow is unique because of how easily customizable the platform is. Adriana, as a newer engineer to the company, why is that exciting? 
Fiori: You know the painting by René Magritte, "Ceci n'est pas une pipe"? Well, my version for the ServiceNow platform is, "this is not a table." Everything on the platform is a table — but also much more than that! It's simple in its essence but very complicated in its nature. Depending on which layer of the codebase you are working on (like platform, persistence, plugins, applications), you need to adjust your focus to clearly see, then stand back and consider how the changes might affect the other layers.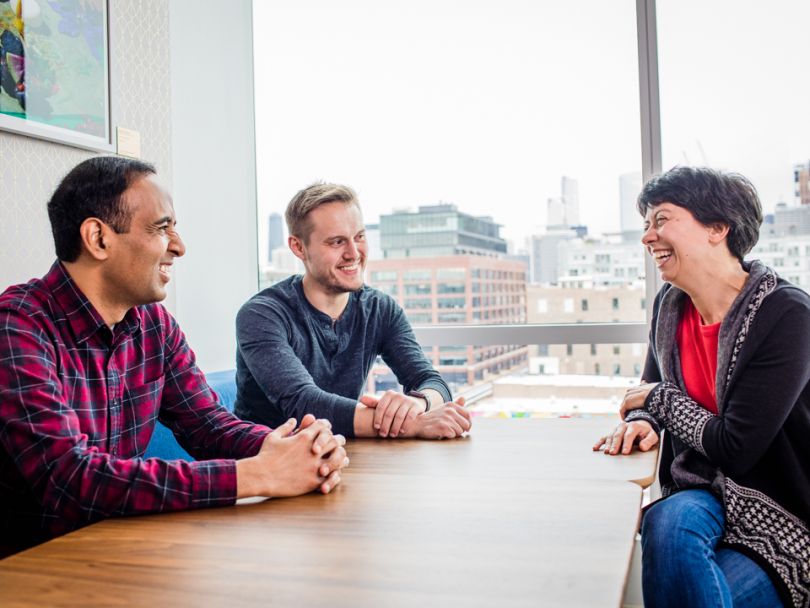 One last question! ServiceNow prides itself on tackling interesting and dynamic projects that engineers might not find at other tech companies. Why do you think this is? 
Nielsen: I think ServiceNow takes on tasks like this because there's a market for it. It's too often you see that, once a company reaches a certain size or hits a certain revenue amount, that they become risk averse. However, it's the gain from calculated risk-taking that's made ServiceNow so successful. Thanks to this approach to software engineering, I've been exposed to so many different types of development (mobile, AI, machine learning and more) that I wouldn't have been able to experience elsewhere.