When someone needs to buy a car, taking it for a test drive is often the best way to get a feel for it.
But when a car dealer is looking to buy dozens of used cars for their lots, it simply won't cut it. 
In 2019, an estimated 40.4 million used cars were sold, according to Edmunds.com, a number that most likely broke the previous year's record. And while a typical driver may be content driving off the lot in their recently-purchased used car, they probably don't realize there's a vast and complex market where used car dealers are stocking their lots with inventory from several sites across the country. 
"Most dealers operate on a bit of art and science, being able to really know their market, know their customers, know what's right for their lot," said Tom Esposito, a group product manager at KAR Global, which oversees several automotive marketplaces. "But ultimately, that is far too much information for a lot of these dealers to stay up to date on." 
The problem: With a nearly endless amount of data — constantly-evolving market projections and consumer demand, to name a few — it's hard to parse what used car dealers should pay attention to and what they shouldn't.
Esposito says KAR's Recommendations engine is a solution to the mountains of available data. 
"Our customers are essentially a mix of entrepreneurs and commodity traders, so they're pretty savvy already," Esposito added. "What we're trying to do with Recommendations is come in and solve the problem of how much effort they've been putting in."
When KAR acquired DRIVIN in 2017, it utilized DRIVIN's extensive collection of data and machine learning technologies to build Recommendations, which delivers dealers a customized list of vehicles that would perform well in dealers' respective markets.
Built In Chicago talked with members of their data science and product team about what goes into Recommendations and the seemingly endless amounts of data the teams work with. 
"My focus here is in product, working with Recommendations primarily, as well as a few of our other products. I have been part of the team since the early founding back in 2015."
"The team that I manage is specifically concerned and focused on making Recommendations. I've been with KAR Global coming up on three years now."
"I joined the company back in July 2019 after the rollout of the current Recommendation engine that's in production, but I've been focused primarily on the testing and evaluation of those recommendation systems, as well as the development of new and improved models."
Building the Recommendations engine
According to Jeremy Mobley, manager of data science at KAR, the more time dealers spend using Recommendations, the more information the software has to work with to make even more specific and accurate suggestions down the line. 
Recommendations evaluates hundreds of data points in real-time and offers dealers a list of vehicles with distinct color-coded badges to signify different characteristics about each one. 
Tom Esposito, Group Program Manager: What we're doing here is essentially trying to match the correct vehicle with the correct buyer at the exact right time. So when we think about Recommendations, we think about the current inventory that we have. Who are the customers that could be relevant for? How do we match them up?
Buying a car is not like a movie where you and I can both watch every single minute of the exact same one. We can't own the exact same car at the same time, and the same goes for the vehicles that we're trying to recommend here.
Their business really relies on making sure that dealers are making the right buying decisions. They're naturally skeptical of anything that we put in front of them, and it's up to us to make sure that we are up to the highest level of quality and make sure that what we put in front of them is right. 
Jeremy Mobley, Manager, Data Science: We're working to build and develop the data models that create the rankings of each vehicle to ensure that we're aligning the best vehicles to the dealers and then building up a full machine learning framework to be able to optimize the actual models. 
From the data science team's perspective, we spend a lot of our time looking at the world in two different ways. One is the pure data science world of, "How can we optimize this model given the objective that we're trying to accomplish?" The other side asks, "How well does that model do in the real world? How well does the data actually capture and represent what actually happens?"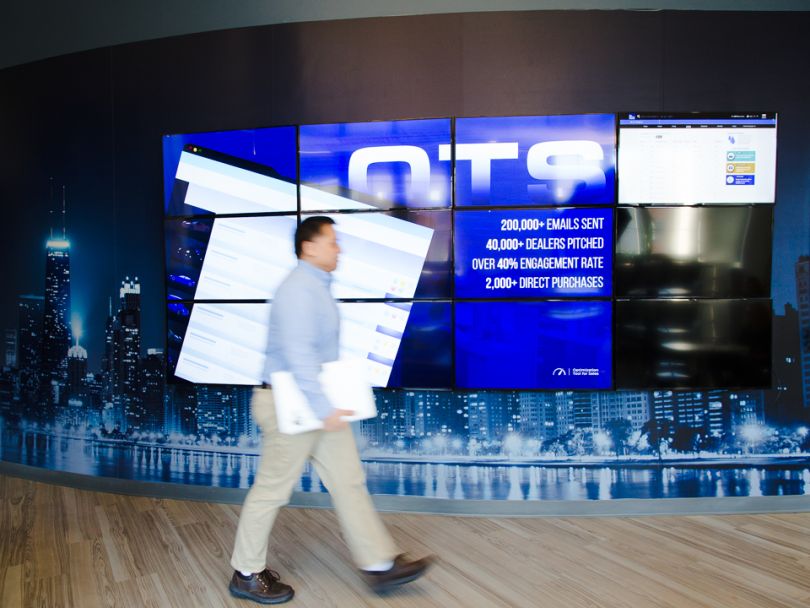 Data, take the wheel 
A quick online search will provide a number of lists detailing which used cars sell the quickest. (According to iSeeCars, the Toyota Prius or Honda Accord are the cars most likely to be driven off the lot.). But a lot more data points and time goes into filling a dealership with cars that customers will actually want to buy. 
Since no two cars are alike, KAR Global says its Recommendation engine needs to account for a long list of variables, including unique trim options, mileage, wear and tear, depreciation, how fast a car can be sold, and what profit it is likely to yield.
While dealers might spend hours walking down auto auction aisles, KAR Global has turned to big data and machine learning to make the process faster — and more fruitful — for all parties. 
Connor Swanson, Jr. Data Scientist: We're working toward adding a new level of granularity to some of our recommendations. Making personalized recommendations is pretty tricky because any two dealers can have vastly different characteristics or behaviors when it comes to buying and selling vehicles. We have ways of doing that in the current models, but a future iteration would be perhaps creating different models for dealers based on their specific behaviors. 
 
The solutions we're building are affecting thousands and thousands of people."

Mobley: We build models and we evaluate them on a given set of metrics based on things like precision and recall. Then we work to iterate and improve on those models. We're always trying to solve the problem of which vehicles do we rank at the top of this very long list. The number of vehicles we're typically ranking is oftentimes in the tens of thousands, which poses an issue.
Swanson: Let's hypothesize that the color of a vehicle could be impactful on Recommendations. What machine learning allows us to do is take years of historical data and figure out just how important that new feature would be in our Recommendation models. So, do we weigh it as the most important or least important, or somewhere in the middle? 
Disrupting With Data Science
"We have the opportunity to use the latest technologies, along with years of industry data, to build brand new products that are pushing the boundaries of this massive industry. What's not to be excited about?" – Tom Esposito
Mobley: We have a really, really interesting opportunity to not just be able to get access to all of this data, but to build interesting solutions that are solving real problems and then put them into production at scale. The solutions we're building are affecting thousands and thousands of people.
Swanson: Working in a car industry that's been relatively slow to adopt some newer tools and technologies has led to a huge opportunity to use things like big data and machine learning to make an impact in the industry.